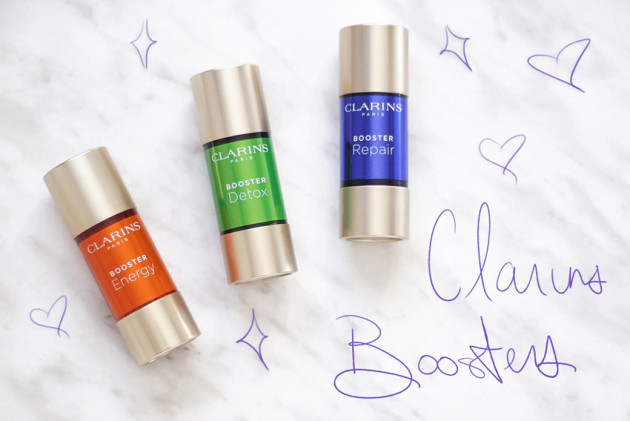 The products: Clarins Repair, Detox, and Energy Boosters
I know I've been writing a lot about skincare recently, but there have been a LOT of really cool new skincare launches this season, okay?
Take the new Clarins Boosters, for instance. They're designed to serve one purpose, so you're not hefting over $600 for an anti-redness, anti-shine, anti-ageing, anti-death serum. You can use them whenever you want to; as a pick-me-up or as part of your skincare regimen. Whatever works for you.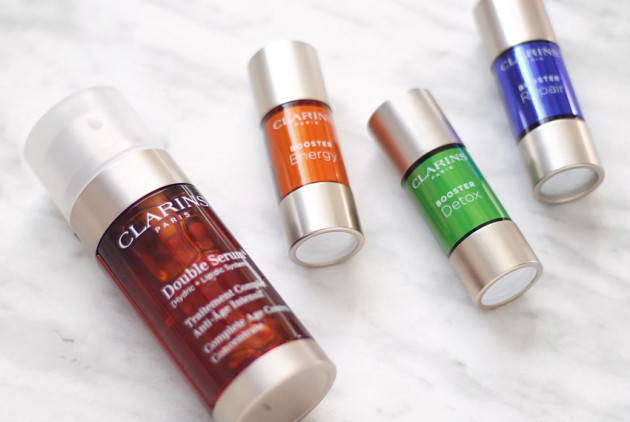 The packaging: The Clarins Boosters are tiny, with really brilliant packaging. You just press on the soft, curved bottom "button" to dispense drops of product, and you can dispense as many or as few drops as you want. The entire design concept is SO MUCH smarter than awkward eye dropper-style bottles, and it's just a joy to us.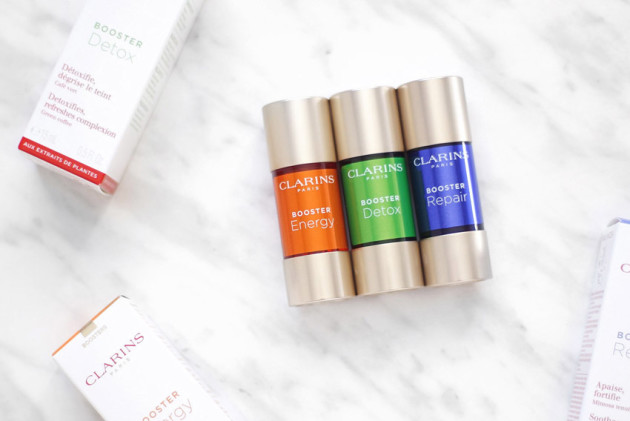 The boosters: These three different booster serums can be mixed and matched,  and are made to be blended with your moisturizer whenever you need them. The orange Energy Booster is meant to help with tone and radiance using ginseng extract, and it's the least hydrating of the three boosters. It's easy to use, but I didn't see a huge change after 2-3 days of use. (These are designed to be single-day-use if needed, so I've tested them as such!)
The green Detox Booster is the one that I've been using the most, and honestly, it's pretty phenomenal. The green coffee extract is intended to detoxify and plump the skin after over-indulging, and while I don't really believe in antioxidants and stuff, it certainly does make my skin look fuller – I can actually see the difference in how plump the skin around my eyes is.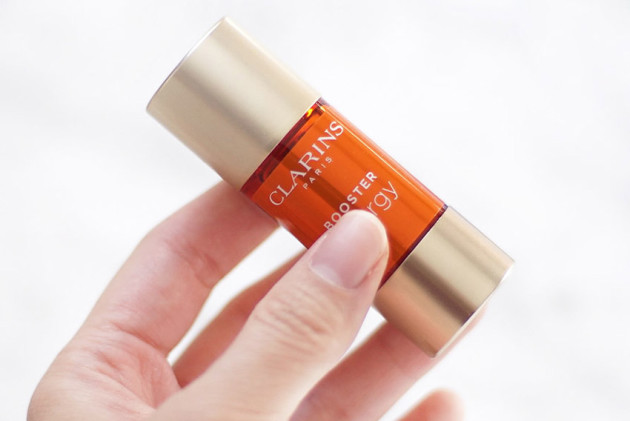 Finally, the blue Repair Booster is meant to strengthen your skin barrier and reduce discomfort. It feels very protective when my skin is irritated, but it's very sticky and contains a generous portion of glycerin. I'd recommend it primarily as a preventative measure, but it also contains mimosa tenuiflora extract and allantoin for epidermal repair and soothing.
Clarins recommends that you use 3-5 drops of serum mixed into your moisturizer or mask, but that was way too many for me. 2 drops seemed to be the best balance for my face; any less and it wasn't enough, but any more and my skin would feel tacky for hours.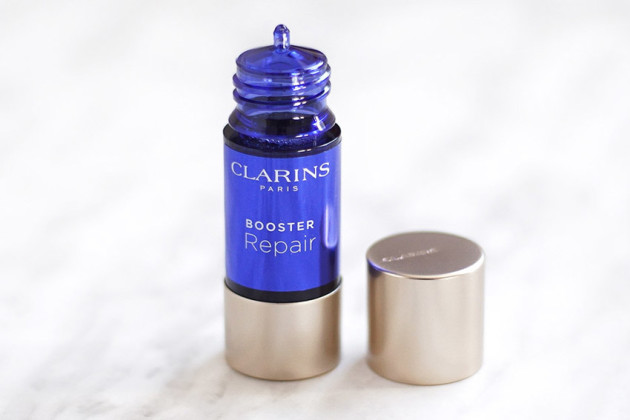 The verdict?
I really like the idea of an as-needed booster instead of a mandatory daily serum, and the Clarins Detox Booster is excellent.
And hey, skincare industry? If you could just go ahead and package everything in droppers like these… That'd be cool of you. Thanks.
Availability: $39 USD/$40 CAD at Clarins.ca, Sephora, and Nordstrom.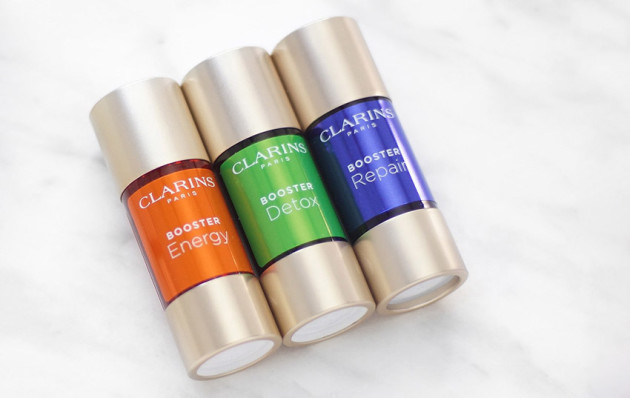 Clarins Energy Booster ingredients:
Water, Propylene Glycol, Butylene Glycol, Wheat Protein, Panax Ginseng Root Extract, Phenoxyethanol, Acetyltetrapeptide-2, Dextran.
Clarins Detox Booster ingredients: 
Water, Glycerin, Butylene Glycol, Oat Kernel Extract, Coffea Robusta Seed Extract, Phenoxyethanol, Passiflora Incarnata Flower Extract, Cotton Seed Extract, Sodium Hyaluronate, Potassium Sorbate. 
Clarins Repair Booster ingredients: 
Glycerin, Water, Propylene Glycol, Panthenol, Mimosa Tenuiflora Bark Extract, Allantoin, Centella Asiatica Extract, Phenoxyethanol, Sorbic Acid.