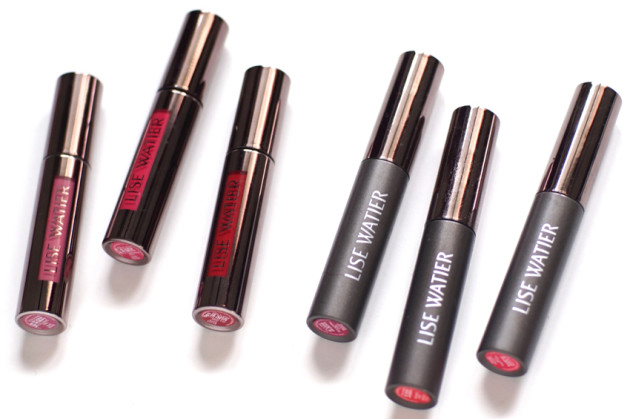 The products: Lise Watier Baiser Velours in Party Kiss, Love Kiss, and Passion Kiss; Lise Watier Baiser Satin in Candy Kiss, Bombshell Kiss, and Red Hot Kiss
When the Baiser Velours Velvet Liquid Lipsticks launched last year, I couldn't have been more excited. Between the gorgeous matte-and-shiny tubes and the absolute siren of a model that they photographed for the campaign, the Baiser Velours lipsticks sounded like they were going to be my next big lipstick love.
They fell short of my expectations (and fell to the bottom of my to-review pile), but then the Baiser Satins came out… and everything changed.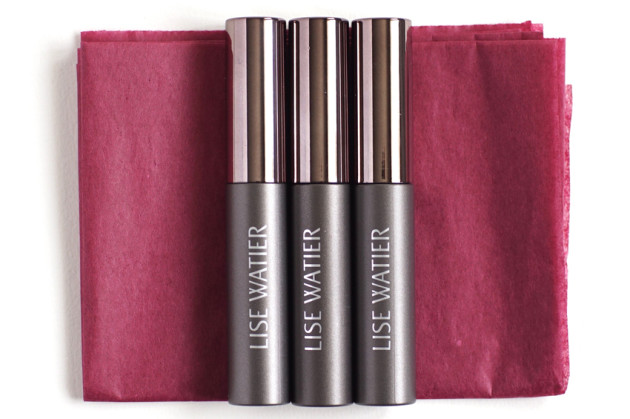 The Baiser Velours formula ($28 CAD)
The Lise Watier Baiser Velours formula is pigmented and extremely matte, with a dry, transfer-free finish (on glass), but I just couldn't make myself fall in love with them.
Now, don't get me wrong: they look AWESOME freshly applied. They're the perfect "Instagram" lip; matte and opaque and incredibly sexy. But that transfer-free promise goes totally to the wind the second you put your lips to good use (with  casual, daytime-television-friendly make-outs; get your minds out of the gutter), and the formula starts getting pretty uncomfortable after about two hours.
What really kills me about the Baiser Velours formula, though, is the way that it gets messy. After 2-3 hours of making sure I don't kiss any wayward strangers lest we both end up looking like bad horror movie extras, the inner rim of my lips does that thing that you see sometimes with lipglosses — you know, that thing where the product decides that it can't handle the moisture and gets white and gooey and really gross. 
Lise Watier Baiser Velours lipstick swatches in Love Kiss, Party Kiss, and Passion Kiss (not fully dried down).

Lise Watier "Love Kiss" Baiser Velours on (your) left sides of lip in both pictures / "Bombshell Kiss" Baiser Satin on right side
So, well, these ones get a big "skip" from me, on account of the fact that I'd prefer if people didn't think I had rabies. They're awesome and sexy both inside and out, but the formula just doesn't hold up!
The Lise Watier Baiser Velours ingredients:
Cyclopentasiloxane, Trimethylsiloxyphenyl Dimethicone, Neopentyl Glycol Dicaprylate/Dicaprate, Isododecane, Silica Dimethyl Silylate, Triacontanyl PVP, Trimethylsiloxysilicate, Dimethicone/Vinyl Dimethicone Crosspolymer, Methoxy PEG-17/Methoxy PEG-11/HDI Isocyanurate Trimer Cosspolymer, Fragrance, Ethylhexyl Palmitate, Butylene Glycol, Caprylyl Glycol, Sodium Hyaluronate.
+/- Titanium Dioxide, Red 6 Lake, Red 7 Lake, Yellow 6 Lake, CI 77491, CI 77492, Iron Oxides, Red 28, Blue 1 Lake.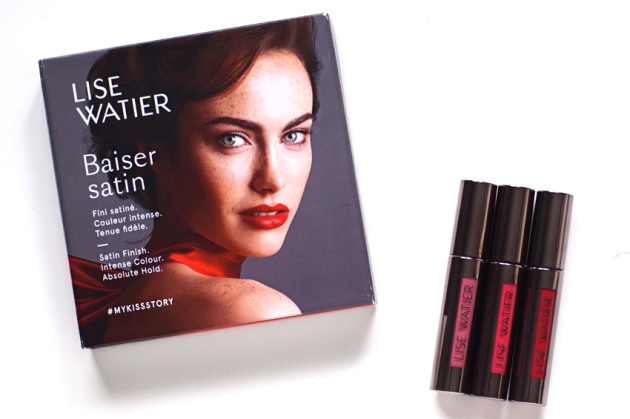 The new Baiser Satin formula ($28 CAD)
And then (and then!) this happened. Lise Waiter launched the Baiser Satin range, which is a satin-finish update on the award-winning Baiser Velours formula.
In reality, though? The Satins are totally less "slightly different flanker product" and more "OH GOD, HOW LOVELY." They're packaged in gorgeous, shiny tubes with window openings to reveal the colour of each shade, and their satin finish is absolutley perfect. It's not as dry to the touch as the Velours formula, but it still looks quite matte — I'd say it's in between a matte and a cream, with zero shimmer and a really comfortable hold.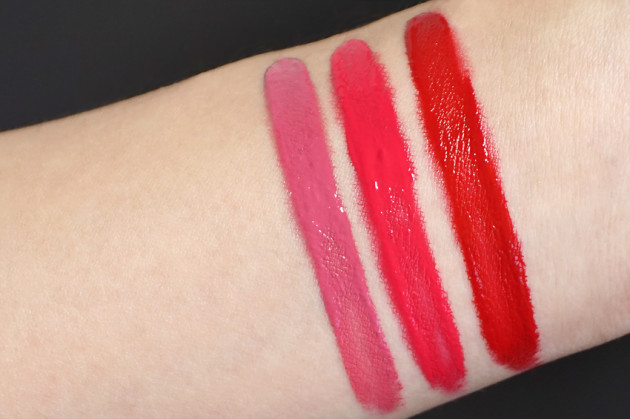 While the Baiser Velours have that totally dry (and dry to the touch) papery finish, the Satins feel more like a gloss and look like a non-MAC matte lipstick bullet: matte, but like, soft matte. I can get a comfortable five hours of wear out of them with no liner, lip balm, or lip primer, and they're totally more "expression friendly" than the Velours.
Sure, the Satins don't lock down immediately, but they do:
Offer even more pigmentation than the Baiser Velours lipsticks in a single swipe,
Feel super comfortable everywhere & wear well on the inner rim of the lip, and
Facilitate a wrinkle-free transition from wild grinning to sudden withering glares.
The Lise Watier Baiser Satin ingredients:
Polybutene, Diisostearyl Malate, Dimethicone, Trimethylsiloxyphenyl Dimethicone, Bis-Diglyceryl Polyacyladipate-2, Silica, Dimethyl Silylate, Isododecane, Dimethicone/Vinyl Dimethicone Crosspolymer, Trimethylsiloxysilicate, Methoxy PEG-17/Methoxy PEG-11/Hdi Isocyanurate Trimer Crosspolymer, Parfum.
+/- Titanium Dioxide, Red 7 Lake, Yellow 6 Lake, Ci 77491, Ci 77492, Iron Oxides, Blue 1 Lake, Red 6, Red 28 Lake.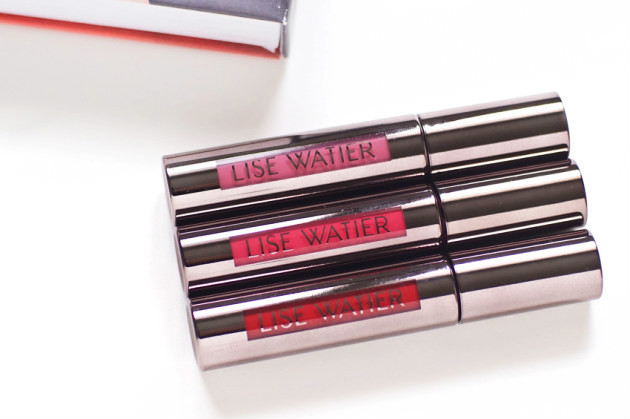 The verdict?
I feel bad dragging a product as pretty as the Lise Watier Baiser Velours lipsticks through the mud, but my dear readers — it had to be done. The Baiser Velours line is what you'll want to go with for a paper-finish, opaque matte lip, but for everyone whose logic functions are still working else: the Lise Watier Baiser Satin lipsticks are totally the way to go.
The Baiser Satins are 9/10ths as sexy as their matte counterparts, but they make up for that extra 10% by wearing for twice as long, not crinkling after you smile, and not going goopy AT ALL on the outer or inner edges of the lip.
Availability: $28 CAD at LiseWatier.com (US & Canada) and in-store at Shopper's Drug Mart, London Drugs, and the Hudson's Bay Beauty Underground! Lise Watier is a cruelty-free Canadian brand.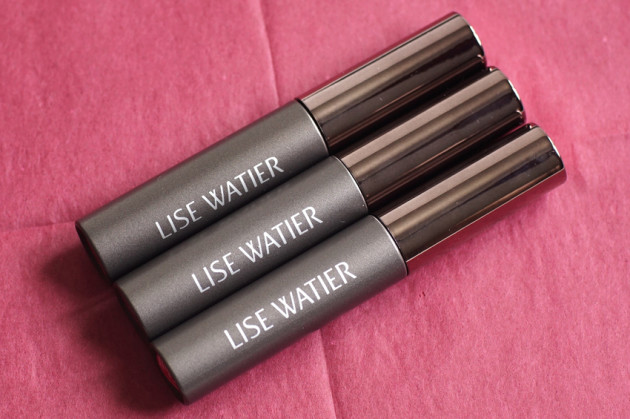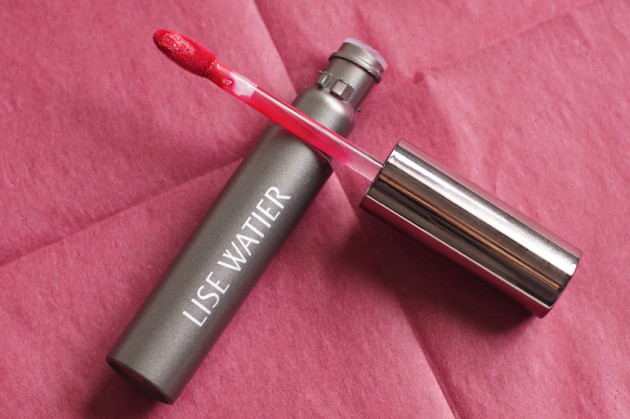 Lise Watier Party Kiss Baiser Velours (matte) review – packaging
Lise Watier Candy Kiss Baiser Satin review – packaging