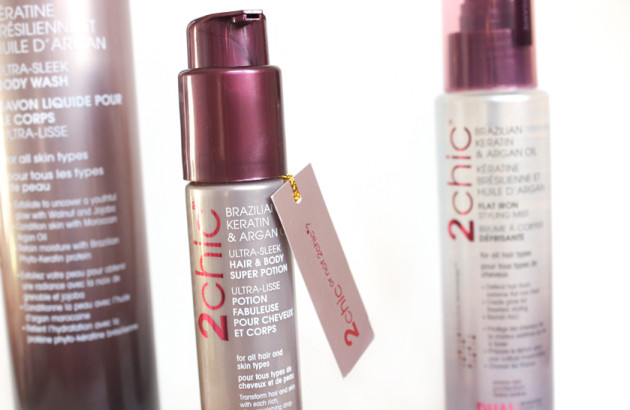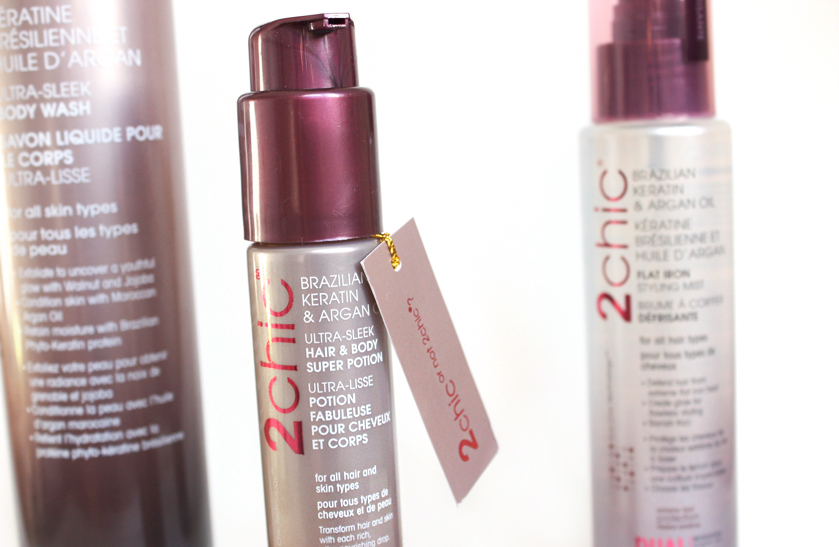 The product: Giovanni 2chic Brazilian Keratin & Argan Oil Ultra-Sleek Hair & Body Super Potion
This serum landed on my desk over a year ago, and after writing three variations of this review, I think I'm finally ready to publish a post about it.
I had tried Giovanni's Keratin & Argan Oil Serum initially as a serum on my long, straight hair, and quite frankly, it was kind of gross. A year after that, I decided it was time to transition this guy's routine into a silicone-free one (what? He was breaking me out!), and out came this serum for its triumphant, great-for-curly-hair return. And now, upon my third attempt at testing this, I can finally say it's great for one more thing: soothing a chronically dry scalp.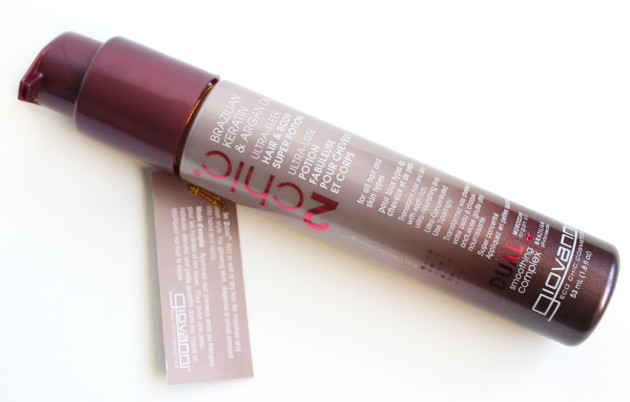 The "this makes curly hair so attractive I get light-headed" approach 
You think I'm joking, but seriously, I'm not joking. Giovanni's Ultra-Sleek serum did nothing for my dry, straight hair except make it feel kind of gross and heavy, but on curly hair, it works wonders. 
M was blessed with the kind of hair all girls want (full, curly, and naturally dark blonde with highlights), but it needs a little prep work, sometimes. It gets fussy if he blow dries it, and poofs a little if there's nothing in it, but all in all — pretty standout hair.
So I've always adored M's hair, but good lord, the things this serum does to it. He works a tiny amount of the Ultra-Sleek serum into his hair–you really have to work it in there–and suddenly, it's all curls! definition! glossiness!, like he's rolled out of bed and onto the gently-tousled centre spread of a naughty glossy magazine. It takes all the guesswork and skill out of styling curly hair, which is something I think we could all use, you know?
(Don't lie, you totally do. Rolling out of bed with model hair is every girl–and probably guy's–dream.)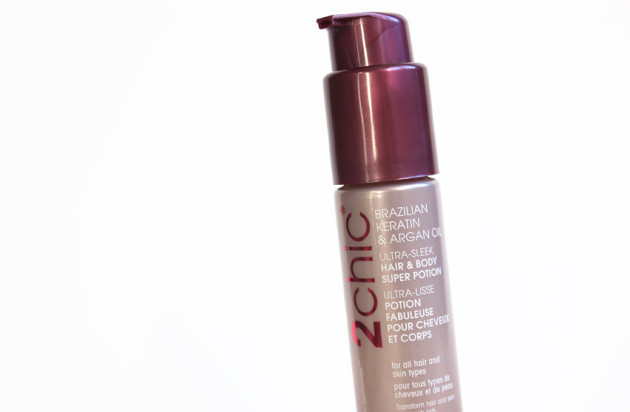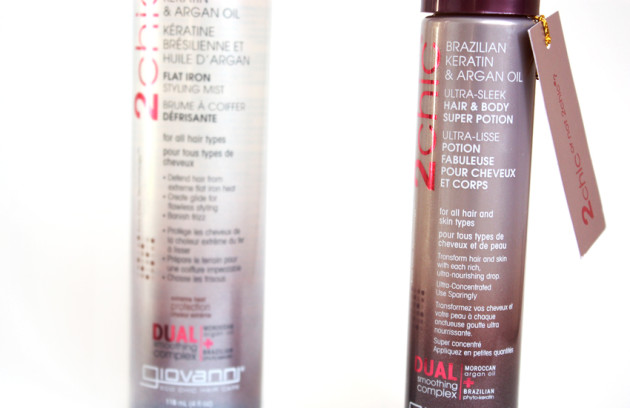 But it's great on the scalp, too
he Brazillian Keratin & Argan Oil 2chic serum is enriched with all sorts of good-for-your hair ingredients, and it makes for a smooth, hydrating finished product — it's a rich, thin, nutty-smelling oil. You have to be careful not to use too much, but if worked in well, this is a product that doesn't need to be re-activated or re-styled day after day.
I have one of those finicky scalps that gets super tight after I shower, no matter how hydrating my shampoo and conditioner are, but gets oily through the day — and, if left unattended, flakes like crazy along the hairline. I thought I had dandruff for years before realizing that the flakes weren't characteristic of dandruff at all, and that they only appeared around my face… where, coincidentally, my skin also flakes and peels if left un-moisturized.
Long story short: used sparingly while your hair is wet, a little bit of Giovanni Ultra-Sleek massaged into the scalp really helps comfort and hydrate dry patches without adding too much weight to the hair. It's not a permanent fix, but it's certainly more hair-friendly than facial moisturizers!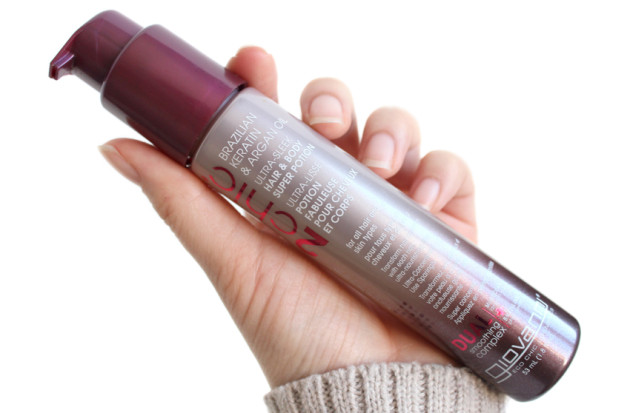 The verdict?
It took me sixteen months to review this product, but I couldn't be happier that I waited. Had I reviewed it promptly, you would have gotten an entirely inaccurate view of the product: I would have told you that, for a serum, it seemed kind of dry-heavy… and kind of gross.
But patience has its rewards, and I can paint you a very different picture of Giovanni's 2chic Brazilian Keratin & Argan Oil Ultra-Sleek Serum today. It's amazing for curly hair (especially short curly hair), great for moisturizing the scalp, and touts a nutty scent alongside top-notch packaging. I actually did a double-take when I saw how much this was — I had expected something close to $20, not $8!
While NOT suited for fine hair, this serum has really knocked my socks off. It's an amazing buy for the price, and despite being formulated entirely from natural and organic ingredients, it outperforms any silicone-based haircare products I've tried for dry scalps and thick, curly hair.
Availability: $7.99 USD/$8.99 CAD/£8.99. See the full list of retailers here — it's very long, so you have absolutely no excuse not to give this a try!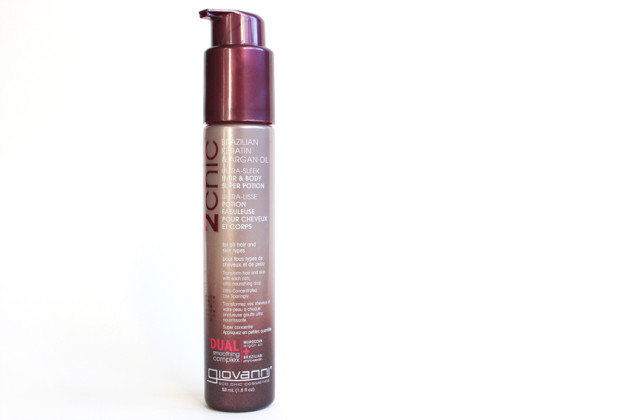 Giovanni 2chic Brazilian Keratin & Argan Oil Ultra-Sleek Hair & Body Super Potion serum review
The ingredients:
Grapeseed Oil, Macadamia Seed Oil, Jojoba Seed Oil, Vitamin E, Argan Kernel Oil, Brazilian Cocoa Keratin Extract [Phyto-Keratin], Rooibos Tea Extract, Coconut Oil, Shea Butter Extract, Phenoxyethanol, Natural Fragrance.

Cruelty-free & free of silicones, phthalates, sulphates, parabens, and propylene glycol. (Note: Giovanni isn't a silicone-free brand; this "super potion" serum is just a lucky find!)