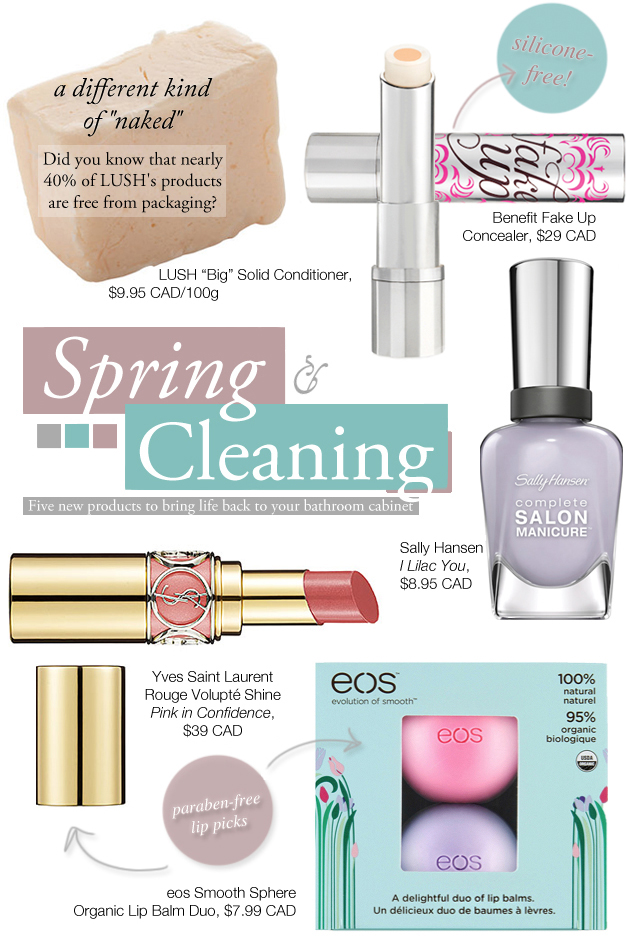 A few April (and April-ish) picks
— LUSH Big Solid Conditioner. Fragranced with vanilla, jasmine, and tonka bean, this solid conditioner uses sea salt to add volume to fine hair… & comes free of parabens, silicones, and packaging. $9.95 CAD/100g.
— Benefit Fake Up Hydrating Crease-Control Concealer. Like a lot of these spring picks, Fake Up offers more than just colour: silicone- and paraben-free, these sticks (which come in three shades) bring light-diffusing hydration to the table, too. $24 USD/$29 CAD.
— Sally Hansen Complete Salon Manicure in I Lilac You. How pretty is this 7-in-1 varnish? The reformulated Sally Hansen Complete polishes come in a terrifying 49 shades, and are made to be your base coat, strengthener, growth treatment, colour, and top coat, all in one. $8.95 CAD.
— eos Smooth Sphere Organic Lip Balm Duo. With one best-selling fan favourite (the pink Strawberry Sorbet) & one set-exclusive flavour (the elusive purple Passion Fruit), this is one set that you can't miss… if you can find it before it sells out, that is. $5.99 USD/$7.99 CAD.
— Yves Saint Laurent Rouge Volupté Shine in Pink in Confidence. YSL's new Rouge Volupté Shines may be sheerer than most makeup addicts would like, but I love the vibe of this paraben-free dusty pale pink. $34 USD/$39 CAD.
What's on your radar for the spring?