I have Trustafarian and Dodgy Barnett to share with you this (and next) week, but more on that in a few! Here are a few quick collection details — I was going to add them to today's post, but it was toeing the line between "long" and "definitely too long, oh my god, calm it down."
You'll thank me later (or not… I have a sneaking suspicion that I tripped over that  line by a long shot anyways.)
butter LONDON Autumn/Winter 2012
It's rather difficult to describe polishes you don't own, so I'll let butter LONDON take it from here!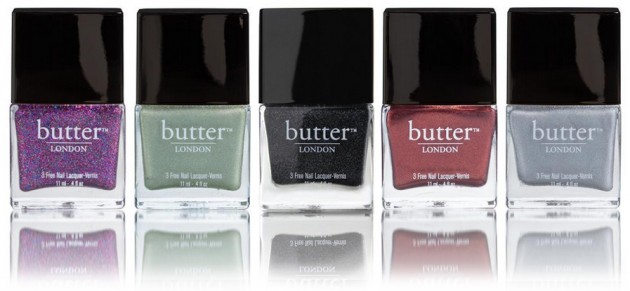 Lovely Jubbly: Brit speak for "Excellent." Used when a person hears pleasing news or has a stroke of good luck.
A vibrant magenta flecked with red, blue and gold micro particles. 
Trustafarian: A spoiled rich kid who pretends to be a hippy but still goes home to Daddy's mansion on the weekend. 
A golden holographic finish gives this delightful sage green a surprising and sophisticated edge. 
Gobsmacked: To be totally speechless. Unable to think of anything to say.
A heavily pigmented charcoal grey glitter with a slightly textured finish. 
Shag: Brit slang for "knocking boots."
A high-shine metallic lacquer in a warm orange-burgundy hue. 
Dodgy Barnett: A bad hairdo. A mullet of any variety is a seriously Dodgy Barnett.
A highly holographic shade that blurs the line between grey and silver.