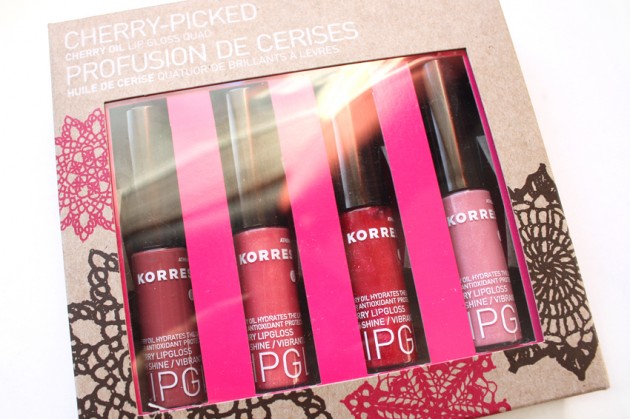 The product: Korres Cherry-Picked Cherry Oil Lipgloss Quad
↳ Cherry Full Color Gloss in Natural Purple, Rose, Fuchsia, and Light Purple
The formula: The Cherry Full Color Gloss formula doesn't knock me out of the park, but I do really like it. The glosses wear with a bit of weight to them, and surprisingly, they stay where they're put – despite the fact that these are quite pigmented, and despite the smooth, non-sticky texture*. They're comfortable, moisturizing, and at $7 each (the set's just $28 US, and the glosses are full-sized), they're a really good buy.
The scent: Okay, so this is the only thing I'm not crazy about. I don't love it, but I don't hate it, and it's light enough that it's not going to turn me off them, at least. The cherry scent is a little bit too cough-syrup-sweet for me, which is never a fun trip down memory lane, but a lot of people do really like it! I suppose I'm just not one of them. (As usual, ugh, nose why are you doing this to me I thought we were friends.)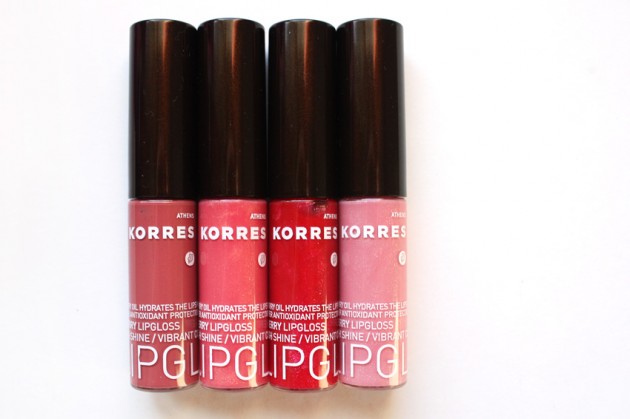 The shades: The Cherry-Picked Quad (and really, quad? Am I the only one who thinks this is a weird term used out of the context of eyeshadow?) includes, you guessed it, four different shades. There's Natural Purple 25 (described as a sheer dusty rose), Rose 22 (sheer golden rose shimmer), Fuchsia 54 (shimmering muted fuchsia), and finally, Light Purple 23 (mauve pink shimmer).
I've never really understood Korres' naming scheme, but whatever, I'll run with it.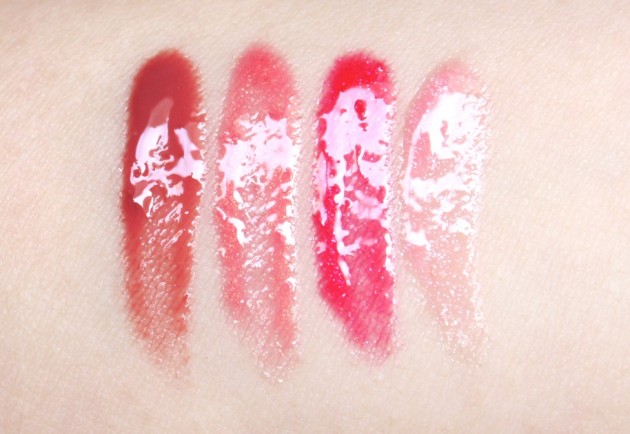 Swatched L-R: Korres Cherry Lipgloss in Natural Purple, Rose, Fuchsia, Light Purple
I'm guessing that I'll get the most wear out of Natural Purple, because it's the only one that's shimmer-free (and I've never been all that into shimmery lip glosses). It's sort of a rosey medium-nude; a warm mauve, if such a thing is possible. The resulting lip is really natural, and while it would look quite different on all skintones, I can't think of any that it wouldn't suit.

Korres Natural Purple swatch
Rose is the medium-pink to Natural Purple's medium-nude. Again, it would make a great everyday lip colour, and would suit quite a few skintones & makeup looks. Despite the fact that I don't like shimmer, I'm actually quite fond of this one – the sheer colour goes on really evenly, and the gold-toned shimmer compliments the fresh, slightly-coral pink perfectly.

Korres Rose swatch
True to their confusing naming scheme, Korres' Fuchsia doesn't seem all that, erm, fuchsia to me. Of the set, this gloss packs the most pigment, and creates the boldest lip colour.
But – fuchsia? I don't know.
I'd probably describe this as a sheer, bright red, or a cool, bright berry-pink. (Er, not because it's awesome and I'm in the nineties; cool as in blue undertones). Anyhow, Fuchsia features tiny, subtle silver and pink shimmers dispersed through the formula, and– Korres just does good shimmer, okay? Don't judge me for being so fond of it.

Korres Fuchsia swatch
Finally, Light Purple is a slightly milky baby pink with silver glitter. The shimmer isn't actually larger than that of Fuchsia or Rose, but I still feel like the particles "jump out" from the base colour in a way that it doesn't in the other shades. (Perhaps because it's so contrastive; pink in Fuchsia vs. gold in Rose vs. silver in Light Purple).
Again, I think it would flatter both warm and cool skintones — though perhaps cool a bit moreso — and it has enough pigment to tone down my natural lip colour.

Korres Light Purple swatch
Is it giftable?
Nope. Nuh-uh. Not even a little bit. If you're going to pick these up, you're keeping 'em. Period.
If, however, you picked up two sets (in a flurry of clarity and proactive-ness), then: yeah. They're giftable. The trick is just to convince yourself to actually let them go ;)
Honestly, I think that Korres summed this one up really well for us in their product description: (a) full-color, (b) shine without a sticky finish, and perhaps most importantly, (c) a range of shades, from natural to vibrant, for every mood and occasion.
Crazy, right? Marketing-speak that's actually right on the nose!
(bare lips, for reference)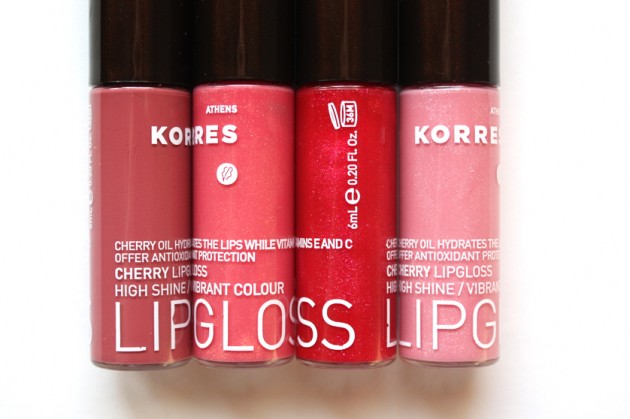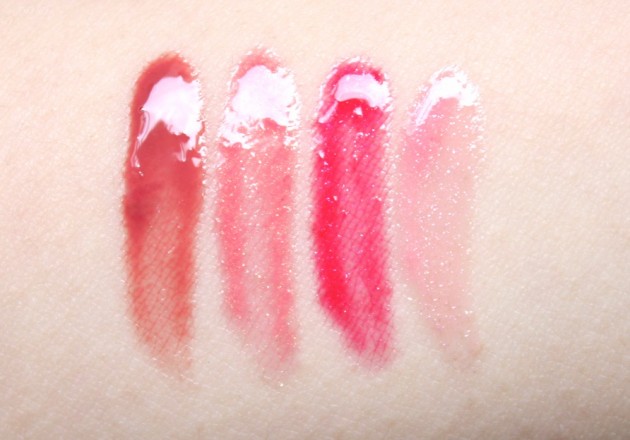 Swatched L-R: Korres Cherry Lipgloss in Natural Purple, Rose, Fuchsia, Light Purple
The ingredients
Polybutene, Hydrogenated Polydecene, Synthetic Wax, Silica, PVP/Hexadecene Copolymer (VP/Hexadecene Copolymer), Octyldodecanol, Hydrogenated Jojoba Seed Oil, Anise Alcohol, Aroma, Ascorbyl Palmitate, Citric Acid, Lauryl PCA, Lecithin, Phenoxyethanol, Sweet Cherry Seed Oil, Bitter Cherry Seed Oil, Tocopherol, Calcium Aluminum Borosilicate, Synthetic Fluorphlogopite, +/- colourants