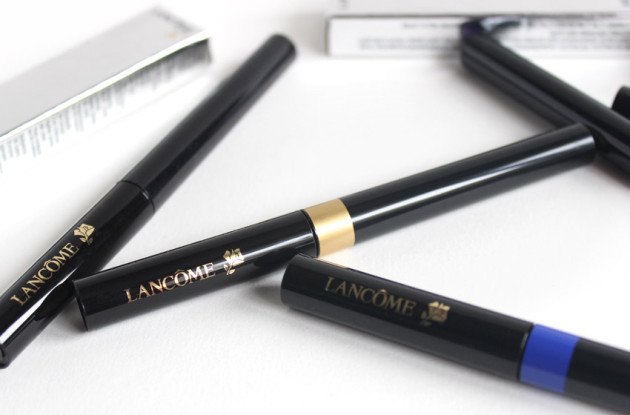 The product: Lancôme Artliner 24H Bold Color Precision Eyeliner ($30 USD/$37 CAD)
   ↳ in 01 Black Diamond, 02 Gold, 03 Sapphire, 04 Amethyst, and 052 Emerald
The cult-classic Lancôme Artliner celebrates its 20th anniversary this year, and to celebrate, the brand is launching a new 24 hour version of the formula. Available in 10 shades, the new "24H Bold Color Precision Eyeliners" boast a vinyl finish and their new "flex polymer" technology for longer wear.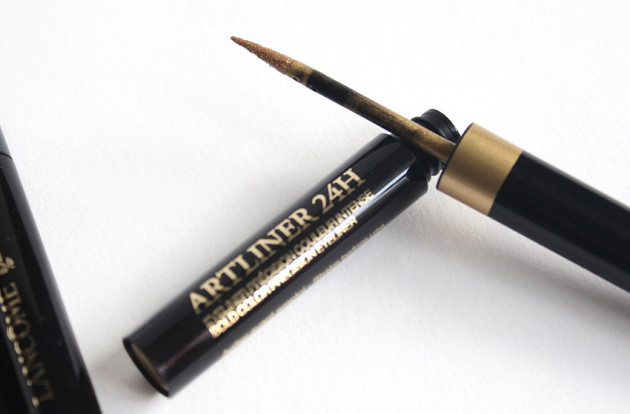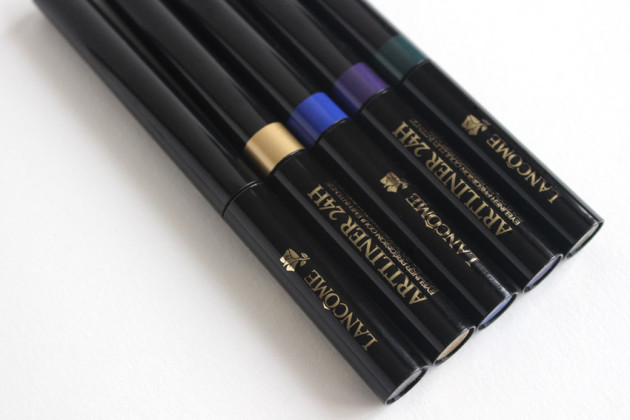 The product
The wear: While I haven't tested these for a full 24 hours (a girl's gotta sleep and shower), I can tell you that the formula is made with us oily-lidded gals in mind. I don't get any flaking or smudging when I wear these, no matter how long I wear them for, and oil seems to LOCK the product onto the skin — sort of like how a tubing mascara works.
These remove easily with warm water or an oil-free makeup remover, but don't so much as budge during the day. My swatches of these liners didn't even flake when I tried to "peel off" the product with my fingernails — which, for the record, was kind of painful. I lost a bit of arm to the cause–ouch–but can happily report that the liners stayed intact!
(What's that? My product testing doesn't actually need to be that rigorous? Don't be silly; of course it does.)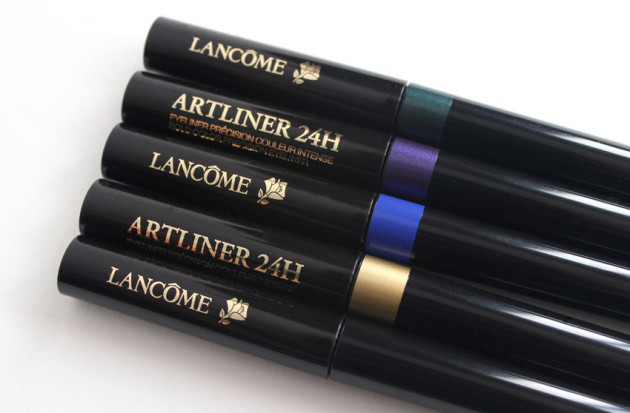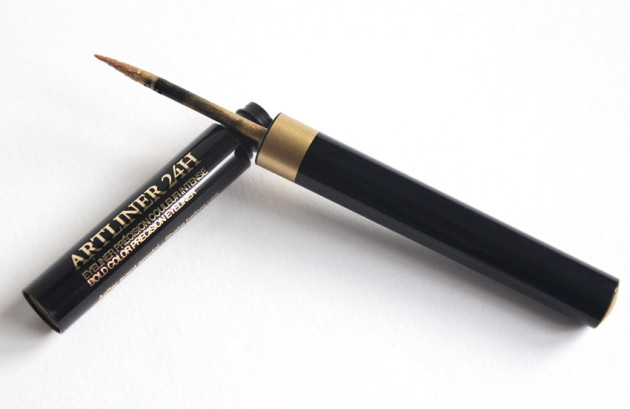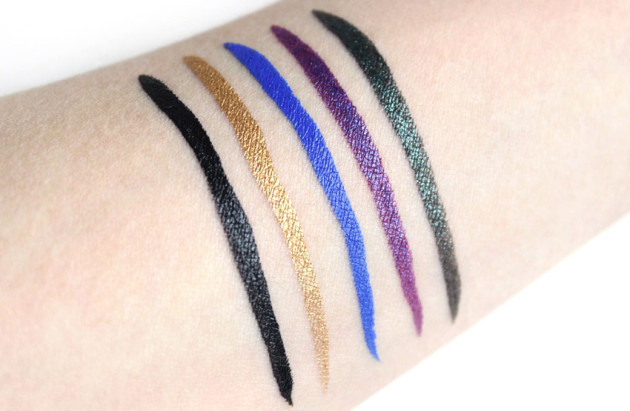 Lancôme Artliner 24H swatches, L-R: 01 Black Diamond, 02 Gold, 03 Sapphire, 04 Amethyst, and 052 Emerald
The shades: 01 Black Diamond is a rich, opaque black with a glossy finish and no noticeable shimmer. 02 Gold is a metallic yellow-gold; a hair less opaque but definitely still a full finish. 03 Sapphire is an opaque, amazingly vibrant blue, without shimmer but with an eye-catching vinyl finish.
04 Amethyst is a medium-opacity purple with blue shimmer, but (as Lancôme notes) it is not suitable for contact lens wearers, as it can stain the contact lens. I would have liked to have seen more pigment from it, at $37 CAD, and its swatch washed off my arm noticeably sooner than the other shades I tested. 052 Emerald is a medium-opacity dark green with light green shimmer.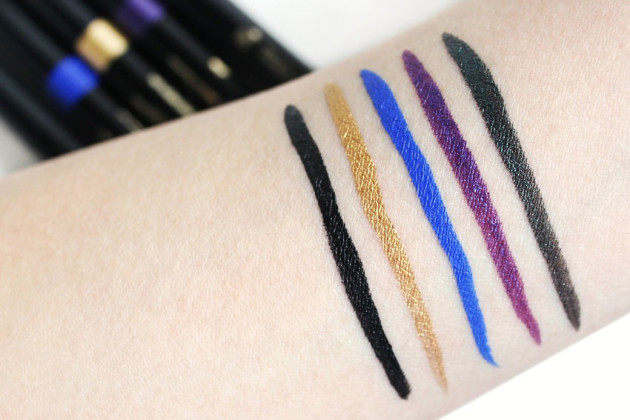 Lancôme Black Diamond, Gold, Sapphire, Amethyst, and Emerald 24H Artliner swatches
A look in black and gold 
I wanted to put together something basic-but-pretty for this post, so here's a quick eye look with simple black and gold liner. It's super easy to do, and eye-catching without being, you know, eye-catching. Think of it as holiday party appropriate and lunch date appropriate, all in one.
Perilously Pale, Ton Petit Look, Simply Stacie, and Beautezine have all created looks with the Artliner 24Hs today as well — make sure to check out their posts!
Wearing Lancôme Artliner 24H in 01 Black Diamond and 02 Gold (any metallic shade would work) with their Hypnôse Star mascara in Noir Midnight and Aquatique Waterproof Eyecolour Base in Nude.
The giveaway (plus 10% off and a free sample!)
I didn't really have time to for this post, but when Lancôme generously offered to give away three 24H Artliners and one tube of Hypnôse Star (value of $144) to one of our Canadian readers… how could I say no?
The original Lancôme Artliner was my very first eyeliner, and I loved it to bits. This new version? Even better. To try them out for yourself, enter using the form below:
a Rafflecopter giveaway