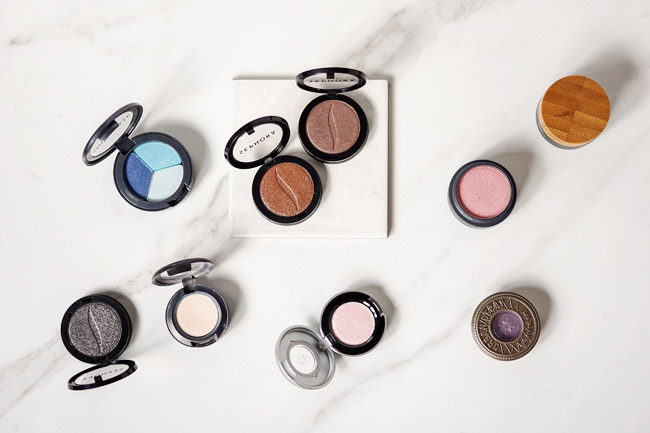 A recent email from a reader opened my eyes up to a whole new field of silicone-free that I haven't looked at yet on the blog: silicone-free eyeshadows. I tend to wear an eye primer with silicones, so this hadn't applied to me until now! (I'd rather clean meticulously and hope for the best than have my eyeshadow crease by lunch.)
With new technology and better products, the need for silicone-y primers is diminishing. I've recently started wearing The Organic Skin Co. cream eyeshadows as my eyeshadow base — and they could not be better. I get a solid 9 hours of wear (7 hours crease-free) when I use them, and they're so easy to blend and apply. Their creamy formula is the perfect texture to make my powder eyeshadows more intense, but unlike every single other cream eyeshadow I've ever tried, they actually keep my eyelids free of creasing and fading.
(And I've tried a ton of cream eyeshadows that haven't been 'cone-free. MAC, Bobbi Brown, Lise Watier… you name it. The Organic Skin Co's silicone-free cream eyeshadows are the first to really work for my monolids!)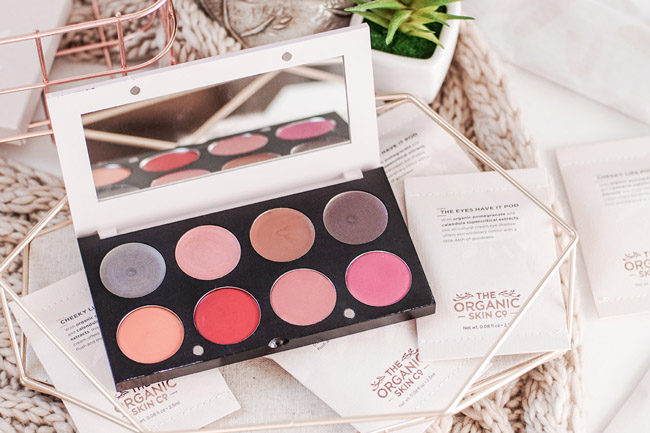 1. The Organic Skin Co. "The Eyes Have It"
Let's start with the important stuff. The Organic Skin Co.'s eyeshadows are pricey (here's a US link for you, too!), but they're worth it. The brand's The Eyes Have It Cream Eyeshadow Pods ($29 CAD) are blendable and pigmented, with enough oomph to create an intense eyeshadow look and enough stickiness to act as a silicone-free eyeshadow primer that'll give you all-day wear. Their eyeshadow pods are drier than their lip and cheek pods (always a good sign), and they're wonderfully intense for a naturally-based product.
From left to right in the swatches, Silhouette is a subtle, medium-sheer grey with fine shimmer. Silk Purse is a sophisticated, salmon pink with medium-opaque shimmer. Day Dreamer has a ruddy, brown cream finish. Finally, Deep Purple pops with electric silver, plum, and pink reflects on a dark grey base.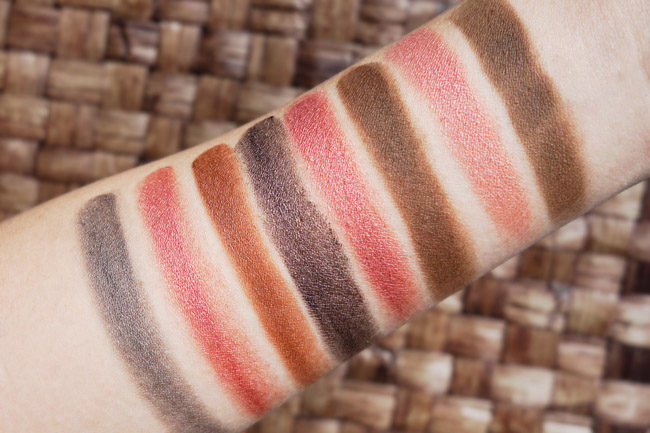 The Organic Skin Co. eyeshadow swatches
2. The Organic Skin Co. "Meet the Press"
As delicious as their cream formulas are, the brand's Meet the Press Pressed Eye Shadow Pods ($29 CAD) are (somehow) equally as good. You'll see two sets of pink and brown swatches in these photos: the first is Orchid and Nutmeg overtop Silk Purse and Day Dreamer; the second is Orchid and Nutmeg on their own, on moisturized skin.
Each of the eyeshadows corresponds well with its cream counterpart, which is either a good or a bad thing depending on your preferences. Orchid maintains the fine, uniform shimmer in Silk Purse, with a little more of a peach hue. Layered, the colour is maintained but intensified, and the wear time increases—these formulas mix to form an almost putty-like wash of colour that even resists being scrubbed at with a tissue, until you introduce a little cleanser or makeup remover to the mix. Nutmeg is a cream finish as well, but runs cooler than Day Dreamer.
I've been wearing a mix of Silhouette, Silk Purse, and Deep Purple as a base, with Orchid and Nutmeg overtop. To brighten up the inner corner and ease the red undertones of Silk Purse, I take MAC Blanc Type around the edges and add a bit of ivory shimmer to the inner corners.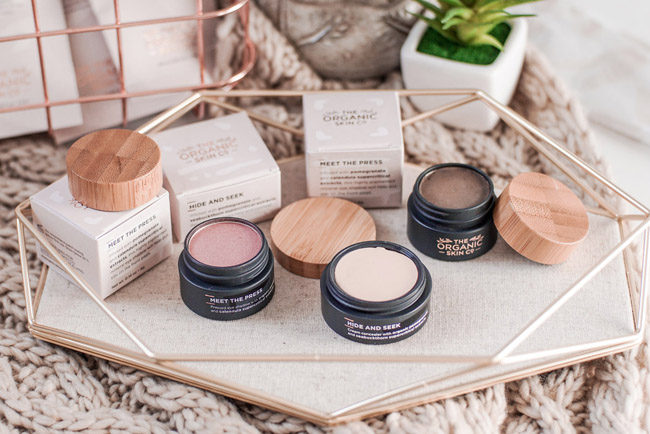 3. Clean eyeshadows from The Detox Market
Every eyeshadow from The Detox Market is going to work for someone on a "silicone-free skin diet." That's right; you heard me. Every eyeshadow at The Detox Market is silicone-free, from their cult-followed RMS Beauty Eye Polish to their bracingly-expensive Kajer Weis Eye Shadows.
For affordable silicone-free eyeshadow options, I'd recommend going with Alima Pure ($14 USD/$17 CAD). Loose eyeshadows are a bit of a hassle, but Alima is one of the brands that hit it big during the 2010s' mineral makeup craze and still continued to flourish when it ended. Their eyeshadows are offered in Satin Matte and Shimmer finishes, and are available in Pressed Eyeshadow format elsewhere.
If you're on the hunt to build a silicone-free eyeshadow empire in your bedroom, mineral makeup companies are a great place to start. Many indie brands will press their eyeshadows with dimethicone, but if you can find a company that uses Caprylic/Capric Triglyceride (my favourite ingredient!) instead, you'll likely be good to go. BareMinerals comes to mind as a mass-market brand that makes truly exquisite silicone-free eyeshadows.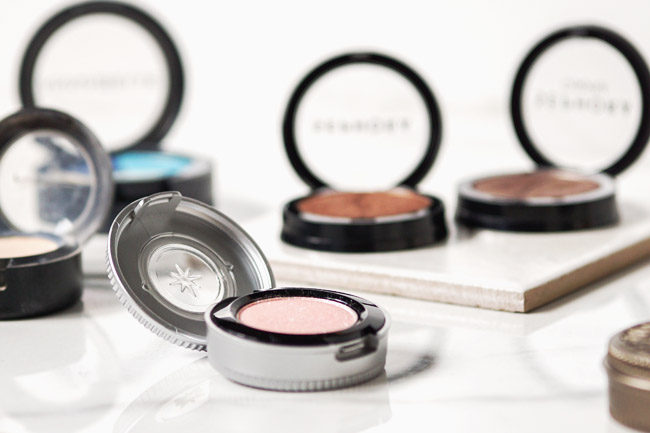 4. & 5. Easy-to-find silicone-free eyeshadows from MAC and Urban Decay
After years of being exhausted by each new MAC collection, the brand has fallen off of my radar. I forget about MAC when I'm writing posts, and haven't purchased from them in years. But I love their basic eyeshadow and blush formulas… enough to get over their silly domed lids! I still use my last pan of Blanc Type religiously, and loved Full of Joy for years before Milk Makeup launched.
MAC gained its popularity for good reason, and it did so with relatively simple formulas. Their classic MAC Eye Shadow ($17 USD/$19 CAD) lists a silicone-free formula for with matte, satin, and shimmer finishes. For a little more pigment, the brand's creamy Extra Dimension Eyeshadows ($20 USD/$26 CAD) are similarly silicone-free.
And for anyone who loves a great eyeshadow but isn't a fan of MAC, there's always Urban Decay. Like MAC, not all of their eyeshadows are silicone-free, but their singles are. Look to the poker-chip discs of Urban Decay Eyeshadows ($20 USD/$25.50 CAD) for another option that's easy to find.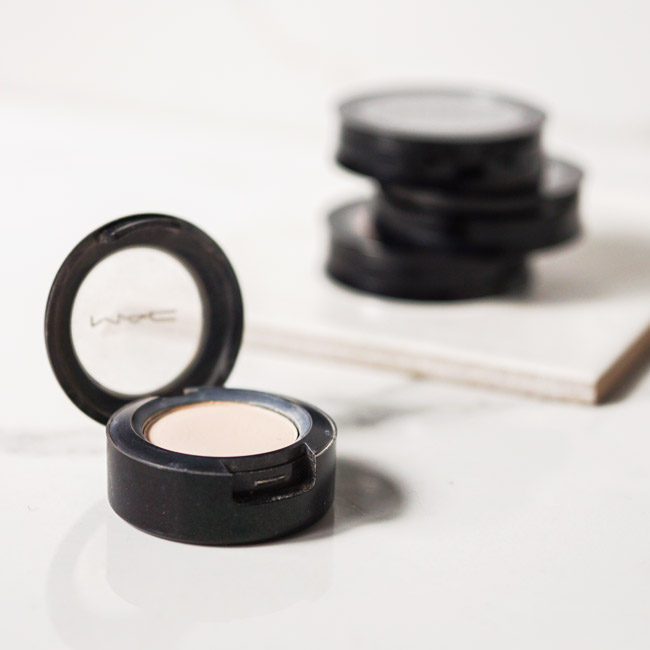 6. Awesome, budget-friendly silicone-free Sephora eyeshadows
As I mentioned, I'm kind of over MAC. Many of their products are truly great, but on the whole… well, I'm just not a big fan of any company that pushes out that many collections a year. After a certain point, the appeal of consumerism just becomes a little farcical.
The Sephora Collection makes a ton of products that I love (their Cream Lip Stains come to mind), and these are no exception. I was one of the first bloggers to try their eyeshadow singles when they relaunched years ago, and I've been a fan ever since. Instead of releasing 54 collections every year, Sephora does a big summer push and a big holiday push, but their eyeshadow range stays mostly the same. I last tried this formula around 2016, so make sure to read Christine's updated reviews before purchasing!
For $10, the Sephora Collection Colorful Eyeshadows ($8 USD/$10 CAD) are stellar. They're crazy pigmented and very blendable, and they pack a major punch. Their textures are a little more MAC (read: smooth mattes), but their finishes are more Urban Decay (big shimmer).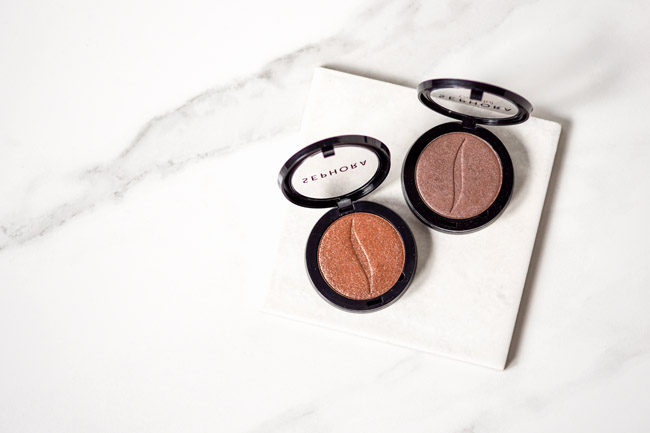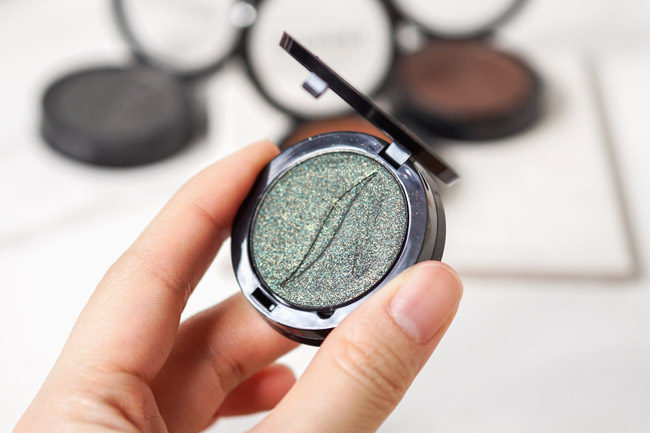 7. The cream of the silicone-free eyeshadow crop
I've never tried anything from the Pat McGrath Labs line. But I do lust after them at a distance, and I've read dozens of reviews for each and every product.
While I stay on my eternal makeup no-buy, Pat continues to churn out cult-followed products. One of the many is her EYEdols Eye Shadow formula ($25 USD/$35 CAD). These shadows are rumoured to be gloriously pigmented and buttery, with a foil-like finish on dry skin.
And yes, dear reader. They're formulated with my fave: Caprylic/Capric Triglyceride.
—
This post is a reader request, with PR samples from Urban Decay, Sephora, Annabelle, and The Organic Skin Co. Many of these links are affiliate links, which help support theNotice when you use them.