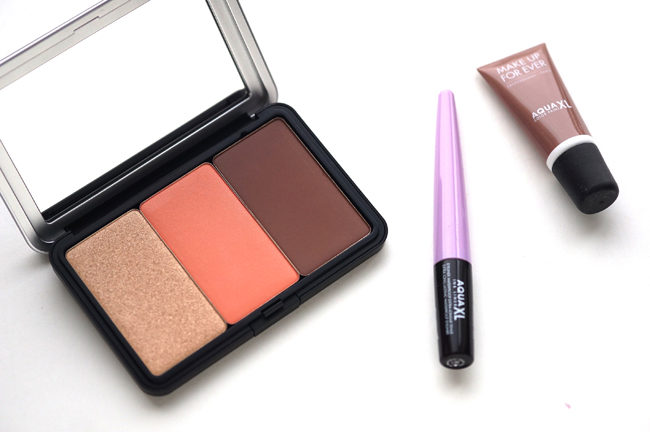 The products: Make Up For Ever Artist Face Color in H106 (shimmery champagne highlight), B306 (shimmery mandarin blush), and S118 (dark shadow sculpt)
Last fall, Make Up For Ever launched their Artist Face Color – 34 cheek shades with a "highly-pigmented, blendable, and long-lasting powder formula." I tried three of the new line (one blush, highlighter, and sculpting shade) this winter to round out my makeup collection. All three of these are shades that I didn't really own before now, and it was interesting getting to play with each of them!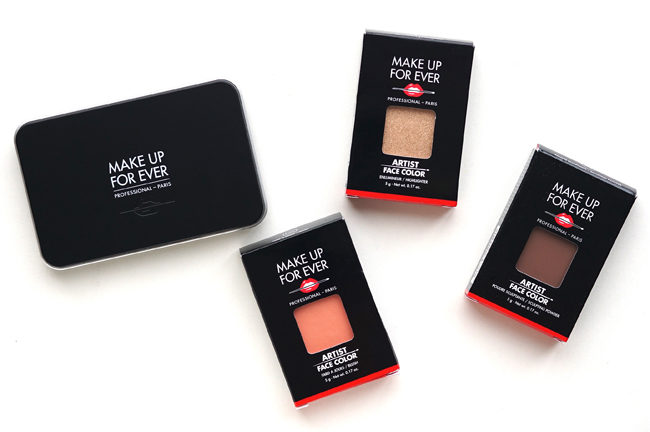 The Make Up For Ever Artist Face Color formula
The Make Up For Ever Artist Face Color formula uses "atomized pigments" and emollient oils to deliver high-impact colour. They're mixed with silicones and dry oils to make the pigments easy to blend. (I don't react to silicones if they're in small enough amounts, and these cheek products seem okay on my face.)
I like my cheek products a little dry, so these seemed very, very creamy to me. The formula is on the denser side, but it's easy to blend whether swatched or with a brush. All three shades wear for the majority of the day on me, with the highlighter's thinner formula fading first.
Make Up For Ever ARtist Face Color swatches, L-R in natural light: H106, B306, and S118
Slipping out of your grove: H106, B306, and S118
As I mentioned earlier, these shades are… Totally not me. I like my cheek products cool, sheer, and matte, but I wanted to get out of my usual groove with these shades.
So instead of going with a fair contour, a pink blush (Lancôme Aplum and Rose Fresque are still my forever faves), and an ivory highlighter, I selected a dense gold highlighter, an orange blush (!!), and a dark contour.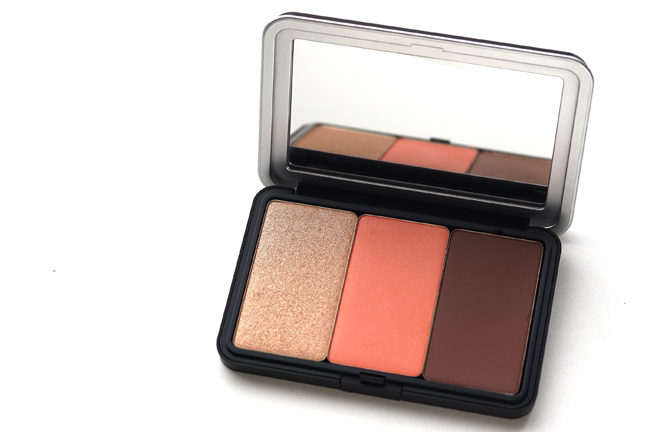 And you know what? I really liked it. I've been wearing the same shades for so long that it was refreshing to mix things up, and even though I'm probably never going to use S118 again, I'm quite pleased that I tried it. (It's way too dark, red, and pigmented for my complexion, but it would be AWESOME on someone with a deep, warm skintone.)
H106 is a little drier and thinner than the other two shades. It's very warm, frosty, and gold. It's dense for a highlighter, but is a lot more translucent than the blush and contour shades in this line. B306 is a really satisfying, springy orange-coral. It's warm, but it sheers out on my face to blend in well – but I bet it (and H106, for that matter) would look awesome on someone with a medium skintone. It's a lot denser than the highlighter, and has more of a lustre than a shimmer.
(I'm thinking Becky/@chavien. Girl, you need these two.)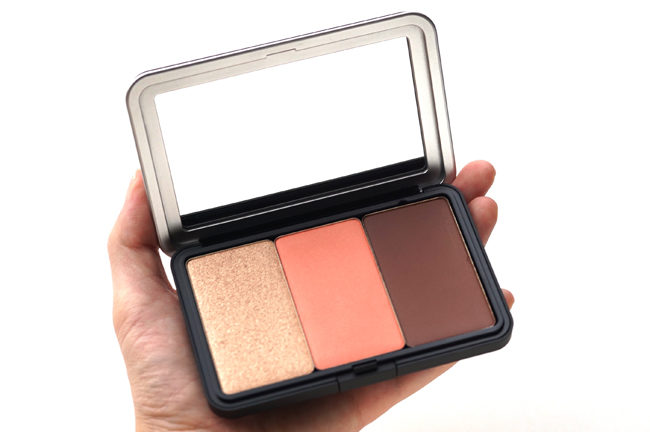 The Make Up For Ever Artist Face Color verdict?
The Make Up For Ever Artist Face Color singles are very, very pigmented – and that's a good thing. They're beautiful, dry, soft, and easy to blend, and I definitely think they're worth it at $29 CAD. My word of advice, however, would be to find swatches (or, better yet, swatch them in-stores) before buying! These pack a lot of pigment and shimmer, and there isn't a lot of room for shade missteps.
I really enjoyed using the Make Up For Ever Artist Color Refillable Makeup Palette, too. All sizes are $2 USD/$2 CAD at Sephora (which I swear has to be a mistake), or you can get a filled cheek palette for $45 USD/$56 CAD. (That's the equivalent of buying two cheek products and getting the third, and the palette, free.) 

Availability: Single pans are $23 USD/$29 CAD each. Permanent at Make Up For Ever and Sephora.