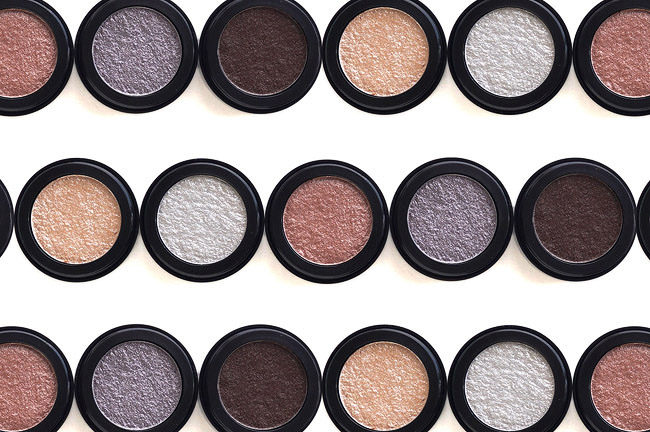 The product: Annabelle Chrome Eyeshadow in Gold, Silver, Rose Gold, Mercury, and Germanium 
Y'all, I am… Dying. I haven't been keeping to my Monday/Thursday post schedule, and I'm sorry about that – but not that sorry. I've been waking up exhausted in the mornings, going to bed early because I can't stay awake, and struggling to get through from point A to point B during the day.
As with any chronic illness, fibromyalgia has its ups and downs. I know that I'm in a down right now, just like I know that I'll be up again later. I've been making my body do too many things this month – and those dues have to be paid eventually.
So hey, be kind to your bodies. Take breaks. And if you feel like crap: might I recommend that you, too, drown your sorrows in Annabelle Chrome Eyeshadows?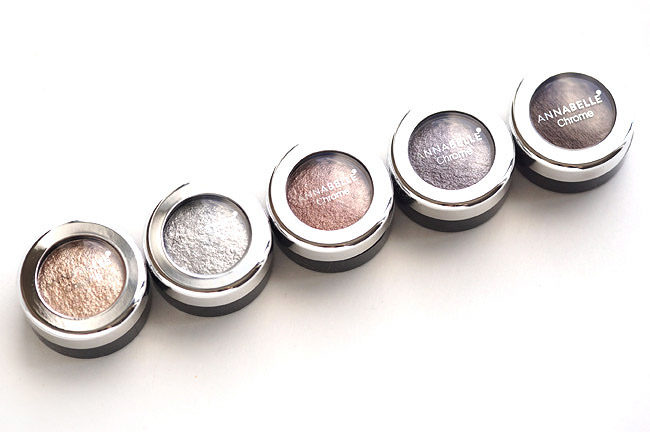 Stila Magnificent Metals drugstore dupe
Let's get real. Annabelle says that these are the first chrome eyeshadow on the mass market, but they're a product that we've seen before–at a much higher price point. These are reminiscent of the Stila Magnificent Metals Foil Finish Eye Shadows ($32 USD), which are likely being discontinued at $10 USD each.
Are they the exact same? No, not at all. They're a totally different formula, but they're similar enough that I'd say you don't need to own both. The Stila shades tend to be wetter and have more pigment, while the Annabelle shadows are more of a true flakey glitter with a much simpler ingredient list.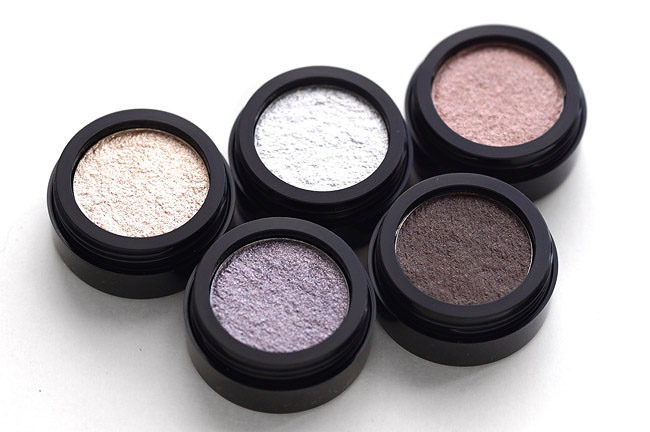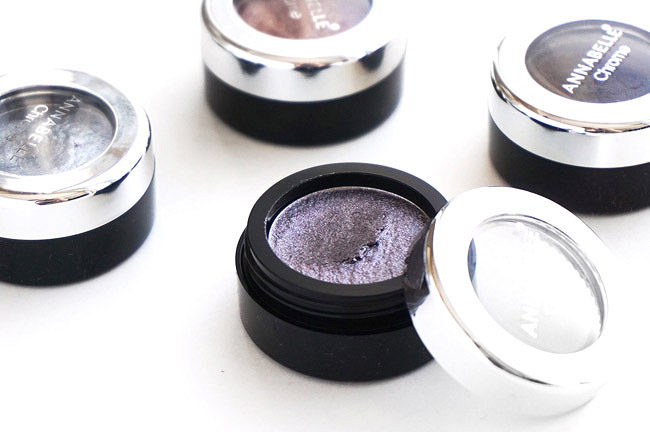 Annabelle Chrome Eyeshadow texture
The Annabelle Chrome Eyeshadow formula
These eyeshadows are, basically, everything I've ever wanted out of a drugstore eyeshadow. I love my Shu Uemura glitters, with their multi-sized flakes of shimmer, and these totally fill the Shu-shaped void in my heart. (My last two Shu palettes had almost no flakey glitter in them.)
The Annabelle Chrome Eyeshadow formula is moist and masque-like where the Shu formula was bone dry, and yet: the effect is extremely similar. The lighter shades give a transparent veil of visible glitter that stays exactly where its put, adding a fairy-like allure to any eye look.
And the darker shades? Well – they build up to a medium-full opacity and pack a truly glittery punch. But neither the dark nor the light shades have what I call Urban Decay glitter: these shimmer pieces are fine and look almost flakey, instead of looking like tiny craft store hexagons. 
L-R: Annabelle Chrome Eyeshadows swatched in indirect sunlight. Gold, Silver, Rose Gold, Mercury, and Germanium
The Annabelle Chrome Eyeshadow shades you need
I love all five of these shades, but my favourites are the lightest three. They're a bit difficult to apply (thanks to the stay-together texture, which minimizes fallout but also makes the product hard to pick up on your fingertip or brush), but once you have the product in place, it stays largely where it's supposed to be all day long.
Gold, Silver, and Rose Gold add the perfect amount of shimmer to any satin or matte eye look, and they have a strong eye-opening effect if you pop just a bit on the centre of your lid. For an extra-strong highlight, you can brush or pat Silver or Gold on the tops of your cheekbones, too.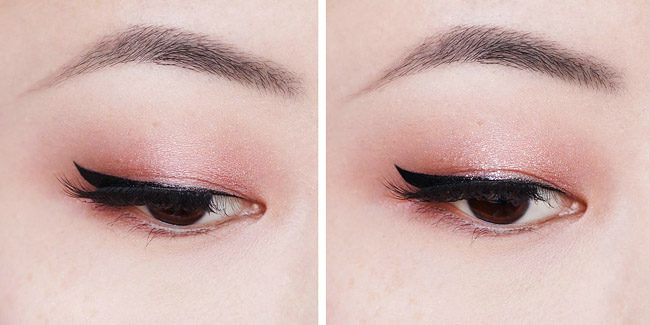 Before & After: Maybelline City Mini Palette without (L) and with (R) Annabelle Chrome Eyeshadow in Gold
The Annabelle Chrome Eyeshadow verdict?
The Annabelle Chrome Eyeshadows won't make your body feel better, but they'll sure as heck distract you in the meantime. They're cheap, easy to find, and above all: beautiful. 
For a flakey, long-wearing glitter on a scale from translucent (Gold) to full-fledged (Germanium), these are absolutely the way to go.
Availability: $8.95 CAD at Annabelle.ca and in Rexall, Shopper's Drug Mart, and most major drugstores and mass market grocers across Canada. Permanent.
Read more