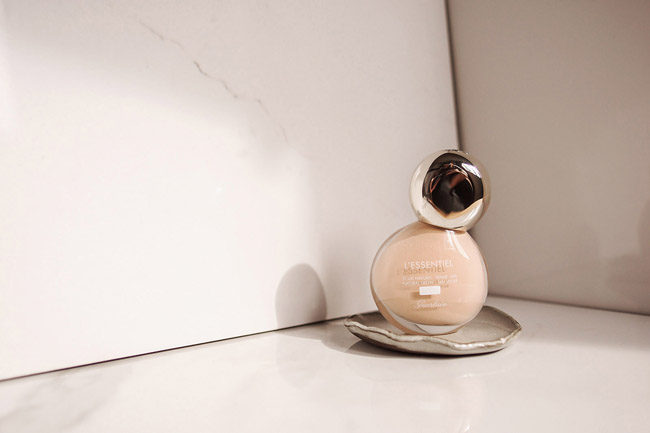 The product: Guerlain L'Essentiel Natural Glow Foundation in 00N and 01N
Guerlain's new foundation is a bit of a big deal. It's not because of the slightly-askew packaging, or the creamy formula, or the luxury price point. No—it's that their new Guerlain L'Essentiel foundation is silicone-free, and that's a bit of a rarity in the luxury makeup world.
Out of all of the big luxury brands, this is the first foundation that I've noted to be silicone-free. There are a few available from artistry-centric brands like Make Up For Ever (I really like their Water Blend foundation) and Pür Cosmetics (their 4-in-1 is dreamy), but none that deliver on the luxury experience. That means that you'll be seeing a price point that's quite a bit higher, but that your packaging and ingredients should make up the difference.
The L'Essentiel bottle is lovely, with a design by Mathieu Lehanneur. It feels solid in the hand, and its pump mechanism smoothly offers half-pumps for lighter coverage.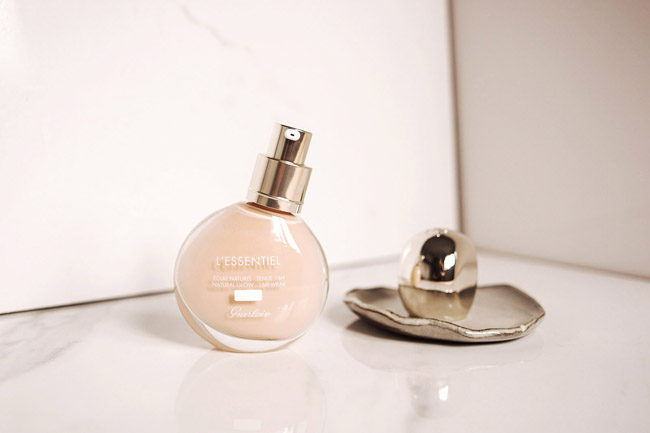 The Guerlain L'Essentiel formula
The texture: The L'Essentiel Natural Glow Foundation is thicker than any other that I own. It's rich and creamy, with a texture that's almost reminiscent of pudding — in the best way possible. I find that it applies best when put on the back of the hand, transferred to the face with a flat brush, and buffed in with a fluffy brush (natural or synthetic fibers). It's a little heavy, with a weight that varies with intensity; a little less than a half-pump is more than enough to provide light coverage for my entire face. A full pump provides medium opacity, verging on full, but feels a bit like a mask or a sunscreen.
Where I believe this foundation excels is in its layerability. I'll apply this for light coverage everywhere and buff it in, and then go back where I'd usually use concealer and apply a bit more. This masks my undereye circles just as well as any high-coverage concealer ever has, and provides about 90% coverage to even the nastiest of blemishes — all while blending in perfectly with the rest of my face.
The finish: I have incredibly dry skin that's been peeling relentlessly for about 6 months. This foundation doesn't mask my dry patches, but it does fare a lot better with them than anything else that I own. I like it best without powder overtop, which really makes its radiant, semi-matte finish glow.
(How is a semi-matte finish radiant, exactly? I haven't the slightest, but somehow, this one is.)
See it in action!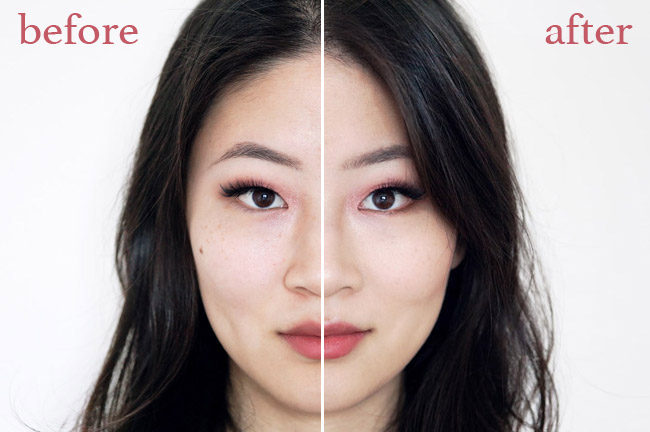 Guerlain L'Essentiel before & after. Note the red patches around the nose and the discolouration in the undereye and on the sides of the nose. See also the texture across the chin and forehead, which are maintained upon application.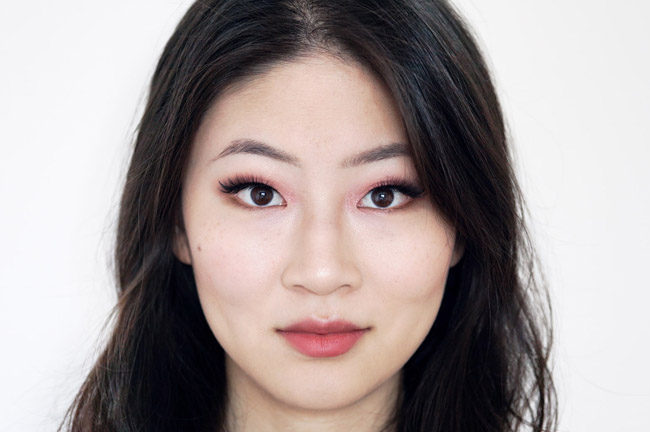 Wearing L'Essentiel in 00N Porcelaine. Eyes are The Organic Skin Co. with Kiss "Little Black Dress" lashes; lips and cheeks are The Organic Skin Co. "Spice"; highlighter is Sleek Makeup Highlighting Elixir in "Poppin' Bottles". All silicone-free.
Guerlain L'Essentiel wear and scent
This formula has a strong, powdery scent, but looks extremely skin-like when applied. It settles into the skin slowly, and I find that its wear kind of peaks: at 0 minutes, it looks flawless, but seems almost too perfect. At 15 minutes, it looks good, and begins to take on a glow. It looks best from around hour 1-6, maintains until the evening, and then begins to show through around hour 12.
The finish of this foundation holds up as well. My t-zone doesn't get greasy throughout the day, and though the L'Essentiel formula doesn't mask my dry patches, it also doesn't encourage more of them to become visible as the day wears on. I prefer it on its own, directly overtop my suncreen or moisturizer — no need for primer, setting powder, or a setting spray.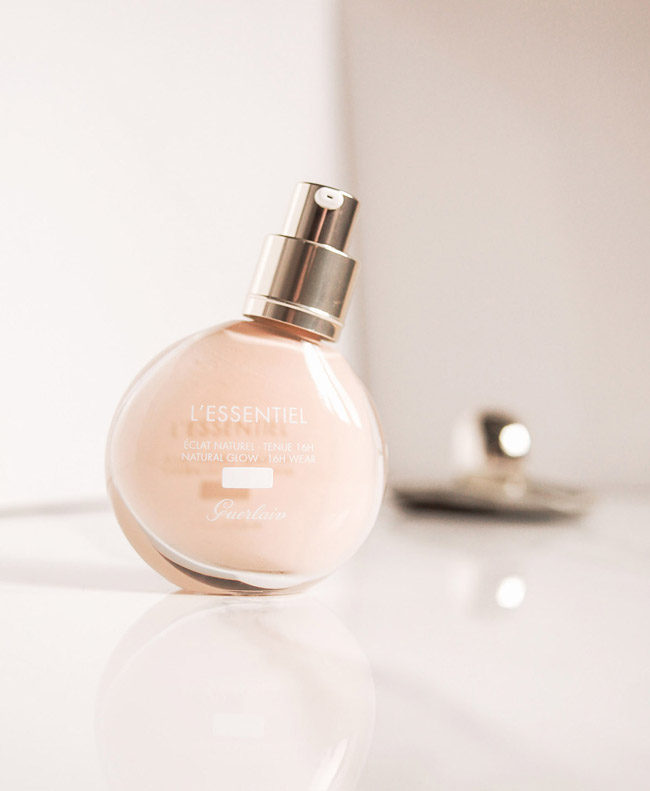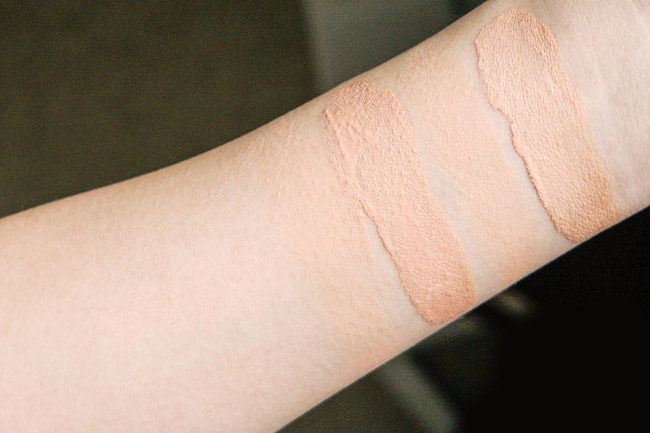 Guerlain L'Essentiel swatches: 00N Porcelaine vs 01N Très Clair (indirect sunlight)
L'Essentiel Natural Glow Foundation in 00N vs 01N
I definitely thought that 01N (swatched at left) would be a match for my skintone, but it's a bit dark for me! Guerlain's PR was kind enough to send a second bottle after my mistake, and 00N (used in these before & afters) melts seamlessly into my skin. The N shades have neutral yellow undertones, and 00N looks…
Well, it looks the way that the rest of my skin suggests that my face should look, honestly. It's about a half-shade darker and yellower than the skin on my face, which is a little cooler, lighter, and pinker than the skin on my neck. I definitely don't mind the half-shade difference!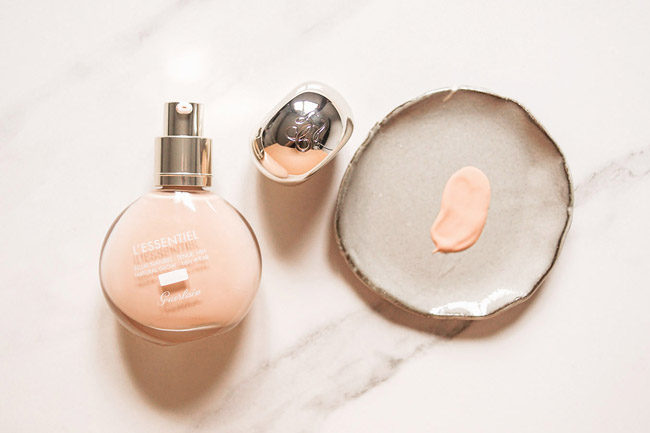 The Guerlain L'Essentiel Natural Glow Foundation verdict?
The Guerlain L'Essentiel foundation fills a heavy-coverage-foundation-shaped void in my makeup collection. For that reason, I couldn't be more besotted with it. It's not the perfect foundation (the shade range is limited, and it feels heavy), but it's shockingly good. Silicone-free foundations are desperately hard to come by, and the way that this foundation layers is nothing to shake a stick at.
If you're looking for a semi-matte foundation that glows, then this is the one for you. It lists light to medium coverage, but with good technique, I find that it easily ranges from sheer to full coverage.
Availability: $65 CAD at Sephora, Hudson's Bay, Holt Renfrew, and Shopper's Drug Mart. Permanent.
Memo: My skin has been breaking out in a limited capacity over the past 2 weeks. I think it's just the shift in the weather, but if anything comes up to suggest that the L'Essentiel foundation is to blame, I'll be back to update my review!
Guerlain L'Essentiel Natural Glow Foundation ingredients
Aqua, C9-12 Alkane, Glycerin, Propanediol, Polyglyceryl-6 Polyricinoleate, Silica, Titanium Dioxide [Nano], C15-19 Alkane, VP/Eicosene Copolymer, Dicaprylyl Carbonate, Polyglyceryl-2 Isostearate, Coco-Caprylate/Caprate, Disteardimonium Hectorite, Sorbitan Sesquiisostearate, Fragrance, Caesalpinia Spinosa Fruit Extract, Alpha-Glucan Oligosaccharide, Sodium Myristoyl Glutamate, Stearic Acid, Sodium Citrate, Xanthan Gum, Alumina, Polyhydroxystearic Acid, Cellulose, Potassium Sorbate, Kappaphycus Alvarezii Extract, Polymnia Sonchifolia Root Juice, Citric Acid, Butylene Glycol, Aluminum Hydroxide, Maltodextrin, Lactobacillus, Tocopherol, Theobroma Cocoa Seed Extract. +/- Iron Oxide, Titanium Dioxide.
—
A sample of this product was sent in by PR for editorial consideration. This post contains affiliate links, which help keep theNotice running.