This year's Nordstrom Anniversary sale runs from July 10th-17th for Nordstrom card holders, and is open to both card holders and the pubilc from July 18th-August 3rd. Now, I don't usually cover anniversary sales, but there's something special about this one (you know, aside from the free US shipping & returns on all orders): it includes a Charlotte Tilbury set.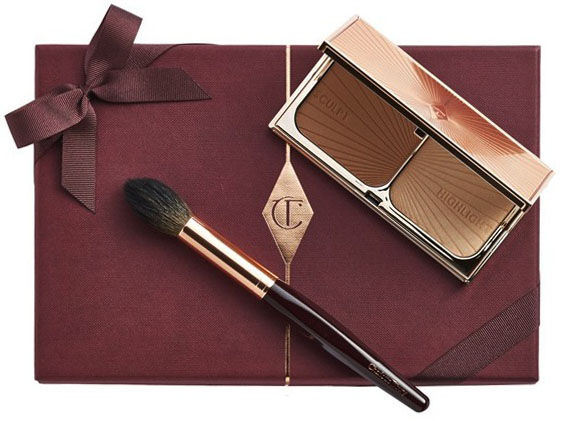 Charlotte Tilbury Filmstar Killer Cheekbones Set ($110 USD) – includes a Filmstar Bronze & Glow palette and Powder & Sculpt Brush
For beauty addicts who've been living under a rock these past few months, Charlotte Tilbury (y'know, that crazy-famous makeup artist who often sits alongside fellow legends Lisa Eldridge and Mary Greenwell) launched her own beauty line last September. And, up until now, it was only available through British retailers like Selfridge – who packages orders worth hundreds of dollars in near-empty boxes with a single piece of tissue for impact control.
So, here are a few picks from the Nordstrom Anniversary sale, including a small, precious piece of Charlotte Tilbury. Here's to hoping this means the brand will officially land in North America soon. Shop all the Nordstrom Anniversary Sale beauty exclusives here. 

Chanel Dentelle Précieuse Illuminating Powder ($80 USD) - finally available in the US! Sara has some great comparison swatches of this one at Color Me Loud.
Jo Malone Cologne Collection ($88) – contains five mini (0.3 oz), layerable fragrances in Nectarine Blossom and Honey, Orange Blossom, Blackberry and Bay, Pomegranate Noir and Grapefruit.
Diptyque Baies & Figuier Candle Set ($120) – set includes two 6.5oz candles in Baies and Figuier, as well as a wick trimmer and candle snuffer. (Diptyque candles are notoriously finicky during burning — you need to make sure to straighten and trim the wick after each burn.)

MAC Look in a Box in All About Pink ($39.50) – includes Embrace Me Lipstick (Matte), Unlimited Style Lipglass (Frost), Fabulous Three Veluxe Pearlfusion Eyeshadow trio, and Photogravure Technakohl Liner.
MAC Look in a Box All About Beige Face Kit ($49.50) – palette contains MAC Eyeshadows in Rocketgirl (Satin), Plum Ember (Satin), Sable Riche (Frost), Cocktail Black (Frost), Honesty (Luster), Light Study (Matte); Powder Blushes in Love and Laughter (Satin) and Liberating (Satin); Lipsticks in Modern Wow! (Amplified) and What's Haute? (Amplified). (Also available in All About Plum).
vMAC Look in a Box in All About Coral ($39.50) - includes Passion Charge Lipstick (Luster), Stroke the Flame Lipglass (Frost), Collective Chic Veluxe Pearlfusion Eyeshadow trio, and Brownborder Technakohl Liner. (Also available in All About Nude).

Bobbi Brown Nude on Nude Color Set ($85) – set includes Bobbi's Perfectly Defined Gel Eyeliner and Smokey Eye Mascara (both in black), as well as a 12-pan eyeshadow palette containing Ivory, Chiffon Sparkle, Golden Pink Metallic, Graphite Sparkle, Gold Sparkle, Naked, Bare Metallic, Birch, Smokey Topaz Metallic, Truffle, Golden Bronze, and Espresso.
NARS Dolce Vita Lip & Nail Set ($52) – includes NARS Dolce Vita Lipstick, Nail Polish (limited edition), and Lip Gloss (also available in Schiap).
Lorac Navy Skinny Eyeshadow Palette ($15) - a cheap, seven-pan pick-me-up (also available in Nude).