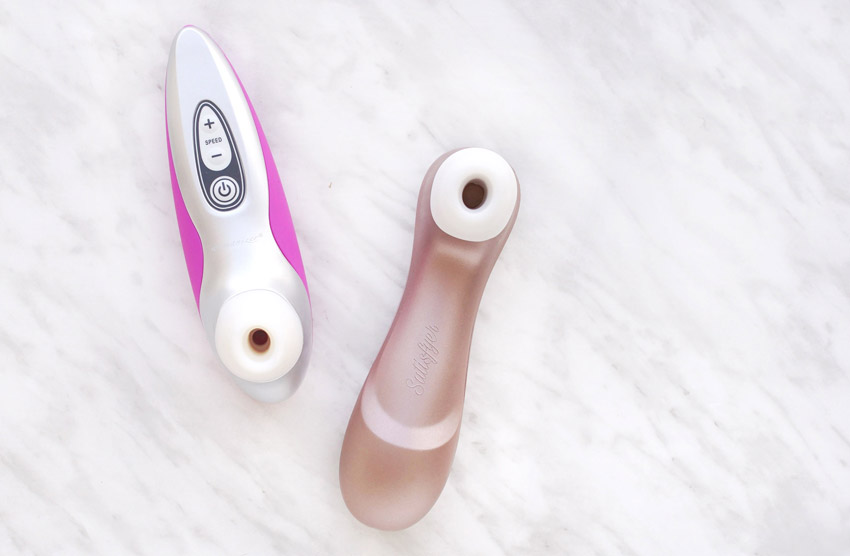 It's been a while since my last sex toy review, and today, I'm pulling out the big guns: a review and comparison of the Womanizer Pro40 and Satisfyer Pro 2 clitoral air stimulators, AKA my current favourite style of toy.
The cool thing about writing about sex toys is that they exist in a fast-growing industry. While a lipstick is a lipstick is a lipstick, new technologies are being invented in the sex-positive industry every day. These new clitoral toys use "pressure waves" of air to act as a touchless air pump. They're not vibrators, and they're not clit pumps–they're altogether unique.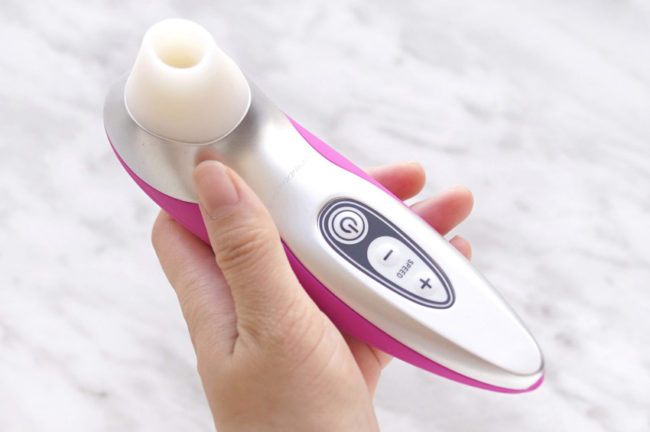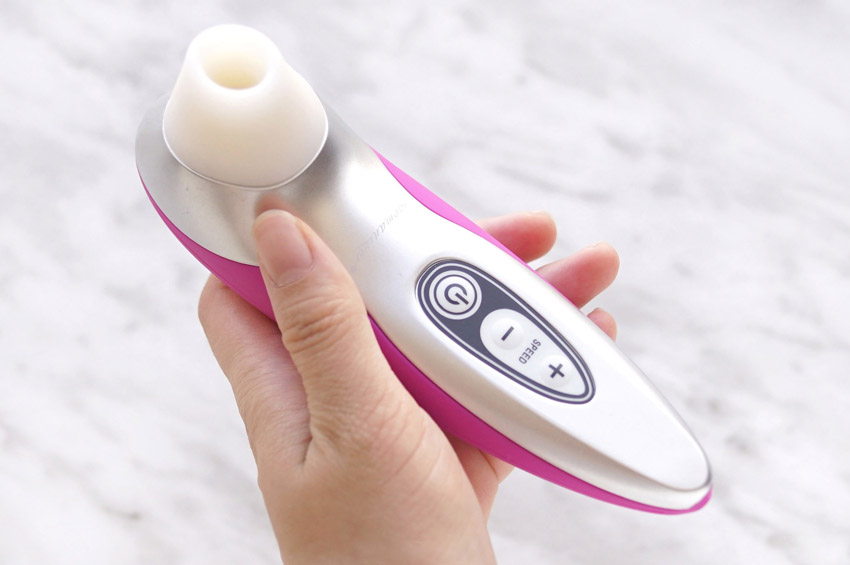 Womanizer Pro40 review ($129 USD)
The Womanizer was the first air pressure clitoral stimulator to hit the market. It was released in late 2014, and despite the original being ugly like space-age technology from the 80s, it quickly gained popularity.
What makes the Womanizer Pro40 so great? Even though I'm violently opposed to Womanizer's branding, my body adores the product. It's so good that it's changed how I want to rate a product's battery life. In a post-Womanizer world, I've been measuring battery life in number of orgasms instead of number of hours.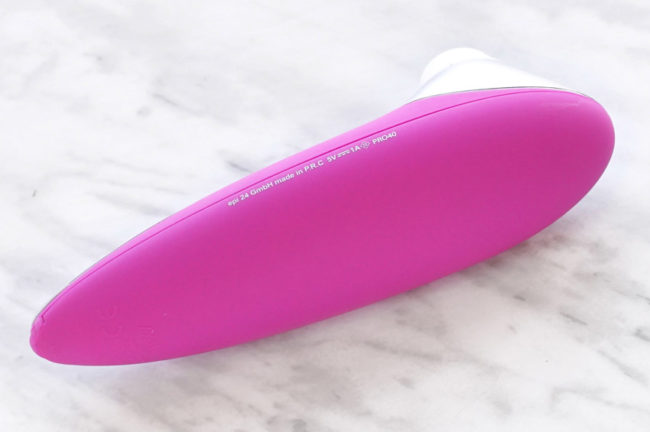 I can get 2-3 orgasms out of a vibrator with the Womanizer's 2 hours of battery life, but I can get more than a dozen out of a single charge of the Womanizer. Its battery is really high-quality, too, holding a charge for the better part of a month and charging to full in 60 minutes.
No, really: On top of that, I've found that using the Pro40 is sensitizing rather than de-sensitizing, making it easier for me to get off even when I'm not using the Womanizer. As someone who has worried about anorgasmia for most of their life, that's been a hugely impactful experience.
Satisfyer Pro 2, Womanizer Pro 40 #1, and Womanizer Pro 40 #2 heads
Other great stuff about the Womanizer Pro40: The Pro40 features 8 intensity levels (the lowest setting really is whisper-quiet), an ABS plastic body, and 2 silicone heads. The heads are easy to wash and made to fit most bodies, including plus-size ones.
The Pro40 is waterproof, and it's the cheapest model offered from the brand. Plus, hitting the power button during use immediately takes the toy to its lowest intensity, which is a rare feature to find–but a really useful one.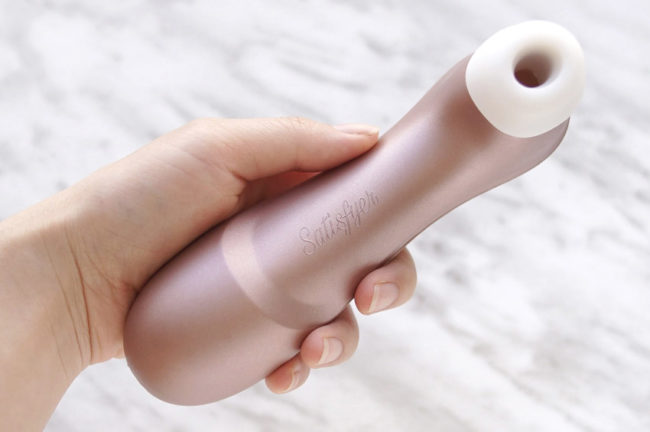 Satisfyer Pro 2 review ($69.99 USD)
The Satisfyer Pro 2 is, in my opinion, just as problematic as the Womanizer–but for very different reasons. It was released hot on the heels of the original Womanizer, and its makers have publicly admitted to stealing Womanizer's ideas to "improve" on them.
I prefer the Satisfyer's look and branding, but let's be honest: that kind of blatant plagiarism is just rude. It's harmful to smaller makers and new creators, and it encourages distrust in an industry that I think could benefit from more collaboration. But at the same time, I appreciate the availability of air pressure toys at a lower price point, and while "Satisfyer" is still a pretty crap name, it's not nearly as offensive as the "Womanizer."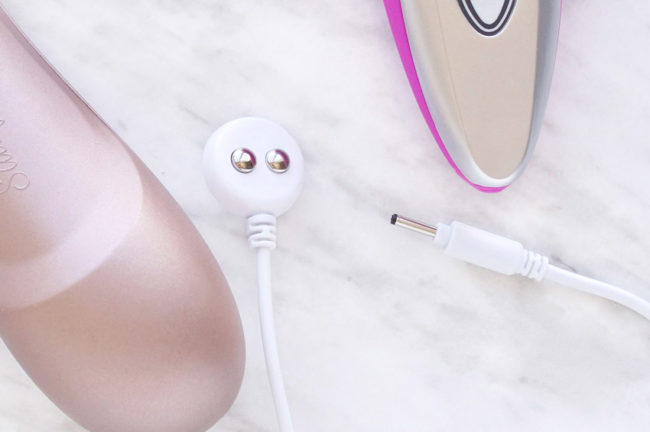 Satisfyer Pro 2 (L) and Womanizer Pro40 (R) charging cables
How does the Satisfyer promise to improve on the Womanizer? The Satisfyer Pro 2 charges with a super-sleek magnetic charging cable, is waterproof, comes in rose gold, and promises a head made from medical-grade silicone. It features 11 intensities to the Pro40's 8.
But is it better? Not if you ask me. Yes, the Satisfyer range is cheaper and price accessibility is great, but the toys aren't as good. The Pro 2 comes with only one head, and that one head doesn't fit my body very well. It's noisier, too, and takes a lot longer to charge–four hours instead of one.
The Satisfyer also only has one "mode" button, so you can't reduce the toy's intensity while you're using it.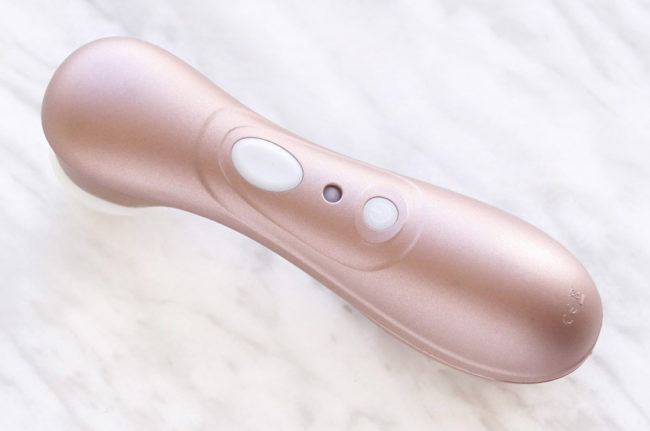 The Womanizer vs Satisfyer verdict?
The only thing better than a new technology is a new technology that works really, really well for you–and these do, at least for me. The Womanizer Pro40 has become my new toy of choice for everything but partnered PIV (its size makes it quite cumbersome), and the toy itself is very well-made.
I've heard that air pressure toys tend to be very love-or-hate, but I love them. They deliver a quick, reliable orgasm for me for the first time in my life, and the Womanizer Pro40 both makes me more sensitive and reduces my orgasm-related anxiety.
Both the Satisfyer and the Womanizer that I tried were good, but only the Womanizer was great. If you can stretch your budget to make it work, I think the reliability and interchangeable heads of the Pro40 make it worthwhile.
Availability: Both of these toys are available at Peepshow Toys, who kindly sent them in for review. (Use code "theNotice" for an extra 10% off your oder!) They're also available at Shevibe and PinkCherry, but Peepshow offers the best price by far.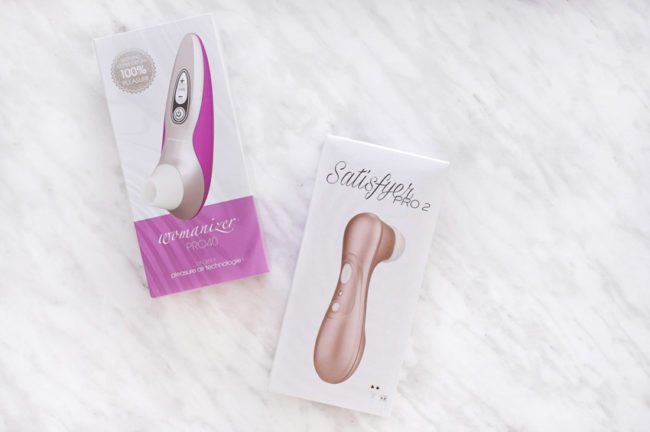 Womanizer vs Satisfyer comparison – packaging