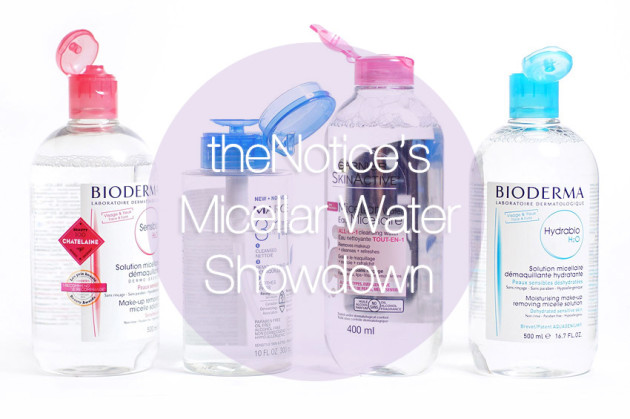 For those of you who don't already know, micellar waters are water-like makeup removing solutions. They use hydrophilic/hydrophobic "micelles" to break down makeup with the power of an oil while still having the texture of water, and they're… kind of fantastic.
Ever since trying the Marcelle 3 in 1 (formerly the Marcelle Essentials Cleansing Water), I've been smitten with micellar waters. They're an awesome way to gently remove makeup with no silicones and no oily residue, and while they break down makeup as well as many bi-phase makeup removers, they don't set tubing mascaras the way an oil will.
Nowadays, there are a ton of micellar waters on the market – so here's a comparison of four of the best.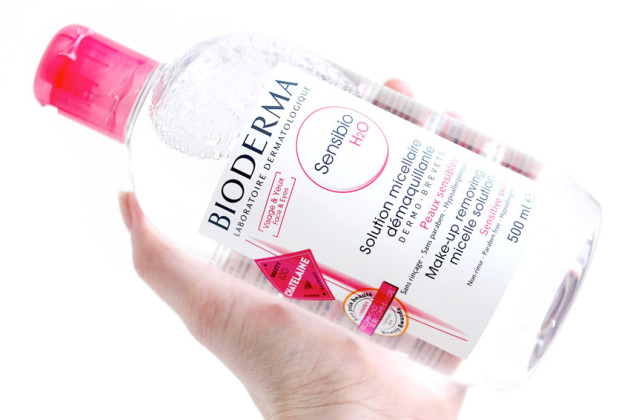 4. Bioderma Sensibio Make-up Removing Micelle Solution ($26.95 CAD/500ml) 
Sensibio is the mother of all micellar solutions. Invented in 1995, Sensibio/Créaline just celebrated its 20th anniversary – and one bottle is still sold every 3 seconds worldwide.
The Sensibio range is fragrance-free and designed for sensitive skin, and the micellar solution replaces your make-up remover and toner. But, as much as I love Sensibio, I think that 20 years of competition and new technologies can make a better product.
The packaging: Bioderma's packaging is a classic, but the lids are very fragile and snap off if you open the circular top from the wrong angle. Bioderma is available in the widest range of sizes (100 ml to 1L, depending on your country.)

The product: While gentle and fragrance-free, I find that Sensibio is a little drying, especially in the eye area. Sensibio is the least effective makeup remover of these 4.

The price: $26 CAD per 500 ml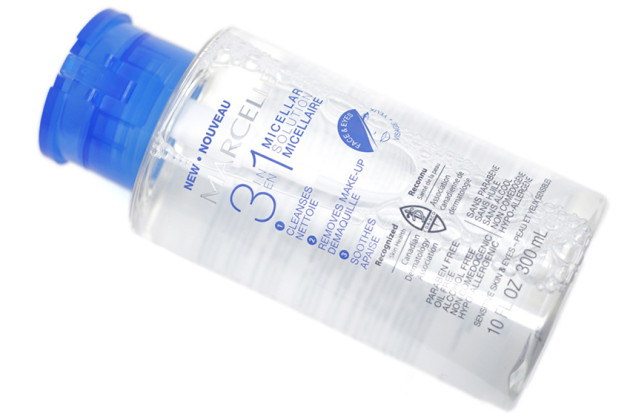 3. Marcelle 3 in 1 Micellar Solution ($19.95 CAD/300 ml) 
The Marcelle 3 in 1 Micellar Solution was my first cleansing oil, so it has a special place in my heart. It's Canadian, it's fragrance-free, and it comes in awesome packaging. 
The packaging: The best of the bunch! The 3 in 1 comes in a sturdy flip-top push dispenser. However, it only comes in the one size, and there is no open-cap version available for q-tip dipping.

The product: More effective than Sensibio, but slightly more astringent.

The price: $33.25 CAD/500 ml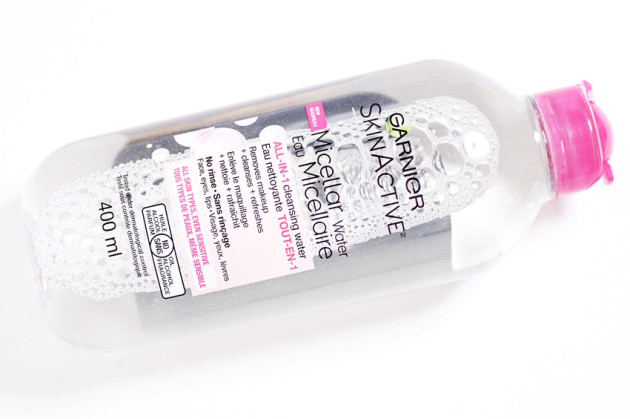 2. Garnier SkinActive Micellar Water ($8.97/400 ml)
Garnier's SkinActive micellar waters (also available in blue/waterproof) are the newest micellar waters on the block, and I've gotta give it to 'em: they're really not bad!
The packaging: Sturdy lid & slim bottle. However, the SkinActive line is a blatant ripoff of Bioderma, which is a big turn-off for me.

The product: The SkinActive Micellar Water is more effective than Bioderma Sensibio and less drying than Marcelle's. It feels slightly more "soapy" than either of the two.

The price: $11.21 CAD/500 ml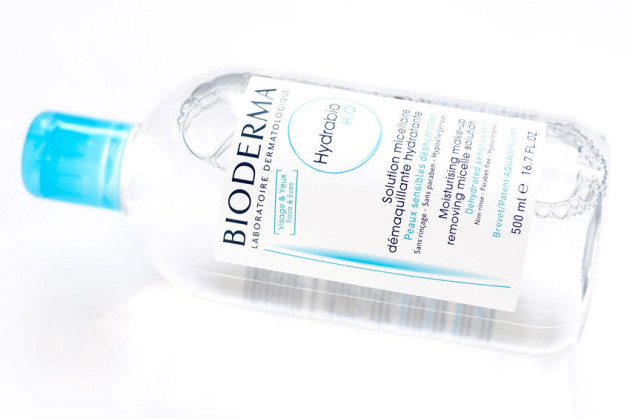 1. Bioderma Hydrabio Moisturizing Micelle Solution ($24.90/500 ml)
Hydrabio is Bioderma's newest micellar water, and it is by far my favourite of the line. It's optimized for dehydrated/dry, sensitive skin, and for my fragile, dry skin, it is the most gentle of the bunch. 
It's very fragranced, however (it smells kind of moisturize-y floral), so it's best for sensitive-fragile skin, not sensitive-"allergies galore!" skin.
The packaging: Fragile lid & wide volume range (see above).

The product: The most gentle AND the most effective of these four. It's a little more "slippery" feeling, but it completely melts away even my waterproof gel eyeliners. (This is the #1 micellar water in Canada!)

The price: $24.90/500 ml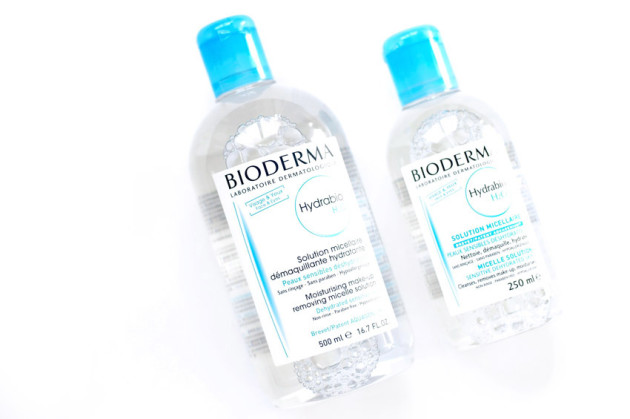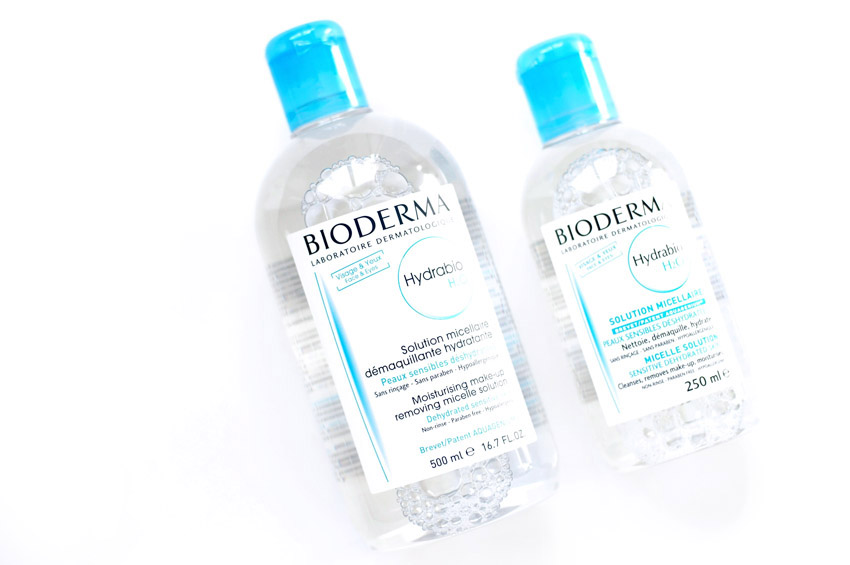 The verdict?
While I would prefer it without the fragrance, I find Bioderma's Hydrabio micellar water to be both the most gentle and the most effective micellar water in drugstores right now. However, all four of them are honestly very good – good enough that you should never have to return to non-micellar makeup removers ever again!
There are still a handful of micellar waters that I have yet to try, though, and I would love to hear your thoughts on them. Hit me up in the comments to rave about your favourite micellar water!!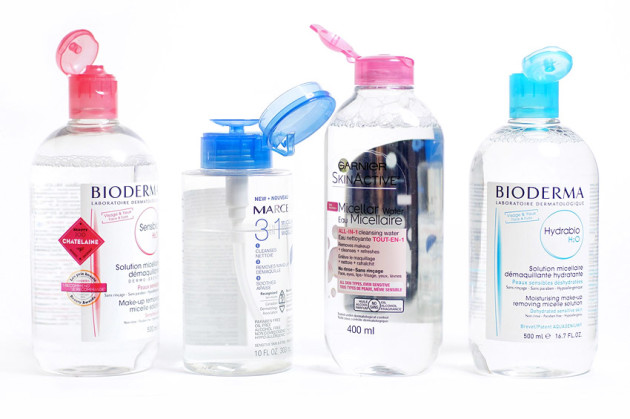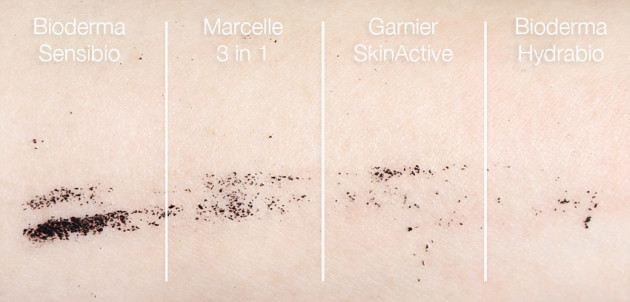 Removal comparisons – each wiped vertically 5x using a cotton pad soaked with micellar water. Eyeliner being removed is the Shu Uemura Drawing Pencil in M Black 01.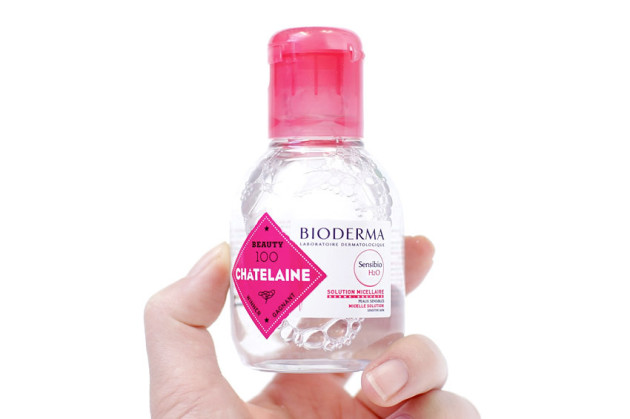 100mL Bioderma Sensibo packaging!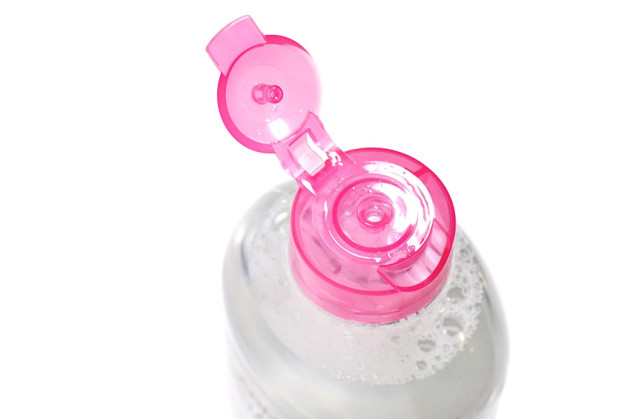 Garnier SkinActive Micellar Water lid
The ingredients
Bioderma Sensibo H2O ingredients: 
Water, PEG-6 Caprylic/Capric Glycerides, Cucumber Fruit Extract, Mannitol, Xylitol, Rhamnose, Fructooligosaccharides, Propylene Glycol, Disodium EDTA, Cetrimonium Bromide. 
Marcelle 3 in 1 ingredients: 
Water, PEG-6 Caprylic/Capric Glycerides, Glycerin, Aloe Barbadensis Leaf Juice, Cucumber Fruit Extract, Cetrimonium Bromide, Sodium Citrate, Disodium EDTA, Salicylic Acid.

-The aloe and glycerin will condition the skin, but the salicylic acid is likely why it feels more astringent. In the long term, it should help prevent acne and milia. 
Garnier SkinActive ingredients: 
Water, Hexylene Glycol, Glycerin, Disodium Cocoamphodiacetate, Disodium EDTA, Poloxamer 184, Polyaminopropyl Biguanide.

-Surfactant and disinfectant.
Bioderma Hydrabio H2O ingredients:
Water, Glycerin, PEG-6 Caprylic/Capric Glycerides, Polysorbate 20, Mannitol, Xylitol, Rhamnose, Fructooligosaccharides, Niacinamide, Cucumber Fruit Extract, Apple Extract, PEG-40 Hydrogenated Castor Oil, Propylene Glycol, Hexyldecanol, Disodium EDTA, Sodium Hydroxide, Citric Acid, Cetrimonium Bromide, Fragrance.

-Glycerine and castor oil give this makeup remover a more soothing, hydrating effect. Niacinimide will help increase ceramide and fatty acid levels in the skin for ongoing hydration.