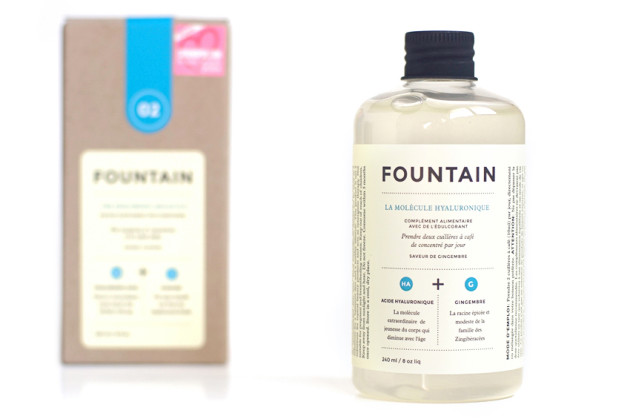 One of my resolutions for 2016 was to cover more indie brands & weird beauty finds, so today, I thought I'd talk about Deciem's super-cool liquid supplements.
Beauty drinks aren't a big thing here in North America, but they're all over the place in Asia. You can take everything from collagen to sheep placenta (yes, really) in capsule, liquid, or even jelly form, and they're all designed to make you prettier/plumper/smoother/etc. from the inside out.
Deciem's Fountain range contains everything from Vitamin B12 to resveratrol, and all of the supplements are sweetened with xylitol, so you don't have to worry about adding sugary syrups to your morning juice or water! (I push Xyla candy like they're drugs. Cheap drugs. Drugs that are good for your teeth).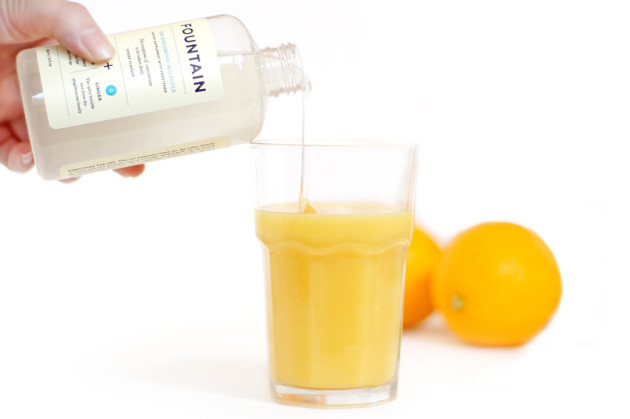 The Hyaluronic Molecule ($38 CAD)
The first "molecule" that I tried was the brand's Hyaluronic Molecule, and honestly, it was a weird experience. It's really thick and viscous, like slime or phlegm or (according to my cousin) semen, which is a texture that you don't want to see in a product ever.
Texture aside (once diluted with a full glass of water or juice, you honestly don't notice it at all), this stuff is pretty darn cool. It contains the only water-soluble, bioavailable hyaluronic acid supplement on the market, and it contains a lot of it: 130mg per serving, which is actually why it's so goopy.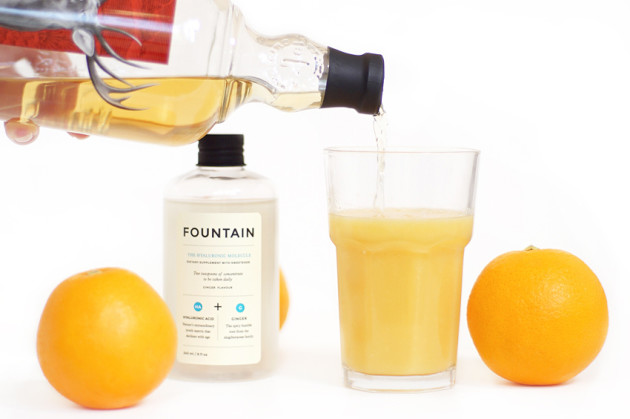 "With tequila" is probably not how the Fountain supplements were designed to be taken.
The Hyaluronic Molecule is also vegan-friendly and cruelty-free, and it's said to make your skin softer and smoother, keep your joints mobile, and (again: yes, really) keep your eyes lubricated. Like any other supplement, though, I can't say for sure if it's really working, but I do like it. I know that it should be working, and I like the subtle ginger flavour, and that's enough for me.
(If ginger isn't your thing, Deciem also make a Fountain 10X Hyaluronic Molecule ($60 CAD), which is Jasmine Silver Tea flavoured!)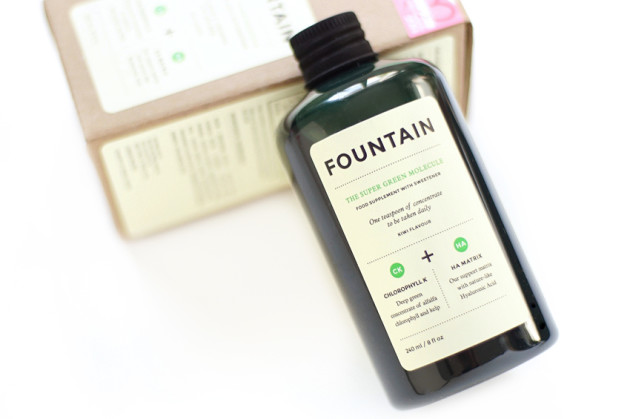 The Super Green Molecule ($28 CAD)
I'm currently taking The Super Green Molecule on days that I don't eat my veggies (which, for the record, is totally not recommended by Deciem/Fountain), and I am loving this one.
The Super Green Molecule is very liquidy, very green, and kiwi flavoured. The deep green colour of this stuff makes me feel so healthy when I take it, and I know it's no substitute for actual vegetables, but it's better than nothing, okay? I mean, a single teaspoon of this stuff contains as much chlorophyll as SIX bowls of dark, organic leafy greens.
This Fountain of Youth supplement is also enriched with vitamins and minerals from sea kelp, and all of that colour comes from alfalfa-derived sodium copper chlorophyllin, which is a readily bioavailable form of chlorophyll that green gurus love for its ability to control body odour, help your body process out toxins, fight off yeast infections, and promote healthy iron levels.
Plus, I mean, The Super Green is super tasty.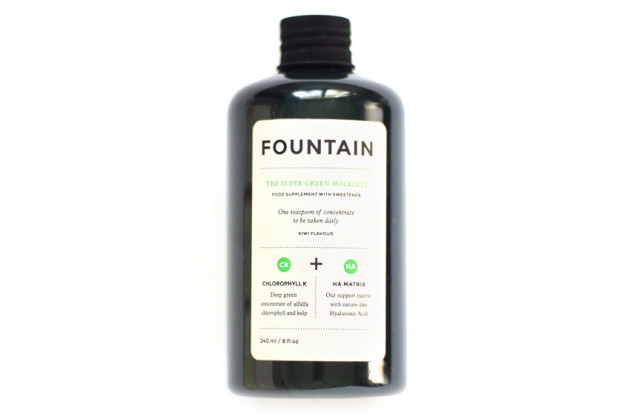 The verdict?
You can never be sure what you're actually getting when it comes to holistic products, but if I had to pick a cosmetic company that I trusted not to trick me into eating ants, it would be Deciem. They didn't cut corners on these guys one bit, and it really shows: The Hyaluronic Molecule is literally full of so much bioavailable hyaluronic acid that it's noticeably thick, and The Super Green Molecule is full of so much chlorophyllin that it'll stain your tongue if you don't dilute it first.
I'm not recommending these as a food or drug, but as a cosmetic adjunct to your routine, they're quite nice. I say start with The Super Green Molecule and go from there!
Availability: $28 CAD & up at Fountain.co, which uses Deciem's universal shopping cart (so you can buy your Hylamide at the same time!) and ships for FREE worldwide.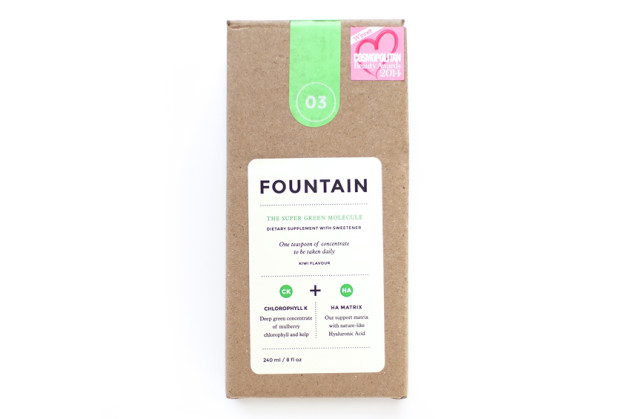 Deciem Fountain packaging
—
Have you ever tried a beauty supplement? Or, if you haven't, would you consider it?