Multitasking products??? MULTITASKING PRODUCTS! I love multitasking products, dude — give me something that'll preform more than one function for me and I am there.
(You have no idea how crushed I was to find out that there aren't any 2-in-1 'cone-free shampoo-conditioners. There may have been tears.)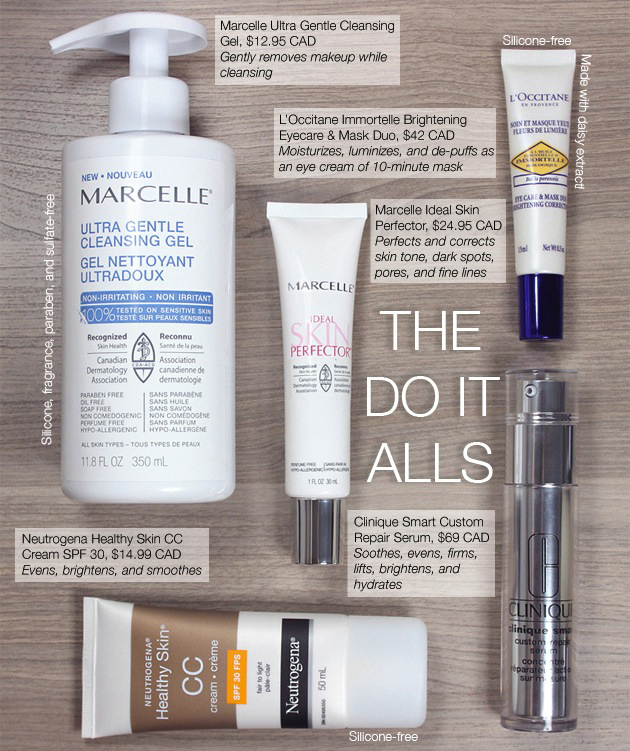 The multitaskers
Marcelle Ultra Gentle Cleansing Gel ($1.99–$12.95 CAD) – a silicone, fragrance, paraben, and sulfate-free makeup remover and cleanser. This one is great for removing makeup (it even took off that new Hourglass 1.5mm liner I've been testing!), but I still definitely think Marcelle's Cleansing Milk is better for extra-dry skin.
L'Occitane Immortelle Brightening Eyecare & Mask Duo ($42 CAD) – also silicone-free, this one's not your usual kind of 2-in-1: used sparingly, it's an eye cream; slathered on more heavily, it functions as a 10-minute mask to moisturize, luminize, and de-puff. Also worth noting is that it has a metal tip similar to that of the Clinique Lid Smoothies (but larger and more round), so application is mess-free and very cooling.
Marcelle Ideal Skin Perfector ($24.95 CAD) – this one's not silicone-free, but it does do a whole bunch of things — and it's brand spankin' new. If you've had your eye on the Clinique Smart Custom Repair Serum, this might be a good option instead if you're on a budget!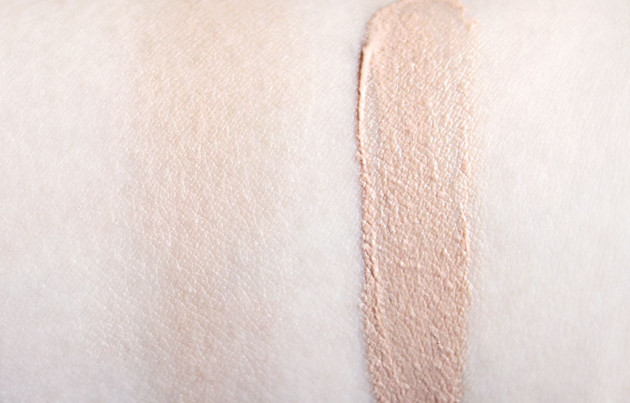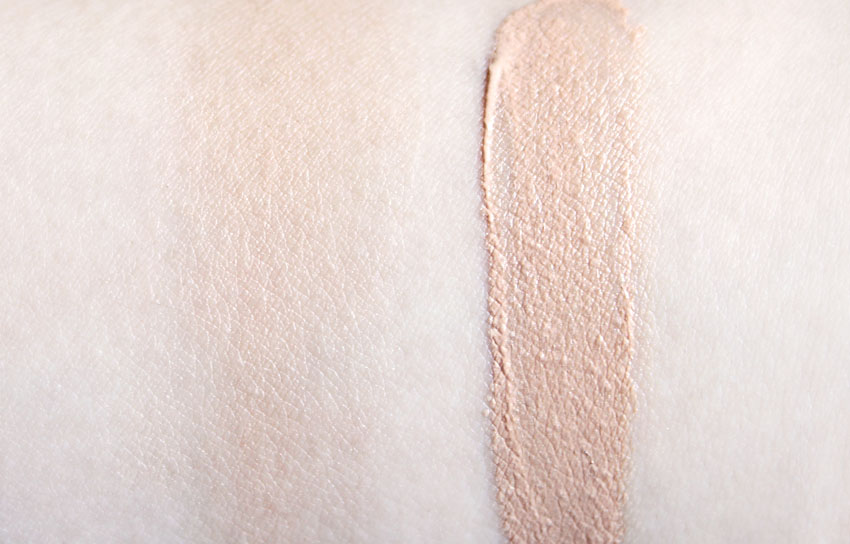 Neutrogena Healthy Skin CC Cream SPF 30 in Fair to Light swatches
Neutrogena Healthy Skin CC Cream SPF 30 ($16.99 CAD) – you guys, this CC cream breaks my freakin' heart. It doesn't just do everything well, it does everything perfectly — except for one big, glaring thing. Lightweight and insanely comfortable, it minimizes redness and smoothes over dry, flaky patches like a champ, but leaves the skin looking and feeling totally natural… until you walk into the sunlight.
See, the thing is, this CC Cream is actually packed with disco-ball levels of completely unnecessary microshimmer, which is a total deal-breaker for me (and probably some of you, too!) Skip it if you're one of the shimmer-free camp, but definitely, definitely give it a go if you're not adverse to shimmer. Lovers of Annabelle's BB Pressed Powder, Guerlain Meteorites, etc., this means you! 
Clinique Smart Custom Repair Serum ($59.50 USD/$69 CAD) – our last product today is the ultimate do-it-all: a serum that claims to target skin concerns based on the distress signals being sent out by your own skin. I don't buy that for a second (despite the 37 patents backing this product), but I do believe in the six zillion actives crammed into this serum (including soothing caffeine, plumping hyaluronic acid, and brightening Vitamin C, to name just a few.)