If you were hoping this post would lay your lemmings to rest, you're out of luck – it won't.
Instead, this review is a bit of a love story. It's about a girl and her Clinique Lid Smoothies, and it follows them through application (smooth and irresponsibly easy), then the promised eight hours of wear (without a single crease), and then through a rain storm, a run, a nap, dinner, and desert.
Sit tight, and please keep your arms and legs within the roller coaster for the duration of the ride.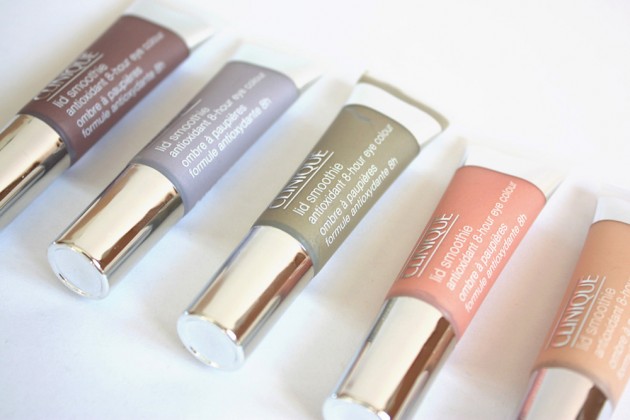 The product: Clinique Lid Smoothie Antioxidant 8-Hour Eye Color
The shade range: Alright, so first and foremost, we're going to talk about the shades. I have just five of the twelve shades available, but I'm 98% certain that these are not going to be the next big thing – and I'm pre-emptively blaming it all on the colour range.
Like most Clinique products, these shadows are really "tame." That is, the colours aren't particularly daring, and they're all on the sheer side. They can be layered, yes, but on the whole? Nothing that's going to stop traffic, and (let's be honest) it's the traffic-stopping shades that usually catch the attention of the blogosphere.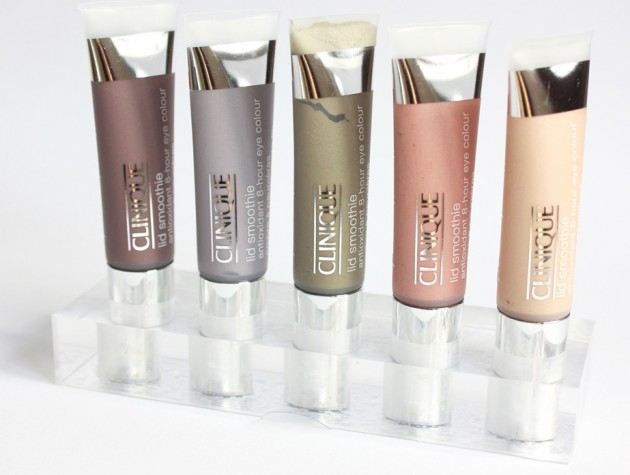 The formula: Now, this is what I think makes these shadows phenomenal. Though sheer, these Lid Smoothies wear for well over eight hours with zero smudging, fading, or creasing. They live up to their water-resistant claims and hold up perfectly in the heat, but at the same time, you don't need elbow grease to get them off – just warm water and makeup-removing cleanser.
I can get twelve to fourteen hours (!!!) of wear out of these with minimal creasing, both on their own and with powder eyeshadow overtop. The creasing (which, weirdly enough, was way more pronounced on my left lid) didn't appear until around the tenth hour, so these definitely get two huge thumbs-up from me.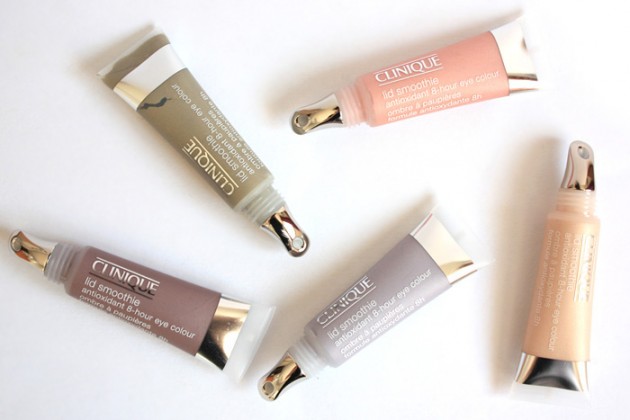 Honestly, I can't rave enough about these. I know they're not going to work for everyone, but I've only ever found one other product (incidentally, also cream eyeshadows) that wears on my lids all day without creasing, and that's the Ellis Faas line.
Clinique vs. Ellis Faas: If you want colour, you have to go with Ellis – their products pack a major pigment punch, and these Lid Smoothies are ridiculously sheer. However, in terms of cost, ease of use, availability, and packaging, Clinique definitely has Ellis beat!

(In case you're looking for them, here are our review for Ellis Faas Lights and Ellis Faas Creamy Eyes.)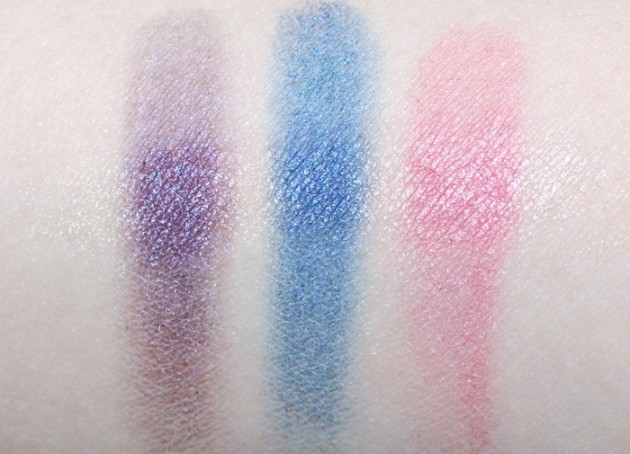 Bit O' Honey used as a primer (horizontally) under powder eyeshadows (vertically) – it really picks up and locks down the colour!
Top: indirect sunlight / Bottom: flash
Packaging and application: These are being marketed as "cooling" eyeshadows, which I was worried about at first. When it comes to my sensitive eyes, "cooling" is usually code for "DANGER; look out!" The cooling's in the packaging, though, in this case: a smooth, sleek, metal applicator. It's something I haven't seen before (or, really, anything like it), and so I'm giving Clinique mad props for innovation on this one ;)
The applicator does indeed feel cool in the eye area, but more importantly, it does an amazing job of blending out product – no brushes or fingers needed. You know how doe-foots are supposed to help spread products, or built-in brushes are supposed to help blend, but they never actually work? Well, this one actually works, and the metal's not only soothing on my eyelids (great for the morning, when they're still a little puffy!) but it spreads the product out evenly and without any tugging at all.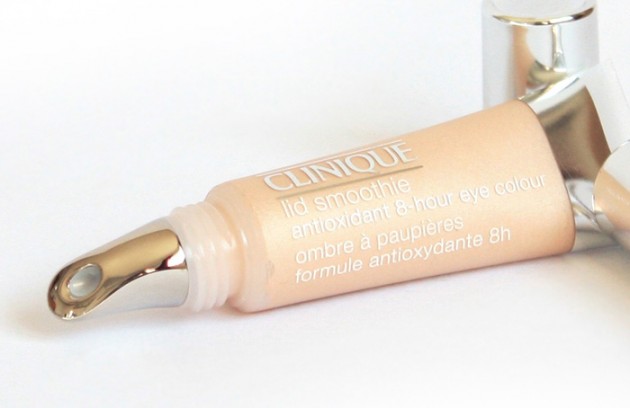 The verdict?
Sheer or not, I'm crazy for these Lid Smoothies. They're easy to apply, widely available, and well-priced, but most importantly? They have incredible wear time. For a girl who's been let down by both Urban Decay Primer Potion and Too Faced Shadow Insurance, these are a godsend!
The only flaw I can think of for these is that there aren't any super-pigmented colour options – but I'm willing to forgive and forget. Clinique's Lid Smoothies not only make lovely washes of colour (I've been hooked on Born Freesia in particular), but they function fantastically as eyeshadow primers, too, intensifying colour and wearing all day (and then some) without creasing or fading.