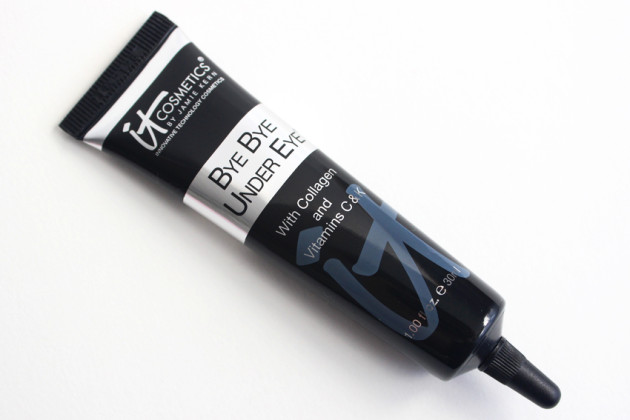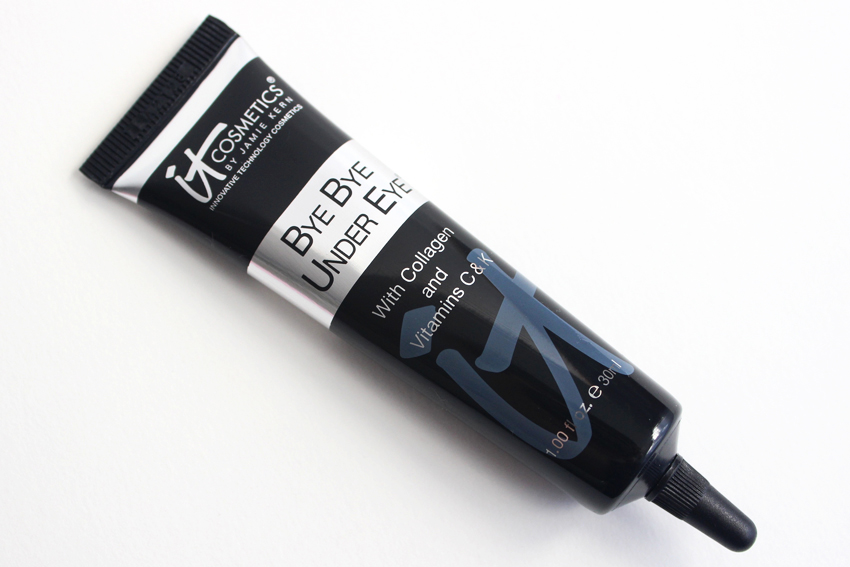 The product: IT Cosmetics Bye Bye Under Eye Full Coverage Waterproof Concealer in Light
Two months ago, IT Cosmetics was just another "QVC brand" to me — over-marketed, under-formulated, and probably not worth paying attention to.
Following an email from the brand, however, I found out that both their bestselling concealer & their new foundation are silicone-free, and I decided to give them a try: after all, 'cone-free base products are no small feat, especially from a company that doesn't even bill itself as "natural" or "organic."
Since then, IT Cosmetics has been leaving me gobsmacked at every turn, so I thought — well, why not kick things off with a review of their most popular product?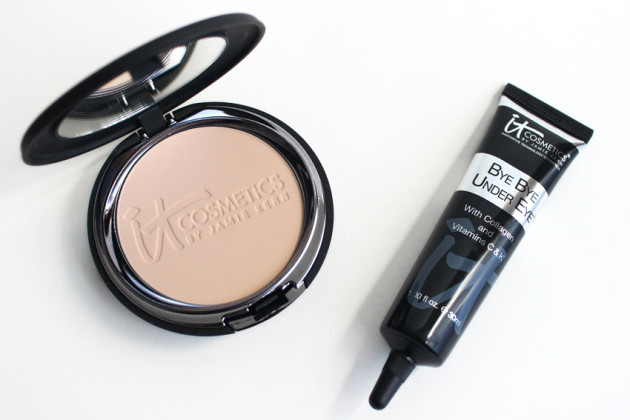 IT Cosmetics Bye Bye Under Eye (R) with their Celebration Foundation in Fair (L)
The texture & general feel: Created to offer highly-pigmented coverage without creasing or cracking, the IT Cosmetics Bye Bye Under Eye concealer is good for so much more than the under eye area.
It comes out of the tube thick, creamy, and very emollient, its heavy texture making it feel almost sticky before it sets. The formula blends easily, though, heavy but spreading out well over larger areas, like around the nose, jawline, or (yes) the under eye.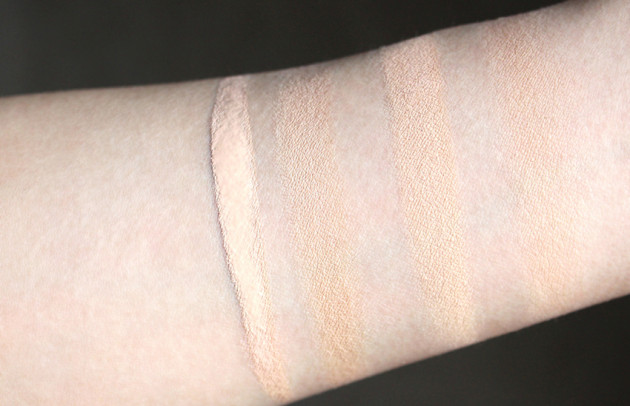 Swatched L-R: IT Cosmetics Bye Bye Under Eye Concealer in Light (heavy/blended), IT Cosmetics Celebration Foundation in Fair (heavy/blended)
It's best used as: A concealer for hiding discolouration over a large area, like under eye circles, darkness around the hairline/mouth, or patches of redness. It's high-coverage enough for blemishes, but the texture really isn't suited for it — while the Bye Bye Under Eye concealer can certainly hide away scars, veins, and small spots, it's not ideal for something like point-concealing cystic acne.
IT Cosmetics says that you can use this as a foundation, too, something that I do with all my concealers anyways. (What? I'm lazy.) I think it's best suited as a concealer, but it makes an okay foundation. It struggles a little over dry patches, but it'll certainly do in a pinch.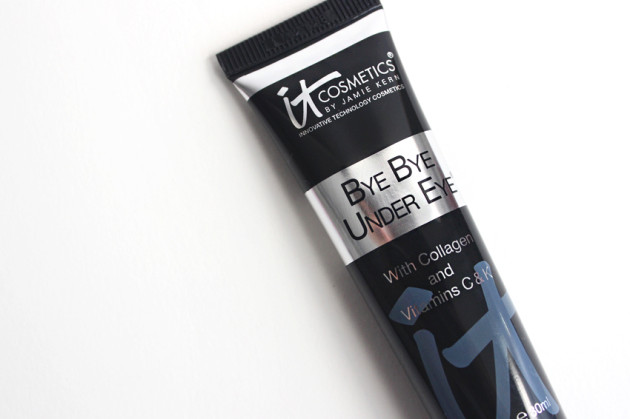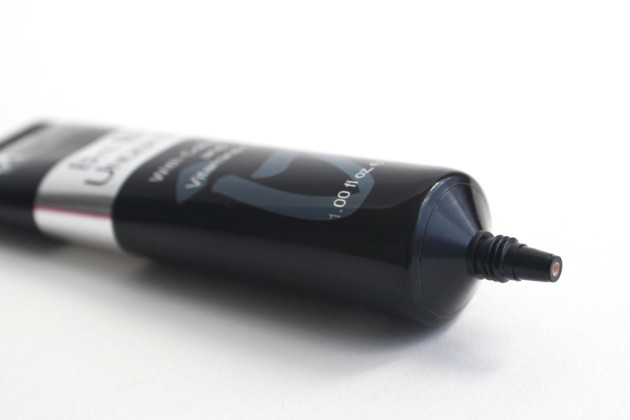 The way it wears (in lines, etc): In one word? Fabulously. I haven't been testing this on my under eye area (it's too dark for me, especially there), but that's not actually where I have the most problems with concealer creasing on me.
Instead, formulas tend to settle into my fine lines of dehydration on my forehead & between my brows, and catch on my dry patches on my nose & right cheek. This has done absolutely none of the former, and very little of the latter — it's not perfect for dry patches, but I have yet to see it settle obviously into any of my various fine lines throughout the day.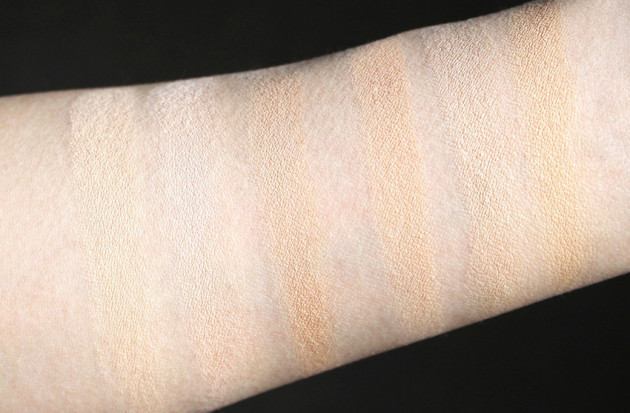 Swatched L-R: 1) MAC Studio Finish Concealer in NC15, 2) MAC NW15, 3) IT Cosmetics Bye Bye Under Eye in Light, 4) IT Cosmetics Celebration Foundation in Fair, 5) MAC NC15 (again), 6) MAC NC20
The shade (Light): According to IT Cosmetics (this is interesting, and probably based off sales figures), 70% of skin tones fit Neutral Medium in their Bye Bye Under Eye concealer.
Unfortunately, even their lightest shade (Light, which is actually closer to their Fair foundation than it is to the Light shade) is just a hair too dark on me. I've been using this instead along my jawline and hairline, where I get redness and darkness respectively — and it blends into both areas fabulously, delivering completely invisible coverage, even for my stubborn little patch of jawline redness.
The verdict?
If it hasn't become clear in the last six hundred words, I think this is a fantastic product. I love that it's free of silicones and fragrances, and that IT Cosmetics doesn't test on animals… but I particularly love that it blends in flawlessly and easily, delivering great coverage without ever settling into lines or looking greasy and obvious.
I think it speaks volumes that this concealer has found a place in my daily makeup routine, even though it doesn't match for most of my face. If you're on the market for a new concealer, check this one out — if you can find a match for your complexion, it's definitely up there in the ranks with cult-classics like timeBalm and Make Up For Ever Full Cover.
Availability: $24 USD/0.28 fl oz through Ulta, QVC, & IT Cosmetics. $29 CAD in Canada through The Shopping Channel.

Please note that the Bye Bye Under Eye concealer featured here is NOT the regular size; it's a super-sized 1 fl oz tube from QVC/The Shopping Channel's Your Most Beautiful sets ($65.96 USD/$79.95 CAD).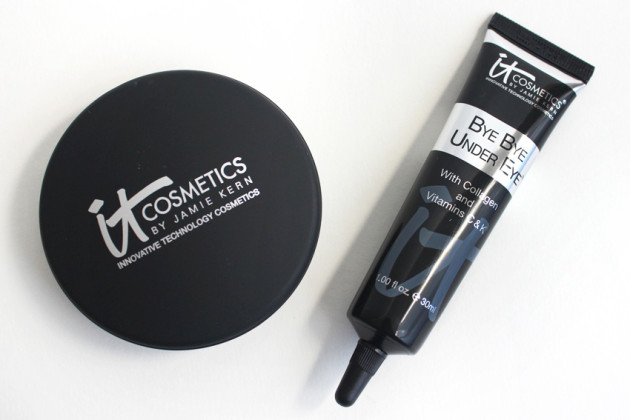 IT Cosmetics Celebration Foundation & Bye Bye Under Eye Concealer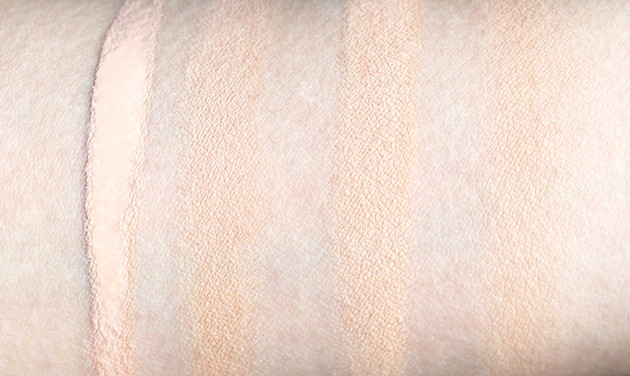 Swatched L-R: IT Cosmetics Bye Bye Under Eye Concealer in Light (heavy/blended), Celebration Foundation in Fair (heavy/blended)
The ingredients:
Caprylic/Capric Triglyceride, Bis-Diglyceryl Polyacyladipate-2, VP/Hexadecene Copolymer, Cetyl Alcohol, Silica Dimethyl Silylate, Ozokerite, Tocopheryl Acetate (Vitamin E), Retinyl Palmitate & Tocopherol (Vitamin A), Magnesium Ascorbyl Phosphate (Vitamin C), Phytonadione (Vitamin K), Soluble Collagen, Propylparaben, Methylparaben.
+/- Titanium Dioxide, Black Iron Oxide, Yellow Iron Oxide, Red Iron Oxide.