The product: YSL La Laque Couture Nail Lacquer in 34 Jade Impérial
An alternate title for this, I think, could well be "the perfect winter nail to take you into spring," but then, that would depend on where you were in the world, wouldn't it?
We're starting to see warmer temperatures here, and it admittedly (unfortunately) makes me love Jade Impérial less. As a winter nail, though–and it can be, for the future; it's a permanent shade in the La Lacque Couture line, new with the Arty Stone collection–it's absolutely on.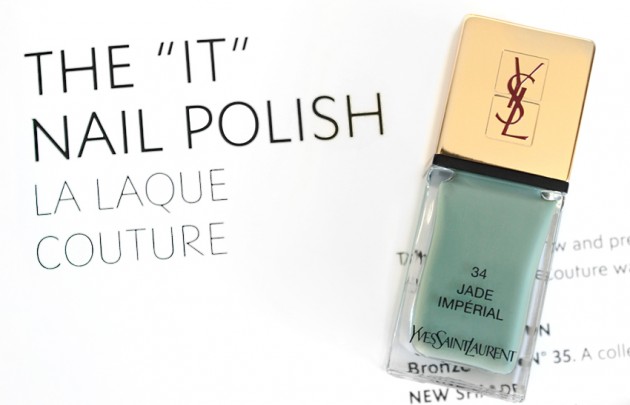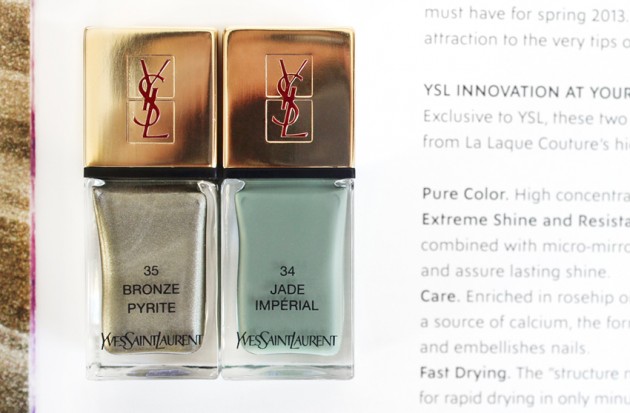 The formula
In all honesty, what really gets me about this polish isn't the (gorgeous) shade — it's the phenomenal formula.
Smooth and very fluid, the La Laque Couture formula applies beautifully, settling in so easily that even the nails on my right hand looked hand-model-flawless (and I am terrible at applying polish with my non-dominant hand.)
While two coats was perfect for this formula, I think I could have gotten away with one if I really needed to — and on some of my (smaller) nails, a single brush stroke was all I needed.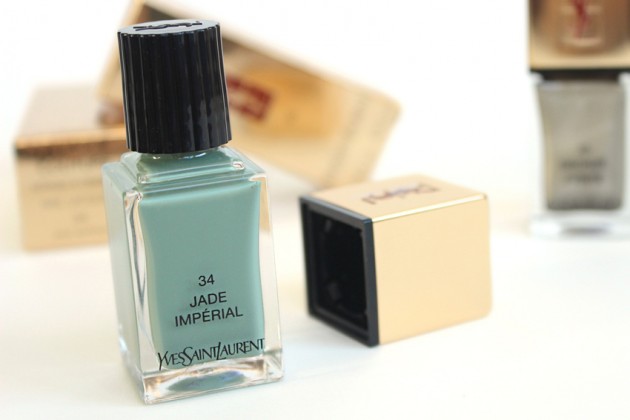 The packaging
Just to note, the chic gold gap of the polish does come off (à la Chanel, etc.) with a firm "click" — it feels very sturdy and well-made, keeping in line with the luxe profile of the thick-walled glass bottle without sacrificing function.
The brush (medium-wide and thin/flat) works perfectly as well; it reminds me of the OPI Pro-Wide brush in the way that it fans out to make application a breeze. This one is less-wide, though, and the bristles less floppy and straight, giving more control over application on the whole.
The shade
While I didn't get around to photographing Jade Impérial until just this past week, I've been fantasizing about the colour all winter — that gorgeous, smokey green-grey.
There are a lot of ways to describe it, but I like to do it as a feeling: it feels like an abstract representation of a mild winter, obscured; green, but with hints of blue and a marvellously heavy dose of grey.
I've never been a fan of teal, blue-green, or jade, for that matter, but YSL's desaturated take on the idea absolutely hits the spot for me — it feels so wonderfully unique, so unexpected.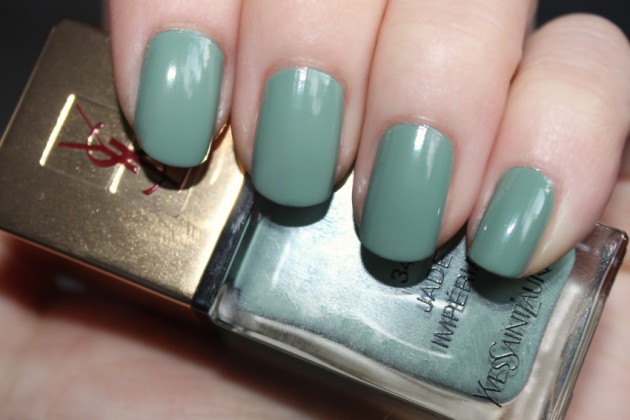 The verdict?
The price tag of the La Laque Couture line ($25 USD/$27 CAN) is a tough one to come to terms with, but I'd be lying if I said I didn't love this polish. 
From the colourful-but-melancholic shade to the flawless way that the formula applies, I can't find fault in Jade Impérial — not even in the chunky glass packaging, which reads as wonderfully luxe instead of woefully cumbersome.
The shade isn't exactly for everybody, but the formula — well, how can you not love a great formula?
Availability: Nordstrom; in Canada, Holt Renfrew & select Hudson's Bay, Sephora, and Murale boutiques. This is a permanent shade.
The ingredients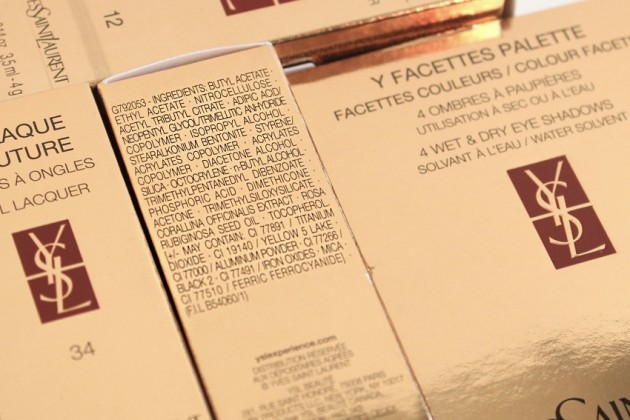 YSL La Laque Couture ingredients
With butter LONDON Trustafarian 
One of the things that I think really works for Jade Impérial is its flawless creme finish, but I had to test that theory with a few shimmery, faux-holo accent nails.
butter LONDON Trustafarian ($15.00 USD/$17.50 CAD) is technically marketed as a holo, but I think it's a bit of a cop-out — the shimmer is too large and sparse to really give a holographic effect. That said, though, it definitely lets the green-grey of Jade Impérial shine through… so, what do you think?
(I like it shimmer-free, personally, but I can see the appeal!)