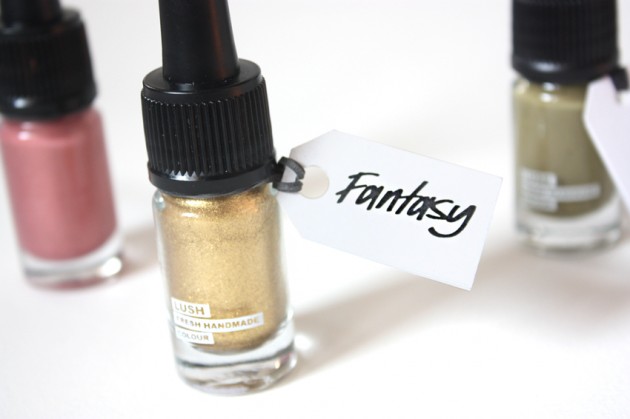 The product: LUSH Emotional Brilliance Liquid Eyeliner in Fantasy
The shade: Okay, I absolutely have to start out talking about the gold tones in Fantasy. I was in raptures when I saw the promo image, and while the product looks a little too warm in the bottle, it is absolutely gorgeous when applied. 
Not too yellow and not too bronze, Fantasy applies with complete opacity in just one swipe, shines like the light of a thousand suns a seriously brilliant metallic-finish nail varnish, and almost, almost makes me want to give up my much-loved Marcelle Pure Gold Lux Diamond Liquid Eyeliner entirely.
(But I have both, now, and who says you can't love more than one gold liner? They're not even the same finish; it's totally worth owning both!)
LUSH Fantasy Liquid Eyeliner – swatched/applied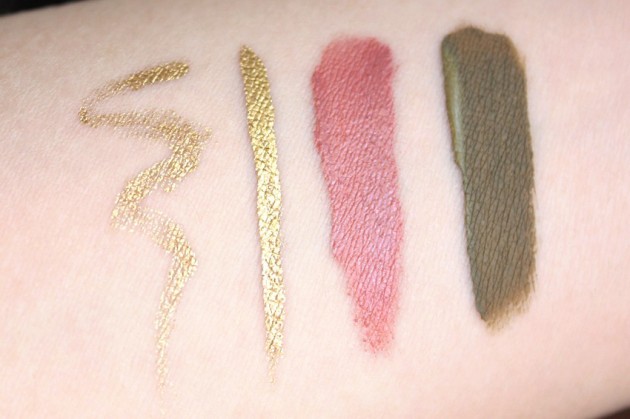 LUSH Fantasy Liquid Eyeliner Swatch (both gold swatches on the left)
The formula: Thicker than expected (but not quite too thick), I found Fantasy to be quite comfortable to wear — unlike some liners, it wasn't heavy or sticky, and I couldn't feel it on my lids after it had set.
I don't get all-day wear out of this, but LUSH kept true to their smudge-free promise: when it does begin to wear off, it starts with bits of gold glitter, and (if you leave it on for long enough & accidentally rub your eyes not that I did or anything) it'll wear away in little gold flakes. Not flawless, but I definitely prefer it over smudging or fading!
Just one thing to note, though; this is the sort of formula that dries into a layer, so clean up any errors you make in application before it sets. If you wait until after, you risk your eyeliner unravelling in a fashion not dissimilar from that of a hand-knitted sweater with a pull.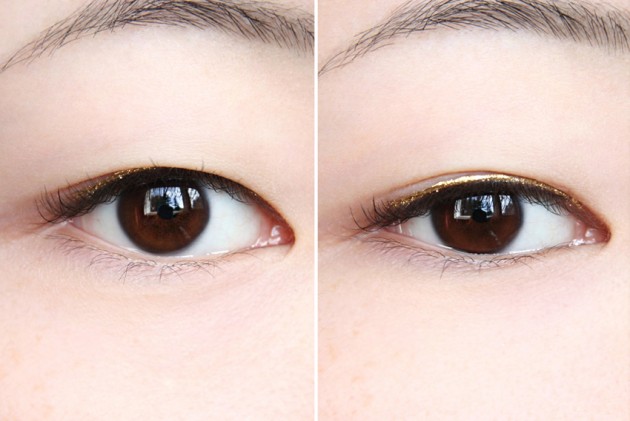 More lid swatches of LUSH Fantasy's gorgeous, metallic goldness
Watch out! for: The first time I tried this liner, I wasn't thrilled with the texture… or the wear time. Upon closer inspection, though, I noticed a thin layer of liquid sitting on top of the product — not curdling, just a bit of separation. With a few inversions, it mixed right back in, and I found the texture to be much more workable (and the wear to be much less flakey!)
It gets quite hot in my makeup room during the summer, and Fantasy was hardly the only product to separate. My Emotional Brilliance cream eyeliner and lipstick were fine, but if you pick up Fantasy or Independent, make sure to invert your products every now and then for the best results.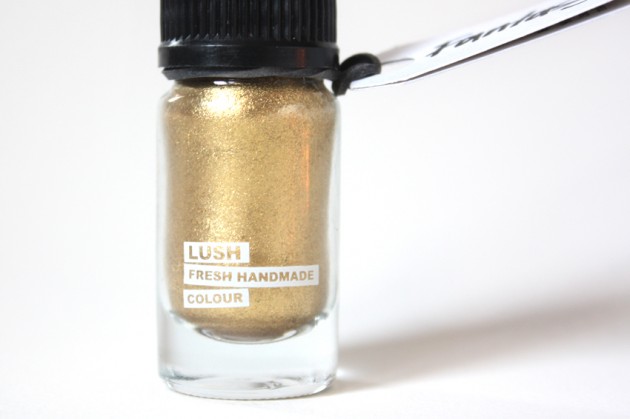 Seriously, how gorgeous is that gold?!
The packaging: Like a lot of you, I had my worries about this packaging — but I didn't have any problems at all with it, to be honest.
With a fine-tipped brush applicator (call me crazy, but I prefer it over a sponge or felt tip for a formula like this one), it's easy to get as thick or thin of a line as you need. The handle is a little awkward, as expected, but (thankfully!) more of an irritant than an impairment. It takes a bit of getting used to, but I'm sure you'll manage ;)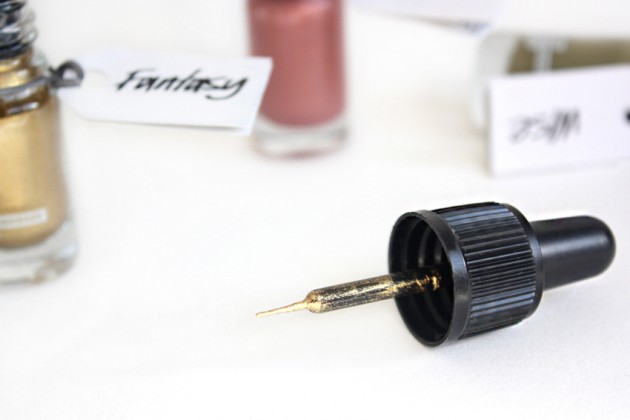 LUSH Emotional Brilliance Liquid Eyeliner – applicator tip
The verdict?
I was bracing myself for Fantasy to let me down, but… surprisingly enough, it didn't! Gorgeously opaque and with a great warm-cool balance (especially for a gold, which can be tricky), I loved this as both an eyeliner and an eyeshadow — photos of the latter behind the cut.
At $22.95 for 0.2oz (same as the other Emotional Brilliance colour products), I think LUSH's new liners are worth checking out if you're looking for a gorgeous colour selection with good wear time. They're not perfect, but for shade as gorgeous as this one, I'm definitely willing to allow for a bit of wiggle room.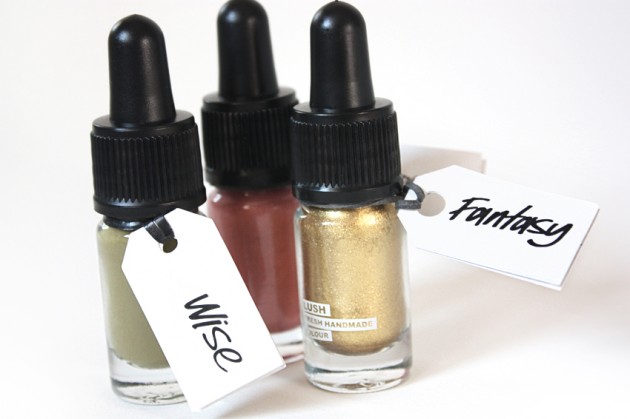 The ingredients:
Eyebright Infusion (Euphrasia officinalis), Water, Talc, Glyceryl Starate SE, PVP, Hydroxyethylcellulose, Titanium Dioxide, Calcium Sodium Borosilicate, Silica, Tin Oxide, CI77400, CI77492, Methylparaben, Propylparaben.
*Please note that these are not the same as the ingredients LUSH has listed (incorrectly) on their website; this list has been taken directly from the product itself!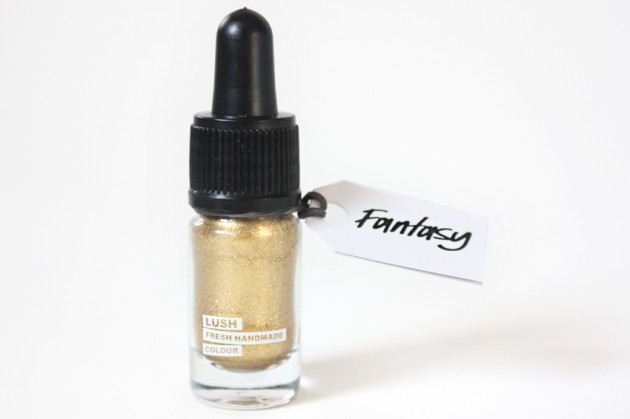 Yes, you can…
Wear this as eyeshadow, that is! I didn't give this a go until writing this post (hence the terrible photo below), but it's actually a breeze to apply. As I've mentioned before, Fantasy sets more quickly (and is made of different ingredients) than the rest of the LUSH eyeshadows & liners, but if you blend the edges out quickly with your fingertip, you can definitely wear this one as eyeshadow.
I have yet to really test out the wear time (gorgeous as they are, fully opaque, highly metallic gold lids are far from a day look for me), but I was impressed with what I did see. My lids struggle enormously with creasing, but I got a good few hours of super-lightweight (I couldn't feel this on my lids at all!), crease-free, fade-free wear before I washed it off for the night.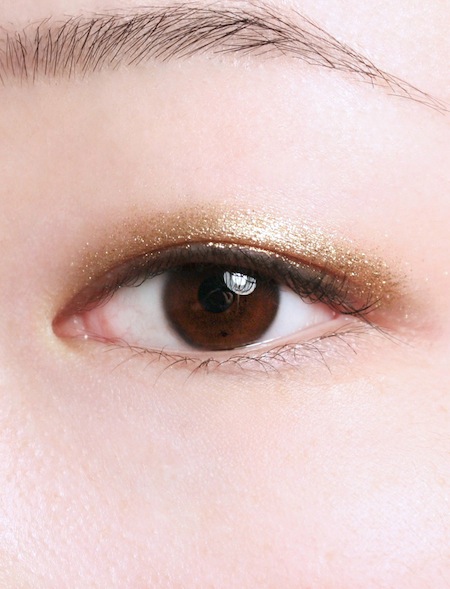 LUSH Fantasy Liquid Eyeliner, swatched as eyeshadow
The full range