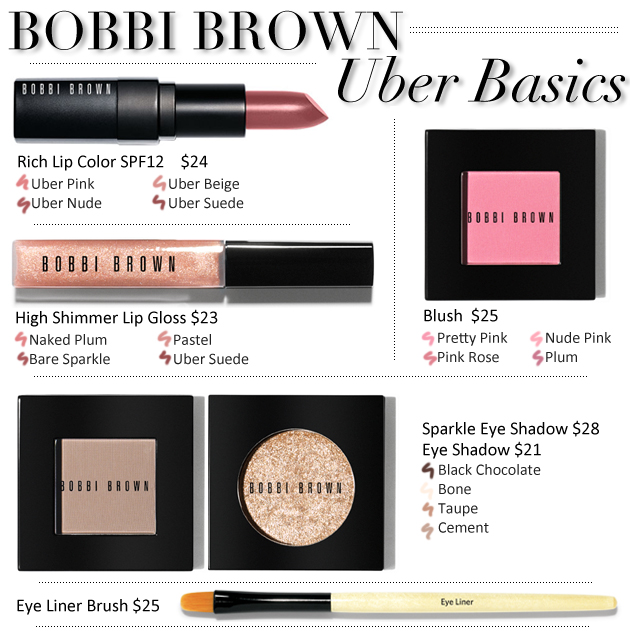 I've been playing around with product spreads (rather than widgets), recently, and I have to say — I kind of love this one. Laying it out like this takes a bit more time okay, like, an entire bloody hour more than throwing everything into a ready-made box, but the effect is… different, I think. Hopefully better, and potentially worth getting used to.
Anyhow; I hope really do hope you guys enjoy the mildly-interactive spread. Have fun with it; everything is clickable (product photos & labels, but not individual shade names) and will bring you to the product's page! 
— Bobbi Brown Uber Basics —
Sparkle Eye Shadow ($28.00) (Limited Edition)
Bone – Cream sparkle
Cement – Grey beige sparkle
Taupe – Ash brown sparkle
Black – Chocolate Black brown sparkle
Eyeshadow ($21.00)
Bone – Off white
Cement – Grey beige
Taupe – Warm taupe
Black – Chocolate Black brown (New)
Rich Lip Color ($24.00) (New)
Uber Beige – Neutral brown beige
Uber Nude – Medium rose
Uber Pink – Medium neutral pink
Uber Suede – Golden beige
High Shimmer Lip Gloss ($23.00)
Bare Sparkle – Champagne with pearl
Naked Plum – Rosy brown with pink pearl
Pastel – Soft pink with pink pearl
Uber Suede – Mid-tone golden beige (New)
Blush ($25.00)
Nude Pink – Palest pink
Pink Rose – Medium pink rose
Plum – Deep pinky plum
Pretty Pink – Warm baby pink (New)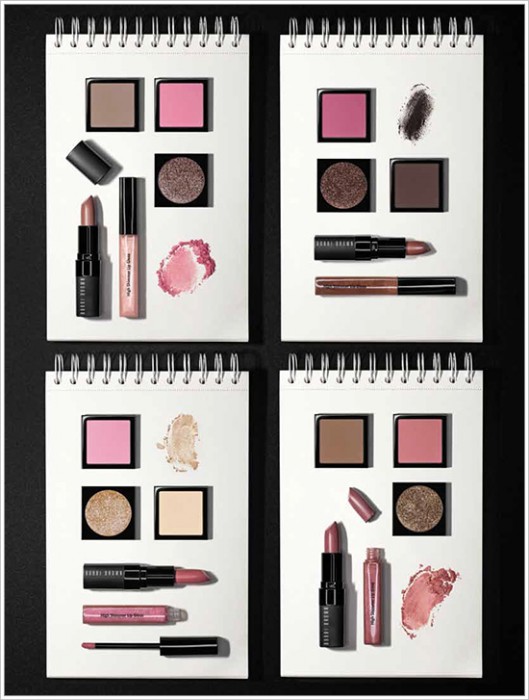 —
Disclaimer: yes, those are affiliate links. There is no way I'm going to build an image for over an hour and not affiliate link when the option's right there; site fees to pay, new lighting to buy, perhaps someday a camera that can do proper video… Alas!