I've been thinking some Serious Thoughts about leather jackets recently, and (in light of a short Twitter conversation with a few of my favourite human beings on the interwebs), I thought I may as well get my predicament out there.
Because I'm sure lots of you will be having the same problem.
Just kidding! No one else is having this problem, because I'm a good number of degrees weirder than the rest of the world. But hey! What's a blog for if you can't bitch about clothes every now and again?

(Basically, I just want to find a warm, soft, secondhand leather jacket with an asymmetrical zipper and a bit of a masculine edge. Is that really so much to ask for?)
(See, but that's funny, because it really, really is.)
The problem(s)
Basically, there's this thing wherein when I put on a leather jacket, I look like I'm on my way to beat someone up. (Conversely, when my adorable older sister puts on the same jackets, everyone around her is faced with an unbearable urge to give her candy or pat her on the head.) It's not my best look, by far.
(Unless I'm going for "aggressive to a fault," I guess. Though I can't really think of a situation which would call for that.)
That's problem one.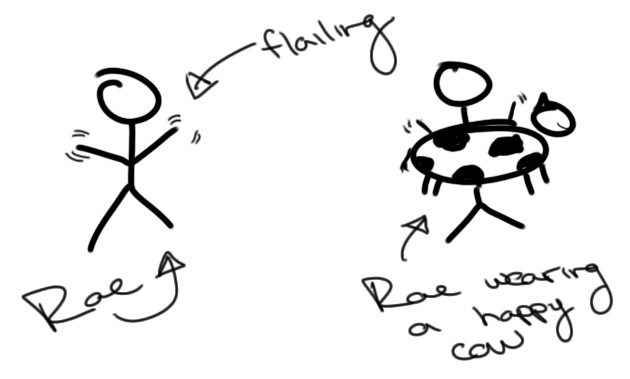 Problem two is that I'm not really into leather. I'm not vegan, or even vegetarian, but there's just something kind of uncomfortable about the idea of wearing something else's skin around, you know? I'll make an exception for shoes (preventing back problems is always a priority for me, and I'll take good arch support wherever I can find it), but I'll avoid leather bags and belts if I can.
[ Aside: If it's something that I could find non-leather, I'll go for the non-leather version. If not, I try not to get too hung up over it. At the end of the day, it's a squeamish issue for me, not an ethical one. ]
Anyhow, leather biker jacket ramble –> over. I think I'd like to go secondhand or vintage if I do pick one up (smaller eco footprint, not directly supporting the businesses producing leather, etc), but I'm still not sure.
In all likelihood, I'll just put it off until I forget that I wanted a leather jacket in the first place. Crisis averted! 
Quips, questions, qualms: hit us up in the comments.