Monday, November 24, 2014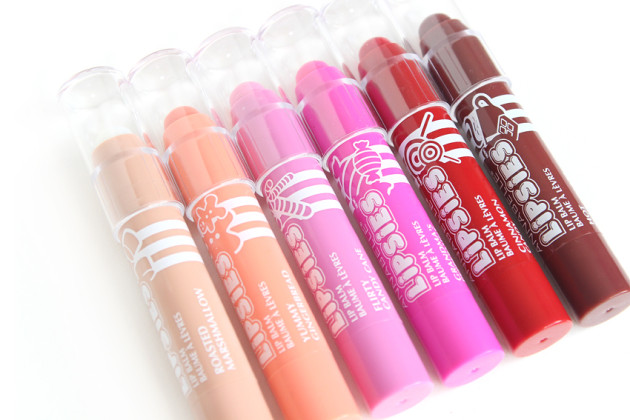 The product: Annabelle Lipsies Lip Balm (Holiday 2014 edition)
  ↳in Roasted Marshmallow, Yummy Gingerbread, Flirty Candy cane, Grandma's Peppermint, Cinnamon Candy, and Hot Chocolate
So, you guys know how much I love jumbo lip pencils, right? (Right). Well — Annabelle Cosmetics has come out with a limited-edition range of six for the holiday season, and they smell amazing.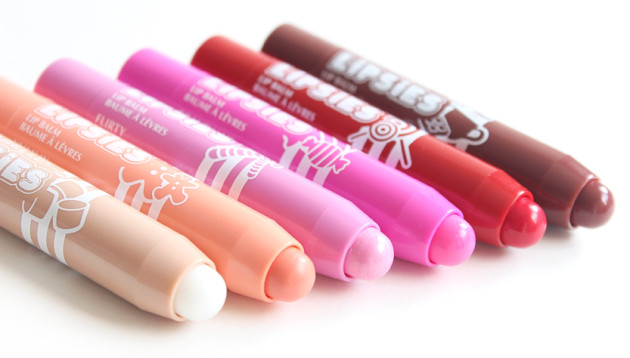 The formula and wear: I get 2-3 hours of comfortable, moisturizing wear out of these (more moisturizing than a Chubby Stick; less moisturizing than an eos sphere), with clear to medium coverage depending on the shade. They have a soft-shiny finish, and all five shades are quite understated.
The packaging (retractable!) and overall aesthetic makes them a lot less, uh, luxe than most jumbo pencils, but I think they'd make amazing stocking stuffers — especially for a pre-teen or teenager just getting into makeup. (Or a makeup addict who doesn't take her stash too seriously!)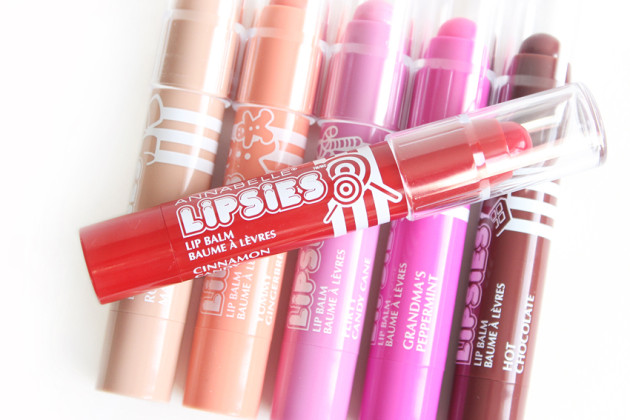 Each Lipsies balm comes adorned with a cartoon drawing of their scent!
The shades and scents
Roasted Marshmallow is clear with a bit of super-fine, glossy-looking sparkle and a fruity scent — weird, considering its name, but delicious. Yummy Gingerbread is an almost-clear peach shade, and it smells like sugared cereal in milk (or an Urban Decay Rocket Lipgloss; those things were equally gross.)
Flirty Candy Cane is a sheer milky pink with a white frost finish–which makes it look more pigmented in this swatch than it really is–and again, it smells quite fruity. It's a more standard fruit scent than Roasted Marshmallow, and a tiny bit sweeter, but both are mouthwatering. Grandma's Peppermint is a pretty, universal sheer pink that smells like peppermint tea rather than your standard minty lip balm, and is the glossiest of the bunch.
Cinnamon Candy is by far the highlight of the group, and smells exactly like cinnamon hearts — but without the burn. It's a new-to-me lip product scent, with a warm-red tint that sinks in to look like a stain after 15 minutes. Finally, Hot Chocolate smells like your typical chocolate-scented drugstore product, and both it and Cinnamon Candy have good pigmentation — more than Fresh or Clinique tinted balms, and I'd recommend using a mirror to apply.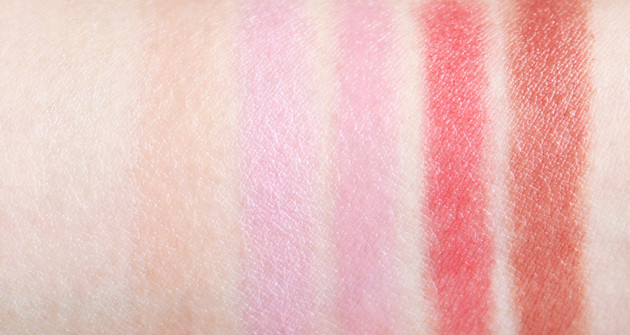 Annabelle Lipsies swatches: Roasted Marshmallow, Yummy Gingerbread, Flirty Candy Cane, Grandma's Peppermint, Cinnamon Candy, Hot Chocolate
The verdict?
These ones aren't available online, but if you can pick them up in-store, do it!! They're a lot of fun, and at $4.95 CAD, they're a really good price — for yourself or as a gift.
Must-have: Cinnamon Candy, especially if you look best in warmer reds! And Grandma's Peppermint, if you love peppermint tea — this scent is spot-on. (The shade's really pretty, too.)
Nice-to-have: Roasted Marshmallow and Flirty Candy Cane — the shimmer in both is very fine, and both are inoffensively fruity. If colour is of no consequence to you, I say go for the marshmallow.
Skip: Yummy Gingerbread and Hot Chocolate. They're pretty gross-smelling, to be honest.
Available at drugstores and mass retail stores across Canada while quantities last.