↳ Photographed with the limited-edition Smoky Poppy Body Butter ($20), which smells amazing but contains silicones, so I can't touch it! (But seriously: amazing. It's super sultry for a Body Shop fragrance.)
My love affair with jumbo lip pencils is a long and almost frighteningly well-documented one, but when I tried these for the first time, I actually stopped and went, "oh, cool," for a moment.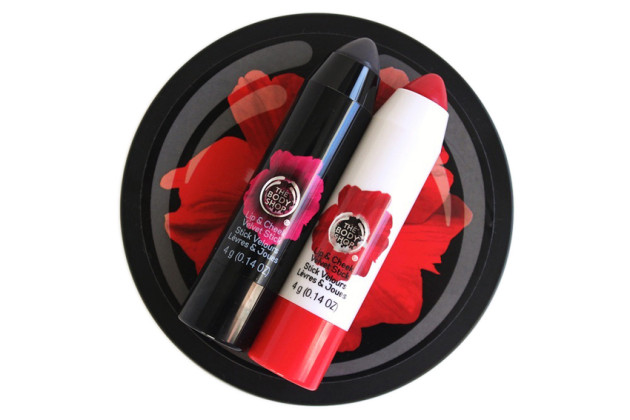 The texture: Unlike your standard jumbo lip pencil (sheer-glossy or opaque-matte), these Lip & Cheek Velvet Sticks are exactly that: velvety. They apply with an incredibly natural finish, softly matte but not at all drying.
Unlike most mattes, though, they're sheer — or, rather, they'll sheer out if you blend them. Red (and I'm assuming the rest of the regular line) applies with a very medium opacity, but blends out to create the most seamless, perfect flush; the Universal Shade applies more sheerly, but in a way that's suited well to the shade.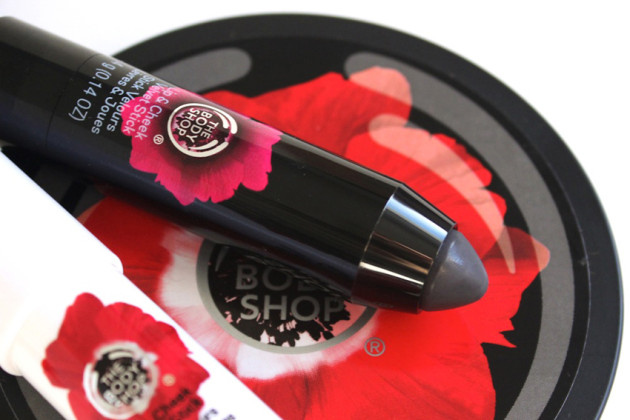 The Body Shop Universal Shade Lip & Cheek Velvet Stick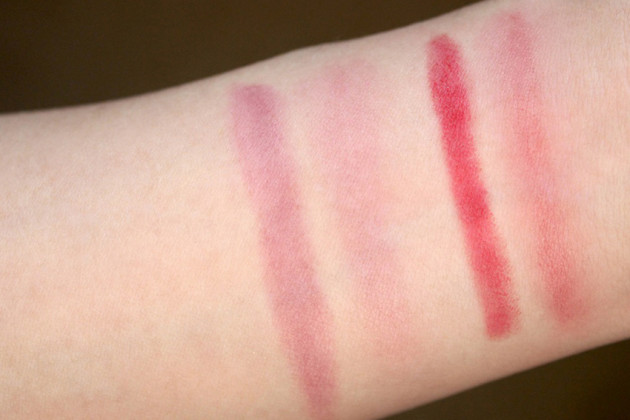 The Body Shop Lip & Cheek Velvet Sticks, swatched – Universal Shade (heavily/blended) and 40 Red (heavily/blended)
The shades: Red is a bright strawberry red, but the pH-adapting Universal Shade is the Lip & Cheek Velvet Stick that really steals the show. Purple-black in the tube, it applies as a very sheer dark purple. It's less glossy and more plummy than Clinique's Voluptuous Violet Chubby Stick (the closest dupe that I've seen), and you NEED it.
When sheered out, the Universal shade reads as a muted flush of colour, and on the lips, it's nothing short of perfect. My natural lip colour leans a bit orange (bleh), which makes most medium/dark lip colours look punchy and ostentatious as they wear off, but this weird, pH-adjusting pencil is perfect. It darkens my natural lip colour considerably without making my lips look bright!, which–believe me–is a pretty substantial feat.

Bare lips

The Body Shop Universal Shade Lip & Cheek Velvet Stick lip swatch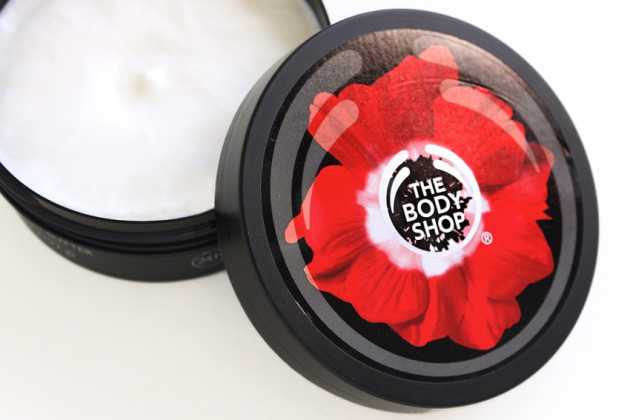 The Body Shop Smoky Poppy Body Butter
The verdict?
These sheer-matte Lip & Cheek Velvet Sticks are great both for the lips and cheeks, but it's the black Universal Shade pencil that you really need to own. If you've ever been intrigued by a sheer purple lipstick, or if you've ever been tempted to try Clinique's classic Black Honey, get this one instead — you won't be disappointed. 
Availability: $15 USD/CAD at The Body Shop. Permanent.