Thursday, November 20, 2014
The product: L'Occitane Divine Youth Oil (from the Immortelle range)
L'Occitane's Divine Youth Oil reminds me a lot of the Argentum Apothicary moisturizer that I reviewed last month — but with a few important differences. First, the similarities: it's a high-end anti-ageing moisturizer that smells amazing, with plenty of natural ingredients and a beautiful, velvety finish.
But now, the differences: at less than half the price, L'Occitane's oil is twice as moisturizing, far more comfortable to use, and may smell even better.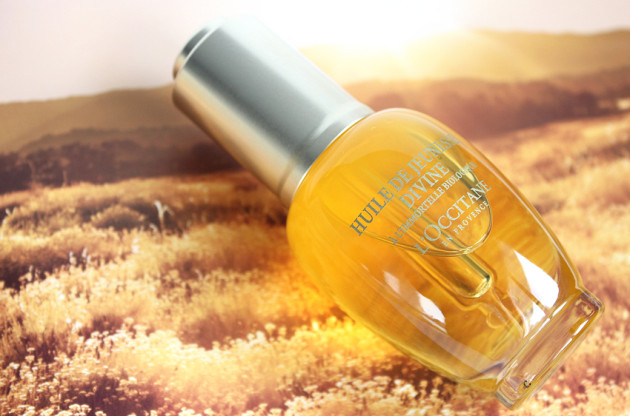 Don't cut my content
My biggest pet peeve with high-end oils and serums is when companies dilute their product with fillers to cut down on production costs — things like mineral oil, 'cones, and plain old water. When you buy an oil (and this one's $100/30 ml), there's an unspoken agreement that what you're getting is more concentrated, and that you're paying for a product that hasn't been stretched out already.
But though this oil is very obviously cut with caprylic/capric triglyceride… I find it hard to care. Caprylic/capric triglycerides (which you may know as liquid coconut oil) are one of my favourite skincare ingredients out there, and in the case of this oil — I think they do wonders for the formula.
What makes this one special
Unlike other oils that you may have tried, the triglyceride content of this one means that it both feels dry to the touch and sinks in instantly. A blend of seven oils–including borage, evening primrose, sea buckthorn, and rosehip–with Corsican immortelle essential oil and caprylic/capric triglycerides, this oil is incredibly lightweight and leaves my skin with the most gorgeous velvety finish, even when I mix it with my super-heavy, super-oily German Nivea.
It smells amazing; mouthwatering and fruity (a scent that I'm told is unique to the L'Occitane Divine Immortelle range), and a little goes a long way: for my terrifyingly-dry skin, I use 5-7 drops, but for normal to oily skin, a single drop will do.
The verdict?
While I wouldn't recommend this to anyone with dehydrated or extremely dry skin, for anyone else: you neeeeed this. This oil not only feels and smells amazing, but it leaves my skin looking velvety and clear (without any fancy primers or powders). It's kind of like an oil that isn't, which I think will appeal to both facial oil users and heathens everyone else.
Availability: $96 USD/$100 CAD at L'Occitane boutiques & online. Buy it!!