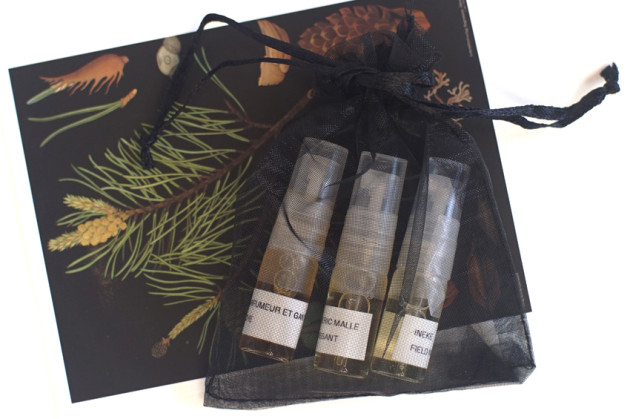 Getting into perfumes is hard. I mean, I've been doing it for the past five years, and even I still think it's hard. And scent sampling makes it easier, but generic sampling sets just aren't an option if you want something a little more unique than a mass-market perfume.
That's where The Decant Index comes in.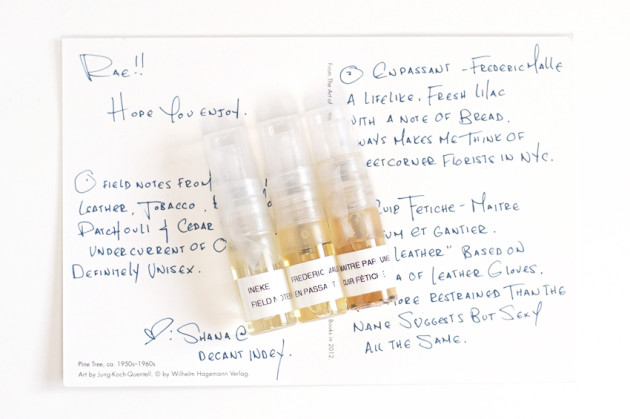 The service
I was contacted by Shana at The Decant Index (@decantindex) to try the service, and… on my god. It was amazing. Shana personally matches people to perfumes based on what they like and what they're looking for, and there's none of that generic "if you like woody florientals, you'll like…" stuff.
Shana looks at feelings, places, and past perfume loves, and despite the fact that I only gave her a quick paragraph of information to go off of, her picks for me were spot on. I literally could not believe how much I liked all three of these — I have NEVER had anyone match me to perfumes this well.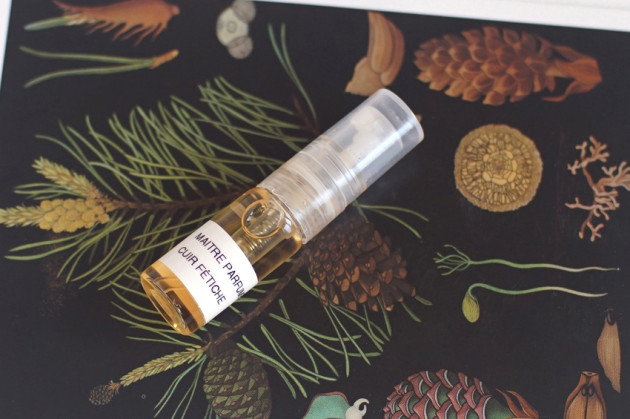 The scents
Maître Parfumeur Et Gantier Cuir Fétiche ($117 USD/100 ml)
↳ The Decant Index 3 ml sample: $17.50 USD. Notes listed: mandarin, bergamot, lemon / leather accord, ylang-ylang, rose / musk, ambergris, patchouli, cedar wood, sandalwood.
Cuir Fétiche was the first of this trio that I sprayed, and oh my god is it ever gorgeous. It's one of the sexiest scents I've ever smelled, but sexy in a sort of… literary way, you know? It's all high collars and first editions without a whiff of "date night perfume" in sight.
I get a lot of bergamot and leather from this one, with a bit of patchouli and lots of sandalwood and ylang-ylang in the delicious, creamy drydown. For a mass market perfume comparison, this one reminds me very much of the Bottega Veneta Eau de Parfum — but if Chanel (under Jacques Polge, not Olivier) had created it.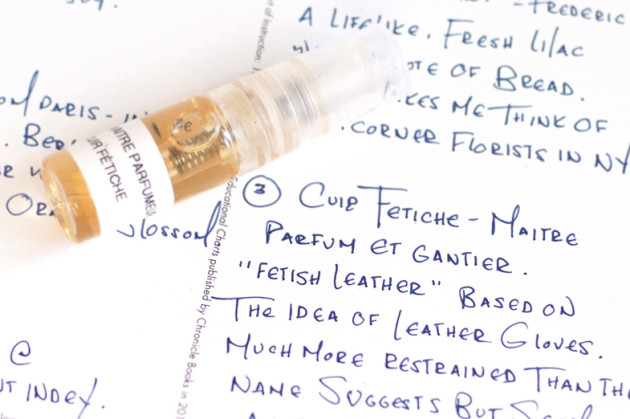 Cuir Fétiche was formulated to reference the history of the perfume industry in Grasse, which originated to cover up the scent of the tanning process in fine leathers. (Thank you, Lucky Scent, for this little history lesson!) Until the French Revolution, the master perfumers in Grasse were the glove-makers, hence the brand's name.
If you only sample one of the scents in this post, let it be this one. Cuir Fétiche is absolutely exquisite, and bookishly edgy in a way that would be heart-stopping on both a man or a woman. I hear that the brand's Santal Noble and Ambre Precieux are also a dream.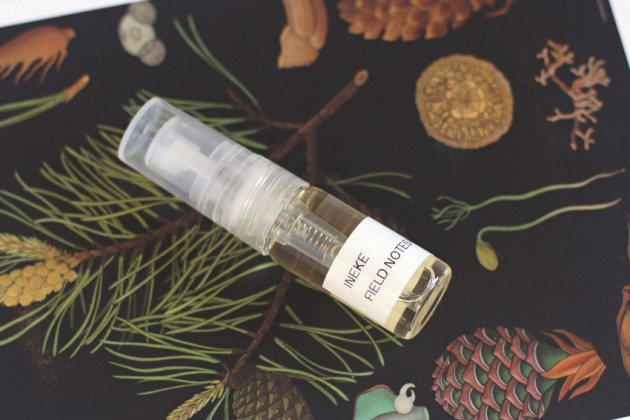 Ineke Field Notes from Paris ($95 USD/75 ml)
↳ The Decant Index 3 ml sample: $9.50 USD. Notes listed: coriander seed, orange flower, bergamot / tobacco flower and leaf, patchouli, cedar / tonka bean, leather, beeswax, vanilla
Field Notes from Paris is one of the most interesting scents I have ever encountered, and I couldn't be happier that I got to experience it. It is immediately delicious, strange, and manly, and transforms completely over the course of 2-3 hours.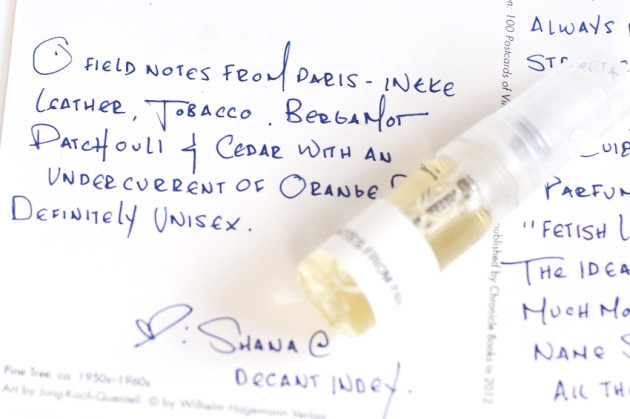 This Ineke creation opens with a wall of coriander seed, which I didn't think I would like but was, for some reason, completely enraptured by. The initial shock fades, but the coriander note remains distinct and astringent for hours. (It smells, to me, almost like tasting a little bit of tea tree and lavender oil simultaneously.)
Field Notes from Paris is bizarre and unisex in a quizzically appealing way, with fresh, interwoven notes of orange flower, tobacco, bergamot, and cedar. It's not something that I would buy a full bottle of, but if you love perfume, I think you need to sniff this one — it's very, very engaging and definitely an experience worth having.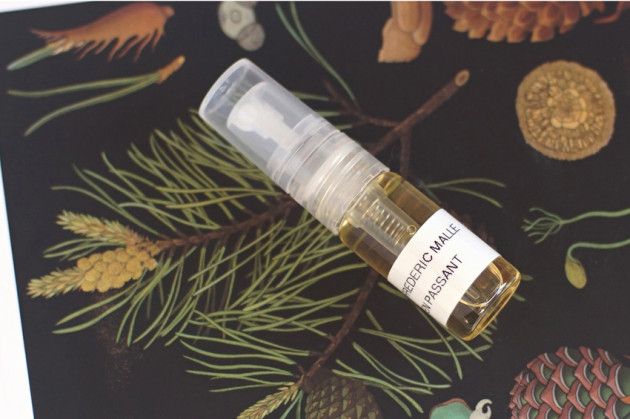 Frederic Malle En Passant ($165 USD/50 ml)
↳ The Decant Index 3 ml sample: $18.50 USD. Notes listed: white lilac, cucumber, wheat, orange tree leaves.
My last scent from the Decant Index was Frédéric Malle's En Passant by Olivia Giacobetti, a fresh, springy perfume full of fruity lilac and fresh cut flowers. I just have to share my notes on this one with you, because nothing says it better: "Fruity, flowers — but littles ones. Like little lilacs or something. Fresh. Green."
I don't know why it's important to note that this one smells like little flowers, but you know what? It is. And it does.
If $165 USD sounds like way too much to pay for a fragrance, though (because erk!), you can try En Passant in a 10ml refill for $46 USD (Barney's) or get the 3ml sample from the Decant Index for $18.50. I also love Musc Ravageur from Frédéric Malle (it's the sexiest scent I have ever smelled in my life).