Tuesday, November 16, 2010
The question has been asked recently on Temptalia and beaut.ie, and I just have to ask: how do you feel about private label lines?
For those of you  who haven't heard about them before, private label beauty brands sell cosmetics to companies, groups, or individuals who want their own name on products. These companies then go on to resell the products as their own, with their own "private label" printed on the packaging. People have problems with this because (and this is just one point of view,) the company is marking up items and re-selling them without actually putting anything into the line, creatively.
[image removed upon request from the company]
Some examples of brands notorious for reselling private label items are Coastal Scents and Stars Makeup Haven, but they're not the only ones doing it — here's a list (via Mythbuster Beauty) of companies all selling the same "indelible gel eyeliner," though sometimes it's under a different name:
Spa Private Label – $7.70
Mad Minerals – $8.99
JW Cosmetics – $8.99
Headcovers unlimited – $9.99
Catwalk Cosmetics – $12.50
Aromaleigh – $14.75 (these go on sale rather often for $11.06)
Studio Direct – $14.99
Urban Apothecary – $15.00
Loose Lips NY – $20.00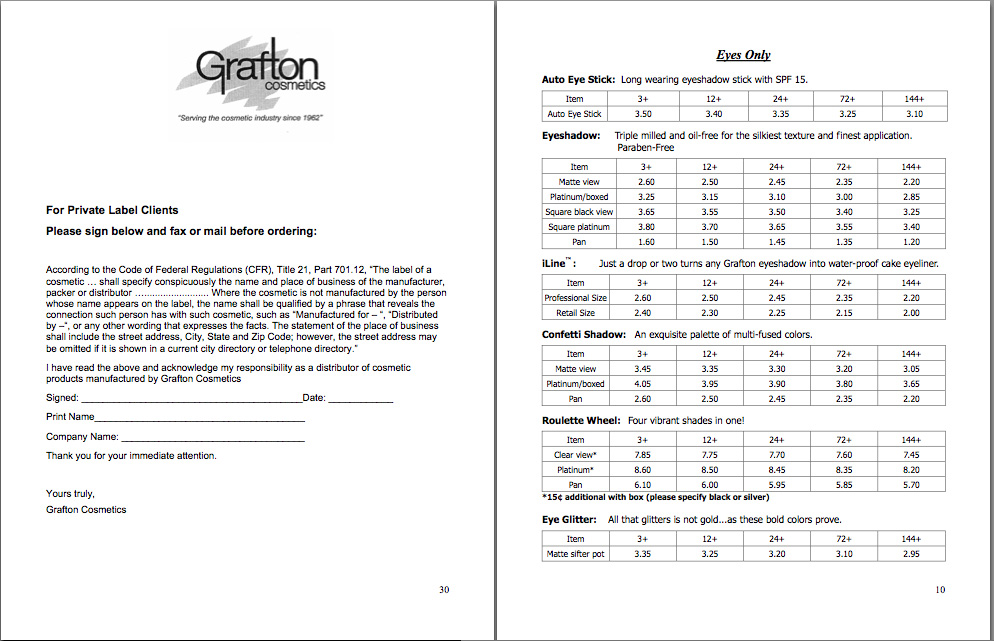 A few pages from the Grafton Cosmetics price listing. Let's keep our eyes open for those terms!
My thoughts…
Personally, I think it's completely underhanded when a company selling private label items misleads the consumer into believing that it is their own product that they've "formulated with love" or "tested with care," — but if the consumer is aware of what they're getting, then it's a-okay in my books.

I wouldn't particularly care to buy from a line that was simply reselling private label items, but I think it's actually a good idea in some scenarios: for instance, what if a beauty-oriented PR firm wanted to hand out lipglosses with their name stamped on them at an event, the way dentists' offices give out toothbrushes? Or, if you really love the quality you get from a certain private-label brand and don't care about having a certain name (ahem, MAC) stamped on your packaging, this can be a great way to fill your kit with cost-effective products. And (this would be so cool), what if you were part of a team of makeup artists (or just makeup enthusiasts), and you all wanted traincases with your company name stamped on them?

Anyhow, that's just my two cents. And hey, as long as we were upfront about it — it could be pretty awesome to have a "theNotice" eyeshadow ;) (It would totally be violet, of course.)
So, what do you think? Let us know in the comments!

Private label or not, that is a ton of eyeshadows to choose from…
Full disclosure: Okay, so I had to list "theNotice" as a business to sign up to view the price listings — but it wasn't an outright lie. It may not happen anytime soon, but I'm actually interested in the aforementioned single-product idea and would love to start testing out brands now! I know it's crazy, so shhh, let's keep it a secret between you and I. But, maybe someday when my meds are working and I'm in good enough shape to work as a makeup artist…
Oh, so yah; if you're a representative of either of these companies and would like for us to take the price listings down, please just shoot us an email or a comment. (We'd really rather you do that than, um, shoot us. With a gun. Even just a pellet gun.) I personally find this kind of information fascinating and would love to share it with everyone, but I understand if your company policy disagrees with me!