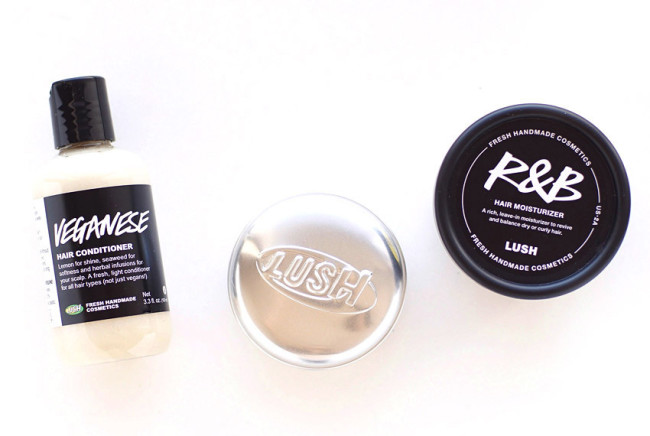 The products: LUSH New Shampoo Bar, Veganese Hair Conditioner, and R&B Hair Moisturizer
I recently got the chance to try out a trio of Lush silicone-free, vegan haircare products, and I wanted to get them up on the blog as soon as possible. Though they weren't the right products for my hair type, the Lush New shampoo bar shares an important message that I'm happy to see being broadcasted.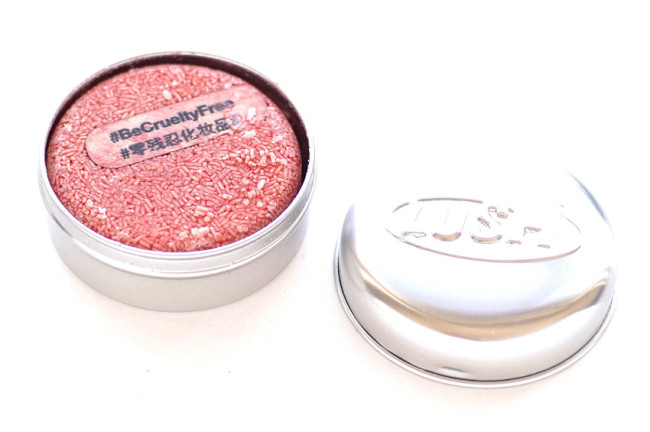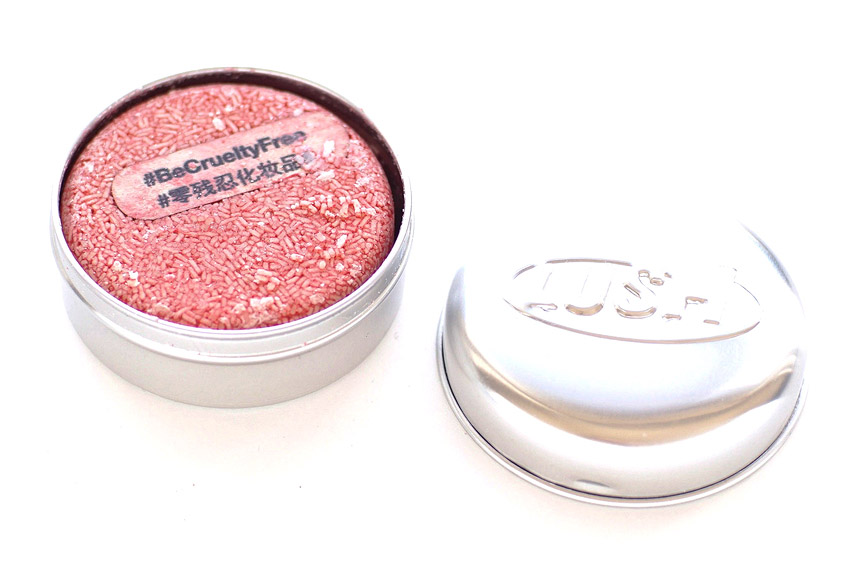 #BeCrueltyFree with LUSH New Shampoo Bar ($11.95 CAD; tin $3.95 CAD)
I've seen a lot of weirdly named products, but this is the strangest. Lush's spicy new shampoo bar is simply called "New." (It's labelled as "Lush New Shampoo Bar 2017" on the packaging).
Each bar is labelled with a wooden stick reading "#BeCrueltyFree," in English and Chinese, so I'm not really sure why they didn't just name it that. It would have been so easily searchable and hashtagable!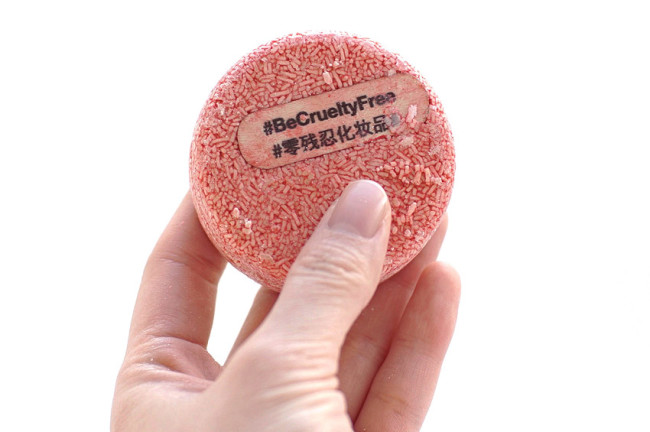 I really like having the option of a solid shampoo, and the Lush New Shampoo Bar is par for the course. A little goes a LONG way (two swipes is plenty for my entire scalp), and it smells like cinnamon hearts.
As much as I like the cruelty-free theory behind this bar, though, I didn't love the execution. While the bar contains rosemary and nettle to soothe irritation, the large amounts of SLS and cinnamon leaf oil dried out my scalp and left my skin feeling sensitized.
I LOVE that Lush formulates all of their products in a cruelty-free environment, but I'd love to see them modernize some of their formulas. The Lush New shampoo bar would have been so much more awesome if it was SLS and artificial dye/fragrance-free!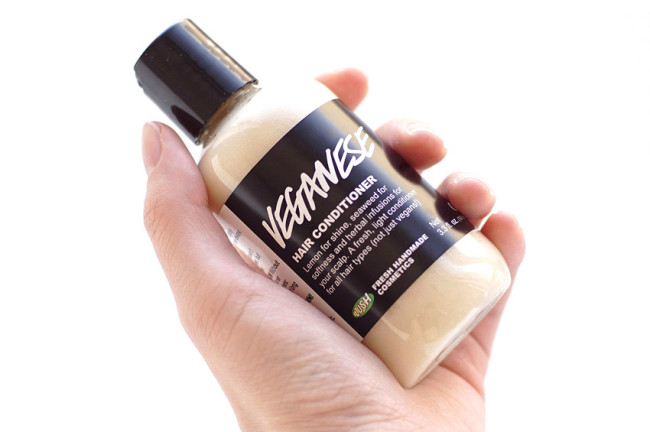 Go weightless with the Lush Veganese Hair Conditioner ($9.95 CAD)
Alright, I'm gonna say it: for my hair, Veganese is a crap pairing for the Lush New Shampoo Bar.
If you have baby-fine hair or you're looking to co-wash, then sure, Veganese is going to be awesome. But I have dry-ish hair to begin with, and these two together turned my hair into straw. 
The Veganese formula is really interesting, though. It's made on a lavender and rosemary infusion base, and thickened with agar agar. You have to use a ton of it for coarser hair, but it's vegan and optimized for super-fine hair!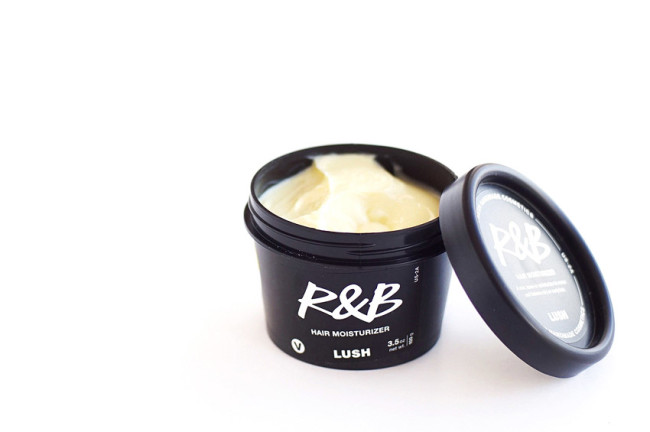 Stay smooth with the Lush R&B Hair Moisturizer ($25.95 CAD)
I am nowhere near as smooth as this "hair moisturizer" (AKA leave-in conditioner) smells. It's perfumed with orange blossom and jasmine, and the formula features fair trade olive oil, avocado butter, and coconut oil.
My hair definitely feels smoother and silkier when I use this, but it weighs it down as well. Lush R&B is ideal for hair that's curly and thick, not straight and thin. Is it a good moisturizer for thin, dry hair? Yeah, it's not bad. But the formula shines on curls, and I just don't have those to give.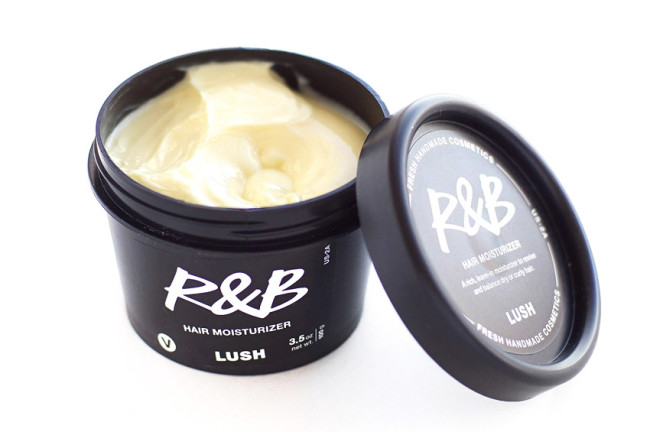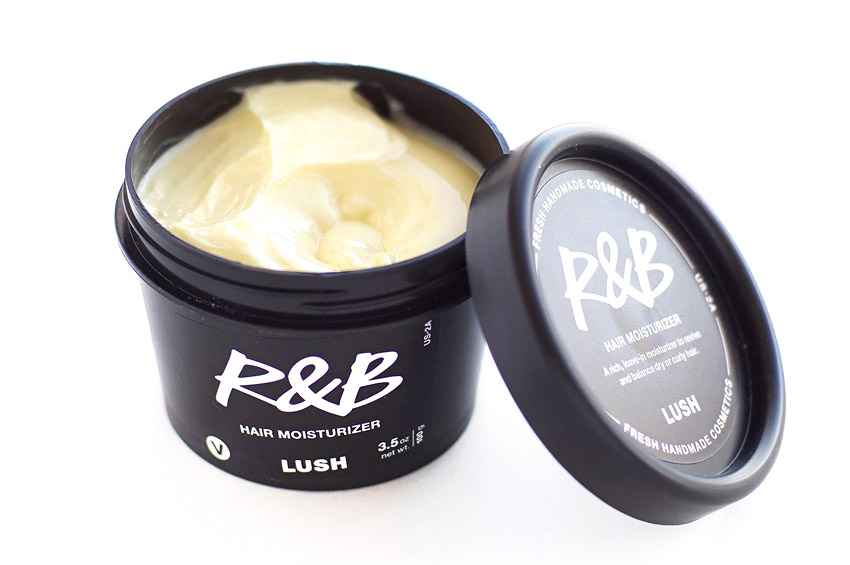 The Lush New, Veganese, and R&B verdict?
I really just want to take all of these products and push them at my friends. They're all great in their own rights–but none of them are ideal for my hair.
New would be fantastic for travelling with, Veganese would be great on super fine hair (think natural blondes), and R&B would do amazing things with naturally curly hair. Actually… As I type that, I think I know exactly who these products should go to.
I'll see you on Monday, folks. I've gotta go be a product fairy for the weekend.
Availability: All permanent products at Lush.
—
Lush New Shampoo Bar ingredients
Sodium Laureth Sulfate, Nettle and Peppermint Infusion, Fragrance, *Eugenol, Glycerine, Nettle Absolute, Rosemary Absolute, Clove Bud Oil, Cinnamon Leaf Oil, *Cinnamal, Cinnamyl Alcohol, *Benzyl Benzoate, *Limonene, *Linalool, Red 30.
*Occurs naturally in essential oils.
Lush Veganese Hair Conditioner ingredients
Lavender Flower Infusion, Rosemary Infusion, Agar Agar Gel, Cetearyl Alcohol, Propylene Glycol, Cetearyl Alcohol and Sodium Lauryl Sulfate, Cetrimonium Bromide, Lemon Oil, Benzoin Resinoid, Fresh Organic Lemon Juice, *Citral, *Limonene, Fragrance, Methylparaben.
*Occurs naturally in essential oils.
Lush R&B Hair Moisturizer ingredients
Oat Milk, Glycerine, Organic Avocado Butter, Fair For Life Olive Oil, Glycerl Stearate & PEG – 100 Stearate, Fragrance, Cetearyl Alcohol, Extra Virgin Coconut Oil, Cold Pressed Organic Jojoba Oil, Bay Oil, Orange Flower Absolute, Jasmine Absolute, Cupuacu Butter, Phenoxyethanol, Benzyl Alcohol, Candelilla Wax, *Benzyl Salicylate, *Eugenol, *Geraniol, *Isoeugenol, *Benzyl Benzoate, *Farnesol, *Limonene, *Linalool, Lilial.
*Occurs naturally in essential oils.