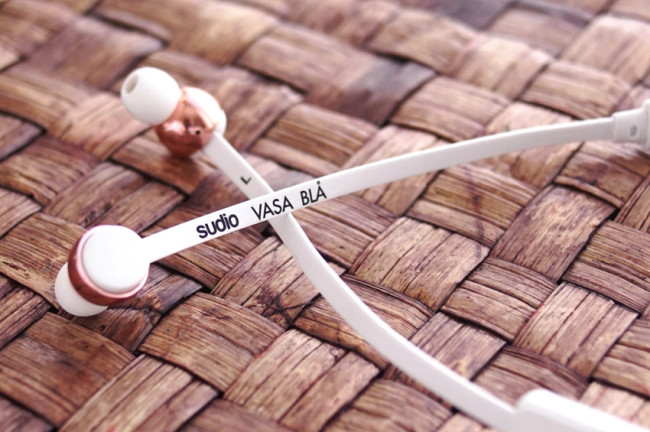 The product: Sudio Vasa Bla Earphones in Rose Gold White
If you remember my Holiday Survival Guide editorial from this past Christmas, you might recognize the Sudio Vasa Bla Earphones. I began testing them last December and have continued to do so up until now, and I'm finally ready to give them a full review.
I have really small ears, so I had some trouble testing these. That's why I waited: I wanted to read a few trusted reviews first. But my experience with these products has definitely been influenced by the fact that I'm 5'2″ and built small, so keep that in mind as you read!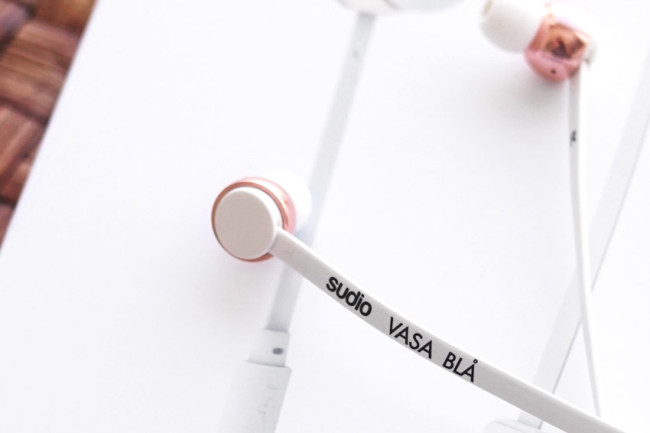 The promise: design meets function
With the Vasa Bla (properly the Vasa Blå), Sudio promises "studio quality sound, elegant design and 8 hours of freedom." The Sudio Vasa Bla earbuds are compatible with all Bluetooth enabled devices, so they pair easily with your phone, tablet, and computer.
Like any set of earbuds, the Sudio Vasa Bla Earphones deliver sound that is tuned by Sudio's own driver and amplifier. Their signature sound is intended to separate out each instrument for a "true studio experience," with a crisp, distinct sound.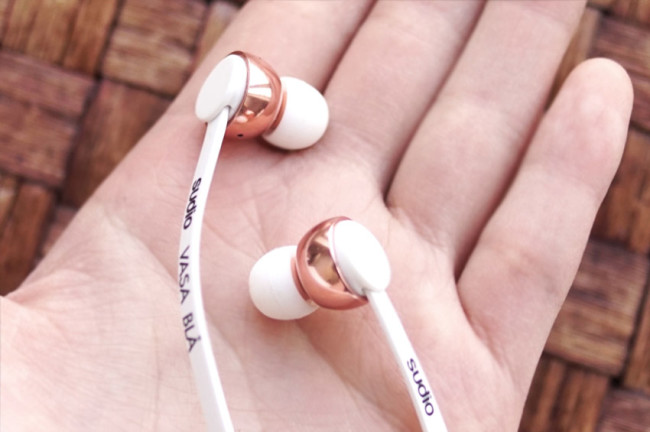 For all of the audio and design geeks out there, here are some of the Vasa Bla specs.
AUDIO: 10.2mm dynamic speaker. 112 dB SPL @ 1 kHz sensitivity. 18 Hz – 23 kHz frequency response. 32 Ohm @ 1 kHz impedance.
DESIGN: 14 grams, composite & aluminum body. In-ear with Bluetooth 4.1; 10 meter Bluetooth range. 10 minutes quick charge; 120 minutes full charge. 8 hours battery life/10 day standby.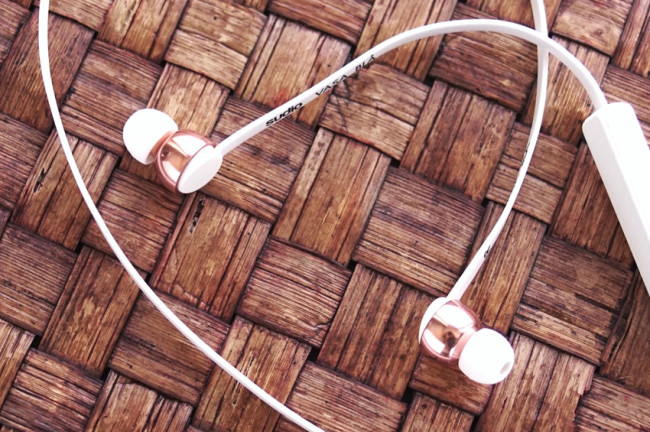 How the Sudio Vasa Bla Earpods performed 
From a convenience perspective, I enjoyed using these – but only casually. Bluetooth earbuds are handy to have around, but from a sound perspective, the Sudio Vasa Bla Earpods do not have a "studio quality."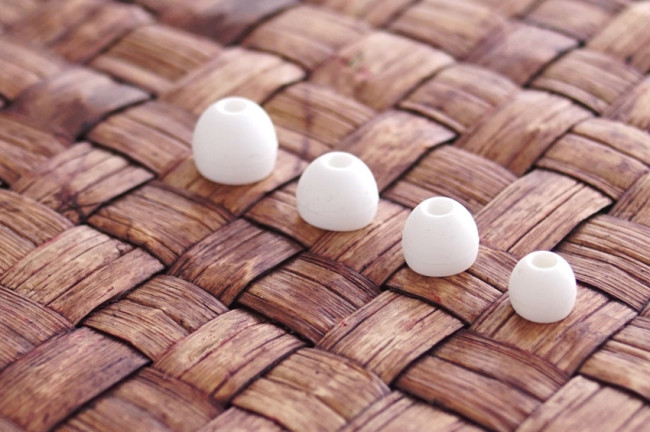 I am by no means an expert on sound, but I did spend two rather miserable years of my life dating an audio engineer. I've spent countless hours listening to vinyl, digital, and digital masters on studio quality sound equipment. I feel like I have a pretty good grasp on the kind of richness and detail you should be able to expect from "studio quality" products, and these didn't have it.
They sound very much like mid-range consumer earphones, but they don't have the price tag to match. Compared even just to your standard Apple Earpods, I notice a loss of quality when I switch to my Sudio Vasa Bla Earpods. Sounds come through noticeably more muffled, and I have to press the earpods into my ears with my hands in order to make out small details.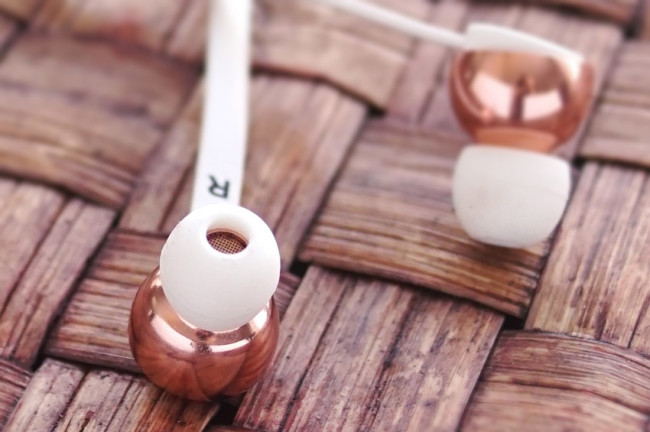 At 14 grams, the Vasa Bla Earpods are on the heavy side, and they fall out of my ears quite frequently. I'm using them with the smallest sleeves (4 different sizes are included) and I enjoy the freedom of going wireless within the house, but my right earbud is constantly going rogue. It's tough to cook with these in, much less work out with them.
Worth noting, however, is the battery life of these earbuds. I find that most companies (Apple included) will fudge their battery figures slightly, but these really delivered. This was the Sudio Vasa Bla's strongest selling point for me, and I feel like I almost never have to charge them. It's kinda like having a magical pair of earbuds!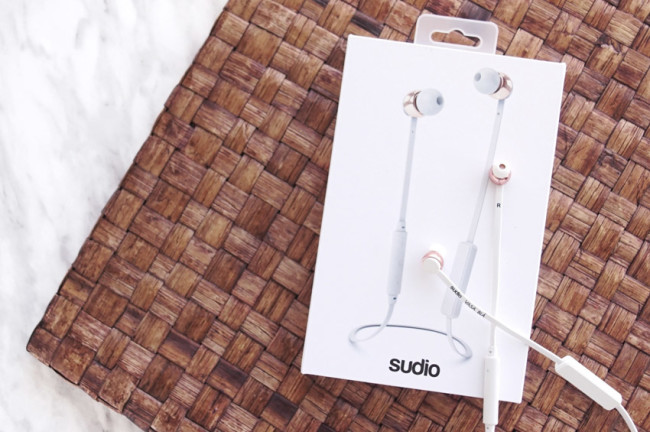 The verdict?
I've read highly positive reviews from a number of my friends on these earphones, and I'm not saying that they're wrong. We're just measuring these against different metrics, and neither is "right" – this is just a second opinion.
Are the Sudio Vasa Bla Earphones gorgeous, functional, and easy to use? Absolutely. Would they work well for someone with bigger ears, or less finicky tastes? Quite probably.
But are they "studio quality"? No, not in my opinion. I love these from an aesthetic standpoint, but I wouldn't pay $140 for this sound quality, even if they fit my ears perfectly.
Availability: $140 CAD at Sudio. Free express shipping worldwide.