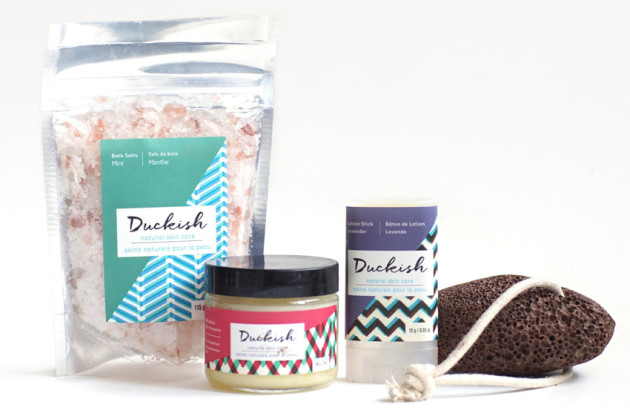 The product: Duckish DIY Pedicure Kit (customized) – Duckish Mint Bath Salts, Pink Grapefruit Body Butter, and Lavender Lotion Stick
Okay, so I really wanted to feature Duckish as part of my Small Business Saturdays series, but things keep coming up on Friday nights and I really didn't want to wait any longer. So we'll call this one Small Business Mondays instead, I guess!
Duckish is an all-natural Canadian beauty brand with just the absolute cutest packaging. (I want to own basically everything they make.) Their products are all cruelty-free, handmade, and free of icky things like parabens, synthetic fragrances, and silicones.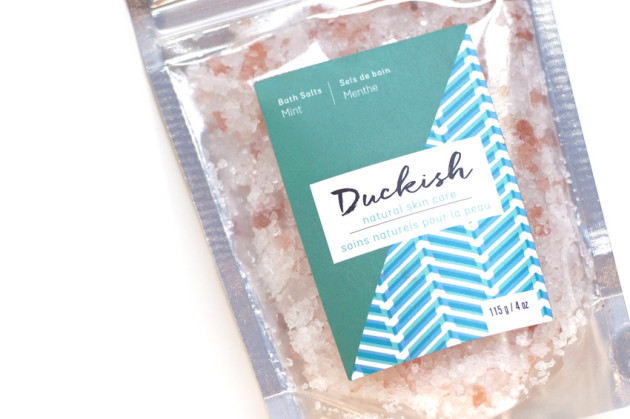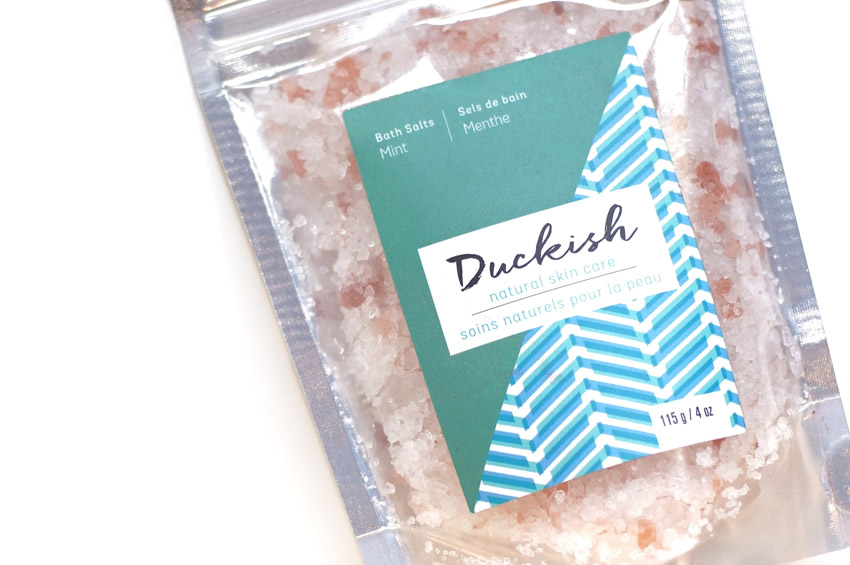 I wanted to focus my review on Duckish's body butter and lotion stick, because I've been dying to try them out for what feels like forever–but this kit includes bath salts and a pumice stone on a rock, too. The pumice stone is pretty standard fare, but the bath salts are more then just plain 'ol rock salt.
They're a blend of Dead Sea salt, Himalayan pink salt, and Epsom salts, with sweet almond oil and organic coconut oil to add a bit of hydration to your bath or foot soak. Each scent comes with a unique blend of essential oils, too; the Mint one is made with eucalyptus and peppermint (two of my all-time favourite oils.)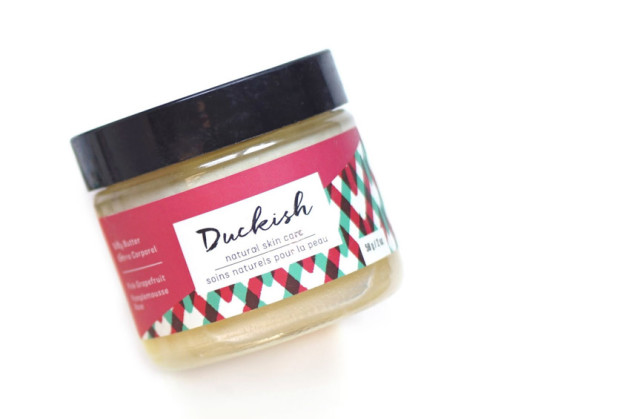 Pink Grapefruit Body Butter ($11.99 CAD)
Funnily enough, I was most excited for the Duckish Body Butter, but their lotion stick stole the show for me. The Body Butters, I think, are best for those with dry or weathered skin – not so much for Sahara-like dehydration.
The Duckish Body Butter formula is definitely a classic one, with a thick, creamy formula that's heavy on the shea, and honestly… I didn't like it. It's surprisingly creamy for an indie body butter, but non-"mainstream" (The Body Shop, L'Occitane, Bliss, etc.) butters just don't seem to be hydrating enough for me – this one just kinda sits on my skin, leaving hands feeling both vaguely greasy and so dry that they're itchy.
Some people love these kinds of body butters, though, so just keep it in mind when ordering! Oh, and a warning for all my fellow crazy cat ladies: there's just enough citrus oil in Pink Grapefruit to scare Tunakitten away from me when I'm using this, but not quite enough to make the olive oil in the formula palatable to my nose. :(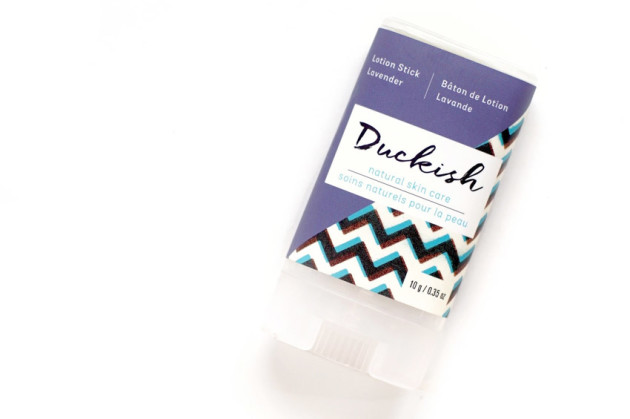 Lavender Mini Lotion Stick ($6.99 CAD)
Duckish's description for their lotion sticks is:
"Lotion? In a stick? Is this real life? Yes, yes it is!"
And you know what? They couldn't have been more accurate with that statement. These lotion sticks are crazily good – the mini one is perfect for mess-free application on the go, and the formula is spot-on.
I have really dehydrated skin, and the Duckish lotion stick definitely works better for me than their body butter. It melts immediately upon contact, basically turning into a light oil that absorbs immediately into the skin, and it feels so lovely – not greasy at all.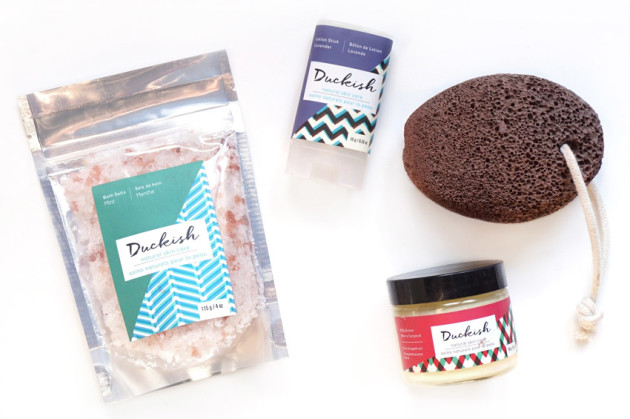 The verdict?
I love buying Canadian when I can, and Duckish makes that really easy. You're not sacrificing packaging or price, and my only two reservations about the line are small ones: I'd have liked to see a bit more fragrance in their EO and a wider online availability, but both of these are things that will be remediated naturally, as the brand grows.
If bought separately, the three Duckish products in this kit come out to $28.97, so buying the kit essentially gets you a free pumice stone. If I was re-ordering for myself, though, I'd take all $29.99 and put it toward a hoard of lotion sticks!!
Availability: $29.99 CAD. Duckish just recently began shipping to the US in addition to Canada, so use code DUCKISHUSA to get $5 off all US orders over $20 until the end of the month.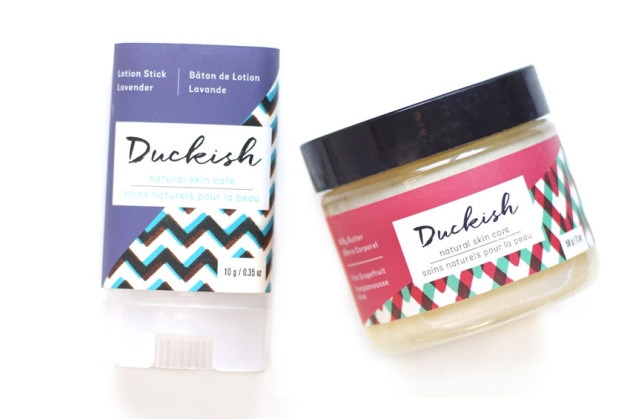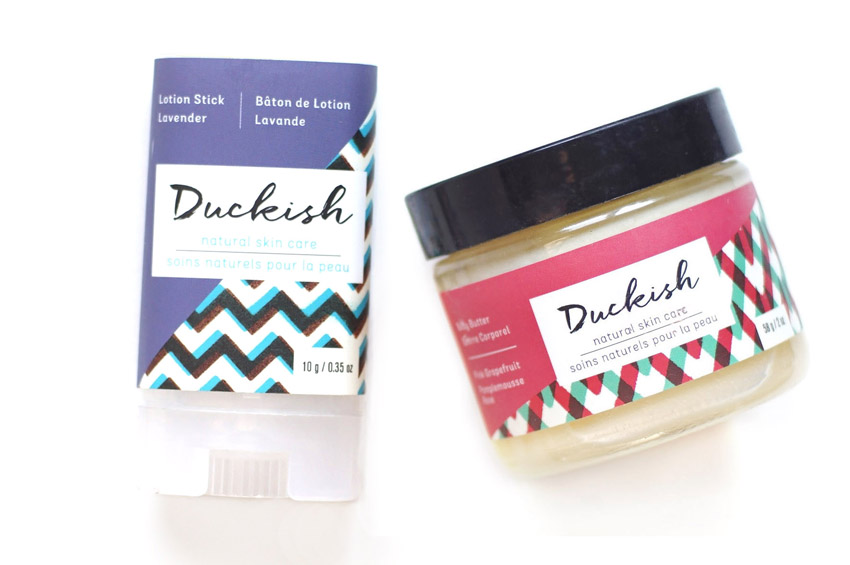 Duckish Lavender Lotion Stick & Pink Grapefruit Body Butter
Duckish Natural Skin Care review
Duckish Mint Bath Salts ingredients: 
Dead Sea Salt, Himalayan Pink Salt, Epsom Salt, Sea Salt, Baking Soda, Sweet Almond Oil, Organic Coconut Oil, Eucalyptus Essential Oil, Peppermint Essential Oil.
Duckish Pink Grapefruit Body Butter ingredients: 
Organic Shea Butter, Grapeseed Oil, Organic Coconut Oil, Organic Olive Oil, Jojoba Oil, Cornstarch, Pink Grapefruit Essential Oil, Vitamin E, Rosemary Leaf Extract.
Duckish Lavender Lotion Stick ingredients:
Grapeseed Oil, Beeswax, Organic Coconut Oil, Organic Olive Oil, Organic Shea Butter, Sweet Almond Oil, Jojoba Oil, Lavender Essential Oil, Vitamin E, Rosemary Leaf Extract.