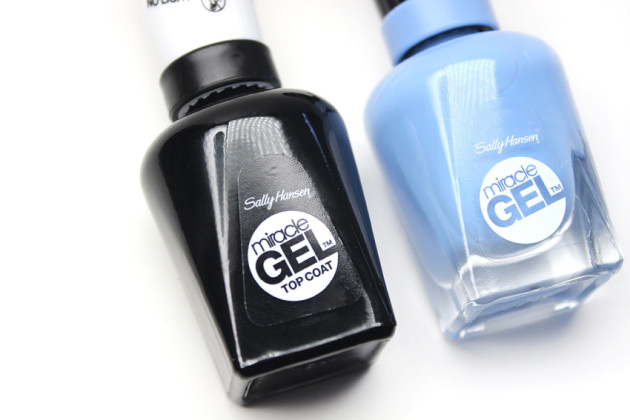 The product: Sally Hansen Miracle Gel Polish in Sugar Fix and Top Coat
The promise: This summer, Sally Hansen announced that they had solved the Big Question — of the nail world, that is. How do you get the wear time and look of gel nails, but without a trip to the salon?
The new Miracle Gel system promises to be the answer, delivering up to 14 days of wear and a gel that cures using natural light (there's a photoinitiator in the top coat), no lamp necessary. It's a two-step polish-and-top-coat process, but the polishes are available in a whopping 45 shades, and the system promises soak-free removal with acetone-based or even acetone-free nail polish remover.
So now the question is… does it work?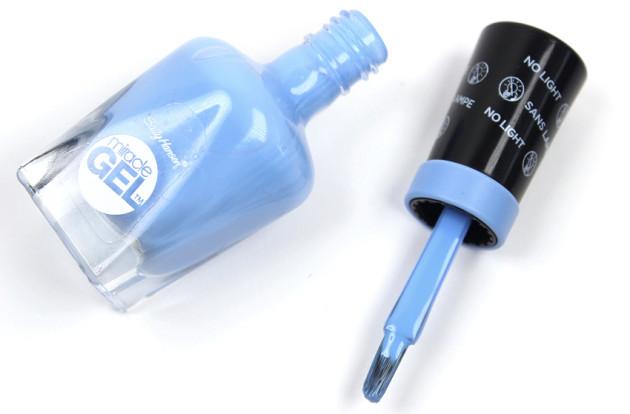 Sally Hansen Miracle Gel Polish – Sugar Fix review
The polish: I tested Sugar Fix for this review, a milky, vibrant light blue. It's a cream finish shade (and unfortunately I haven't tried any metallics or shimmers from the line), but even considering this, it was pretty underwhelming. The formula is extremely thin, needing four coats to even come close to opacity, and even then I find that it goes a bit streaky unless you're careful.
The top coat: Despite this, though, I actually really enjoyed using the Miracle Gel Top Coat! It applies smoothly and quite thickly, immediately giving a very "gel" look to the nail. I find that it goes on without disturbing the polish at all, but like any good top coat, it also makes your colour look instantly smoother — which is perfect for someone who gives as shoddy a manicure as I do.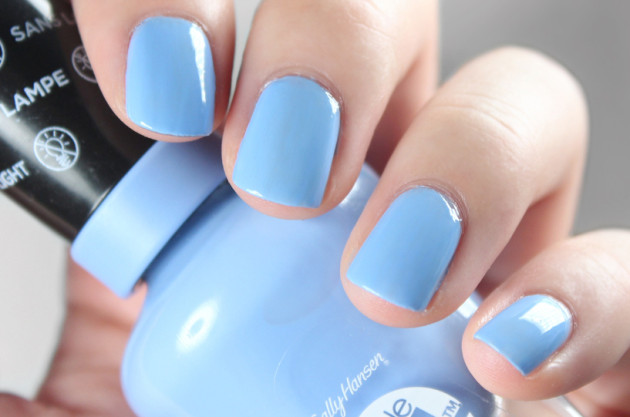 Sally Hansen Miracle Gel Polish in Sugar Fix swatch (four coats)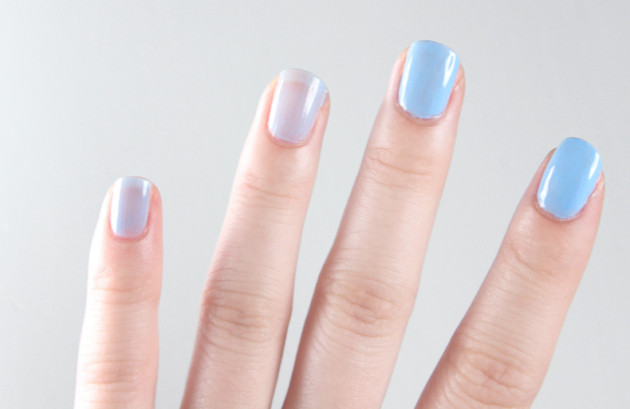 Sally Hansen Miracle Gel polish in Sugar Fix: 1, 2, 3, and 4 coats (L-R)
The wear: I actually tested these twice: first, I had a friend try out the system for me, and then I repeated it on my own. She saw barely 24 hours of wear before her polish began to form little cracks throughout, but I'm told that this could be because she used a base coat — so, if you give this system a try, NO BASE COAT! None!
When I used this set, however, I saw about 2 1/2 weeks of wear on my pedicure with no chipping, wearing, or cracking… in either the Miracle Gel polish or my control group nails. Once they did wear, I noticed the following things:
(1) There was no difference in wear between Sally Hansen's Miracle Gel polish and their Complete Salon Manicure polish,
(2) The Miracle Gel Top Coat presented no chipping over three weeks (dude) but did develop tip wear near the end,
(3) The Sally Hansen Hard as Nails Top Coat nails lasted the longer than the Miracle Gel Top Coat nails by a day, but then showed major chipping.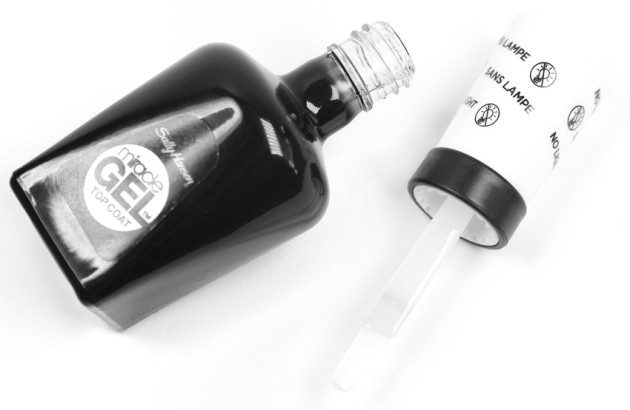 Sally Hansen Miracle Gel Top Coat review
The verdict?
This is the most rigorously I have ever tested a product (what? I really wanted it to work), so it is with reasonable confidence that I can say: don't buy into marketing hype. The Miracle Gel system is, in my opinion, not worth investing in at $20/duo… but that includes the polishes.
The Miracle Gel Top Coat, however, is a different story. It delivered on its promise of durability and a gel-like look, and though I did see tip wear, it came with zero chipping and super easy removal. If you do like the look of gel nails and want a top coat that will wear well (caveat: but not as well as a true gel manicure), I'd say get the Miracle Gel Top Coat, but skip the polishes. 
Availability: $8.95 USD/$10.95 CAD each, for both the polishes and top coat.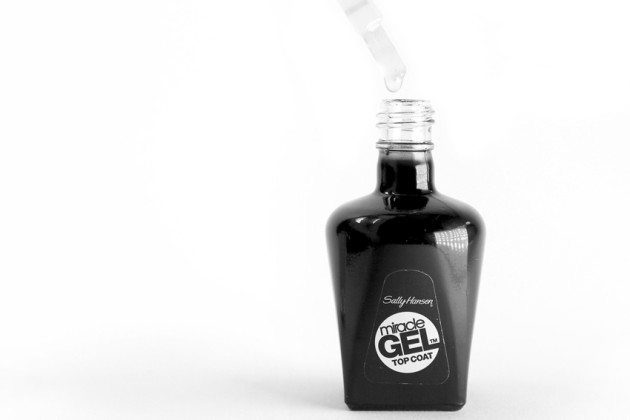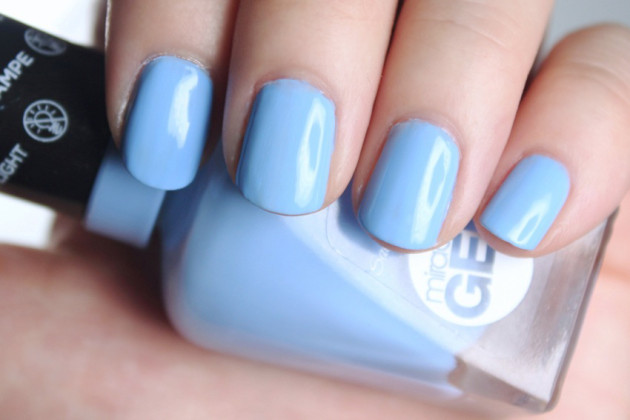 Sugar Fix — see how it's kind of uneven without a topcoat?