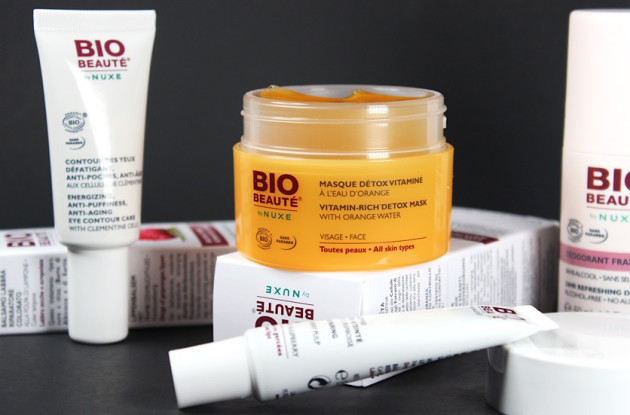 The products: Bio-Beauté by Nuxe Vitamin Rich Detox Mask, 24hr Refreshing Deodorant, Eye Contour Care, and Tinted Replenishing Lip Balm
Have you heard of Bio-Beauté? Because until this package arrived on my desk, I hadn't. But this affordable, Écocert-approved range (available at Shopper's Drug Mart) has some products–one in particular–that are really worth a look.
⇒ All Bio-Beauté products are free of parabens & mineral oil and are comprised of at least 95% ingredients of natural origin — so they're non 100% from the earth, but they're pretty natural. All four products featured here are also silicone-free!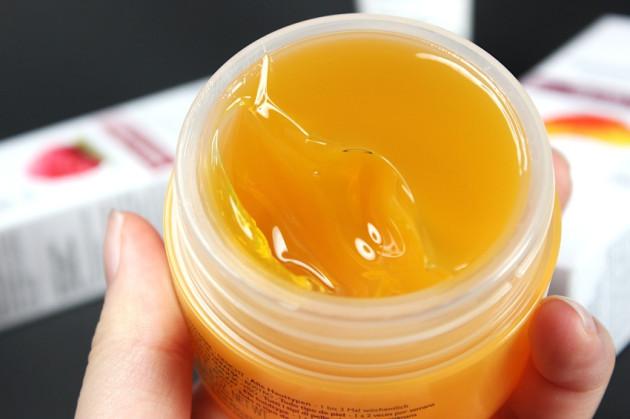 Bio-Beauté Vitamin Rich Detox Mask
The showstopper: a mask, in gel form
Ladies and gents, it is difficult for me to tell you how much I LOVE this mask. (A lot. I love it a lot.) It is the first and only mask that I have ever loved, and boy: do I ever love it.
To start off, Bio-Beauté's Vitamin Rich Detox Mask with orange water ($27 CAD/50 ml) feels nothing like you would expect it to in the jar —  in fact, it is so weightless that I thought perhaps my jar was empty. But, upon opening, it presents as a stiff, translucent gel; perfectly wobbly and smelling divinely of juicy mandarin oranges.
(And yes, okay, sometimes I open it just to smell it. But only sometimes. Not like, every time I pass by it or anything like that.) (Twice a day, at most.)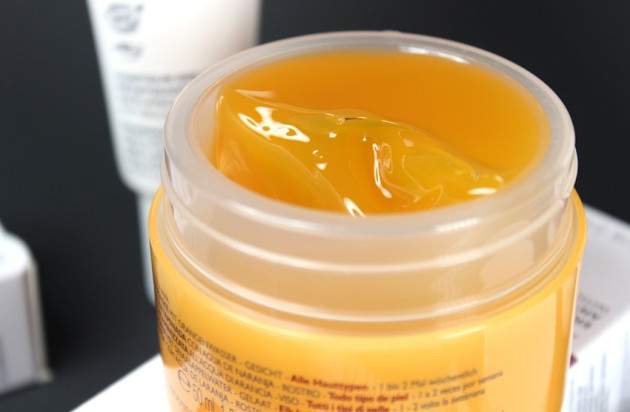 Bio-Beauté Vitamin Rich Detox Mask (AKA ORANGE JELLY GOODNESS)
99% natural, Bio-Beauté's Detox Mask is a treat to use: once a week, you simply slather on a fingerful (1/2 tsp is plenty for your whole face, so one jar will last a very long time), wait five minutes, massage it in (it'll turn to an oil), and then rinse off with warm water. I don't need a lot of detoxifying or clarifying, but I definitely found that this left my face feeling smoother right after I used it — just make sure not to wash it off with soap.
This mask is meant to be used once or twice per week on any skin type, but I like to use it just whenever I feel like my skin could use some extra smoothness. It's perfect for facial massage, a morning mask, or "small event prep": that is, before a meeting or date night or even just lunch with your friends. It'll give you that extra boost, but it's affordable enough that you don't need to ration it out!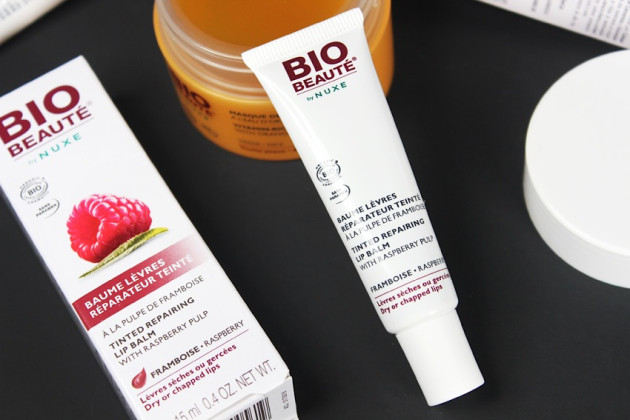 Bio-Beauté Tinted Repairing Lip Balm – Raspberry
Everything else: eyes, lips, and underarms
I wasn't super enamoured with any of these, so I'll go over them really quickly.
First, there's the Tinted Repairing Lip Balm with raspberry pulp ($14 CAD/15 ml; 100% natural), which I hated. It smells kind of gross (not like vanilla, peach, pear, and raspberry, as promised) and separates quite badly in the tube.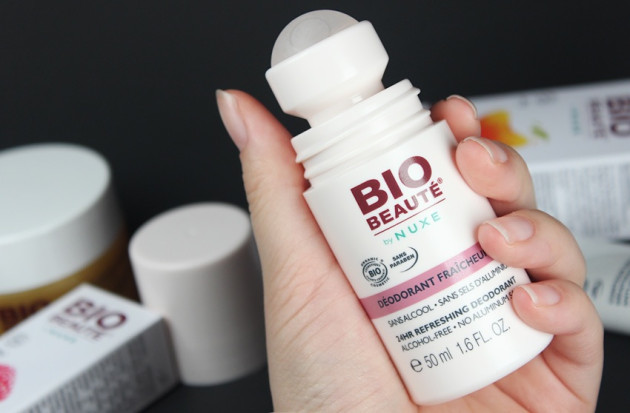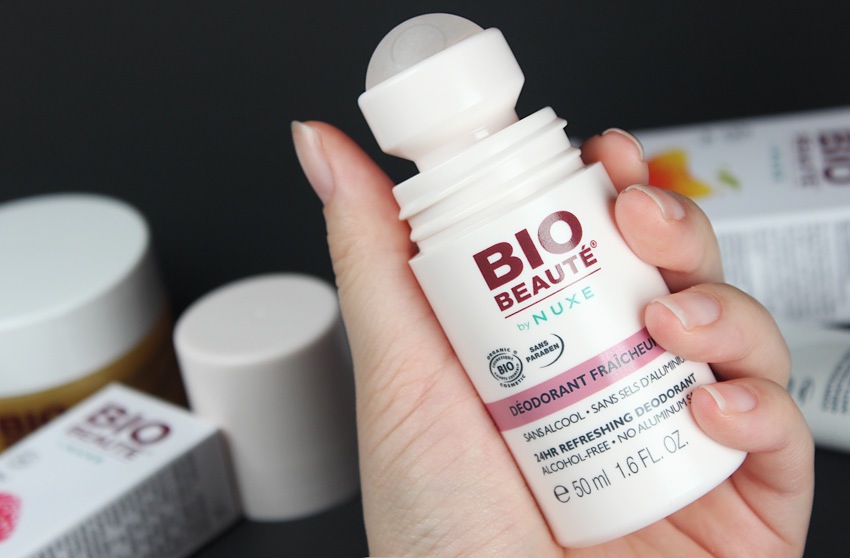 Bio-Beauté Aluminum and Alcohol-Free Deodorant
Then there's the Energizing, Anti-Puffiness, Anti-Ageing Eye Contour Care with clementine cells ($25 CAD/15 ml; yes, that really is its whole name), which is 98.7% natural. It seemed quite basic to me; scent-free and fast-absorbing, but with no major de-puffing effects.
Finally, there's the 24 hr Refreshing Deodorant alcohol-free, no aluminum salts ($12 CAD/50 ml), which is 98.9% natural and does seem to keep odour at bay. However, it smells really weird — exactly like those mall candies with the bananas. (Edited to add: Wonka Runts). Which isn't necessarily bad, I guess? But it's… not what you'd expect from the brand that does Huile Prodigieuse.
Maybe M will want it. He's weirdly fixated on candy — like a very tall, very handsome, very-not-orange Oompa Loompa.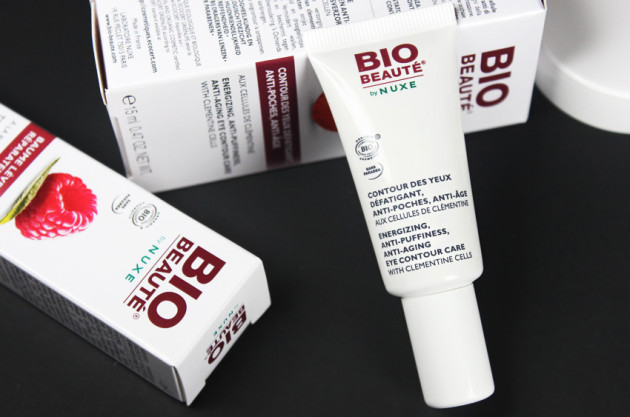 Bio-Beauté Anti-Ageing Eye Contour Care
The verdict?
I didn't love the Bio-Beauté lip balm, but aside from that, I was pretty impressed with the line — especially at its price point. I'd say it's comparable to The Body Shop, but more natural and aimed at a slightly older or more reserved clientele.
The line's eye cream is rather basic and utilitarian, but their orange water mask is absolutely divine. It's the one beauty product that I'm absolutely crazy about right now, and I would literally recommend it to anyone who likes citrus or just very cool beauty products — men and women alike! (But especially men: it's cool enough that they'll want to use it, and quick enough that they'll keep doing so.)
Availability: The Bio-Beauté range is available at most Shopper's Drug Mart locations across Canada starting at $12 CAD.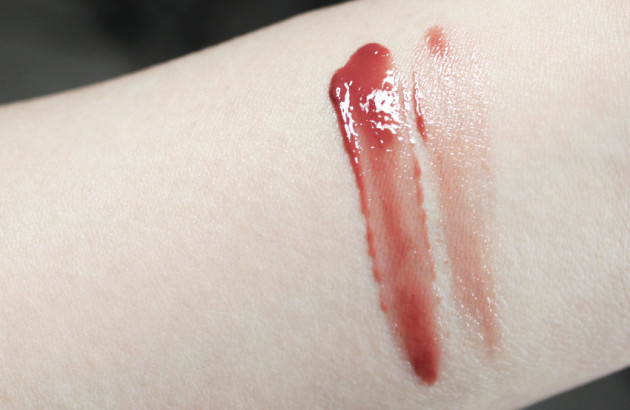 Bio-Beauté Tinted Replenishing Lip Balm in Raspberry, swatched twice (it applies very sheerly!)