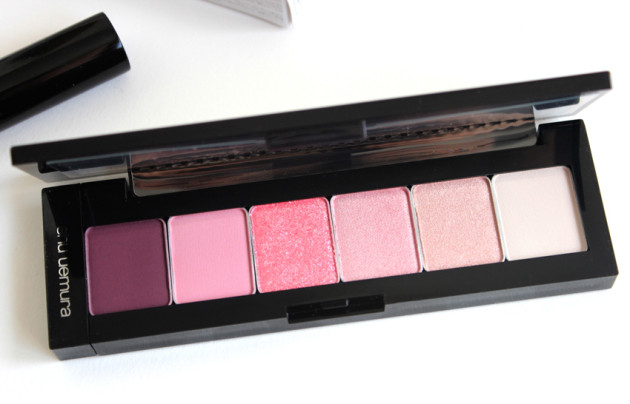 The product: shu uemura prêt-à-palette ("Ready-To-Wear palette") in pink hues
As someone who has always, always loved pink eyeshadows, I've never understood how they ended up with such a bad reputation. Like, sure, they can be unflattering, but — so can any colour. It's never the colour that's the problem, as far as I'm concerned; it's the way the wearer has chosen and applied it, or the way the manufacturer has produced it.
So, if you find your pinks are too pink, or your pastels are too chalky, add a bit of black eyeliner to your tightline. And if that fails, prepare yourself for a rave review and buy this palette, because, dude, it makes pink easy.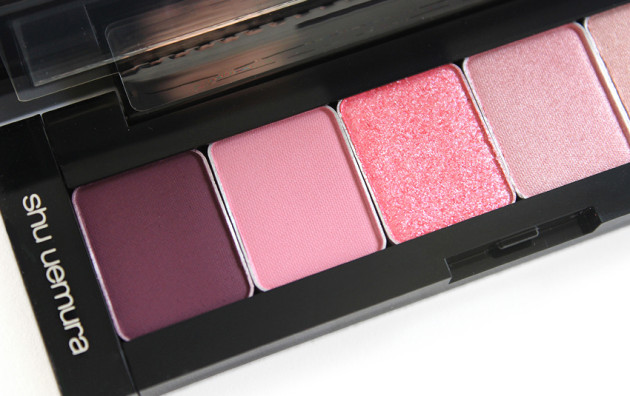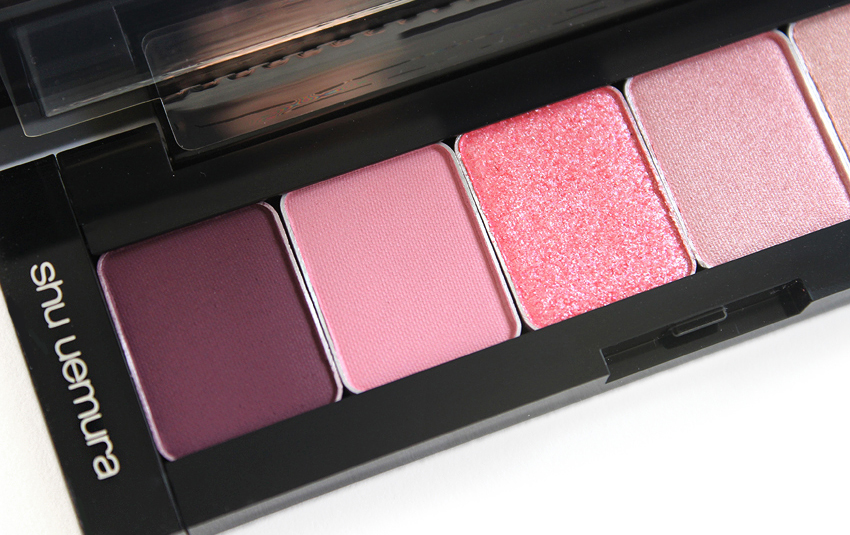 shu uemura matte smokey purple (new), matte smokey dark bluish pink (new), G135, pearl rosy pink (new)
The shades: The Pink Hues palette begins with a matte plum, dusty in colour but not texture. Next, there's a matte medium pink, which feels very bridal to me — I think it would look incredibly soft and pretty on medium skintones (especially medium Asian skintones!) The matte pink is followed by a pan of clear sparkles, which reflect green, pink, and silver and impart a base colour only in a very heavy swatch over primer. [ I fracking love sparkles, you guys. ]
The palette winds down with a frosty pink-white, which is rather cool, a frosty beige (quite similar, but smoother in both texture and shimmer), and a muted matte ivory, which applies surprisingly solidly but is a little… grey. It's a rather corpse-like, but it's designed to act as a base to intensify and brighten the other shades, and it does a wonderful job of it.
shu uemura pink hues prêt-à-palette swatches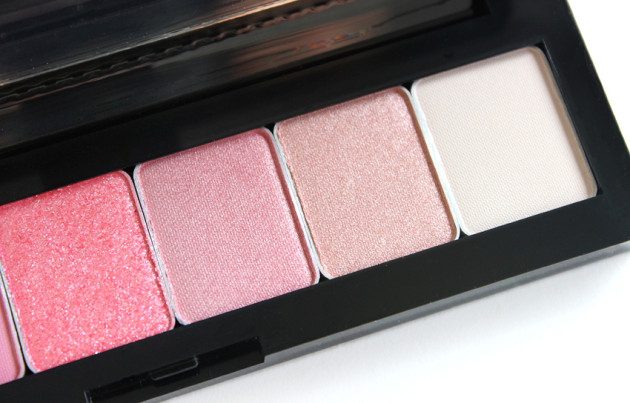 shu uemura G135, pearl rosy pink, ME126, M813 eyeshadows
The textures: Honestly, I'm smitten with every single texture in this Prêt-à-Palette — but I have to tip my hat to the matte plum in particular. It applies sheerly with each swipe but layers incredibly well, revealing a darker, richer hue that never starts looking chalky.
Overall, these satin mattes preform very well, with a dense, smooth formula and sparse microshimmer that adds depth without being apparent. (I'm partial to the frosty beige for a wash of colour, because, you know, I'm boring.) The frosts perform equally well, and none of the shades kick up any dust.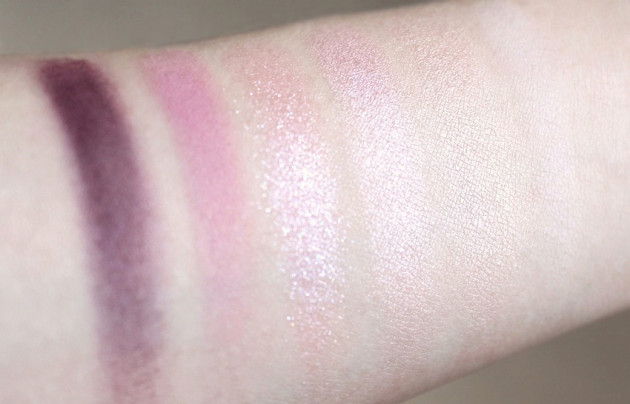 shu uemura pink hues eyeshadow palette swatches: matte smokey dark purple and matte smokey dark bluish pink (new), G135, pearl rosy pink (new), ME126, M813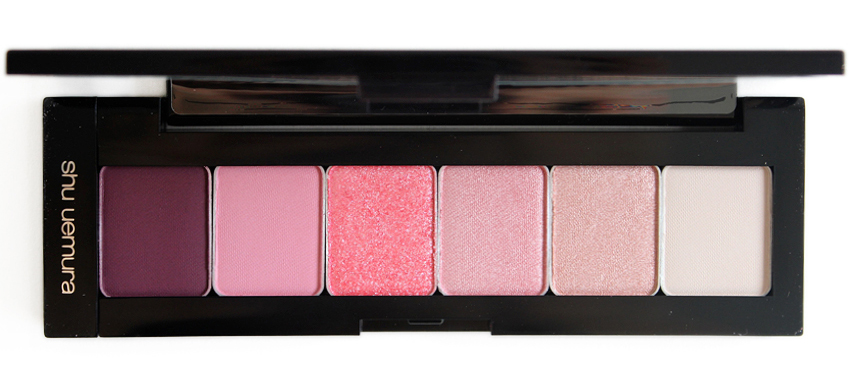 shu uemura pink hues ready-to-wear eyeshadow palette
The verdict?
I love a lot of things about this palette — and there's no "but…" attached to that.
With both delicate and dramatic shades, this is easily the most elegantly executed palette of pinks that I've ever seen. Each different finish (man, I love it when palettes mix finishes) has the quality to back up these wearable shades, and the shiny black compact is so sleek it practically makes me shiver. Which, in retrospect, may be TMI.
I think Pink Hues plays best on the light to medium Asian skintones it was designed for, but it works well with other fair, yellow, and neutral skintones, too. For darker skintones, however, perhaps pick a pink palette with less light frosts and more fuchsia — that way, you'll get more distinct colours on your lids.
Availability: $85 CAD (ouch) with free shipping at shuuemura.ca, or at select Holt Renfrew and Sephora locations across Canada. Also available in warm brown, black and white, and blue morning.

The shimmery pink (G135), frosty beige (ME126), and base colour (M813, the No. 3 top selling shade in Japan) may be available for $19 CAD each, or are available in Japan.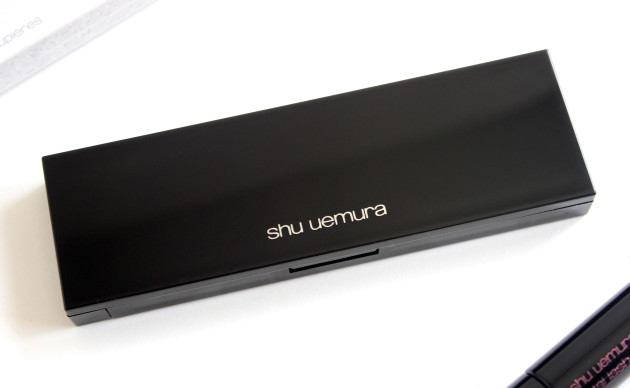 shu uemura prêt-à-palette packaging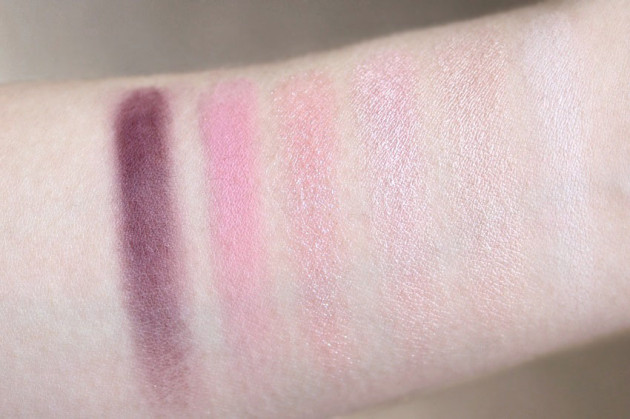 shu uemura prêt-à-palette swatches: pink hues (indirect sunlight, primed skin)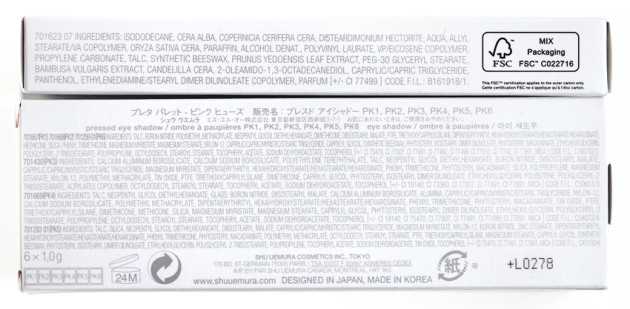 shu uemura prêt-à-palette ingredients (bottom)