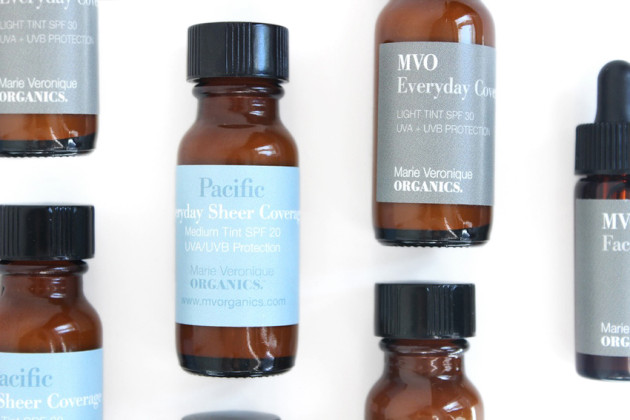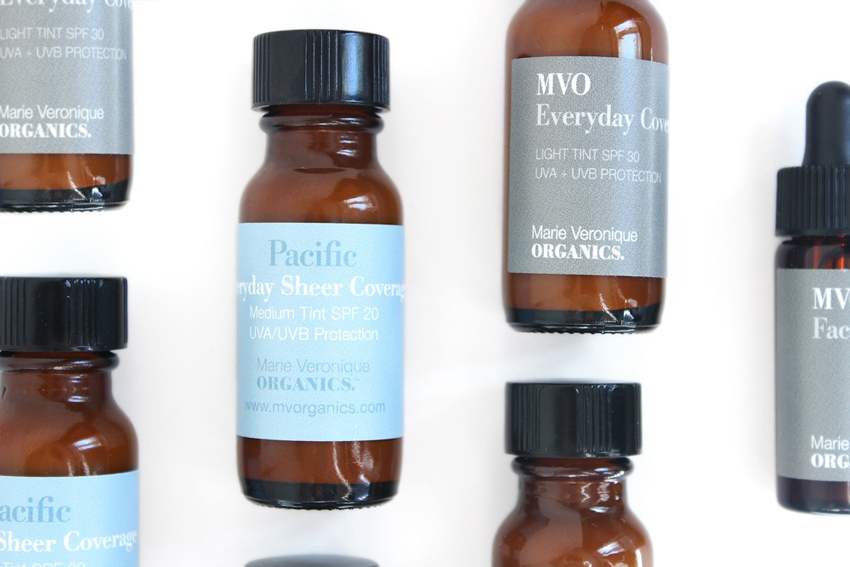 When it comes to all-natural sunscreens, the name Marie Veronique pops up a lot — and so it should. There aren't a ton of silicone-free, chemical-free sunscreens out there (not ones without a heavy texture and a white cast, at least), and the Marie Veronique ones are some of the best of the bunch.
That said, it's hard to pick out what sunscreen to try out of all of the varieties available — so think of this as your guide to Marie Veronique sunscreens, from which shade to pick to what the formulas play best with.
Note: the products photographed in this review are sample sizes!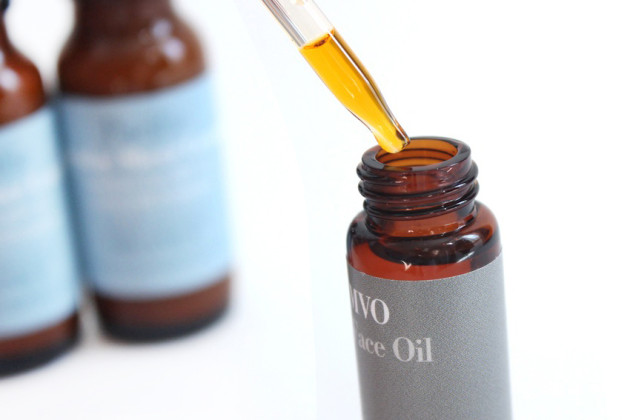 Marie Veronique Face Oil
Marie Veronique Face Oils
I didn't get a chance to compare the brand's Pacific Face Oil with their regular option (the Pacific version broke in transit), but this is what I can tell you: what I did get to try of the Pacific Face Oil ($110/1 oz) felt extremely comforting, and had an herbal scent that reminded me very strongly of shu uemura's Premium A/O and Ultime8 oils.
The Face Oil ($80/1 oz) felt less intensive, but has a lighter scent to it — it still made my dry skin feel softer immediately, and it layered well with the brand's sunscreens. The product itself is very orange (due to a high amount of rosehip oil in the formula), but doesn't tint the skin once it's worked in!
Both of these products are quite pricy, but it's important to note that they've been carefully formulated by the brand's chemists — unlike what I've seen from other brands (ahem: Josie Maran, Tarte, & co.), who simply offer marked-up pure oils in pretty jars.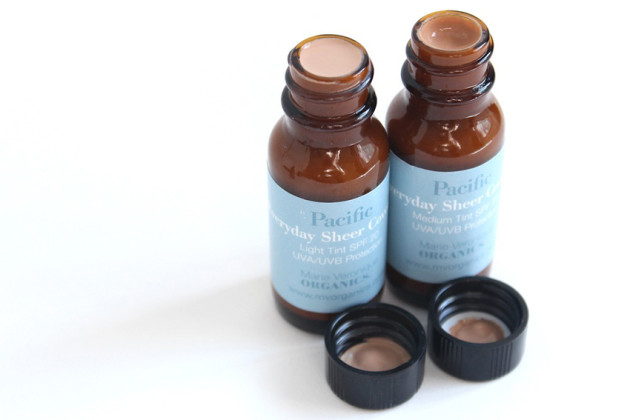 Marie Veronique Everyday Sheer Coverage SPF 20 – Light, Medium Tints
Pacific Everyday Sheer Coverage SPF 20 ($58/2 oz)
As the brand's more expensive sunscreen (it's formulated to be anti-ageing, like the rest of the Pacific range), I was expecting great things from their Everyday Sheer Coverage — but, weirdly enough, I was a little disappointed in it.
I applied this one overtop the brand's Face Oil, as suggested, and it felt okay on its own — not too heavy or sticky. But here's the catch: this one doesn't play very well under makeup. The Light shade was tinted enough to darken and warm up my skintone just a hair, but it's sort of "film forming" — the first time I tried to buff in a cream foundation overtop of it, the whole layer slid in the direction of my brush strokes.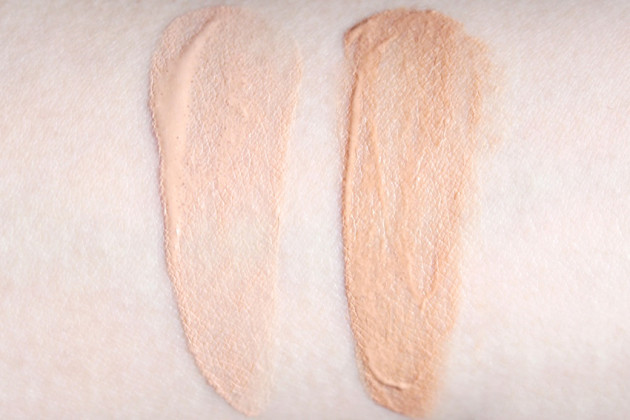 Marie Veronique Everyday Sheer Coverage SPF 20 – Light, Medium Tints swatched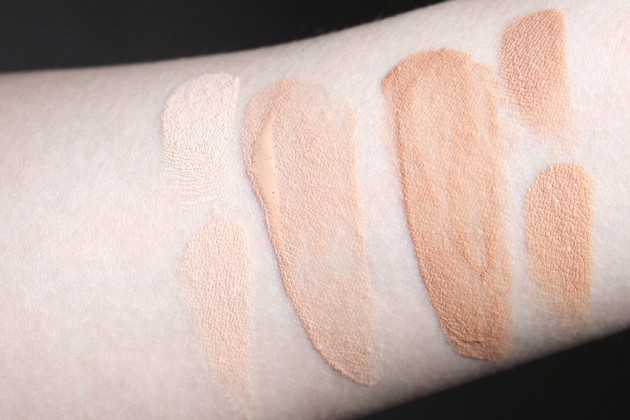 Everyday Sheer Coverage swatched against: left – MAC NC15 (top), NW20 (bottom); right – NC30 (top) and NC25 (bottom)
When I used it after that, I applied a little less and layered it overtop a very thin layer of German Nivea. It went from thereon in, drying satin-matte as promised and staying in place with product overtop, but my makeup looked slightly more obvious than usual. All in all, I would recommend this for normal to oily skin types, or those who wear liquid (but not creme) foundation.
The Marie Veronique Everyday Sheer coverage SPF 20 is formulated with 16.6% non-nano zinc oxide. See the full ingredients list if you
Green & White Tea, 16.6% Non-Nano Zinc Oxide, Vegetable Glycerin, Broccoli Seed Oil, Cherry Kernel Seed Oil, Emu Oil, Pomegranate Seed Oil, Red Raspberry Seed Oil, Tocopherol, Yangu Oil, Cosmocil CQ (paraben-free anti-microbial), Xanthan Gum, N-Acetyl Glucosamine, Lecithin, Potassium Sorbate, Pearl Powder, Rosemary Oleoresin, Beta Glucan, Coffee Fruit Extract, Silk Powder, Rose Essential Oil, Neroli Essential Oil, Helichrysum Essential Oil, Cistus Essential Oil, Iron Oxides.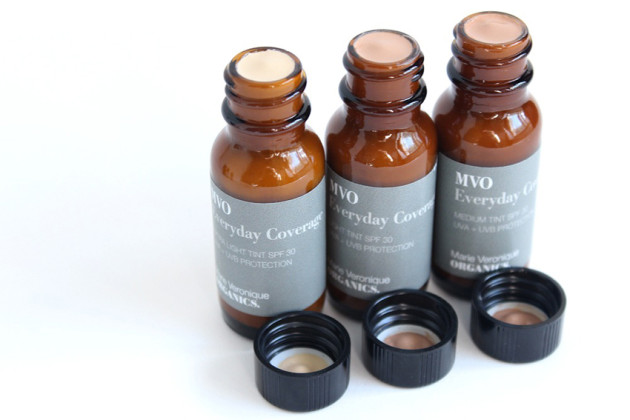 Marie Veronique Organics Everyday Coverage SPF 30 – Extra Light, Light, and Medium Tints
Everyday Coverage SPF 30 ($48/2 oz)
Of all of the Marie Veronique products I tried, this one was definitely my favourite. It's easy to apply, smells kind of like herbal coke balls (weirdly delicious, but not gourmand or saccharine), and is lightly tinted — I'm happy to wear just this and a bit of powder, skipping foundation and concealer. The formula is very comfortable to wear once powdered, layering well with other products, and the tint negates any white cast on light to medium-dark skintones.
It does feel a little more substantial than the brand's SPF 20 by the end of the day, but no more so than your average lightweight foundation. (It's just enough of a difference to worth noting, but I certainly wouldn't dock any points for it!)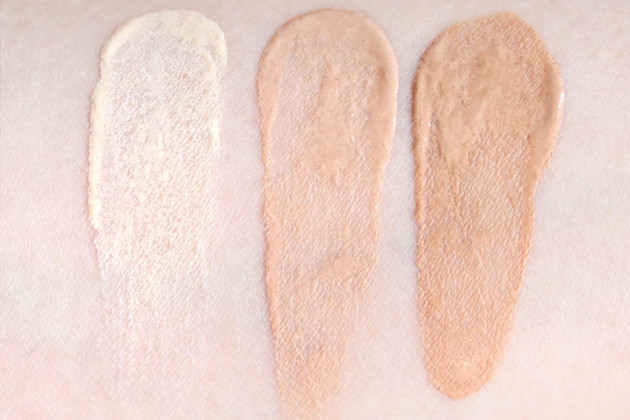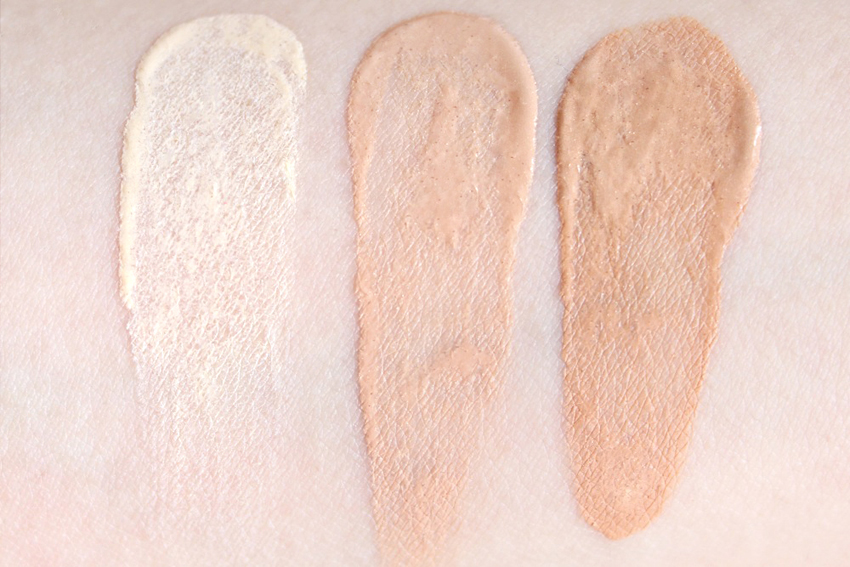 Marie Veronique Everyday Coverage SPF 30 – Extra Light, Light, and Medium swatches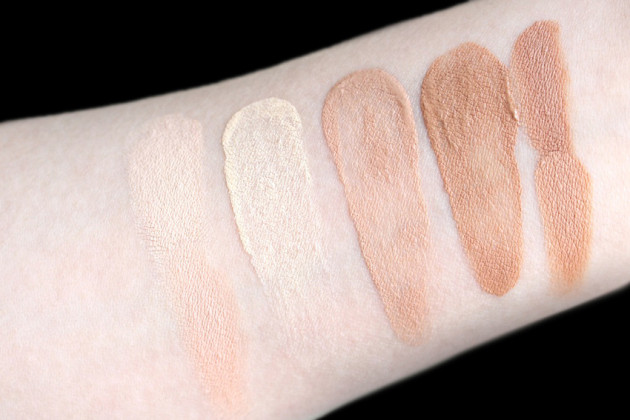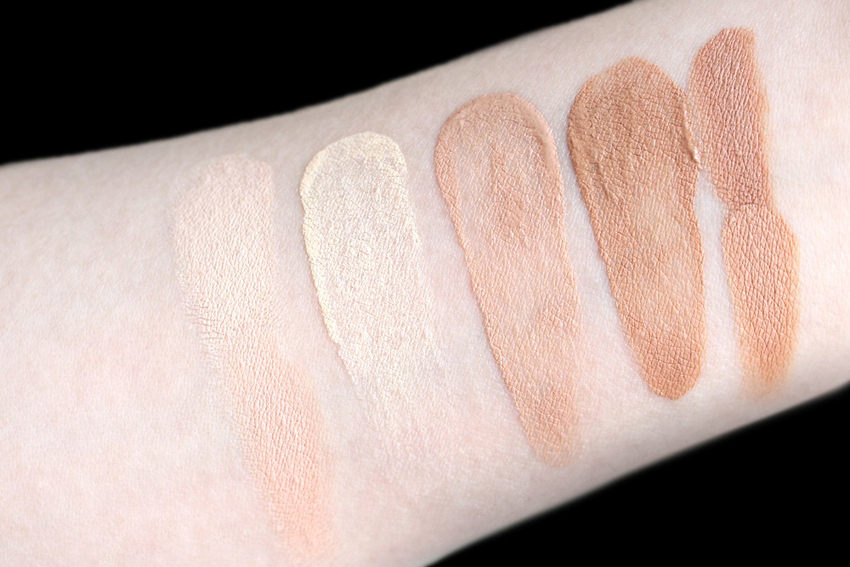 Extra Light, Light, and Medium Everyday Coverage swatched against MAC NC15, NW20, NW30, and NW25
There's a large shade discrepancy between the Extra Light and Light tints, but the formula is sheer enough that I wouldn't worry too much about it. If you're on the light end of the spectrum but tend to tan in the summer, go for Light; if you can never seem to be able to locate foundations that run light enough for you, go with Extra Light.
The SPF 30 in Marie Veronique's Everyday Coverage comes from 20% non-nano zinc oxide, which protects against both UVA & UVB rays and is very stable. See the full ingredients list
Active: 20% non-nano zinc oxide. Inactive: Green & White Tea*, Jojoba Oil*, Apricot Kernel Oil*, Meadowfoam Seed Oil, Sunflower Oil*, Emu Oil, Vegetable Glycerin*, Red Palm Oil*, Polyaminopropyl Biguanide (Organic Anti-Microbial)*, Vitamin E, Red Raspberry Seed Oil*, Lecithin*, Potassium Sorbate, Allantoin, Xanthan Gum, Mica, Sea Buckthorn Oil*, Yangu Oil, Rosemary Oleoresin*, Pearl Powder, Carrot Seed Essential Oil, Cistus Essential Oil, Helichrysum Essential Oil, Iron Oxides.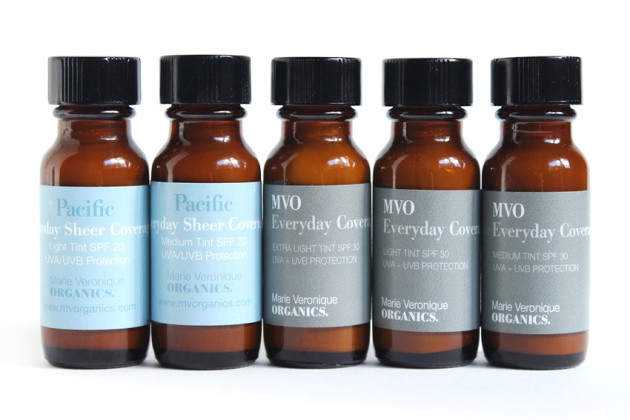 The verdict?
When it comes to Marie Veronique sunscreens, I preferred the Marie Veronique Everyday Coverage SPF 30 for both its formula and coverage — it comes in more shades (and more pigmented shades) than the Everyday Sheer Coverage, and it wears better under makeup despite its higher SPF rating. It's also a little cheaper, which makes it a pretty good buy at $48.
I liked the brand's Everyday Sheer Coverage SPF 20 a little less, but it's still a very comfortable physical sunscreen. It feels wonderful when worn alone, more like a moisturizer rather than a natural sunscreen, and delivers an almost-clear tint with a ready-to-leave finish. I wouldn't personally spend $58 on it due to its lower SPF rating (SPF 30 is what's recommended as a minimum for everyday), but it would definitely make a better summer moisturizer than something without sun protection.
And, just for good measure, I'll say it again: the products in this post are sample sizes! Don't worry — for this price, you definitely get more than what's pictured.
Availability: Marie Veronique (Everyday Coverage SPF30 and Face Oil); True Nature Botanicals (Pacific Everyday Sheer Coverage SPF 20 and Pacific Face Oil).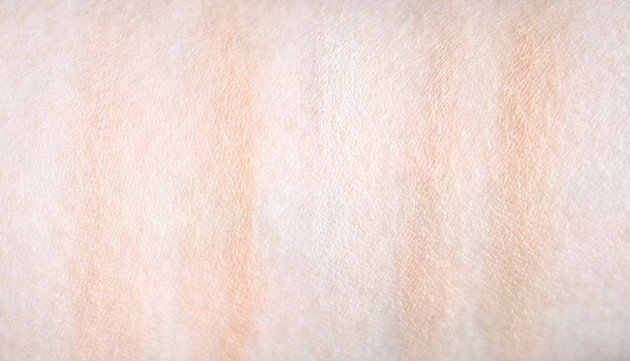 Swatched L-R: Marie Veronique Everyday Sheer Coverage (Light, Medium) and Everyday Coverage (Extra Light, Light, Medium)
[ Edited 15/08/14 to reflect the separation of the Marie Veronique Organics range into MVO and True Natura Botanicals (Pacific collection). ]