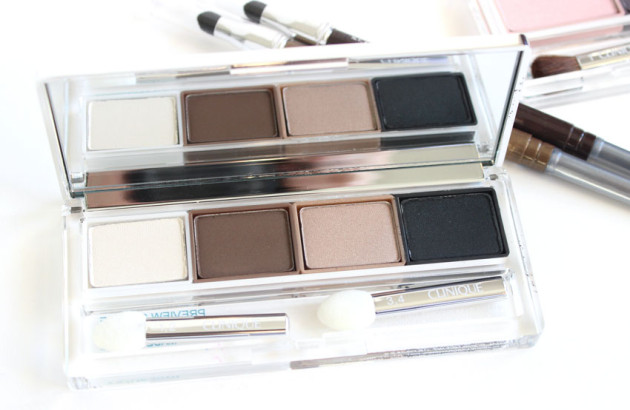 The product: Clinique All About Shadow quad in 02 Jenna's Essentials
I had some of Clinique's old eyeshadows. I loved some of Clinique's old eyeshadows. But, no matter how good the Colour Surge line was, it was nothing like this.
The new-ish (as of September 2013) All About Shadow formula promises intense colour and long wear — and dude, from what I've seen, their pigmentation and texture are so good.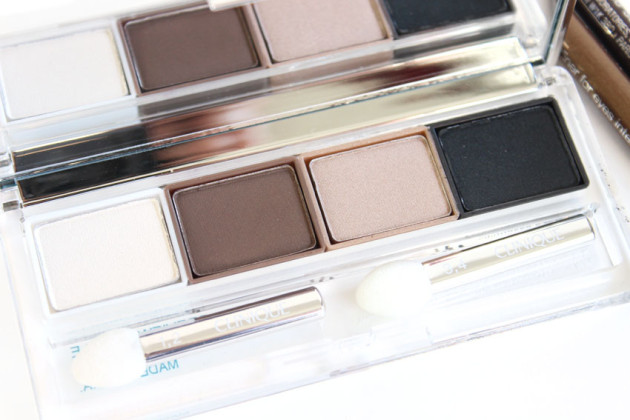 Clinique All About Shadow Quad in 02 Jenna's Essentials
The shades: Jenna's Essentials contains four neutral shades handpicked by Jenna Menard, Clinique's Global Colour Artist — and dude, they're divine. Medium-opaque and easy to both blend out evenly and layer for intensity, they're kind of a neutral palette's dream.
To start off on the left, shade 1 is a frosty, shimmering white that's perfect for adding light to an eye look. It's followed by a light, satin-matte brown that both sheers out well and layers easily — it's a yellow-brown, so it reads pretty neutral.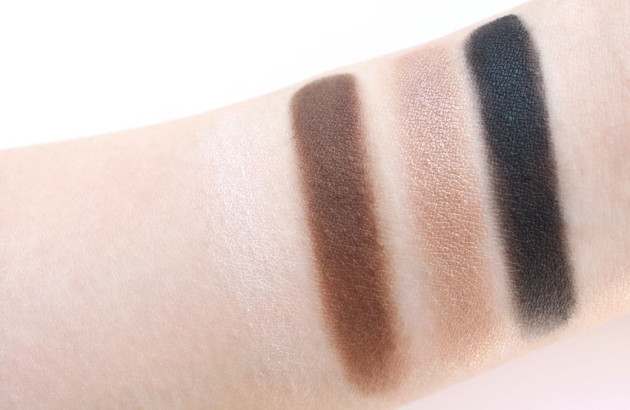 Clinique All About Shadow Quad in 02 Jenna's Essentials (indirect sunlight)
Next, shade 3 is a shimmering beige with gold sparkle (again, quite neutral, with a hint of pink to give it life), and finally, la pièce de résistance: a gorgeous charcoal-black with a matte base and sparse green-blue microshimmer, like magical stars in the sky.
But, like, who puts bright teal sparkles in a black(ish) shade? Clinique does, apparently — and I kid you not, they transform a boring, standard shade into the most enchanting black eyeshadow you'll ever own.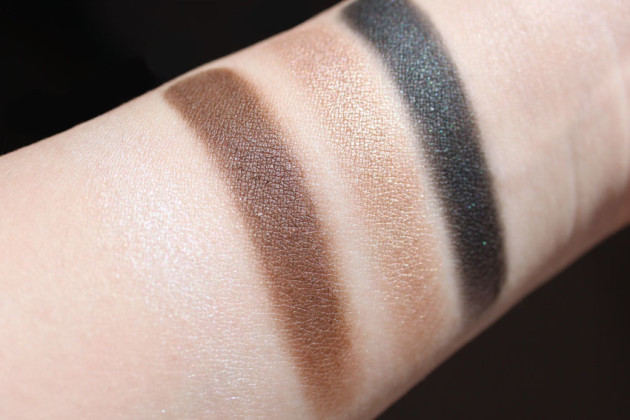 Clinique All About Shadow Quad in 02 Jenna's Essentials (direct sunlight)
The packaging: As a minimalist who believes wholeheartedly in function, I appreciate Clinique's packaging so hard. It's super-slick, with no weird lumps or bumps (MAC) making it hard to store, and the bottom is–get this–clear. Yeah. You can tell exactly what shades are in this quad from the bottom.
I freakin' love this packaging, you guys. Let's let the logical-chic packaging (what are you talking about; that's totally a thing) movement begin.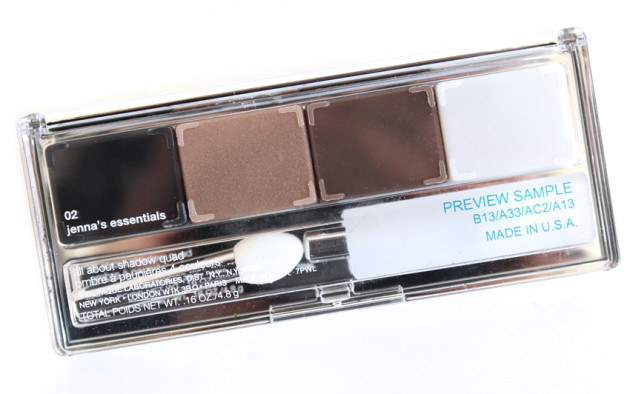 Clinique All About Shadow packaging — makes so much sense!
The verdict?
If you were to tell me right now that all of my eyeshadows had just been magically converted into Clinique — I would be pretty okay with it. I might not even flinch. Because, you guys, this quad is so good: the textures are beautiful, the pigmentation is great, and the All About Shadow shade range looks to be both gorgeous and gorgeously vast. (I count 57 products and a whopping 100 unique shades in total!)
The singles are a little pricy ($19 CAD), but the duos and quads are pretty reasonable — $25 CAD and $35 CAD respectively. If the rest of the range is even a little bit as sneakily complex and well-formulated as these four, I'm willing to list them as a tentative new favourite.
Availability: $28 USD/$35 CAD at Nordstrom, Sephora, and Clinique counters everywhere. See also: Clinique's All About Shadow singles ($15 USD/$19 CAD) and duos ($20 USD/$25 CAD).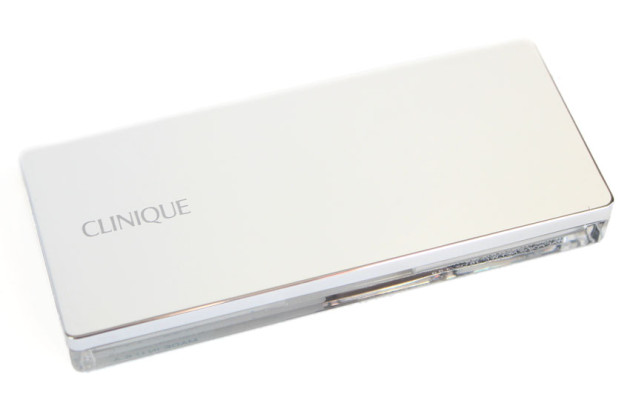 Clinique All About Shadow Quad packaging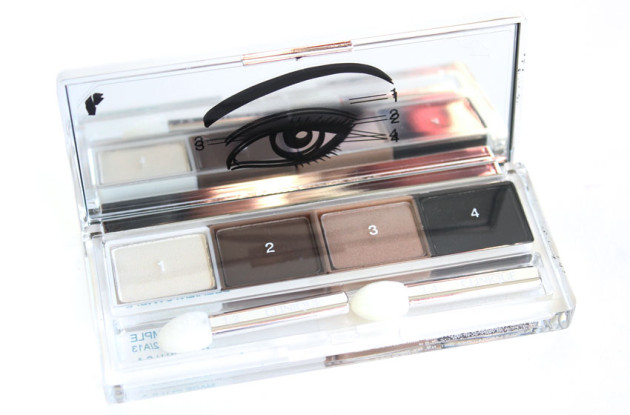 Clinique All About Shadow Quad in 02 Jenna's Essentials