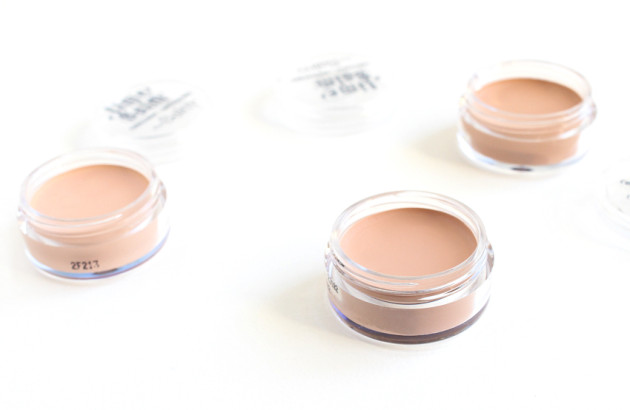 The product: theBalm timeBalm Anti-Wrinkle Concealer in Lighter Than Light, Light, and Light/Medium
You see timeBalm all the time on theNotice. Every tutorial, every makeup look, every shade comparison — they all (or almost all) have one secret ingredient in common: timeBalm. It's my old standby; the only silicone-free concealer I've tried so far that runs light enough for my skin.
A couple weeks ago, I finished off an entire pot of this concealer, right down to the last smudge. It took me five and a half years (during which time my timeBalm somehow managed not to go off at all), but as someone who has literally never finished off a makeup product before — it was a pretty big deal for me.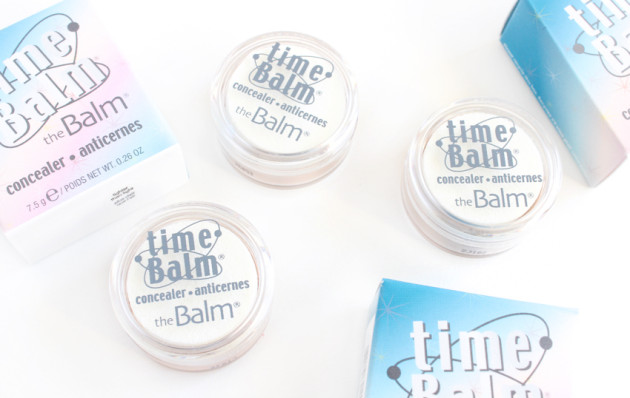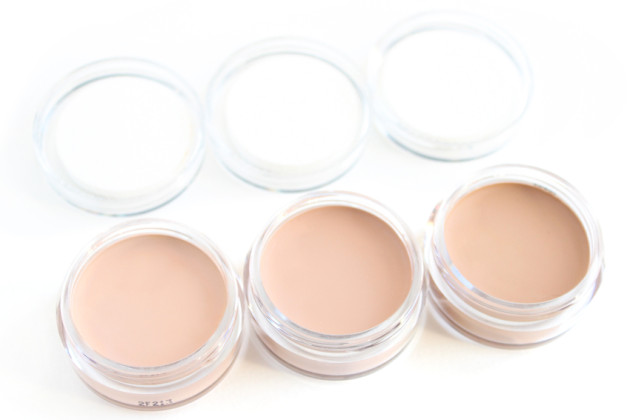 L-R: theBalm timeBalm concealer in Lighter Than Light, Light, and Light/Medium
The formula: The beeswax-based timeBalm concealer is free of silicones, parabens, and fragrances, and enriched with Vitamins A, E, and C to help combat the signs of ageing. theBalm says it's so good for your skin that you can wear it to sleep, and while I absolutely would not recommend  this, I have admittedly done it once or twice (by accident!) with no harm done.
theBalm timeBalm Anti-Ageing Concealer Ingredients: 
Tridecyl Trimellitate, Neopentyl Glycol Dicaprylate/Dicaprate, Talc, Diethylhexyl Adipate, Isoeicosane, Carnauba Wax, Beeswax, Octyldodecanol, Retinyl Palmitate, Tocopheryl Acetate, Tetrahexyldecyl Ascorbate, C18-36 Acid Glycol Ester, Panthenol, Tribehenin, Ceresin, Lauroyl Lysine, Caprylic/Capric Triglyceride, Linoleic Acid, Soybean Sterols, Phospholipids, Silica, Propyl Gallate, Soybean Oil.
+/- Mica, Titanium Dioxide, CI 77491, CI 77492, CI 77499, CI 77007.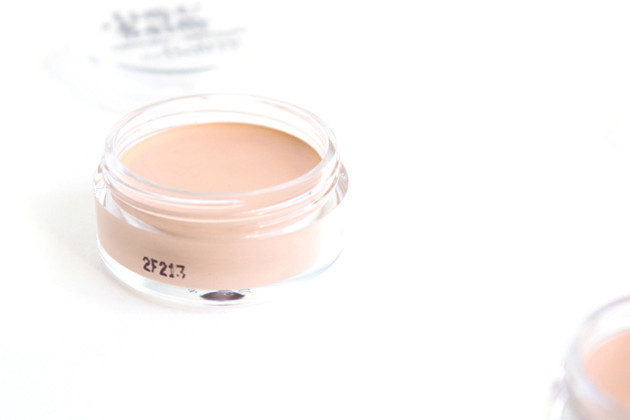 theBalm timeBalm in Lighter Than Light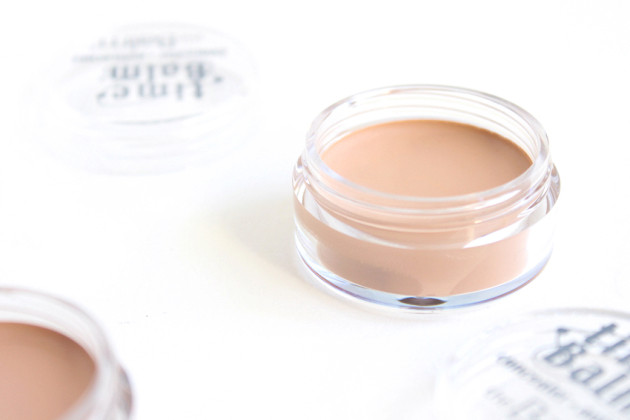 theBalm timeBalm in Light
theBalm timeBalm in Light/Medium
The texture & wear (aka "what makes timeBalm so great"): I really love the timeBalm formula because, for a consumer product, it resembles theatre makeup quite closely. It's a wonderfully creamy, high-coverage product, and works well for both concealing acne and covering dark circles (though it does struggle a bit with extremely dry patches and pronounced wrinkles). Because the formula blends out so beautifully, I use my timeBalm as both a foundation and a spot concealer, similarly to how something like the Kevyn Aucoin Sensual Skin Enhancer ($48 USD) would be used — but at a fraction of the cost.
I have extremely dry skin, and though timeBalm does catch on my really rough patches (I've yet to find anything that doesn't), I get all day wear out of it as long as I follow up with powder. This includes morning-to-evening coverage of blemishes–I layer timeBalm with a mineral powder to cover up scars and acne–which is quite the feat!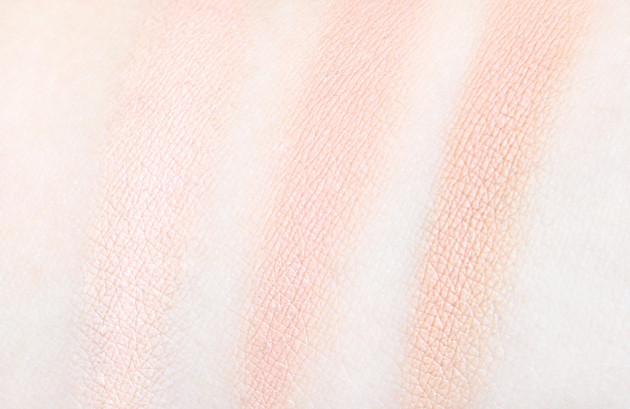 theBalm timeBalm concealer comparison swatches – Lighter Than Light, Light, Light/Medium
The shades: Lighter Than Light is yellower than MAC Studio Fix Concealer in NW15. It's similar to NC20, but pinker, and its warm undertones run more peach than orange, unlike NC20. Light is similar to MAC NW20 but just a hair darker, and runs a touch more yellow-orange than pink-peach. If you match NW20, timeBalm in Light will definitely work for you. If you match MAC NW25, Light will by way too fair for you.
I can't for the life of me find my pot of Light/Medium (and I literally searched for three hours yesterday), but if memory serves me right, it's darker than Light and NW20 but not as dark or orange as NW25 — the NW20-NW25 shade jump seems particularly large to my eye for some reason. I'm pretty sure Light/Medium is a little more olive and more orange/saturated (but with less peach and pink) than Lighter Than Light and Light, too.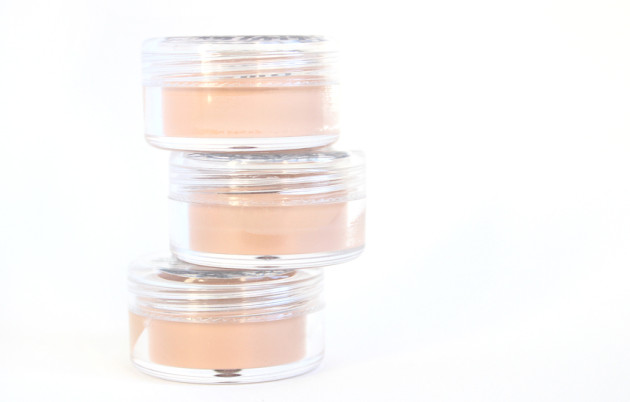 The verdict?
I really, really love timeBalm. It's the only makeup product I've ever used up & re-purchased, and though I'm always on the lookout for something better (something that magically hides dry patches, perhaps), I've yet to find anything else that meets my criteria.
I use theBalm's timeBalm concealer as both a concealer and a foundation, and it pulls off everything from spot concealing to sheer coverage without breaking a sweat. It's also scent-free and silicone-free, and comes in seven shades.
Availability: $18 USD at Nordstrom; in Canada, you can find theBalm at many Rexall locations. timeBalm is also available in cream foundation and liquid forms, though I haven't had the chance to try either!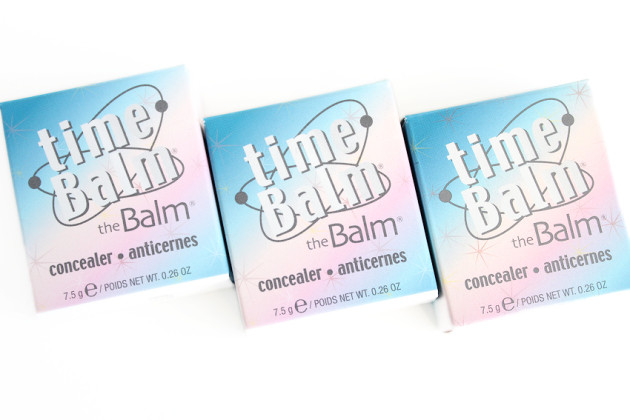 theBalm timeBalm Concealer packaging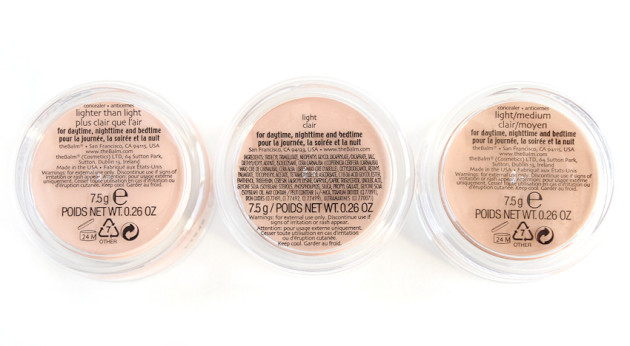 theBalm timeBalm Concealer review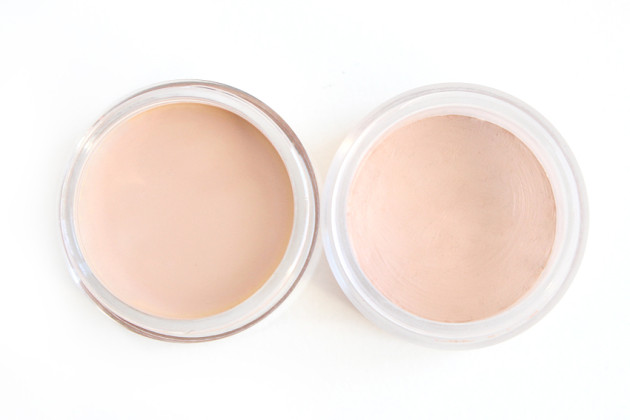 theBalm timeBalm concealer in Lighter Than Light – new/old, before I used up the old one!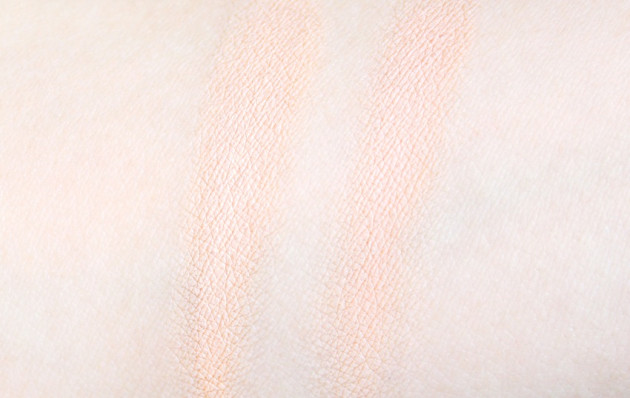 My new & old pots were a slightly different shade; thankfully, not so dissimilar to make a difference when worn.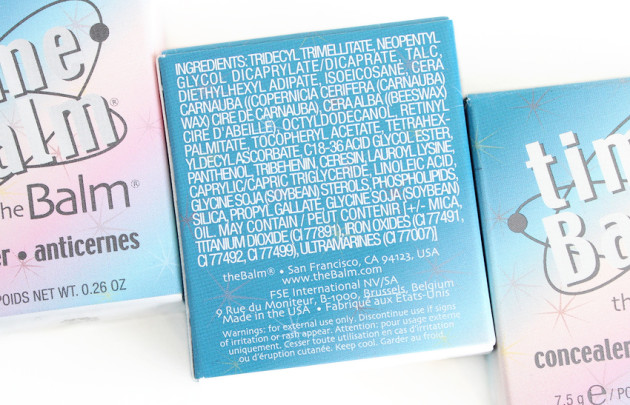 theBalm timeBalm ingredients