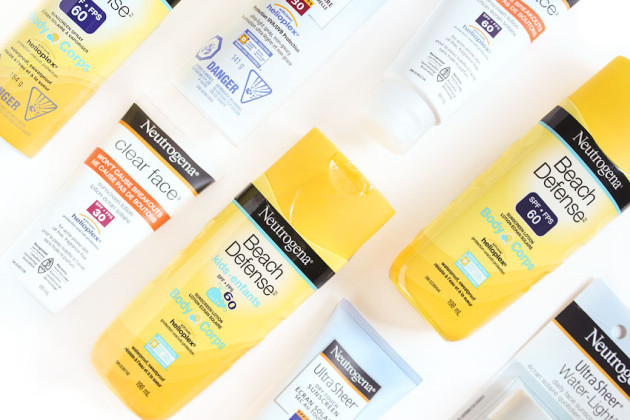 Let's talk sunscreen. It's not something I do often, but it is something that's really important to pay attention to — especially in this day and age.
I have a couple silicone-free sunscreen reviews coming up this summer, but for now, here are a few drugstore sunscreen options from Neutrogena. Drugstore sunscreens aren't always the most elegant option, but I've always favoured them over high-end ones: with their low price tag, it's easier to use the full amount needed with each application. (That's about a quarter-sized dollop for the face, and a shot-glass-sized portion for the body!)
Neutrogena Ultra Sheer ($12.99 CAD & up)
The Ultra Sheer line was, I kid you not, the very first sunscreen range I fell in love with. Their sweat-proof, matte-finish Ultra Sheer Dry-Touch sunscreen feels noticeable but matte on the skin — not shiny and greasy, the way the sunscreens of our youth were. You can now get the Ultra Sheer Dry-Touch Sunscreen in SPF 45, 30, 60, and 110, or the Ultra Sheer Body Mist Sunscreen in SPF 30, 45, and 60 ($16.99 CAD).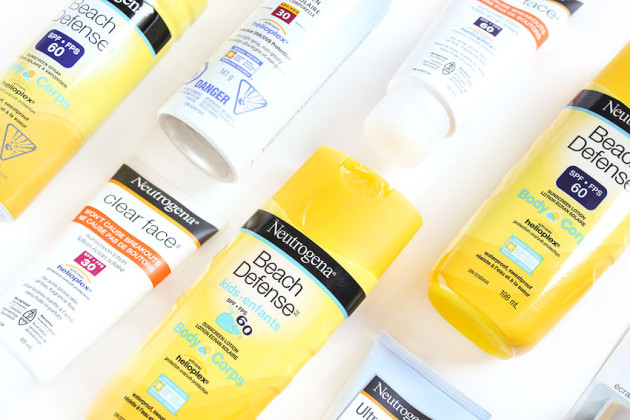 Neutrogena Clear Face ($12.49 CAD & up)
Available in SPF 30 and 60, Clear Face is designed not to cause breakouts. It's oil-free and fragrance-free, and while it's heavy on the 'cones, it happens to be formulated without parabens. I had M test this out for me for a couple of days (it has 'cones in the formula), and he thought it was considerably better than the Dry Touch formula — in comparison, he said, the Ultra Sheer Dry Touch felt greasy!
Neutrogena Beach Defence ($13.49 CAD & up)
Available in SPF 30 and SPF 60 (go for the 60!), Beach Defence is made to be water and sweat-resistant, with a "light, summery fragrance." (It kind of reminds me of L'Oreal Kids' shampoo — you know, no more tears?)
The Beach Defence line is available in both lotion and 'cone-free spray form (make sure to spray a lot if you go with the spray — I find you always need more than you think  you do!), but note that the adult & child versions are the exact same product, just with a different label.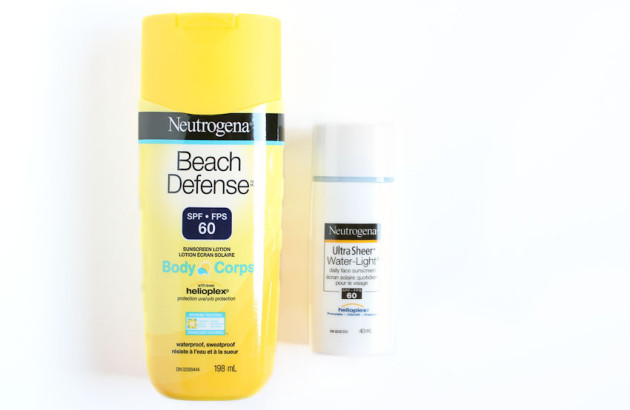 Neutrogena Ultra Sheer Water-Light ($16.99 CAD)
New this season, the SPF 60 Water-Light sunscreen is designed to be a lightweight liquid lotion for the face. Depending on where you are (and what's already sold out), you might see a few similar-but-different sunscreens from Neutrogena on shelves as well: the mineral Pure & Free Liquid SPF 50 sunscreen (Eye Heart It has a great mini-review of this), Ultra Sheer Liquid SPF 70, or Ultra Sheer Waterlight tinted sunscreens (Asia-only).
I also had M test this one out for us, and this was his favourite of the three he tried. He described it as being really comfortable and lightweight for a sunscreen (though it couldn't pass for a moisturizer), but noted its strong, "hospitally" scent and extremely liquid texture — drippier and easier to spill than the Clear Face formula, but also easier to spread out.