I haven't covered a lot of nail-related beauty recently, so here's a bit of catch-up: seven drugstore nail picks that all fall beyond the regular scope of "nail polish".
Skip below the graphic to read more about these unique-but-accessible finds!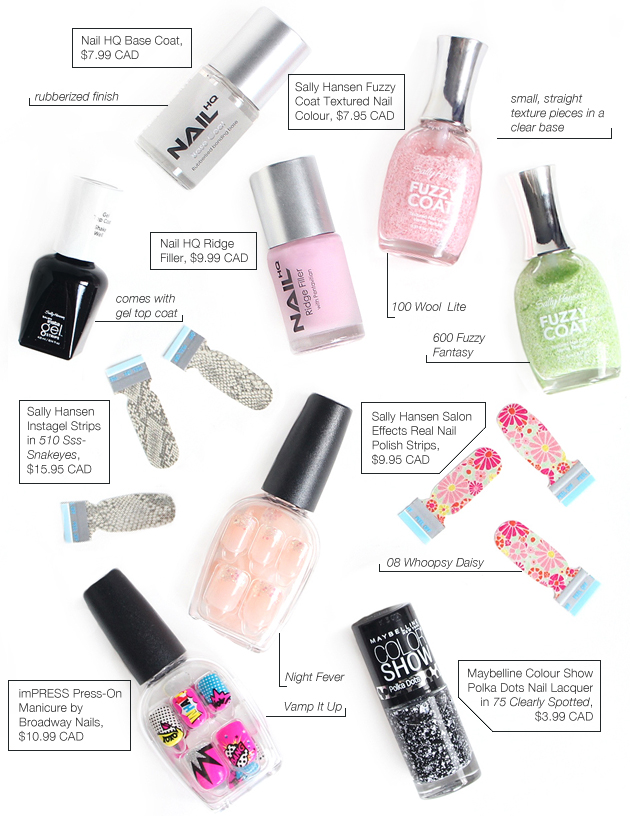 Nail HQ Base Coat ($7.99 CAD)
Base coats are base coats, but this newly launched one by Nail HQ describes itself as a "unique rubberized base coat" with a "sticky cushioned finish" to prep the nail for polish. Does it work? I'll be testing it out this summer to find out!
Nail HQ Ridge Filler ($9.99 CAD)
Like the brand's base coat, this ridge filler is available at Pharmasave, select drugstores, and farleyco.ca. It's designed for weak, damaged nails, and is made to cover up & conceal ridges while conditioning the nail. It's not a nail strengthener or hardener, though — Nail HQ also makes those, but they're separate treatments.
Sally Hansen Instagel Strips in Sss-Snakeyes ($15.95 CAD)
Sally Hansen, available at most drug and grocery stores across Canada, makes two different kind of nail strips: these, and the ones below. A little more expensive than the non-gel version, the Instagel Strips are UV-cured, last up to two weeks, and come with a gel coat in the box. (Mini LED lamp must be purchased separately.) Think of them as an at-home gel manicure for the unsteady-handed.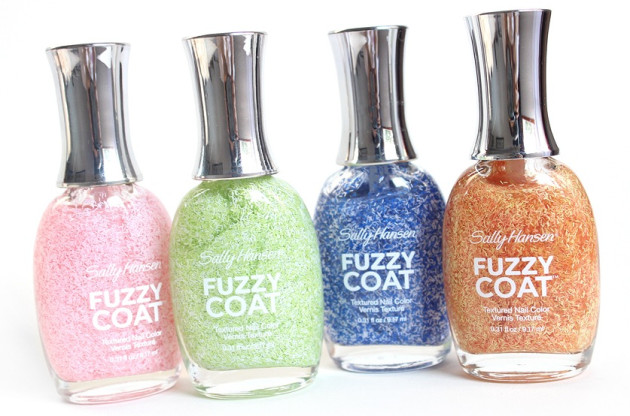 Sally Hansen Fuzzy Coat Textured Nail Colour in Wool Lite, Fuzzy Fantasy, Tight Knit, and Peach Fuzz
Sally Hansen Fuzzy Coat Textured Nail Colour in Wool Lite and Fuzzy Fantasy ($7.95 CAD)
Okay, I'll fess up: I'm extra super not a fan of these Fuzzy Coat polishes. Like crackle-finish and "caviar" manicures, I think they look weird, and left exposed, they catch and pull on everything.
That said, they're also pretty darn unique, and they're formulated well — the small strips of "fuzz" haven't curved or warped at all in the year that I've been sitting on these.
Sally Hansen Salon Effects Real Nail Polish Strips in Whoopsy Daisy ($9.95 CAD)
If you don't have a nail lamp at home (I don't!), Sally Hansen's Salon Effects polish strips will probably be a better buy for you. They launched last year in eight different prints (and have since added more shades), with a simple peel-and-stick application. no drying time, and no DBP, toluene, or formaldehyde.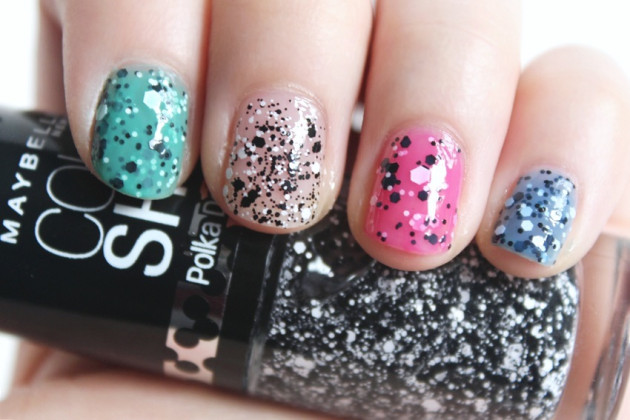 Maybelline Colour Show Polka Dots Nail Lacquer swatches: Drops of Jade, Clearly Spotted, Pretty In Polka, Blue Marks the Spot
Maybelline Colour Show Polka Dots Nail Lacquer in Clearly Spotted ($3.99 CAD)
Launched alongside a set of metallic duochrome nail lacquers last year, the Maybelline Colour Show Polka Dots range includes five "spotted' shades in a translucent base. The brand describes it as "high-fashion meets high-art," but I see it more as indie-meets-drugstore — a spinoff of the e-tailer trend of duochromes & textural overlays, made accessible to more than just nail fanatics and bloggers.
imPRESS Press-On Manicure by Broadway Nails in Night Fever and Vamp It Up ($10.99 CAD)
These are new to the market this month (find them at Walmart, London Drugs, and Pharmasave), and offer a peel-and-press false nail that lasts up to one week. I wasn't a fan of most of the designs, but Vamp It Up is pretty cute — a far cry from the classic French manicure falsies, it's a pop-art, comic-book design done in neons.