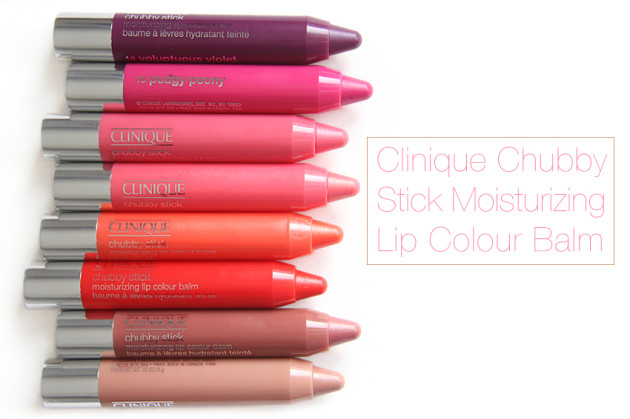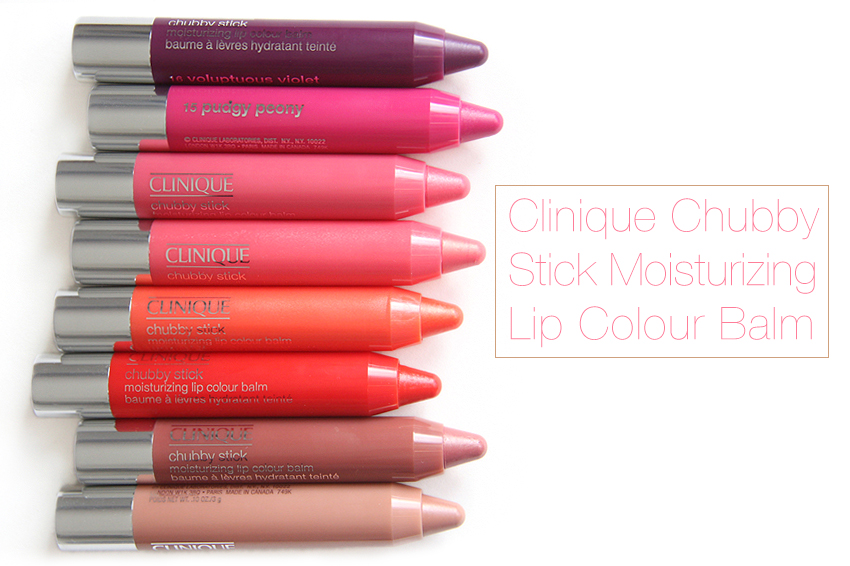 The product: Clinique Chubby Stick Moisturizing Lip Colour Balm
   ↳ in 09 Heaping Hazelnut, 10 Bountiful Blush, 11 Two Ton Tomato, 12 Oversized Orange, 13 Mighty Mimosa, 14 Curvy Candy, 15 Pudgy Peony, and 16 Voluptuous Violet
I love Clinique's Chubby Stick range. I talk about them all the time; I carry them around in my bag like they're the keys to my house, I own all of the lip shades except maybe three or four of them.
I haven't, however, had the chance to post swatches of many of them yet. So: here are eight more Clinique Chubby Sticks. I hope you enjoy.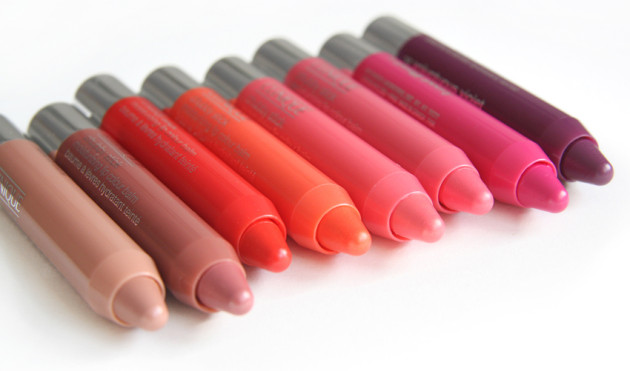 A recap of the formula: The classic Clinique Chubby Stick formula is comfortable and sheer, and wears for about 2-3 hours on my lips. The twist-up pencil packaging and no-mirror opacity makes them easy to throw into your handbag and apply on the go, and the large shade range literally has something for everybody.
All of the Chubby Sticks are taste- and scent-free, and get a lot of flack for being really sheer — but it's important to remember that they're marketed as a lip balm, not a lipstick. The Chubby Stick Intense formula offers full opacity, while the original formula varies from almost completely-sheer to medium-opaque depending on the shade.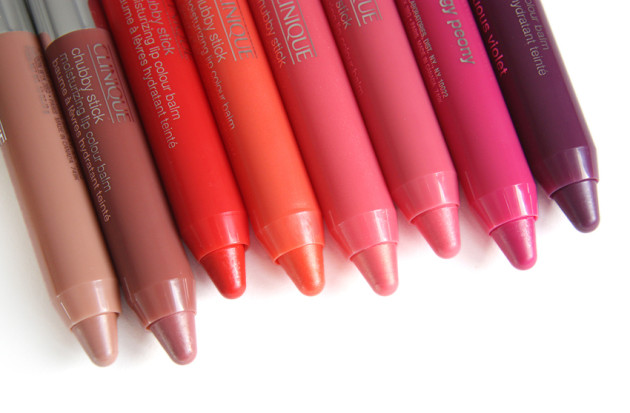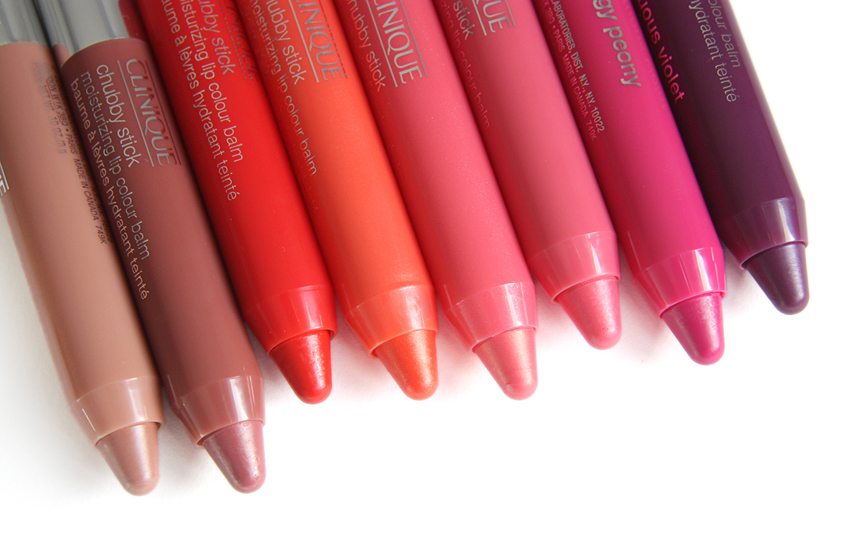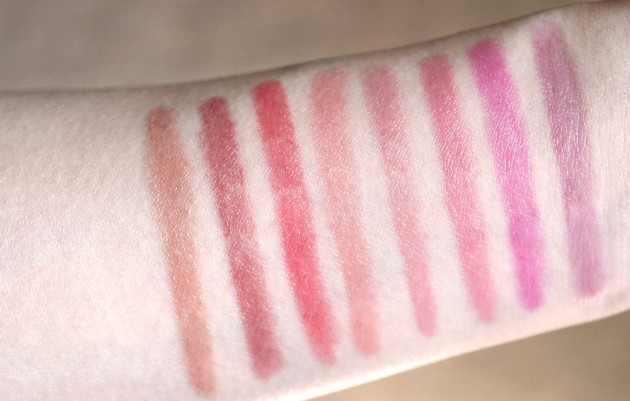 Swatched L-R: 09 Heaping Hazelnut, 10 Bountiful Blush, 11 Two Ton Tomato, 12 Oversized Orange, 13 Mighty Mimosa, 14 Curvy Candy, 15 Pudgy Peony, and 16 Voluptuous Violet
The shades: Heaping Hazelnut is a sheer, warm nude with a hint of shimmer. Bountiful Blush is a pinky-brown with medium opacity and a subtly frosty finish (I bet it would make a gorgeous nude on a darker skintone). Two Ton Tomato is a sheer, bright strawberry-orange. Oversized Orange is a super-sheer orange with a hint of gold shimmer (pinker, less shimmery, and way more sheer than Mega Melon).
Mighty Mimosa is a sheer soft pink with very subtle shimmer. Curvy Candy is also sheer with subtle shimmer, but is a cooler-toned pink. Both are a little more pigmented than Whoppin' Watermelon, which is shimmer-free. Pudgy Peony is a bright blue-pink; it's also sheer, but appears more pigmented due to how vivid the shade is. Voluptuous Violet is a super-sheer subdued violet — it is the sheerest shade in the entire range, but adds a really pretty, wearable violet veil to the lips.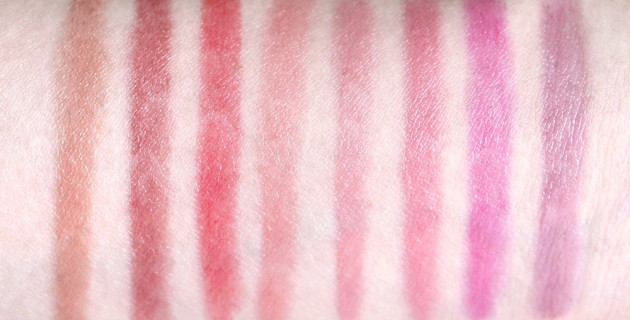 Clinique Chubby Stick swatches, L-R: Heaping Hazelnut, Bountiful Blush, Two Ton Tomato, Oversized Orange, Mighty Mimosa, Curvy Candy, Pudgy Peony, ad Voluptuous Violet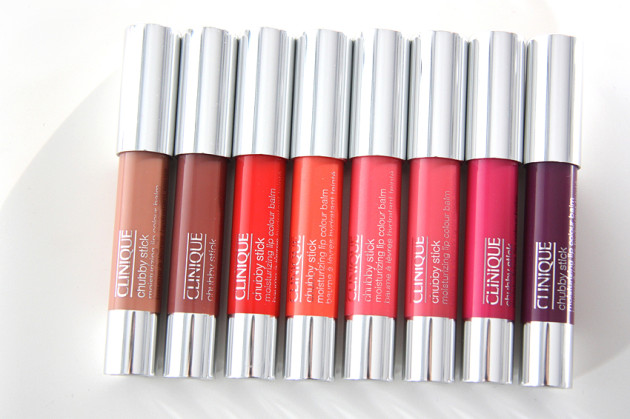 The verdict?
As someone who loves low-maintenance products, I love the comfortable Chubby Stick formula and super-cute packaging. These Chubby Sticks (released initially in 2012) tend to be a little more pigmented than the original eight shades, and more of these shades contain a small amount of natural-looking shimmer.
My must-have Chubby Stick shades are Whoppin' Watermelon (for everyday), Mega Melon (for the summer), Super Strawberry (for more pigment), and Voluptuous Violet (for a really sheer wash of cool-toned pigment). For those looking for a bright, sheer lip, I would also recommend Pudgy Peony.
Availability: $17 USD/$19 CAD at Nordstrom, Sephora, and Clinique counters.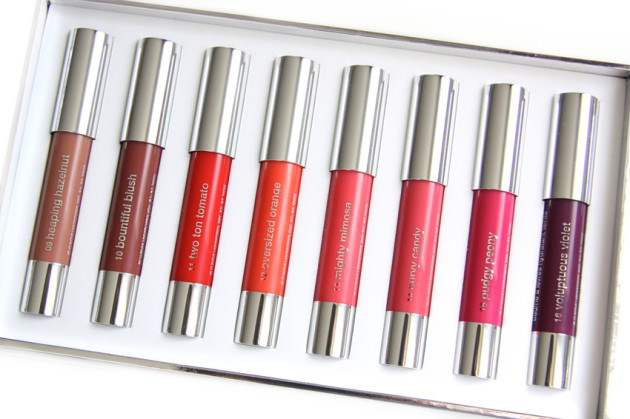 More Clinique Chubby Sticks
Clinique Chubby Sticks in Whole Lotta Honey, Whoppin' Watermelon, and Super Strawberry – review and swatches
Clinique Chubby Stick in Mega Melon – review, swatches, and a makeup look
The Chubby Stick Intense formula – review/swatches (including full-face shots!)
Clinique Chubby Sticks for Eyes – review & swatches
& a quick link to all of the Clinique Chubby Stick features on theNotice at once!