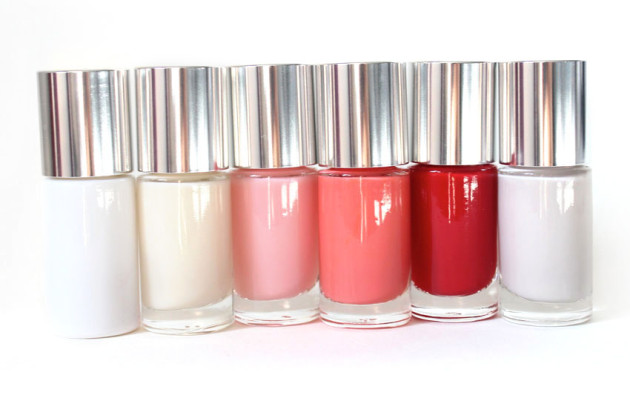 L-R: Clinique Base & Top Coat, Call My Bluff, Sweet Tooth, Really Rio, Red Red Red, and Concrete Jungle
The product: Clinique A Different Nail Enamel for Sensitive Skins
   ↳ Base and Top Coat, 01 Call My Bluff, 02 Sweet Tooth, 05 Really Rio, 07 Red Red Red, and 11 Concrete Jungle
I can't remember how I came by these particular shades. I think (it's been a while) that my press contact at Clinique picked out some of her favourites and sent them over, maybe? Because they're not the same set of shades that went out in the wide release, but they're perfect.
So, if I'm right — thank you. I can't take the credit for this selection of shades, but you guys, I kid you not, they embody summer! so strongly to me that I just can't look away.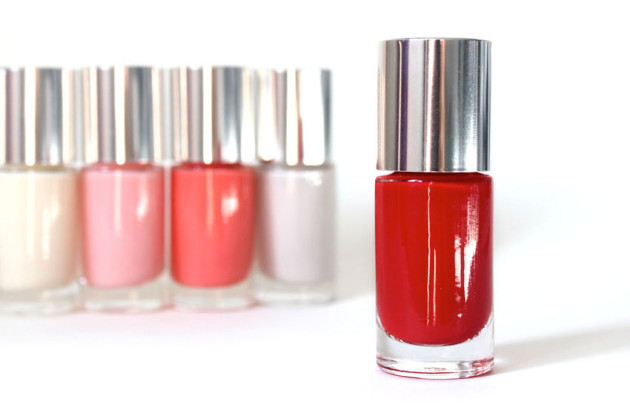 Clinique A Different Nail Enamel in Red Red Red
The formula: Unfortunately (or maybe fortunately?), how well these nail polishes go on seems to be dependent on the shade. The first two I tried were Really Rio and Concrete Jungle, an entire year ago, and I was so unimpressed and confused by them that I back-burnered this post altogether.
Then, a week ago, I decided to swatch Sweet Tooth out of the blue. And it was awesome. And I kept going, from Call My Bluff to Red Red Red, and just kept being blown away.
(And then I tried Concrete Jungle again and whoops, nope, not going there.)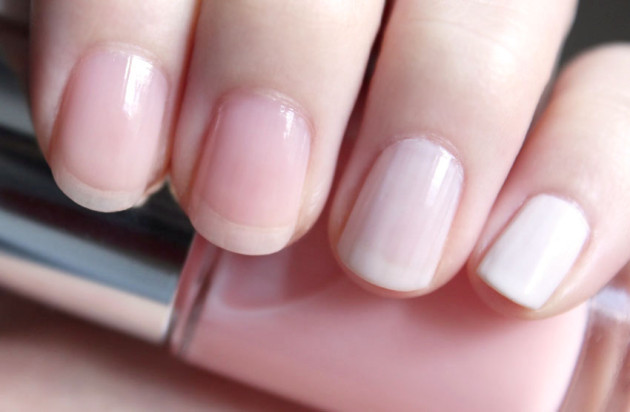 Clinique Sweet Tooth (1, 3 coats), Clinique Concrete Jungle (1, 3 coats)
Sweet Tooth, Call My Bluff, and the AWESOME Red Red Red
To start off, here are three great nail shades from Clinique: starting with the super-sheer Sweet Tooth and Call My Bluff, which I'm going to come right out and say would be great Dior Nail Glow alternatives. They apply really easily (and evenly), and coat the nail with just a hint of colour — the perfect amount to whiten the white part of your nail & brighten the nail bed.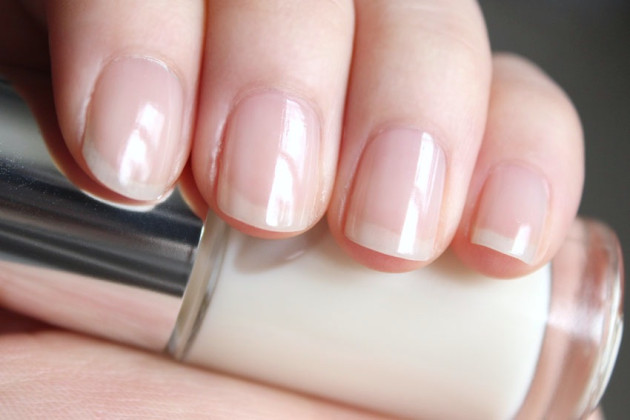 Clinique Call My Bluff swatch
Unlike Dior's Nail Glow, however, Clinique makes two shades to suit a wider range of skintones — and both give a more natural look than Dior's. For skintones with yellow or olive undertones, try Call My Bluff; for skintones with a lot of pink or peach, try Sweet Tooth. Alternately, choose the whiter Call My Bluff for more of a whitening effect on the free edge of the nail (think a subtle French manicure), and Sweet Tooth to focus on brightening the nail bed.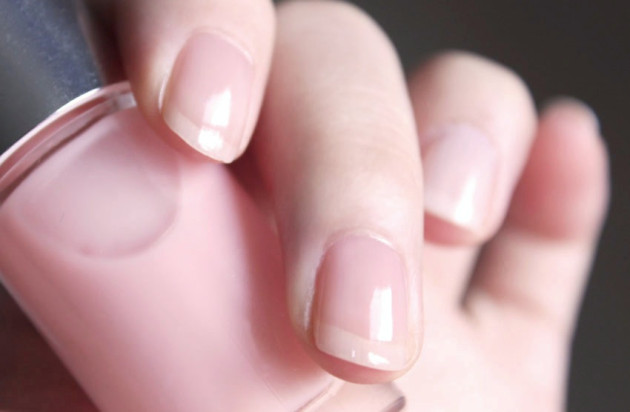 Clinique Sweet Tooth swatch (1 coat on index finger, 3 coats on middle finger)
Bare nail, Clinique Sweet Tooth, Clinique Red Red Red (3 coats, 1 coat)
And to finish up this category of super awesome Clinique nail shades? Clinique Red Red Red, the very best of the bunch. Summer-bright and deliciously vivid, it is hands-down the best red nail polish I've tried so far, applying evenly and with the perfect red-yellow-blue balance.
Red Red Red is just shy of opaque at three coats, but I'd actually call it a two-coater. While I'd normally have a problem with anything short of full opacity, it actually works in this particular shade's favour, creating a really lighthearted almost-jelly finish rather than a super-serious red.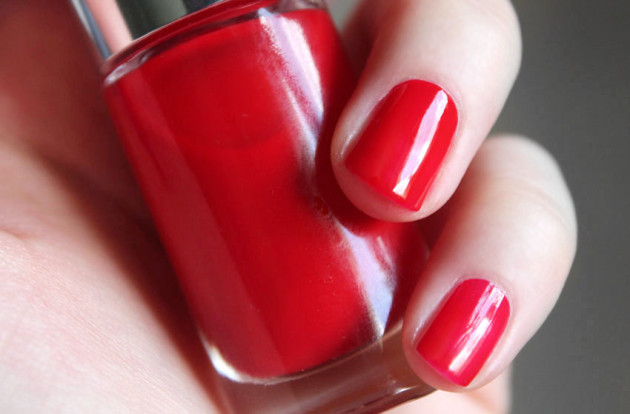 Clinique Red Red Red swatched (3 coats, 1 coat)
Really Rio and Concrete Jungle
These shades are gorgeous, but application-wise, I just couldn't figure them out. They applied a lot like Essie polishes, if you have any experience with those: some people seem to be able to work magic with them, but for the rest of us, each gorgeous shade after the next applies kind of lumpily. Not even just in streaks, but… lumps.
No one wants lumpy space princess nails, so give these two a pass unless you can pull off Essie-style formulas and brushes with grace!
(Seriously, though. Really Rio would have been such a great, beachy summer shade in a smoother formula.)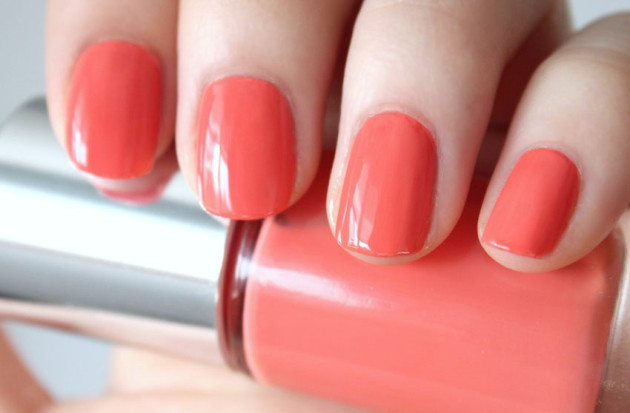 Clinique A Different Nail Enamel in Really Rio, swatched
The verdict?
If you love bright nails or reds, you need Red Red Red in your life. I don't know how Clinique did it, but they absolutely killed it with the shade — it's not super opaque, but it's one of the most fun, bright shades I've ever laid eyes on — without coming off as childish at all.
Aside from Red Red Red, I'd also totally recommend either Sweet Tooth or Call My Bluff for that perfect natural-but-better nail. You don't need both, but I'd definitely pick up one of them for when you need a super fast, super easy natural nail!
Availability: $12.50 USD/$16 CAD at Clinique (US), Sephora, and Nordstrom, as well as Clinique counters.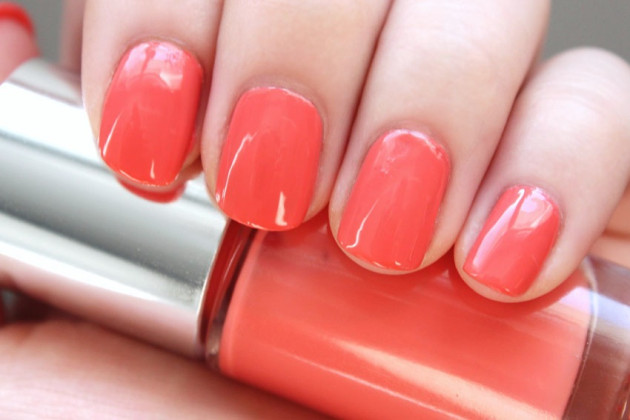 Another angle of Clinique Really Rio. See how the light is reflected in lumpy, uneven lines? (That's always a great way to spot a formula that doesn't apply smoothly!)