sponsored post
The product: shu uemura anti/oxi skin refining anti-dullness cleansing oil
[  Get 10% off your shuuemura.ca order with the code NOTICESHU  ]
The formula: Shu Uemura has a lot of different cleansing oils, so I thought I'd take a moment to first go over the new Anti/Oxi formula. This one–lighter in texture than the Ultim8 or A/O, but heavier than the fresh pore clarifying–is designed to cleanse environmental pollutants from the skin's surface, preventing damage to cellular functions lower in the dermis.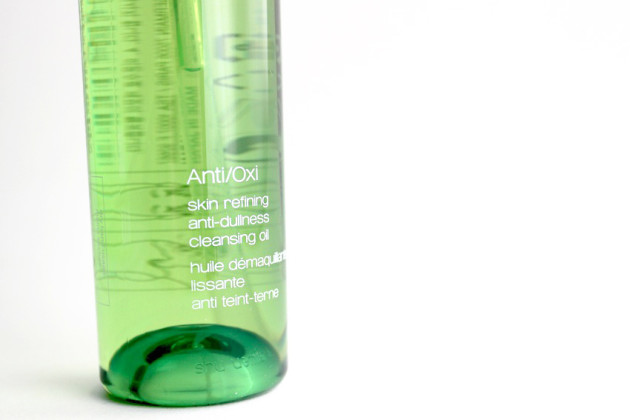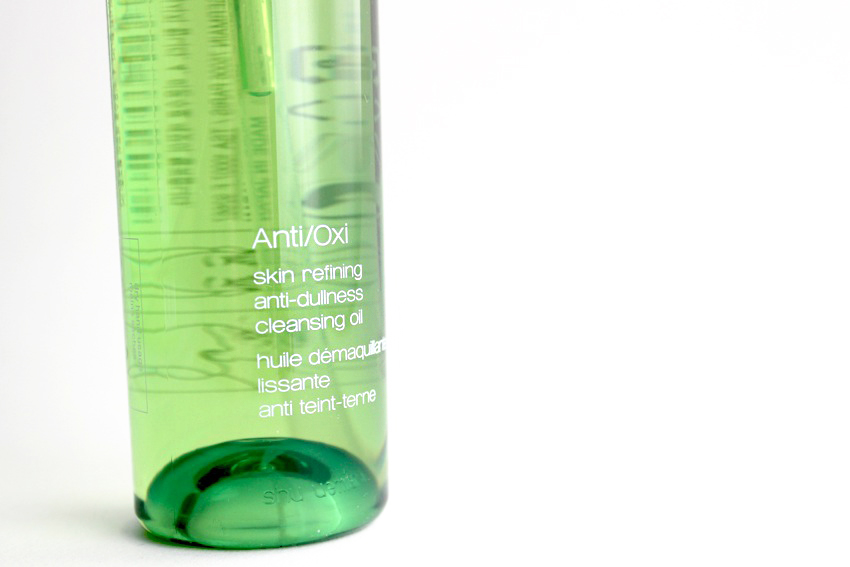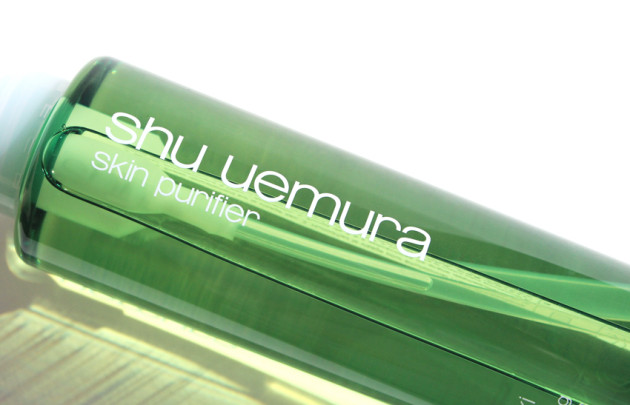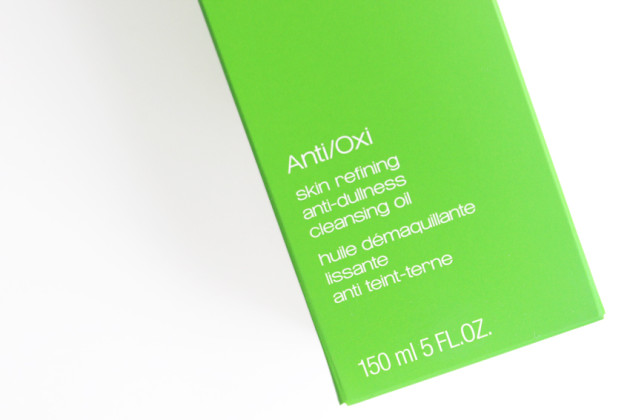 Now, all cleansers cleanse, but the science behind this one is pretty cool. The Anti/Oxi formula uses moringa seed extract to bond to negatively-charged pollutants, detoxifying the skin — think of it like dragging a magnet through a pile of lead shavings.
(Moringa seeds are commonly used to as a water purifier in areas where it is grown, which, if you ask me, is pretty cool.)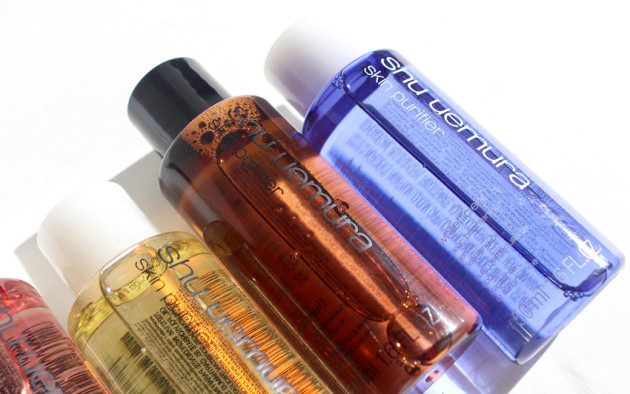 The other oils featured here are the fresh (pink/pore cleansing), high performance (light yellow/balancing), ultime8 (brown/full review here), and whitefficient (blue/brightening). There's also the cleansing A/I (dark yellow/sensitive skin), which isn't featured here but does exist!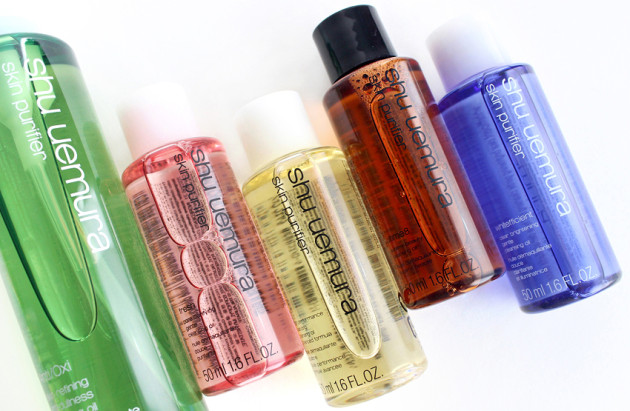 How cleansing oils work: Shu Uemura recommends you use 3-4 pumps of cleansing oil, worked into dry skin and then emulsified and rinsed off with water. I actually find one pump to be more than enough, but then again, I don't tend to wear much makeup unless I'm product testing.
(Confession: I've always found cleansing oils to be a lot of fun. It's pretty cool that such a thick oil turns into a comforting soap with just a bit of water!)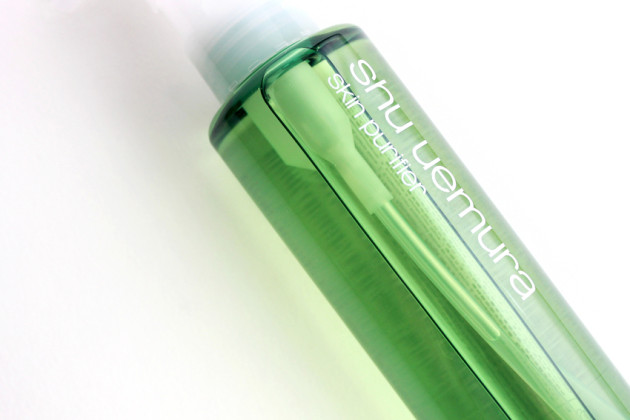 The scent: The press release for the Anti/Oxi Cleansing Oil lists top notes of ginger sherbet, cardamom, and sparkling lime; middle notes of lavender, rosemary, and geranium leaf; and, finally, bottom notes of guaiac wood, white musk, and cedarwood, but honestly —
To me, this oil smells foremost a little oily, sitting upon a herbal body (less freshly-mown-lawn and more Asian-poultice), with, yes, a woody base. It's a little too lingering for my liking, but not so fragranced that I find it irritating.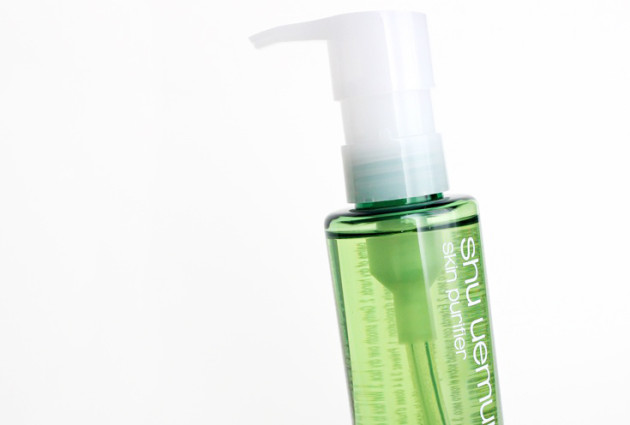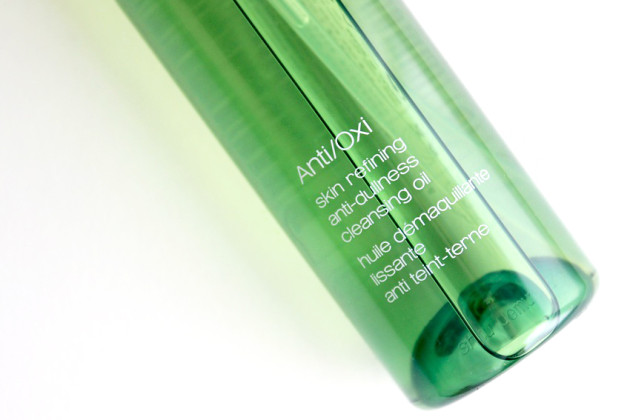 Availability, pricing, 10% off, and free samples
The Anti/Oxi formula is available in 150 ml/$44 CAD (yes, 150 ml!) and 450 ml/$92 CAD sizes, online & in-stores. The smaller size works out to be $29 per 100 ml; the larger, $20 per 100 ml.
And, now, the fun stuff: Try a free sample of this cleansing oil through the Shu Uemura Facebook page, or take a leap of faith and get 10% off your order at shuuemura.ca with the code NOTICESHU.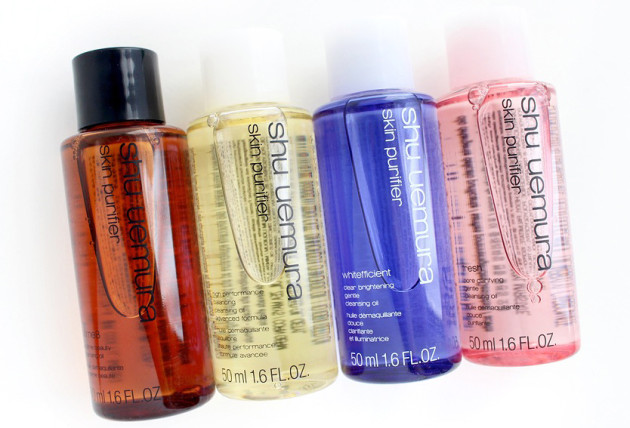 The Shu Uemura Cleansing Oil ingredients: Anti/Oxi