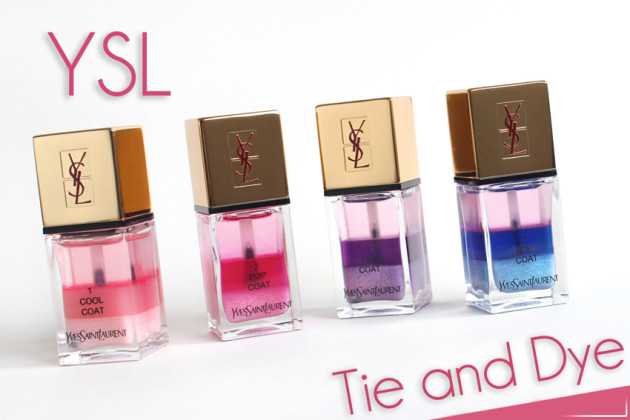 The product: Yves Saint Laurent La Laque Couture Tie & Dye Pearly Coloured Top Coat (Top Coat Coloré Nacré)
   ↳ in 01 Cool Coat, 02 Pop Coat, 03 Hip Coat, and 04 Ice Coat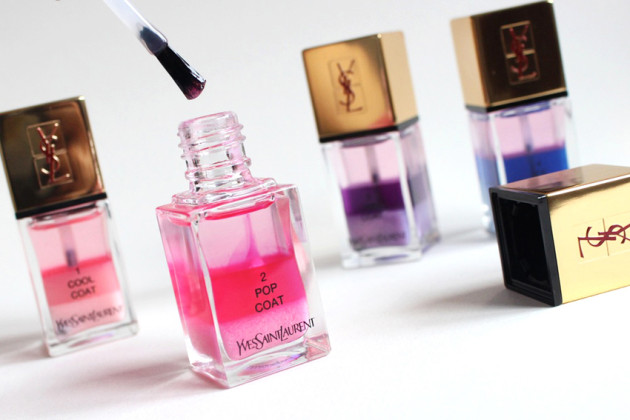 The hardest part about writing this review wasn't that the product was phenomenally good, or horrifyingly bad, or even incredibly surprising. Nope: the hardest part of writing this review was definitely, absolutely, hands-down the fact that I took almost two hundred photos of these, and all of them were stunning.
Not because of the lighting, or the camera, or the staging, of course. It's just that the Tie & Dye topcoats are really, really cool — a four year old with a point & shoot could make these look absolutely riveting!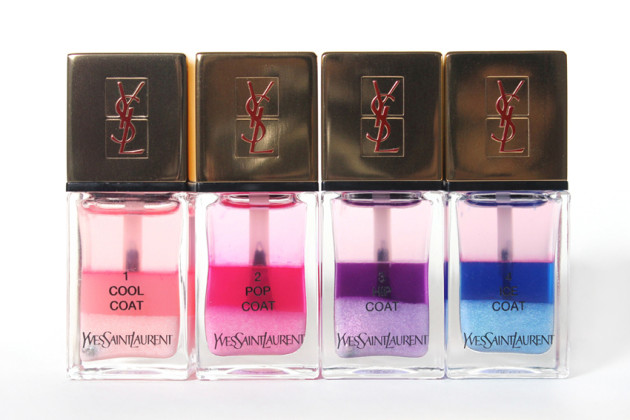 YSL Tie & Dye Pearly Coloured Top Coats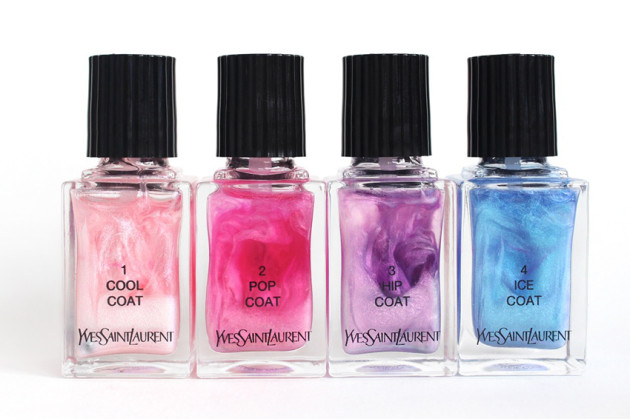 YSL Tie & Dye Top Coats (partially mixed)
A brief overview of the effects
-01 Cool Coat reads as breathtaking blue-violet duochrome over a dark polish – perhaps because I swatched it over brown? On its own, however, Cool Coat is a dense white shimmer with pink reflects. 
-02 Pop Coat creates sheer veil of warmth (red), with a small amount of pink and gold shimmer. This one made my bare nails look a bit as if they'd been dipped in beet juice, but I can see it being a good "nothing" sheen on warmer, darker skintones!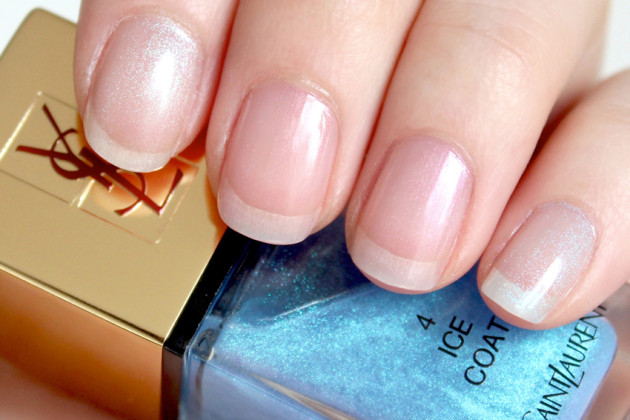 YSL La Laque Couture Tie & Dye Top Coat swatched on bare nails
L-R: 01 Cool Coat, 02 Pop Coat, 03 Hip Coat, 04 Ice Coat
-03 Hip Coat translates into a cool pink sheen on the nails; more brightening and densely shimmery than Pop Coat. (I found this to be the most brightening "natural" shade for my hands' colouring.)
-04 Ice Coat, finally, is a super-sheer blue jelly with strong blue shimmer. It's a through-and-through shimmer (not a duochrome, like Cool Coat), and I think it would be the only one I wouldn't wear on bare nails.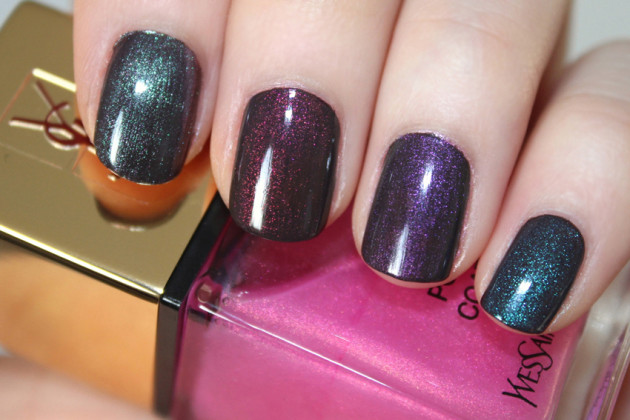 YSL Tie & Dye Top Coats 01-04 swatched overtop YSL La Laque Couture in 37 Taupe Mauresque ($25 USD), a shimmer-free brown from the Summer 2013 collection. [ flash ]
A bit more about the topcoats / I'd recommend…
These tri-phasic topcoats are made up of shimmer (on the bottom), colour (in the middle), and shine (the uppermost layer). Shaken and applied, YSL intends for them to be used layered or on their own, for a "shimmering, candy-like veil [with] sugary, ultra-glossy glitter."
These definitely do feel very "candylike," with their playful layers of pigment, high shine, and eye-catching shimmer. All four shades are unique (and brilliant), but the unexpected duochrome of 01 Cool Coat definitely made it my favourite.
For the most obvious veil of shimmer, though, I think 04 Ice Coat is your best bet, with 02 Pop Coat and 03 Hip Coat being great choices for warm red and cool fuchsia/violet effects, respectively.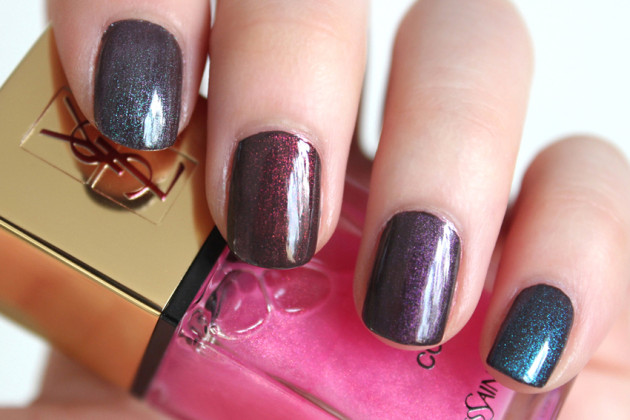 YSL Tie & Dye layered swatches, L-R: 01 Cool Coat, 02 Pop Coat, 03 Hip Coat, 04 Ice Coat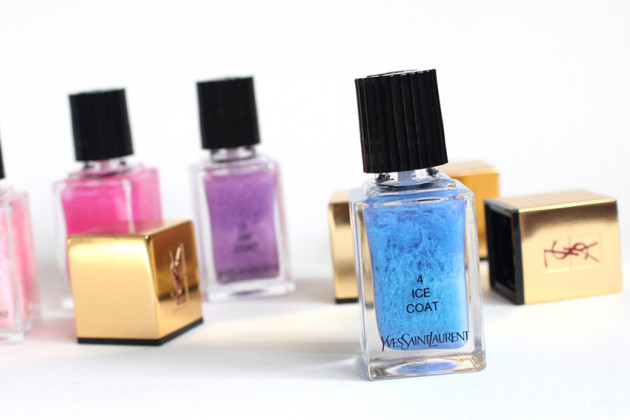 Could you settle down, please?
The three layers in the Tie and Dye polishes take a surprising amount of time to settle. After being shaken, you have plenty of time to apply your topcoat before having to shake them again — hours, in fact!
The mixture settles back into two distinct layers between breakfast and lunch, but takes longer (until the end of the day) to separate clearly into three. It doesn't really effect the formula, but I thought I'd give it a mention all the same!
The verdict?
At $25 USD/$34 CAD, these aren't quite stunning enough to be must-haves in my book — not when you could pick up a non-topcoat La Laque Couture for the same amount! (I can't shut up about how much I completely adore YSL's lacquers, in case you didn't already know.)
That said, these polishes are pretty darn cool — and completely unique. Flawlessly executed in formula, packaging, and shades, I think the Tie & Dye line are a great way to add little more depth to any nail polish without having to go really "out there."
The effects of all four four Tie & Dye Top Coats are definitely dupeable, but the novelty… not so much!
Availability: $25 USD/$34 CAD this May at Holt Renfrew, as well as select Bay, Murale, and Sephora stores.
The ingredients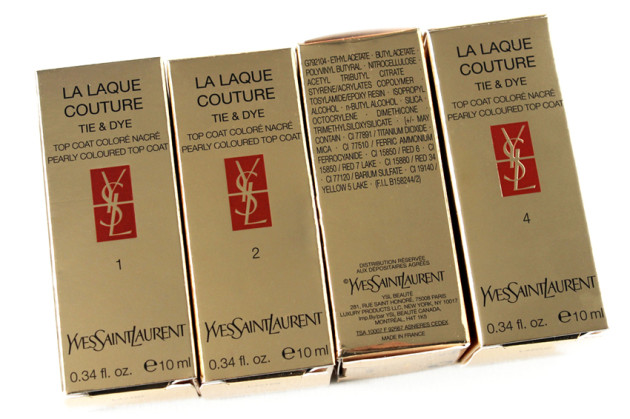 Two last photos…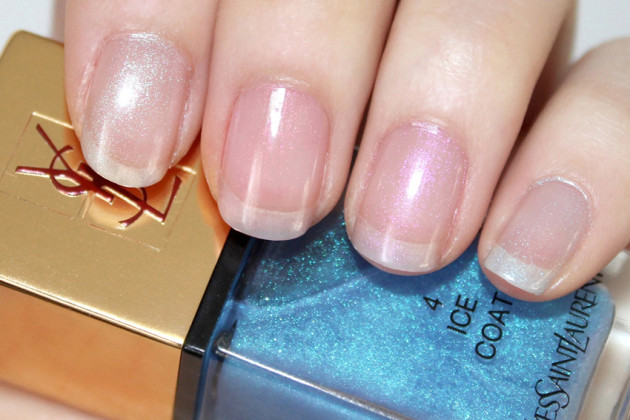 L-R: 01 Cool Coat, 02 Pop Coat, 03 Hip Coat, 04 Ice Coat. Two coats on bare nails with no top or base coat. [ flash ]
(Look at that colour shift in 01 Cool Coat!)