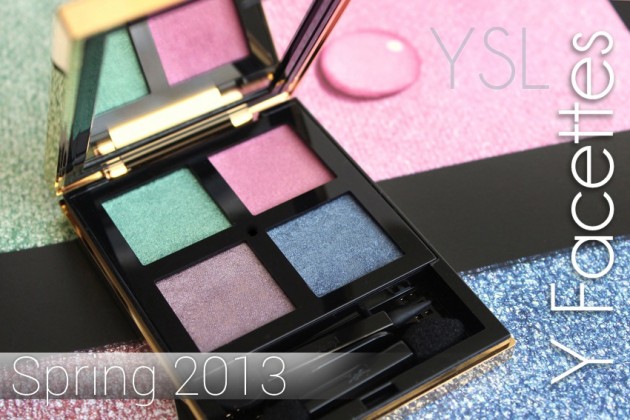 The product: Yves Saint Laurent Y Facettes Palette (Spring 2013) / Pure Chromatics Wet & Dry Eyeshadow Palette in N0.14
Every release has that one product that really makes the collection, whether or not it was intended to — Clarins' face palettes tend to steal the show, for instance, and the same goes for shu's eye palettes.
In YSL's Spring 2013 Arty Stone collection, that product is their Y Facettes Palette, a limited-edition packaging of their Pure Chromatics Wet & Dry Eyeshadow Palette in No. 14.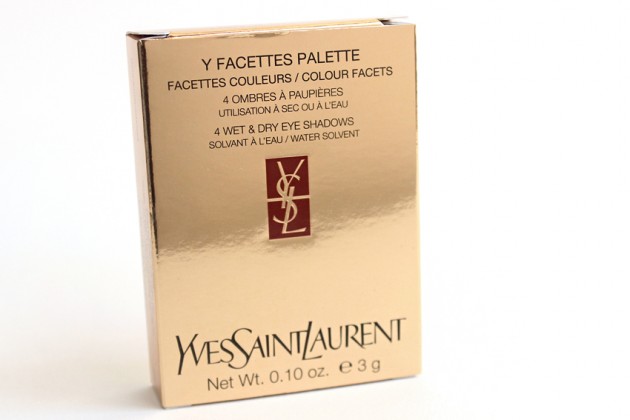 The formula & pigmentation
"The new Pure Chromatics harmony, in its jewel box of fine Y facets, shimmering like the reflections of a thousand sequins, captures the same intensity of light diffused in the prisms of precious gems."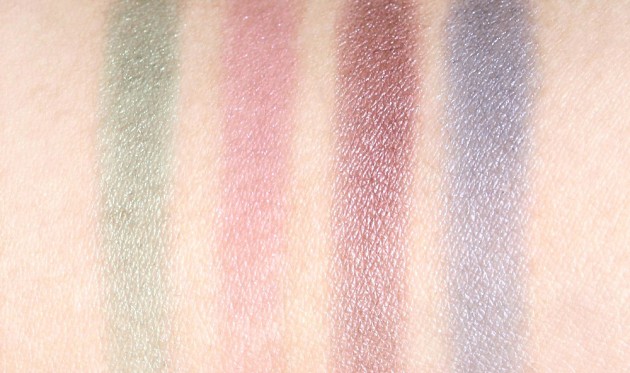 YSL Y Facettes, swatched dry on primed skin
YSL's description of their Pure Chromatics ("a concentration of nacres and pigments much higher than traditional shadows,") leads you to believe they'll be densely pigmented, but I just couldn't get as much colour out of these as I had expected to be able to without foiling.
Dry on unprimed skin, they're barely whispers of colour; dry on primed skin, they're medium-sheer and very shimmery. Foiled, they're much more intense, with just the right amount of pigment for the shimmer.
Had they not been described as such, however, I would have been quite happy with their level of pigmentation. While not breathtakingly intense, it works wonderfully with the aesthetic of the palette, translating onto the eyes with plenty of colour without taking away from the highly faceted finish.

Point-extracted colour samples from the swatch photos: as "real" as you can get!
The shades
Every time I swatch this palette, I love it a little more: the shades, like a handful of sugar-coated pastels, all grown up, aren't ones that I would normally drift toward…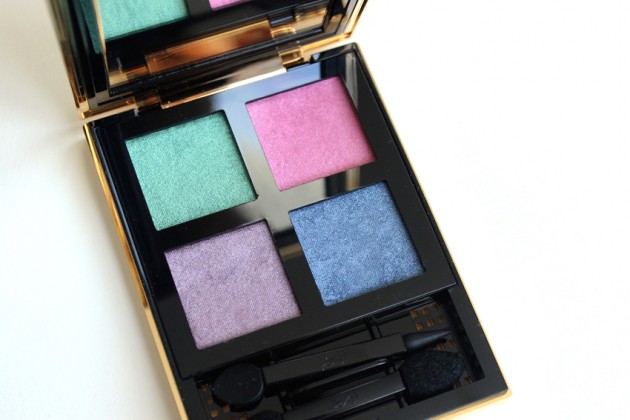 Somehow, though, that doesn't make me like them any less.
These shadows were inspired by malachite ("an intense, profound green,") fluorite ("a powdery, iridescent rose,") amethyst ("a fresh, smoky violet,") and azurite ("a metallic, lustrous blue.")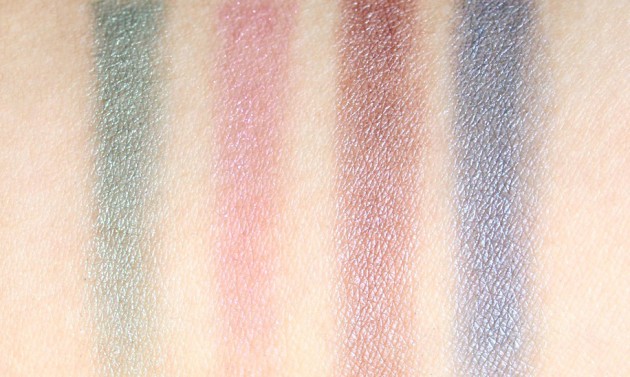 YSL Y Facettes / Pure Chromatics No. 14 Eyeshadow Palette, swatched wet
A description of each, labelled under its muse:
Malachite:

a very "fresh" green; sheer pigment with a heaping of finely-milled on-colour and slightly-brighter-green microshimmer.
Fluorite: the most sheer of the four, this pink base is almost translucent — but the microshimmer and on-tone shards flash brightly, keeping it far from unnoticeable.
Amethyst: the most pigmented, this smokey violet is my favourite of the bunch, and has a frost finish (shimmery pigments so small and uniform that none of them flash out separately).
Azurite: "standard" shimmery medium blue with silvery-blue microshimmer. This one would be boring on its own, but is the perfect compliment to the rest of the palette.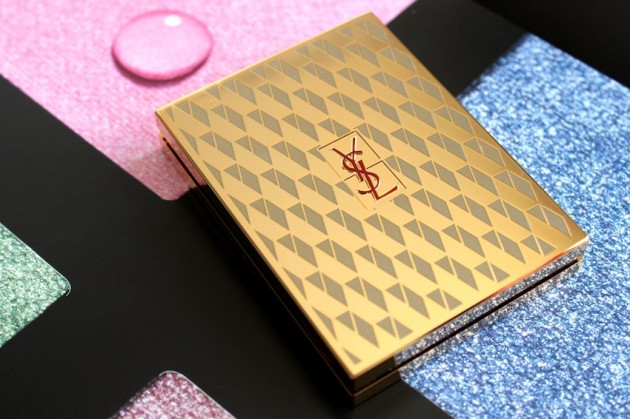 The verdict?
At $55 USD, I would absolutely recommend this palette — I didn't like it at first, but by the time I had used it for a few looks, I was crazy about it. My sister, who on sight told me she thought it was horrendous, had the same reaction: one super-easy eye look and she was head over heels.
For those of you who aren't quite sold (after all, $74 CAD is hard to swallow), stay tuned and keep an open mind, okay? I have a look coming up on Monday showcasing this palette, and I think you might be surprised.  
(If you can't wait… here's a preview. Follow here to stay up to date with previews, etc. on Instagram!)
The ingredients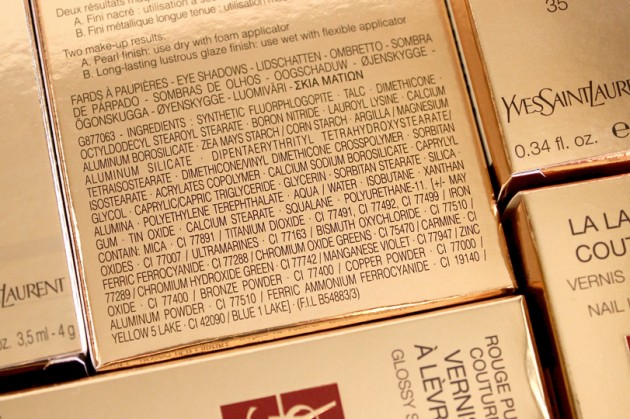 The packaging & applicators 
Shiny gold with a faceted face (the front of the palette features a slightly-inset frosted print of triangles and diamonds), what I was really taken aback by with this palette was the applicators, not the shadows.
One of the applicators is your typical sponge-tip; boring. The other, however, is something I've never seen before: instead of being made from foam, the flat paddle and conical point are made from a flexible, rubbery material — perfect for putting down intense, precise pigment.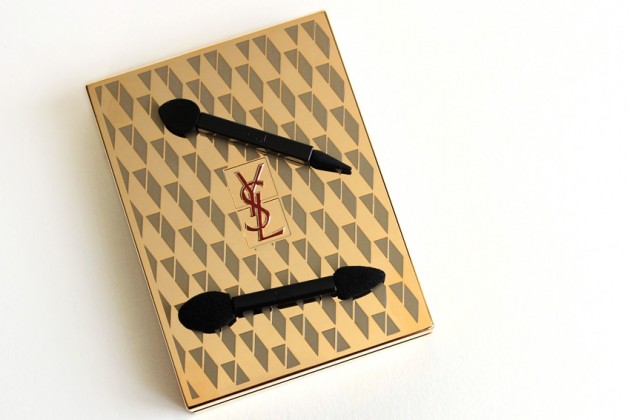 A few more photos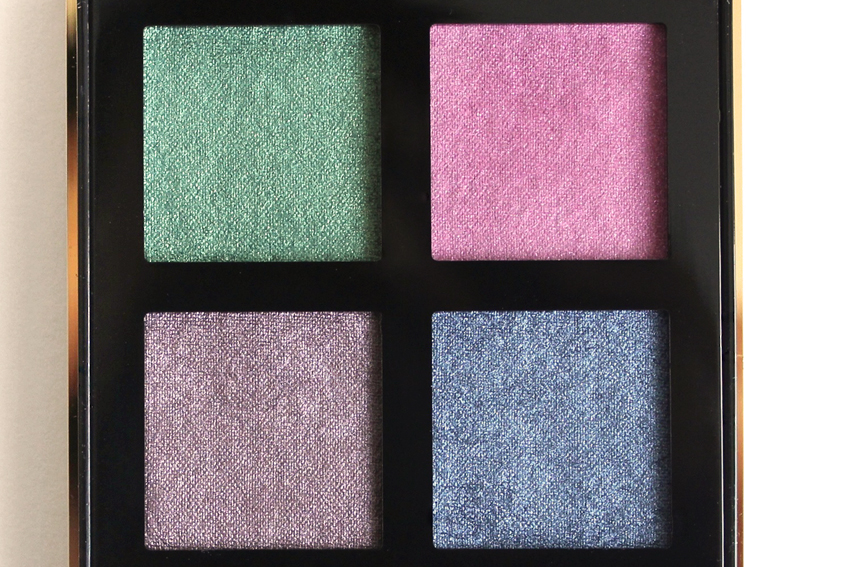 YSL Pure Chromatics 4 Wet & Dry Eyeshadows in No. 14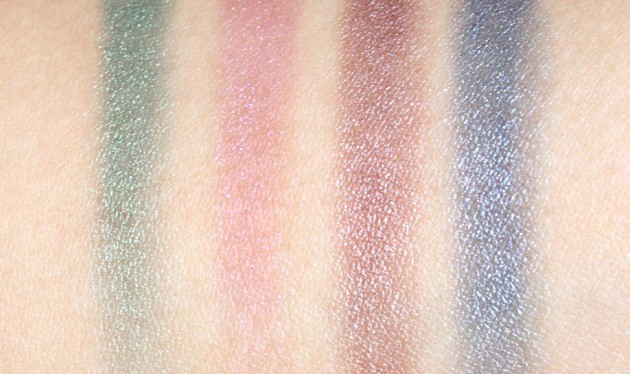 YSL Pure Chromatics No. 14/Y Facettes Palette, foiled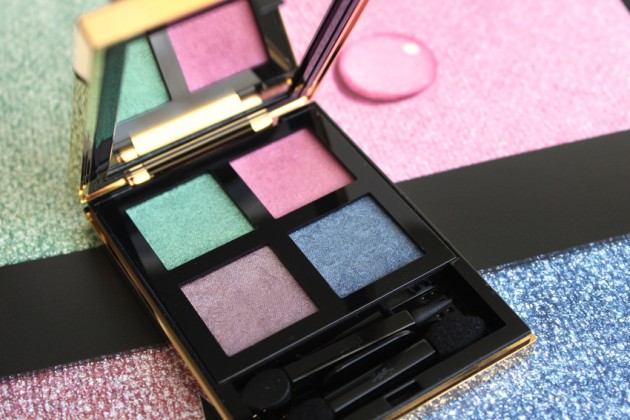 YSL Pure Chromatics No. 14/Y Facettes (Arty Stone, Spring 2013)