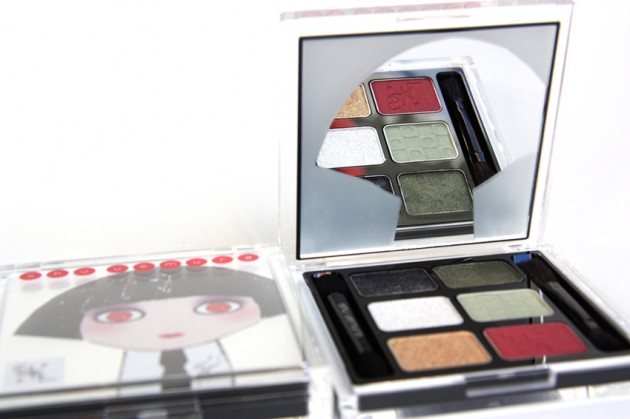 The product: Karl Lagerfeld for Shu Uemura Eye & Cheek Palette in Smoky Velvet
And here's the holiday aspect of the Karl for Shu collection, I suppose! The Smoky Velvet Eye & Cheek Palette doesn't feel too Christmasy on first glance, but if you look at the shades, we're actually working with black, white, green, red, and gold — all very Holiday-typical colour families, but in less typical hues. 
This palette contains the same texture breakdown as in the Prestigious Bordeaux palette (review here.)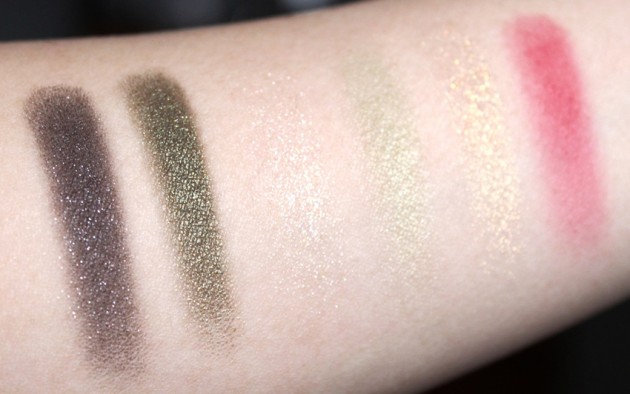 Shu Uemura Smoky Velvet swatches, dry on primed skin. Indirect sunlight; click to enlarge.
The shade breakdown for this one: 
Glitter black (top left; silk smooth) – a shimmery black (medium pigmentation and good texture; sheers easily for less intensity) shot with plenty of silver sparkle.
Deep khaki (top right; silk smooth) – a dark, frosty olive green with gold shimmer.
Light silver (middle left; glitter) – by far my favourite shade from the two Karl for Shu palettes! The shimmer in this is absolutely gorgeous — white/silver shards paired with mulitcoloured reflects. When I described the Shu glitters as "mesmerizing," this is the one I had in mind.
Mint green (middle right; frost) – a smooth, light green with yellow undertones. This shadow has the same (lovely) texture as the light brown in the Prestigious Bordeaux palette, but is a bit more sheer.
Glitter beige (bottom left; glitter) – gold microshimmer in a base of shimmery gold pigment… with a few gold-green reflects. A lot of gold in this one!
Dusty rose (bottom right; blush) – a blue-red blush that sheers out well. Satin finish with additional gold microshimmer.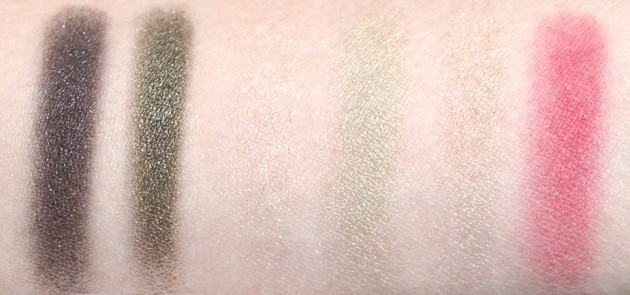 Karl for Shu Smoky Velvet Eye & Cheek Palette swatches
A glittery love letter
A simple photograph can't possibly give you the full effect of Shu's gorgeous glitters, but an eye swatch is at the very least a bit better than an arm swatch, right?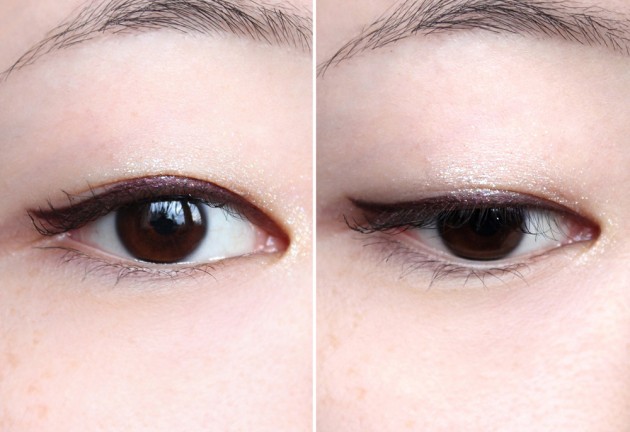 Here's a quick look with the Smoky Velvet white/clear shade on bare lids, with a flick of Blackish Satin Purple along the lashline. The way it moves (particularly under artificial light) is absoulutely divine — it's like the shimmer is a technicolour motion picture film, but you've been looking at sepia stop-motion all your life.
See an up-close shot behind the cut to get a really good look at the shimmer. (I know some people can be squeamish about macro lid photographs, so consider yourself warned!)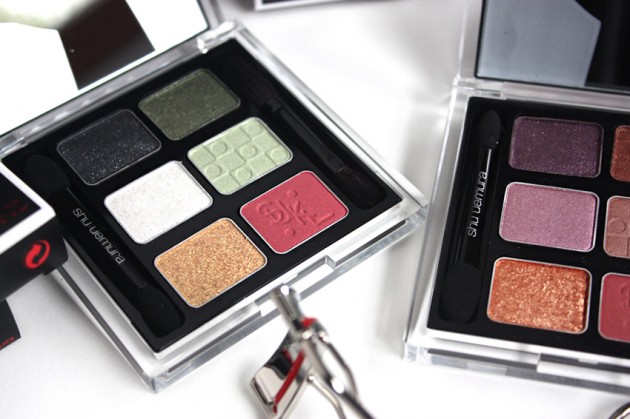 The verdict?
Again, at $65 USD/$85 CAD, this is a bit of a stretch for most wallets — but there aren't any "flops" in this palette either, and they're a step above most holiday textures.
I love, love, love the silver shimmer in this palette, but I do think I could live without it overall. Smoky Velvets is a less wearable palette than Prestigious Bordeaux, and at the price, I think a few of the gorgeous Rouge Unlimited lipsticks in this collection (review upcoming) would be a better buy.
Availability: online at Shu Uemura; in stores at Holt Renfrew in Canada.
Please note, there are two versions of this palette! Depending on your country, the Smoky Velvet palette may contain a light silver-grey in place of the white/silver, a mint green instead of a light grassy green, and a champagne-gold glitter instead of a yellow-gold glitter. See swatches of the alternate version on Beautezine and Beauty by poc.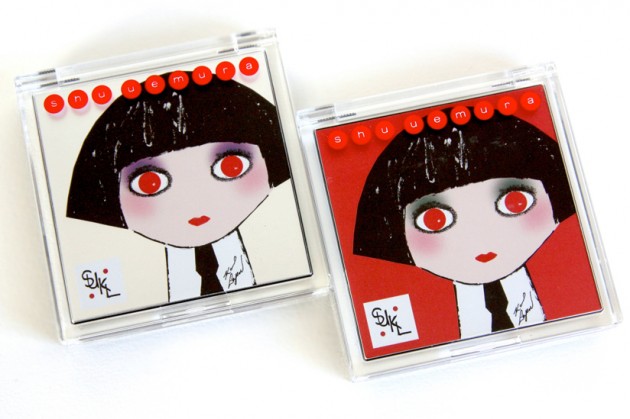 —
Comparison swatches
On left, the dark olive (top right) shade from Smoky Velvet swatched against MAC Humid (Frost). The MAC texture is more typical, but the Shu is smoother and more "velvety." I think they could easily be interchanged in an eye look, but of course, the Shu Uemura version is much more interesting!
On right, the red blush from Smoky Velvet swatched against the red blush from Prestigious Bordeaux. This one is brighter and more blue, making it suited toward cooler skintones. Both will wear well on a variety of skintone levels, sheering out easily for paler complexions & layering well for darker ones.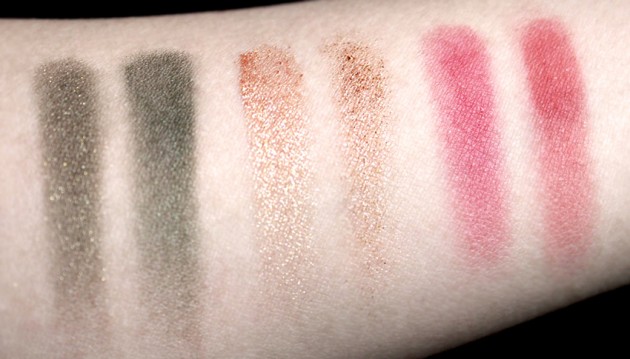 Swatched L-R: Deep khaki from Smoky Velvet against MAC Humid / golds / Glow-On Blush from Smoky Velvet, Prestigious Bordeaux.
A very Shu shimmer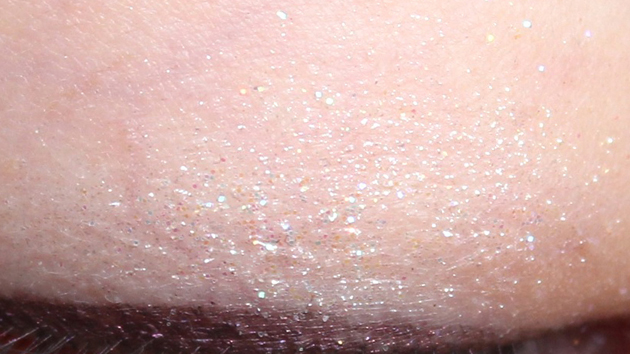 The clear/white/silver Smoky Velvet shade
Pans, boxes, and ingredients…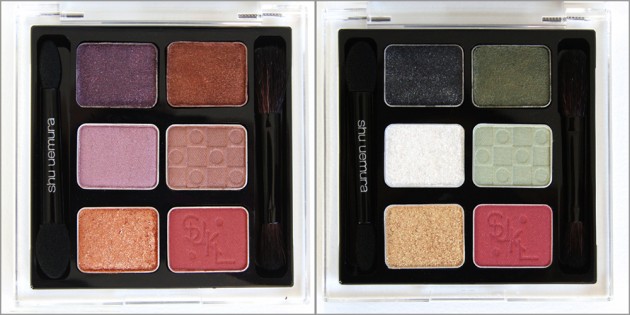 Shu Uemura Smoky Velvet palette, on right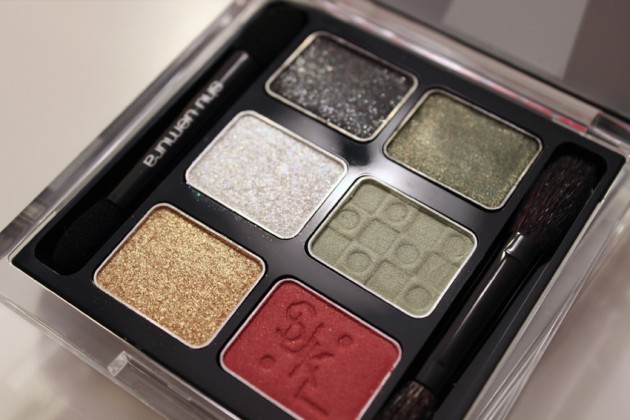 Under artificial lighting, after being swatched. (A good representation of the textures!)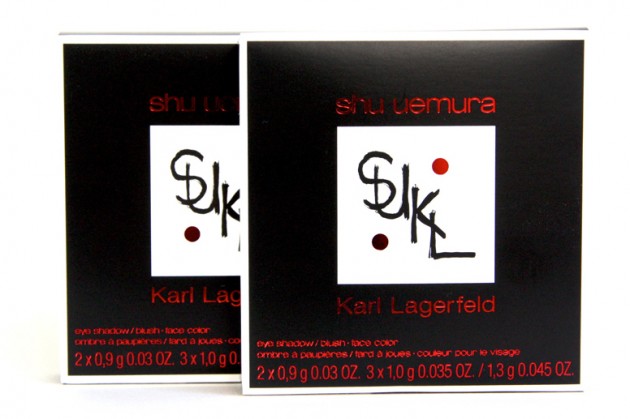 Karl x Shu packaging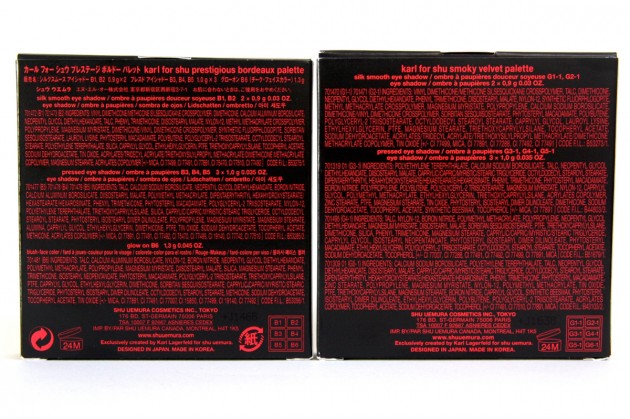 Karl for Shu Smoky Velvet Eye & Cheek Palette – ingredients (right)