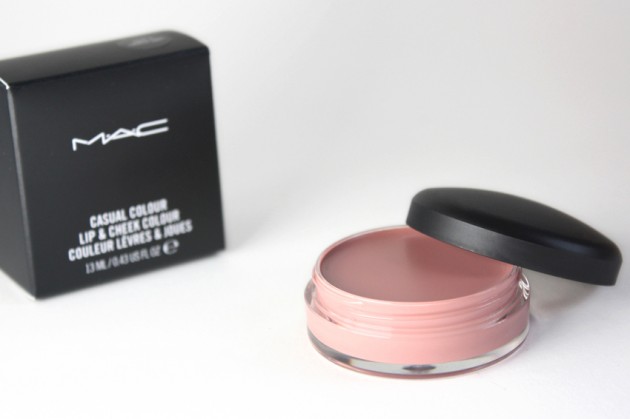 The product: MAC Casual Colour Lip & Cheek Colour in Have a Lovely Day! 
This month's Lipstick Bandit collaboration focuses on the perfect nude lip, and despite its limited edition nature, I had to go with MAC's Have a Lovely Day! Lip & Cheek Colour.
Though I've been really unimpressed with a lot of MAC's recent launches, the Casual Colour collection is one that I really wouldn't mind seeing again. I just have the one, but it's a lovely formula (and a really, really lovely shade.)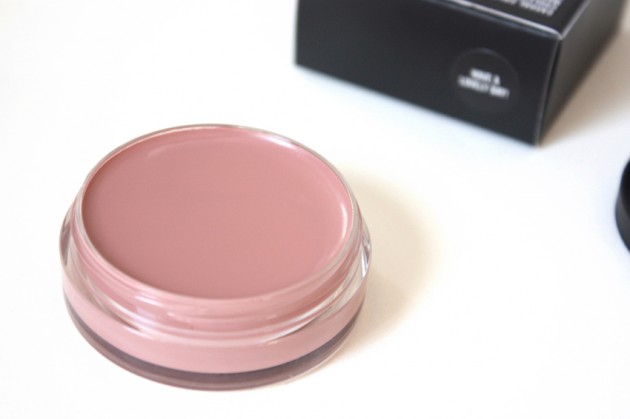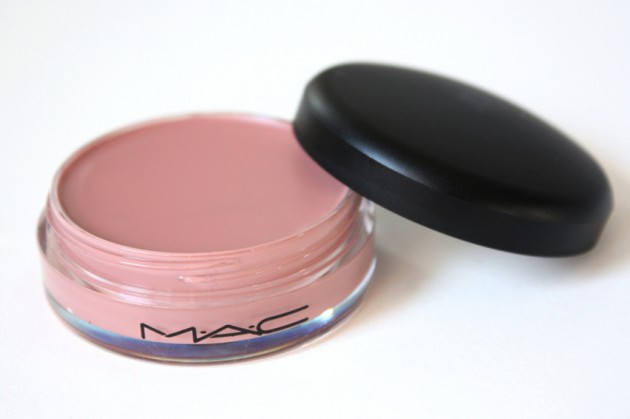 The formula: The Lip & Cheek Colour formula was thicker than I had expected, but (thankfully), in a good way! It reminds me of a long-lasting lip balm; creamy and heavy with a satin-matte finish — which is exactly how I like my products, thank you very much.
(Okay, possibly a bit less heavy, but I'll deal with a bit of weight if it means we can finally, finally have something pretty that isn't vinyl-shiny or overly-matte.)
With sheer-to-medium buildable coverage, MAC's classic vanilla scent, and a formula that actually works with dry lips, I'm quite impressed with my Casual Colour pot. It does slide around a bit if you really pile it on (though what doesn't slide around if you pile a ton of it on?), but unlike a lot of nudes–and even quite a few darker shades, on my lips,–it doesn't settle into lip creases or catch on dry bits.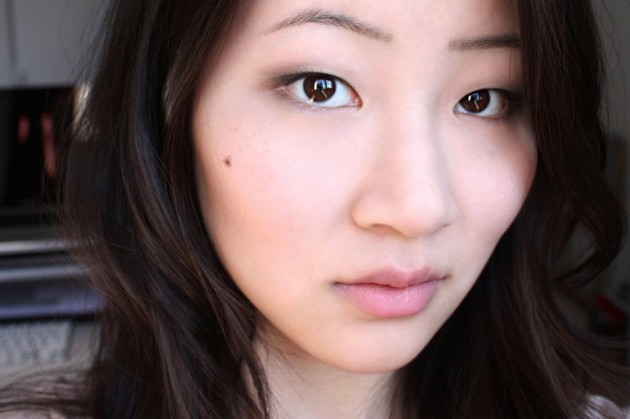 The shade: I honestly cannot say enough good things about this shade. It's so hard to find the right nude for your skintone, especially when your skintone is a weird mix of super pale, strangely pink, and surprisingly green — but this one works beautifully.
Pink with a bit of red, yellow, and grey worked into the shade, Have a Lovely Day! is just as lovely as one could hope. It tones down my lip colour without washing it out; muting it and taking it ever so slightly more pale while still creating a very wearable, natural lip.
I like to think of it as an "invisible pink" for fair skintones — light and desaturated enough that the eye doesn't catch on it, but just pink enough that it doesn't attract even more attention, as many milky pinks and chalky nudes may do.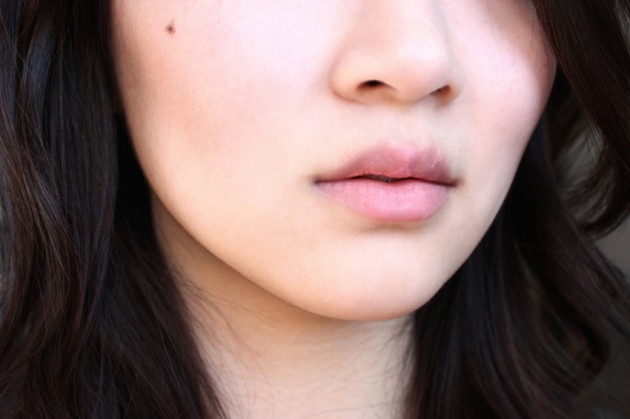 On the cheeks: I wanted to focus on this as a lip product (because, erm, Lipstick Bandits,) but it's a lovely shade for the cheeks, too. I like to use it as a subtle, mauvey nude blush — think Tarte Amazonian Clay Blush in Exposed, but for paler, cooler skintones. It's a bit on the heavy side, but creates an absolutely seamless contoured cheek once blended in, with a cream finish and just enough colour to serve both as blush and contour in a pinch.
Apply with fingers and give it a minute to set, and you should be good to go. I don't love this on my cheeks, but I do like it. It doesn't pack quite as much of a punch as my favourite cheek shades, but then, none of them would be even half-passable as nude lipsticks, so I find it hard to count that as any sort of failing on the Casual Colour's part.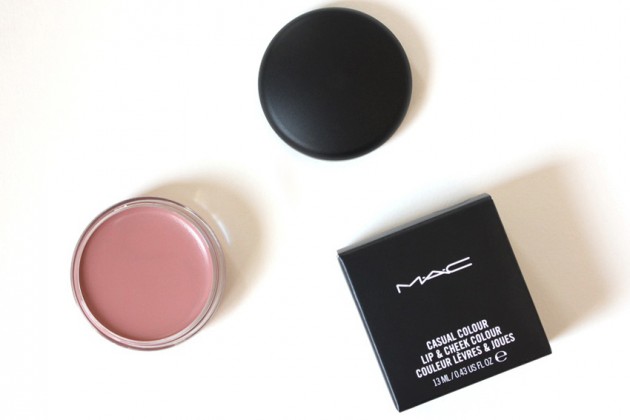 The verdict?
I know it's a bit cruel to give a shining commendation to a limited edition product, but hark! Not all hope is lost, right? The US MAC site still has Relaxation and Out for Fun, and the Canadian one has Evening Stroll and Keep It Casual.
Seriously, though. $20 USD / $24 CAD, the size of a Tinted Lip Conditioner (12ml/0.43oz), and perfect both in texture and in colour? Count me in.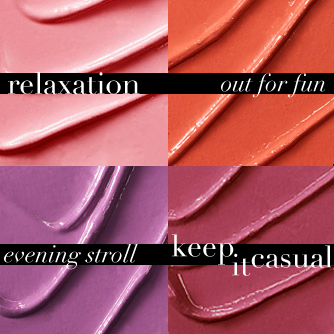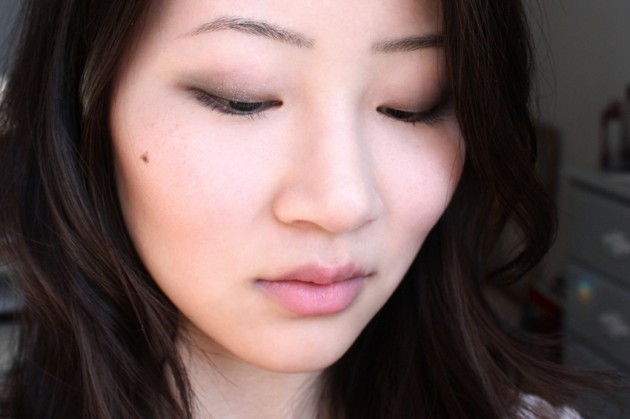 Wearing MAC Have a Lovely Day! (on lips) and Clarins Graphites Eye Quartet (on lids).
See the other Lipstick Bandits' picks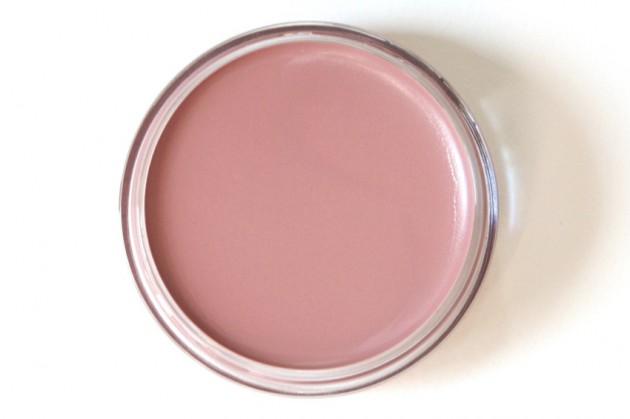 MAC Have a Lovely Day! Casual Colour Lip & Cheek Colour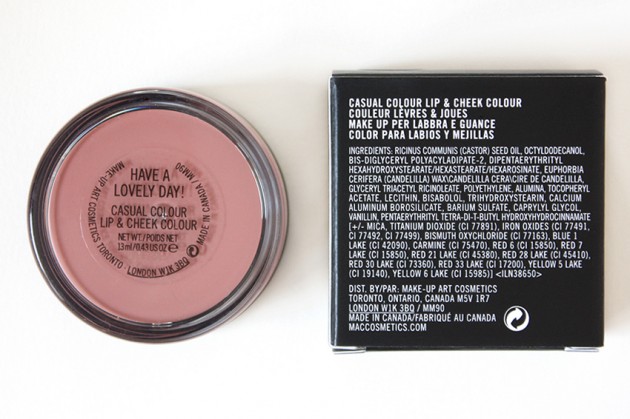 MAC Have a Lovely Day! Casual Colour Lip & Cheek Colour ingredients