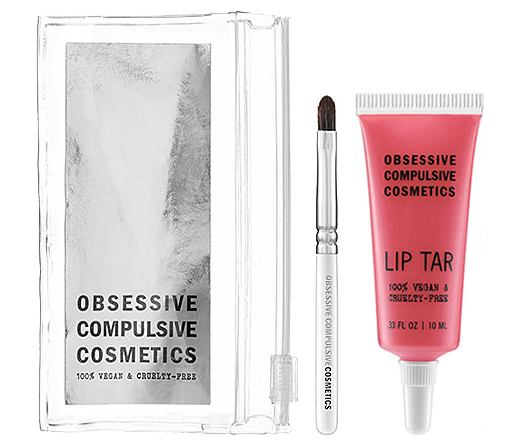 Obsessive Compulsive Cosmetics' infamous Lip Tars have launched at Sephora, so I thought I'd dedicate a post to them. The Lip Tars retail for $16 USD/$19 CAD, and come with a Short-Handled Precision Lip Brush for precise, opaque coverage.
(In case you've been living under a rock: the OCC Lip Tars are essentially super-pigmented lipstick-gloss hybrids, made to be mixed and blended to your heart's content. They go on like a gloss but dry down to a satin finish, and work best when applied sparingly.)
Not all Sephora stores will be carrying the line, but all of the shades are available online here at Sephora.com.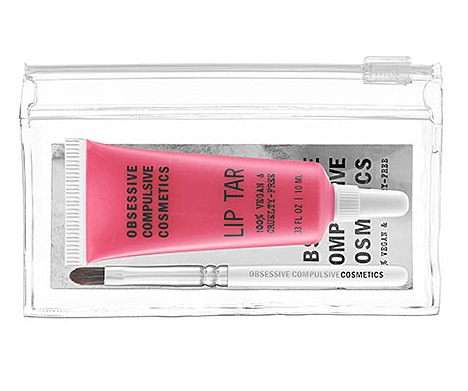 Americans, use code TRY6 with any $25+ purchase for six free deluxe skincare samples, or CANDY for a deluxe-sized sample of Prada Candy (one of my top picks for a light autumnal fragrance.)
Canadians, use STILABB with any $35+ purchase for a free deluxe sample of Stila's new BB cream, EXTEND for a deluxe sample of Living Proof Prime Style Extender, or WOW for a free Benefit Hello Flawless! Oxygen Wow sample (choose from 9 shades).
You're welcome. *takes a bow*
One of these days, I'm going to figure out how to put together posts like this without taking hours. It's not like you can eyeball all of these images; no one's that exact! (Not even I Especially not I.)
But, without further adieu, images of the entire OCC Lip Tar range, painstakingly sorted by shade.
The full OCC Lip Tar range

OCC Lip Tars, L-R: Interlace, Hush, Femme, Divine, Trollop

OCC Lip Tars, L-R: Digitalis, Ophelia, Narcissus, Pageant, Lydia

OCC Lip Tars, L-R: Pretty Boy, Demure, Anime, Hoochie, Belladonna

OCC Lip Tars, L-R: Queen, Harlot, NSFW, Stalker, Strumpet

OCC Lip Tars, L-R: Cha Cha, Beta, Grandma, Radiate, Psycho

OCC Lip Tars, L-R: Trick, Pennyroyal, Melange, Kava Kava, Vintage

OCC Lip Tars, L-R: Memento, Marion, Starling, Sybil, Black Dahlia
OCC Lip Tars, L-R: Clear, Traffic, RX, Tarred, Feathered
OCC Lip Tar ingredients: 
Ricinus Communis (Castor) Seed Oil, Cannabis Sativa (Hemp) Oil, Mentha X Peprita (Peppermint) Oil, Tocopherol Acetate (Vitamin E), Stearalkonium Hectorite, Propylene Carbonate.
+/- Silica Dimethyl Silylate, D&C Red #6, D&C Red #7, D&C Red #27, D&C Red #30, FD&C Blue #1, FD&C Yellow #5, FD&C Yellow #6, Iron Oxides, Titanium Dioxide, Mica.