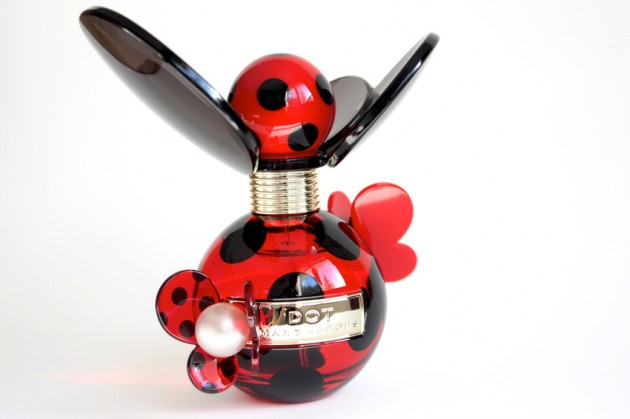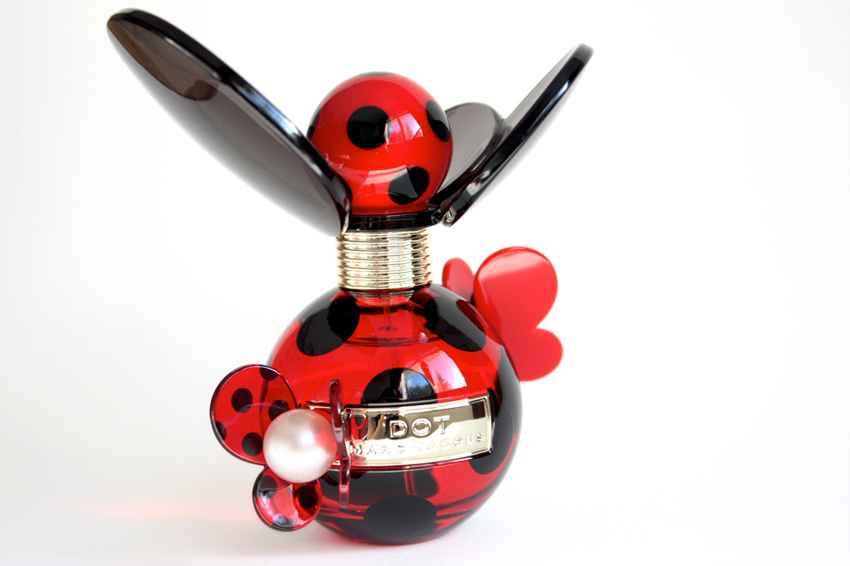 The product: Marc Jacobs Dot Eau de Parfum (50 ml/1.7 fl oz spray)
The idea: Described as a lush, effervescent floral, Dot is made for the "eclectic, spontaneous female." (I'm not making this stuff up, folks.) As part of the Marc Jacobs fragrance family along Daisy and Lola, the scent is as bold and girly as you'd expect from the bottle — which could be very good or very bad; it all depends on what angle you're coming at this from!
Created by perfumer Annie Buzantian (the nose behind this year's new Marchesa Parfum d'Extase launch, as well), I see Dot as Daisy's younger, less-subtle sister; a starter fragrance for someone who knows better than to take things too seriously.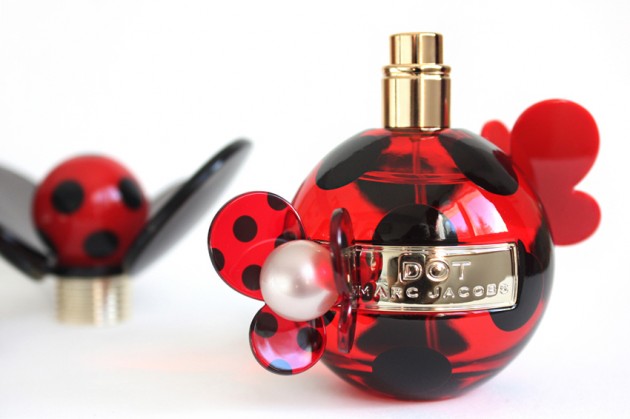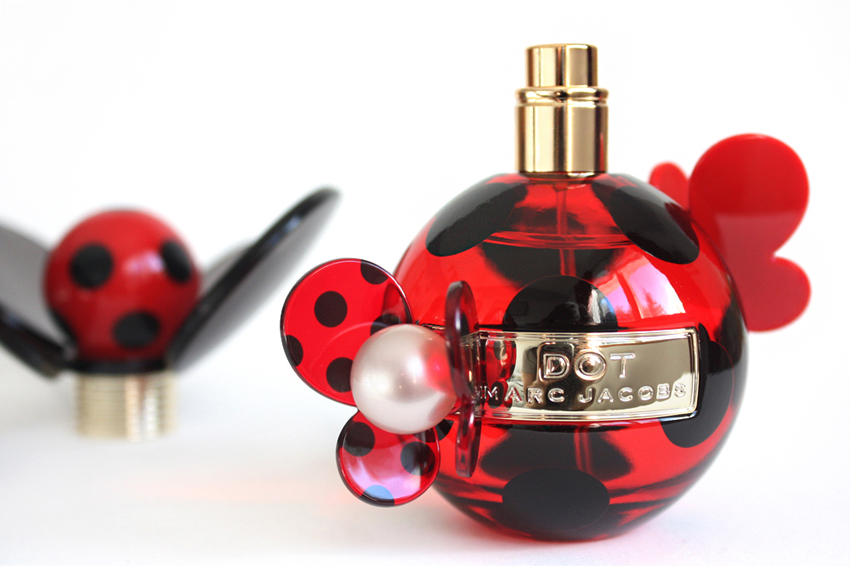 The bottle: The Marc Jacobs camp is running around calling their enormous lids a "chic play of proportions," but honestly, I think this one's a bit too large. Oversized lids seem to be "in" for fragrances targeted at a younger audience, though–perhaps in part due to Marc Jacobs' own Lola bottle,– but it's still rather ungainly to have a lid that's larger even than the bottle itself.
Inspired by Marc's love for the iconic polka dot and designed by/with Sayuri Shoji, the bottle is designed to be eye-catching and cheerful, conveying an "animated pop of energy, charm, and spirit." It is, strangely enough, very much a right hand scent — which isn't a negative, but it's rather amusing!
(The polka-dot-butterfly-pearl placement means you really can't fit this one into your left hand, though I'd love to see you try.)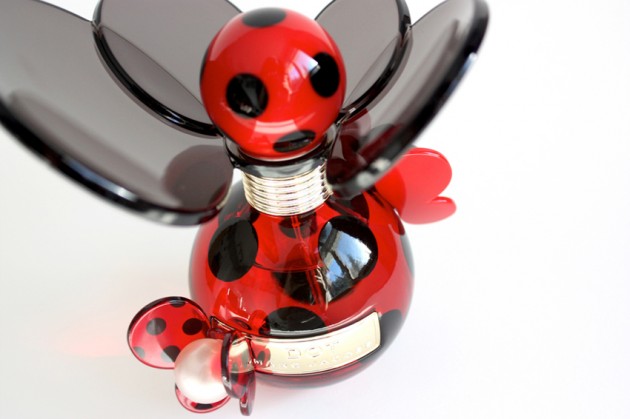 The notes: With top notes of red berries, dragon fruit, and honeysuckle, Dot is initially a sweet burst of fruity berries. From there, heart notes of jasmine, coconut water, and orange blossom have been worked into the formula, and finally, there's an underlying base of  vanilla, driftwood, and musk.
All in all, it makes for a fairly unadventurous (and very sweet) fragrance, but while it's not my kind of scent, I can see it selling quite well to the general population. It certainly does smell tasty; I'll give it that!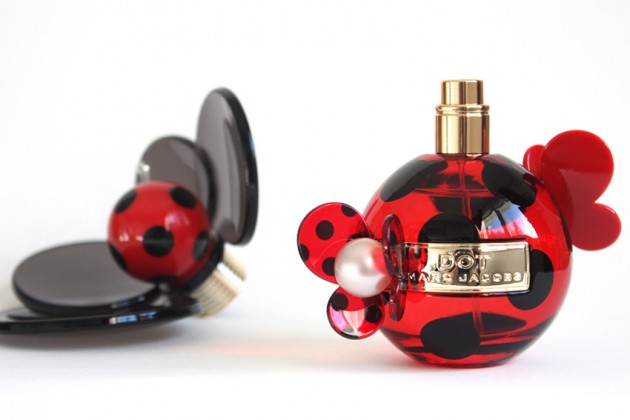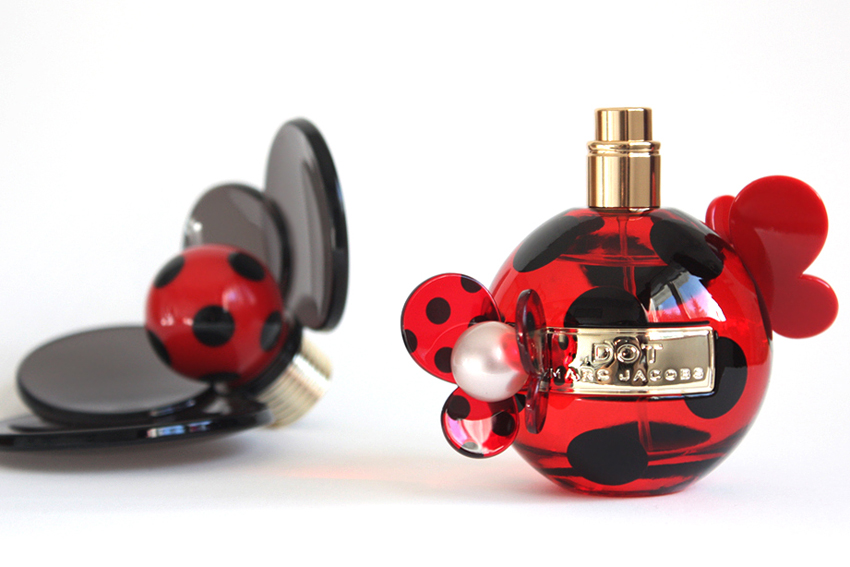 The scent: Dot starts off quite fresh; light and almost watery — effervescent indeed. Within a minute, the weightless top notes evaporate away, and the scent becomes more fruity; heavier and sweeter.
As it dries down, Dot becomes warmer and more mellowed-out, sitting closer to the skin with time. Its initial throw (sillage) is quite strong, and tapers off for the first hour or so before hitting a plateau. While it's a fragrance that's much too syrupy-sweet for my preferences, I'll admit that part's interesting: when I smell it from an arm's length away, it's bubblier and lighter than it is if I put my nose right to my skin, where it's a bit more of a candied floral.
Overall, the scent is what I had expected: fruity with strong synthetic berry notes and no discernable specifics, with more initial sillage than I'd like (but which minimizes with time.) I think this would have been much more interesting with a floral tucked in there somewhere, perhaps magnolia or a more distinctive jasmine, and it definitely could have benefited from a longer wear time — it's almost completely gone by the four or five hour mark, which is distinctly sub-par.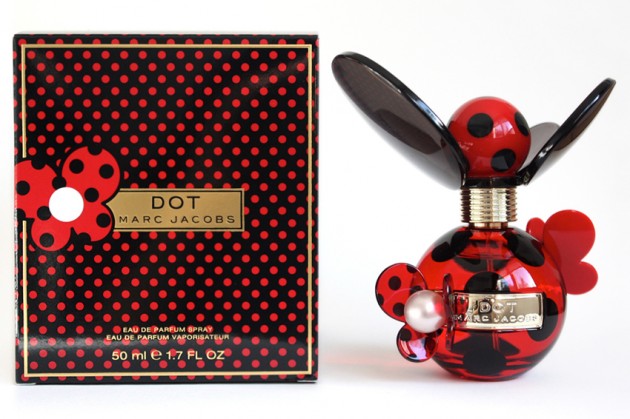 The bottom line
Inoffensive and fresh, if overly sweet, Dot has a very generic feel to it — good as a starter perfume for your preteen niece, for instance, but too syrupy and cookie-cutter for a more discerning nose. I think it's exactly what I think it was intended to be, and I'd pick it over the Paris Hiltons and Britney Spearses of the perfume world, but I wouldn't wear this one out of the house.
(Or inside it, for that matter.)
Availability:
Find it at Nordstrom, Sephora, Shopper's Drug Mart, The Bay, & etc.
Starts at $69 USD/$79 CAD for 1.7 fl oz — did you know that Nordstrom uses US prices converted to CAD a lot of the time, instead of Canadian prices? (As of 18/09, Dot is just $69.68 CAD at Nordies, rather than $79.)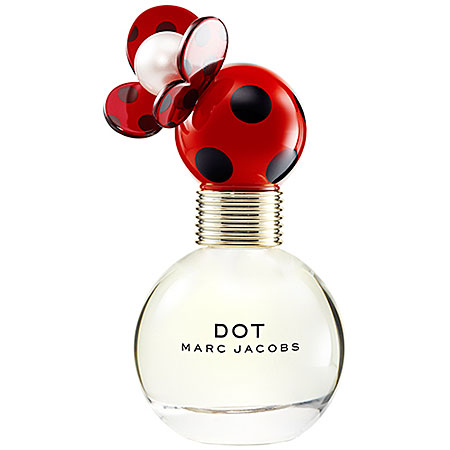 30 ml bottle, Sephora. $48 USD/CAD. (Is it wrong that I like the 1 oz bottle much, much more?)