Despite the rather unfortunate wear time, I'm still a bit head over heels for the gorgeous intensity of the new Clinique Quickliner for Eyes Intense eye pencils. Here are eye swatches and descriptions of Intense Charcoal and Ivy; for Intense Black and Plum, please visit this post instead!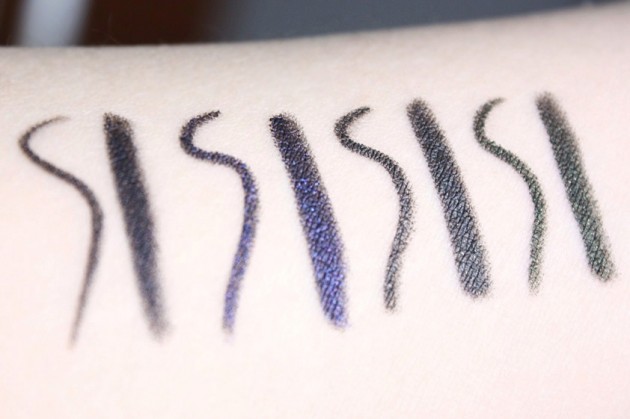 Swatched L-R: Clinique Quickliner for Eyes Intense in Intense Black, Violet, Charcoal, and Ivy.
Intense Charcoal
Used also in this week's ethereal blue Clarins Colour Breeze makeup look, Intense Charcoal is a dark, gunmetal grey with silver and gold microshimmer. While definitely still dark enough to bring a bit of depth to the lashline, it's a good deal less sharp than a straight-up black, and it isn't as obvious as a soft navy – a good choice for a softer, more romantic eye look.
I have absolutely no idea what else I used in these photos, but I believe a I had outlined a similar eye look to go with the Intense Plum swatch (in part 2 of the review.) Apologies in advance! I rather wish I could remember what I had used on the outer half of the lid, though; I'm rather fond of how it captured on film.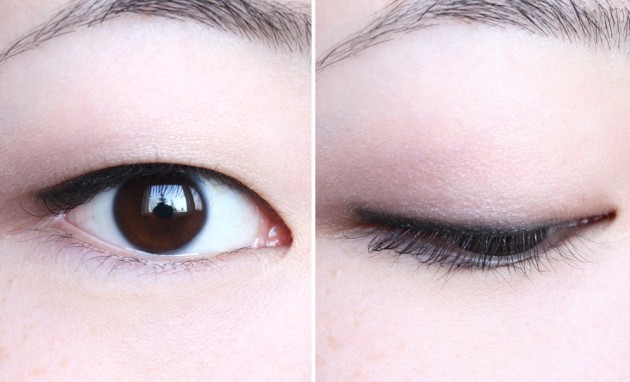 Clinique Quickliner for Eyes Intense in Intense Charcoal lid swatches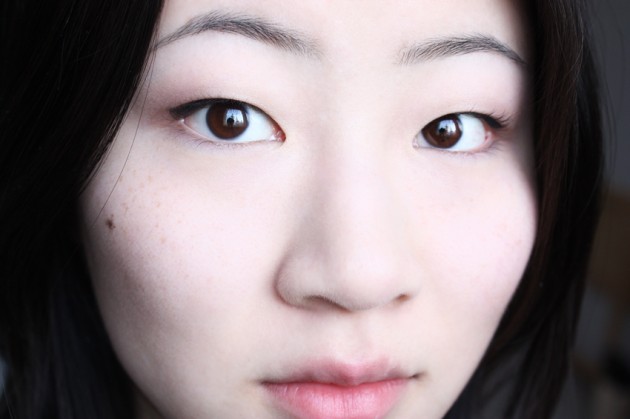 Wearing Clinique Intense Charcoal
Intense Ivy
My current favourite of the range, Intense Ivy is a gorgeous gold-flecked green – darker than olive drab but lighter and more yellow than hunter green. "Ivy" is a fantastic description of the dark olive shade, with its intense pigmentation and yellow tones; it's a very earthy green, with a rustic feel rather than a synthesized one.
I can see this working on all skintones, but I think it would be particularly gorgeous on olive complexions.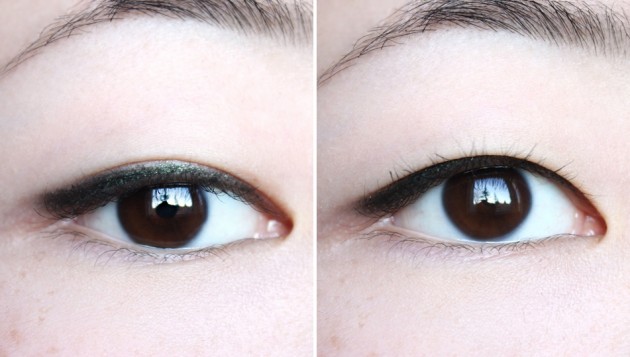 Clinique Quickliner for Eyes in Intense Ivy lid swatches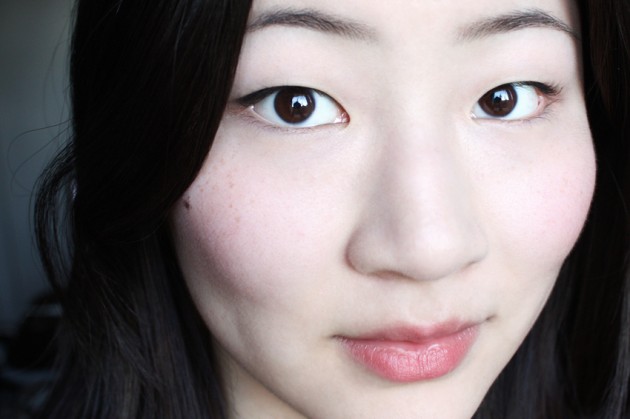 Wearing Clinique Intense Ivy
–
I believe that's all for the Quickliner for Eyes Intense pencils on theNotice, folks. Hope you enjoyed the coverage! I do plan on doing a comparison with the Quickliner for Eyes (original) range sometime in the near future, though, so keep your eyes peeled for that if you're interested.
(And, I suppose: don't hesitate to give me a sharp jab in the side in a month or so if I seem to have forgotten. Because if that's the case, I probably have.)