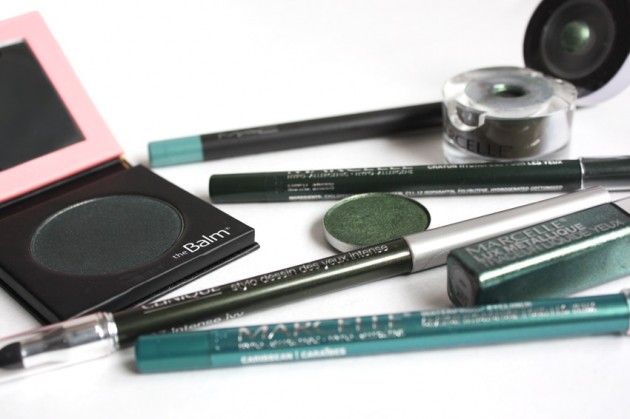 So, I was going to do another colour post for today – in green, of course. But while I was swatching the eyeliners I'd picked out, I came to the (rather startling) realization that they were more or less two sets of almost-perfect green eyeliner dupes.
And this, of course, absolutely begged to be covered.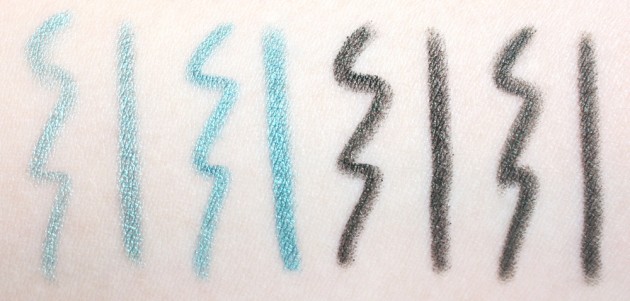 L-R: MAC So There Jade, Marcelle Caribbean, Clinique Intense Ivy, Marcelle Metal Green.
(Click to enlarge!)
On the left, we have MAC's Powerpoint Eye Pencil in So There Jade and Marcelle's Waterproof Eye Crayon in Caribbean, two iridescent aqua-green longwearing waterproof liners. MAC describes So There Jade as a "light green jade," but I call bullshit – I'd say it's more of a metallic seafoam green than "jade," and I've been to China.
(See, that's funny, because jade is "the" Chinese stone, but you don't actually have to be Chinese to recognize that Jade is typically, well, green, with perhaps a bit of blue.)
(… and now we're making tongue-in-cheek jibes at hipster racism and the fact that it is WRONG, ANDERSON, WRONG! at ten o'clock at night. Sherlock references and passive-aggression at the beauty industry over sexism, racism, and orientalism: just a regular Saturday at theNotice.)
But, back on topic. Caribbean is So There Jade's prettier, smarter twin sister – she's smoother, better priced, and more opaque. The Marcelle is a little brighter and bluer, but honestly, there's no contest: if you're in Canada (or you're ordering Marcelle online from the US), go with Caribbean!

Marcelle Lux Metallic Liquid Eyeliner in Jade over the straight swatches, and alone on the far L&R.
Other eyeliners in the same order as above: MAC So There Jade, Marcelle Caribbean, Clinique Intense Ivy, and Marcelle Metal Green.
On the right hand side of the swatches, we have Clinique's Quickliner Intense in Intense Ivy (a recent release – review of the formula soon!) and Marcelle's Waterproof Eye Crayon in Metal Green. And you'd expect that I'd be all over the Marcelle again, right? Because that would only make sense.
Content on theNotice rarely makes sense, though, so then there's that. (I'm sorry, I'm so sorry; I can't seem to be able to turn off the meta tonight!)
While startlingly similar, the differences between Clinique's Quickliner Intense and Marcelle's Waterproof Eye Crayon are more varied, both in shade and in performance. Intense Ivy features a creamier formula, easier to apply & with a more complex shade, but Metal Green is cheaper, water-resistant, and makes it through more of my sixteen hour days.
As for which one I'd recommend? Well, that depends. If your lids aren't too oily, go for the Clinique Quickliner Intense – the buttery texture is to-die-for, and the more nuanced shade of Intense Ivy is (har, har) really intense. It's more black, more green, more metallic, and contains tiny gold flecks that just take my breath away. If your lids are oily, though, opt for the Marcelle Waterproof Eye Crayon – Metal Green is still breathtaking, and wears much better on my lids.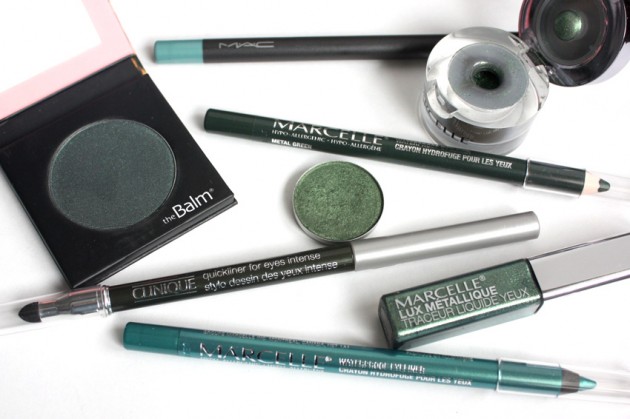 I should probably start rambling about now, but there's one last thing we have to go over: I compulsively add Marcelle's Lux Metallic eyeliner in Jade to all of my green liner swatches. It's a bit of an addiction, admittedly, but can you really blame me? It's gorgeous.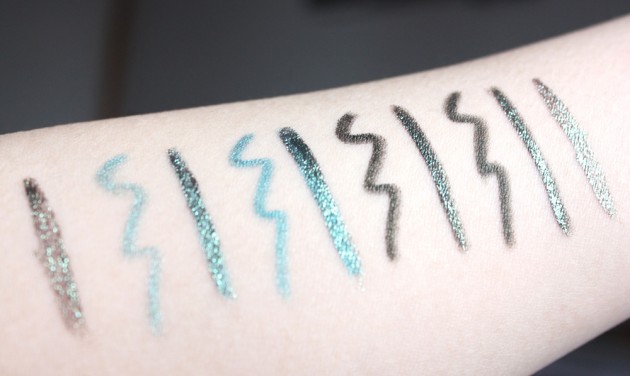 —
P.S.
For a green swatch post that actually managed to happen without getting sidetracked, here's last year's St. Paddy's mini-post: Green swatches for St. P