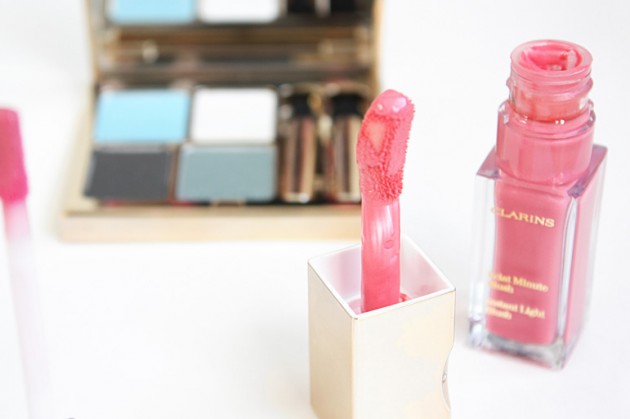 The product: Clarins Instant Light Blush in Vitamin Pink
I've been waiting for Clarins Spring 2012 for a very, very long time. Seriously – the Gloss Prodige line has been close to the top of my wishlist since November. That all said, though: now that the products are out, it's actually the Instant Light Blush that's really caught my attention. It's a blush! And it's pink! And it's liquid, you guys; it's liquid!(It should probably be mentioned, though, that I haven't yet found time to test out the glosses. So, it's entirely possible that I'll be tooting an entirely different horn in a week's time.)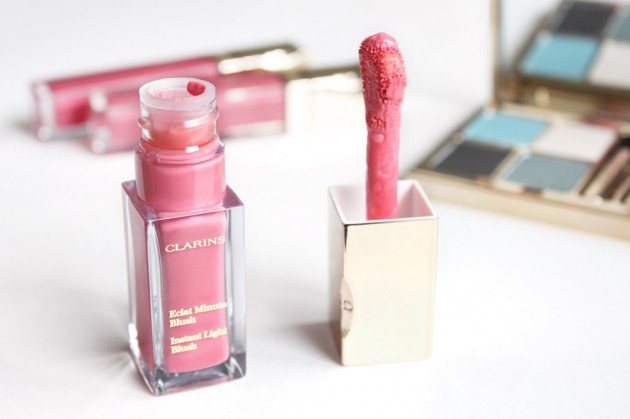 The packaging: Clarins' Instant Light Blush comes packaged in what's slowly overtaking their line: hopelessly chic, gold-accented rectangles. It looks a bit like a short, stout gloss, which (to be entirely honest) couldn't be more perfect. It features a large doe-foot applicator, which might bug some – it can be hard to get out of the container, and I'm sure someone out there is having a minor breakdown about liquids packaging and bacteria. (Seriously, though: I know powders are sanitize-able, but who actually sprays down their personal products with alcohol every two weeks? And how dirty is your face to begin with?!)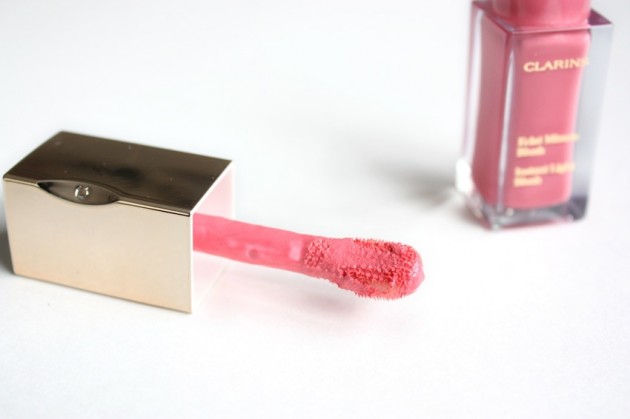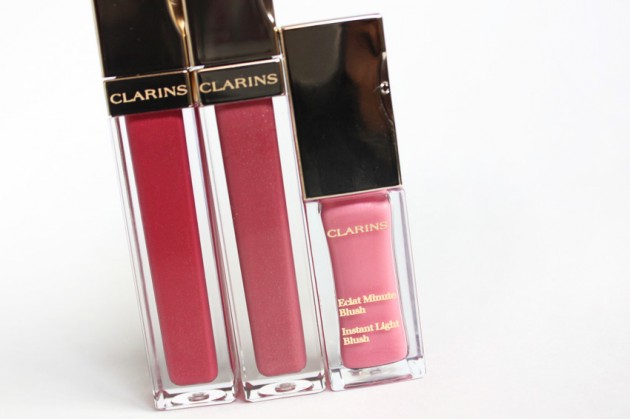 Vitamin Pink vs. two Gloss Prodiges
The shade: Vitamin Pink is a lovely, bright, clear rose with plenty of gold iridescence. It gives a really natural, sheer pink flush, and it embodies the picture-perfect spring cheek perfectly: the gold microshimmer is small enough that it never looks "disco-ball," but (paired with the way the Instant Light formula sinks into the skin,) it creates an incredibly believable dewiness. Basically, it's the perfect way to pick up your skin after the long winter. (And, well, if you live in a place where winter isn't long — don't even talk to me.)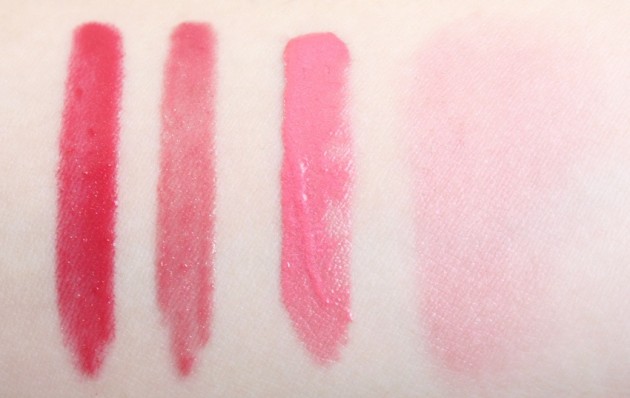 Swatched L-R: Clarins Gloss Prodige in Raspberry and Candy; Instant Light Blush in Vitamin Pink (heavily/blended.)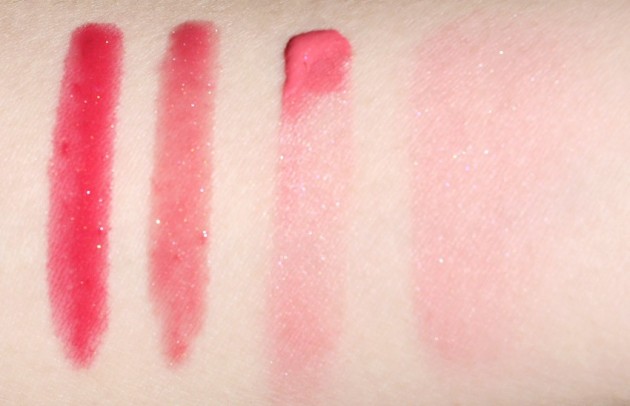 (Same swatch order, but unfocused & in direct sunlight.)
The formula: The format of the Instant Light blushes is what really gets me – though Vitamin Pink is absolutely lovely, it wouldn't be half as addictive without being a liquid. It's a bit like a fluid moisturizer, and blends into translucence like a dream. That being said, though, it does layer quite well! It's a bit deceiving, with how easily the formula blends away, but you really can build it upto an impressive flush.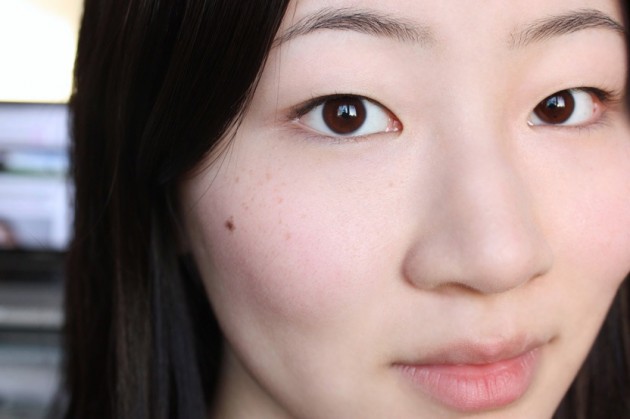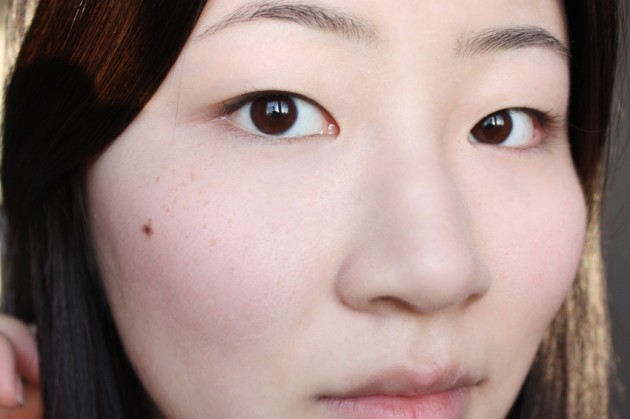 The verdict?
Basically, you didn't even have to read this review – you just had to give the title a glance. You need this; you really, really do! I've spent years blending fluid moisturizers with liquid lipsticks, cream lipsticks, and cream blushers to get exactly this effect, but Clarins pulls off liquid blush flawlessly (and with the added bonus of cute packaging.) At $28 CAD, yes, this is on the pricey side. The Instant Light blushers are still cheaper than a NARS powder blushers (if only barely), though, and I'd reach for this over Orgasm any day. The shimmer is so much more refined, and there's something just so about this liquid formula – it really does create a lit-from-within flush. Here's to hoping for a few shimmer-free Instant Light blushers in the future! Bonus points if there's a berry shade ;) <
Get it: Nordstrom, Bloomingdale's, and in-store at Clarins counters. Go, run; they're LE!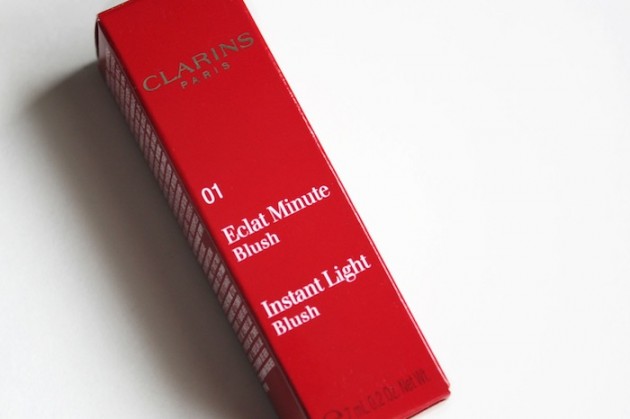 Clarins Instant Light packaging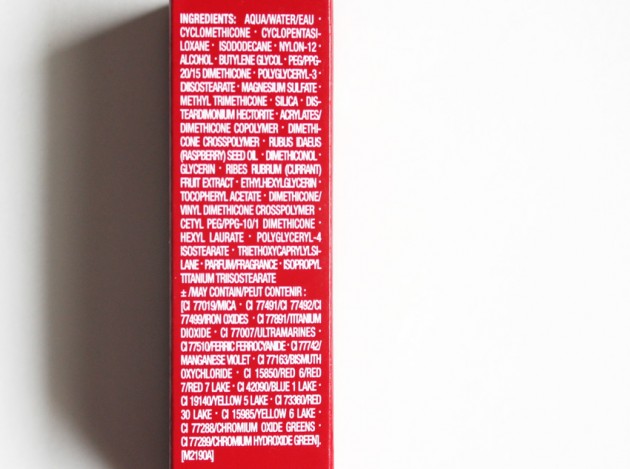 Clarins Instant Light Blush ingredients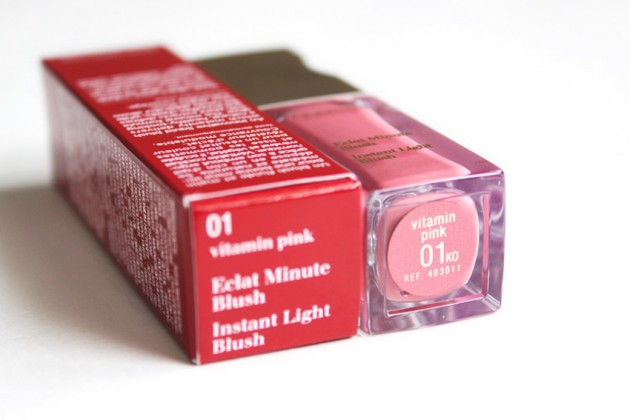 Vitamin Pink labels
P.S. 
Because I just know someone is going to ask if I don't go over it: sorry, no, I can't compare these to the Daniel Sandler Watercolour Fluid Blushers. Much as I'd love to give the watercolours a try, I'm loathe to buy a product without seeing it in person, and (to my knowledge), the Daniel Sandler line hasn't any Canadian stockists. Apologies!
P.P.S. 
I got a chance to give this a go (this sentence has an alarming number of gs in it) just before finishing up this post. Long story short: yes, Vitamin Pink looks just as gorgeous on a medium skintone (NW30ish), and yes, it wears well on ageing skin despite–or perhaps due to–the luminous finish.
(Research, you have been completed! I henceforth release you unto the populous of the beauty community. Go! Doth yonder and other such oldish words! Go and spread your knowledgeth.)