Alright, so it's a few days late, but here are a handful of Tokyo Future comparison swatches. I've been running about attending far more courses than is generally advisable in order to sort out my schedule, so I apologize for the artificial lighting – by the time I get home, the sun's already set. (Incidentally, it is likely that this will continue for the remainder of the season. My pre-emptive apologies; looks like photo-taking is going to be reserved for the weekends!)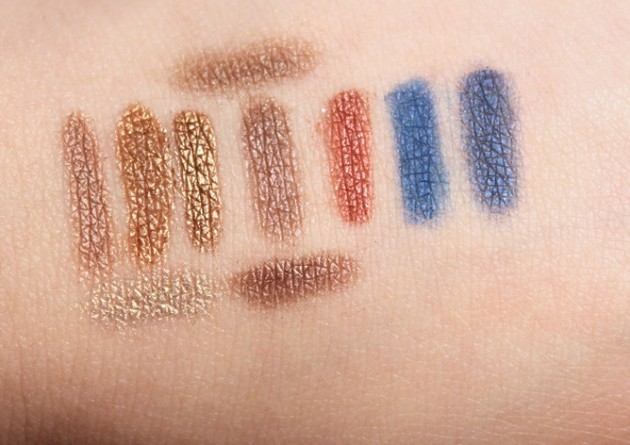 From my stash, I found that Digital Dragon (the shade I unexpectedly fell a bit in love with) had the most dupes out of this bunch – nothing perfect, and nothing quite as densely molten-metal, but the Ellis Faas 303 Light would give the same effect. Something like Illamasqua Liquid Metal in Solstice might be close, too; if not in shade than at least pigment density and finish.
Secret Samurai reminded me a bit of ULTA Mystique and MAC Satin Taupe, but it's a bit darker than the former and lighter than the latter. It also has quite a bit more red in the base – I thought it leaned just slightly red, but when compared to other taupes, the difference is more obvious. If you find taupes tend to lean too yellow on you, don't miss this one.
I didn't even bother looking for Lost in Nishitama dupes (maybe, like, MAC Spicy Smoke?), and the closest I had to the semi-matte Shallow Depth was Annabelle Lagoon – limited edition a while back, though, and not as much of an intense, straight-up blue. Shallow Depth is the low-budget NARS Outremer, in my head, though I do think the FaceFront pigment is more muted; darker. Perhaps more similar to something like Inglot #388?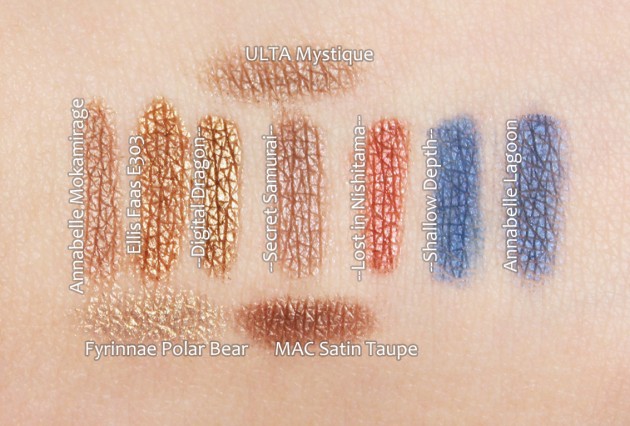 Products featured in this post
(Click on the brand name to link to reviews/swatches on theNotice!)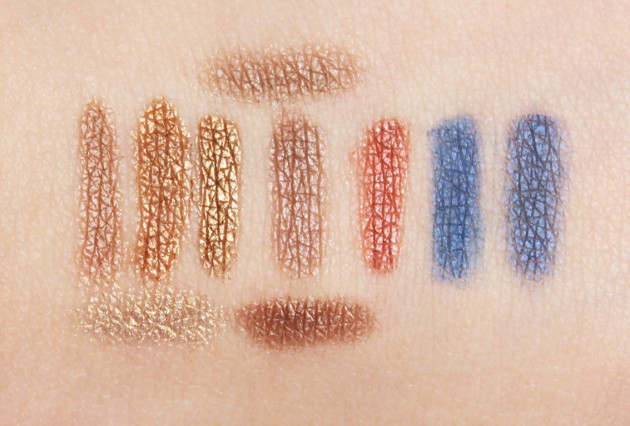 (Same photo as above, minus the labels.)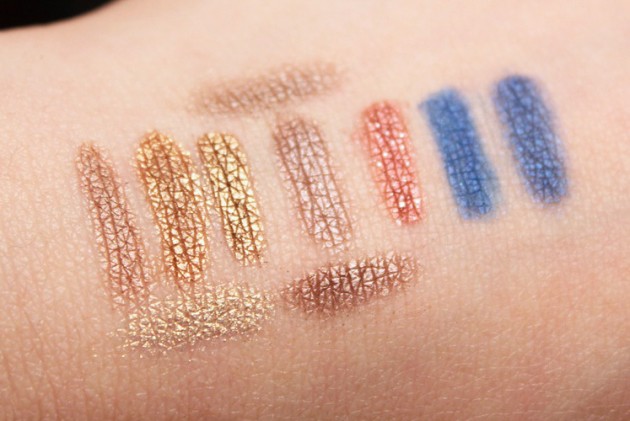 (How gorgeous are those silver reflects in Lost in Nitishama?)